Some links on this page are monetized by affiliate programs - see disclosure for details.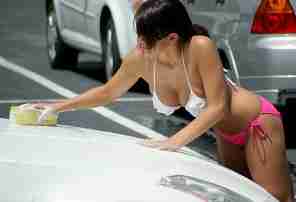 With exposure to the elements every day, it's just a fact that your car will get dirty. Even if you store it in your garage overnight or during bad weather, just taking it for a drive down the block may make your vehicles dirty. From brake dust on your chrome rims to bugs on your windshield, it's just inevitable that your car will get dirty. Sure, you could take it to an automatic car wash. But sometimes it just doesn't get the job done right. You could also consider taking it in for a hand wash… but this can cost a lot of money!
If you want to keep your car clean and shiny without spending a fortune, you can do the job yourself with a few little tools, including a high-quality soap designed just for washing your car.
Our Picks: The Top 10 Best Car Wash Soap Brands in 2021

Uncovering the Best Car Wash Soaps
Part of owning a car is maintaining it. In order to maintain the inside of the car, you need a high quality car vacuum. To maintain its components, you need a bevy of products. To maintain the outside of the car, you need a high quality car wash soap. Regular cleaners leave your car streaky and may even damage the finish. If you're washing your car at home, you want a soap designed specifically for your vehicle. A car wash soap is designed to effectively clean all parts of your car, from the paint to the windows and windshield to the rims and tires, without leaving residue, ruining your paint job, or making it look worse.
With car wash soap, your car will look better than ever, just like you've paid a professional detailer, only it's far more affordable.
What's the Best Way to Wash My Car?
Washing your car isn't complicated, but there are a few techniques you'll want to know. First, for best results, you'll want to wash your car yourself. High-pressure hoses found in commercial car washes are pretty abrasive. They can scratch your car's paint.
Instead, use a mitt specifically designed for washing cars. You'll also need two buckets. Fill one with water and soap according to the specific directions on the soap bottle. Fill the other bucket with just clean water.
Soak the mitt in the soapy water and then rub it across the car. Start at the top of the car so dirt and grime will wash downwards. Let the water do the work. Scrubbing too hard can damage your car. Instead, wash the car multiple times before rinsing it with the clean water.
Park your car on a flat surface away from direct sunlight. A shady location helps the car dry evenly. You'll want to wash your car once every week or so and as necessary.
What are the different types of Car Wash Soap?
If you've never washed your car yourself or you've used soaps in the past that just didn't get the job done right, you need to make yourself aware of the different products on the market. Before shopping for a soap designed to clean your vehicle, learn more about the different types available for you to purchase.
Soap
A regular car wash soap does just what you think it would do. It is combined with water to clean off dirt, dust, bugs, and other road debris from bumper to bumper.
Soap conditioner
These products are designed to clean your car and also condition your paint, which helps restore the shine.
Soap and wax
This all-in-one product cleans your car and also leaves behind wax that makes your paint gleam.
No-rinse soap
These innovative products allow you to clean your car without needing to rinse prior or during the washing process. Simply apply it to the surface of your vehicle, then buff dry for impressive results.
Who are the contenders for Best Car Wash Soap Brand?
This affordable car wash soap cleans your car without swirls and streaks left behind. This soap has wax built-in, as well, so you can restore the shine to your vehicle, just like you had it professionally washed and waxed. It protects your paint after you've washed it, and it's a great overall value.
This soap doesn't even require rinsing. Simply apply it to your vehicle and buff it off. You'll be amazed at how clean your car looks with just these simple steps. It's made of environmentally-safe ingredients, and it's perfect for full washes or quick detailing in between washes. It's also priced affordably to fit your budget.
For the cleanest vehicle, go for the gold with this combination product from Meguiar's. This product cleans off dirt, dust, and debris and leaves you with a mirror-like shine. It also works to protect and condition your paint, fully restoring the depth and beauty of the color. It's easy to use, even on waxed finishes, and while it's one of the more expensive car wash soaps on the market, you'll save lots of money by no longer having to visit expensive car washes and detail shops.
Factors to Think About
You want to get your car your cleanest, but you also want to make sure that you get everything you want from your car wash soap. If you just plan on using it to clean your car between detailing, then a basic soap will work for you.
If you want to protect your finish or truly do the full job all by yourself, you'll want to find a more powerful product. Before you purchase just any old car wash soap, keep the following four things in mind to ensure you buy the right product for your prized vehicle.
Price
It's always important to consider price so it fits within your budget, but price shouldn't be the only reason you pick a car wash soap. Instead, you want to consider all aspects, including how easy it is to use, along with the price. Be aware that you will pay more for higher quality washes. If you want something that offers full protection and requires little elbow grease, you should expect to spend a little more.
Protection
Whether you want to protect your vehicle from the rain or you just want to boost the look of your paint while adding a layer of protection, there are car wash soaps made to perform more than just one function.
Size
How often do you plan on washing your car? If you just plan on keeping it clean between professional washes, a small bottle should be sufficient. However, if you plan to wash your car quite often, you may save money with an economy-size bottle.
Ease of use
A car wash soap isn't any good if you have to buy hundreds of dollars in other supplies in order to use it. Look for a car wash soap that does all of the hard work for you.
Price
Armor All 10346 Ultra Shine
This soap is priced low, making it an extremely affordable car wash soap option.
Optimum No Rinse
This car wash soap is a bit more expensive. However, it does offer a more convenient, no-rinse design that can help you save time when you clean.
Meguiar's G7164 Gold Class
With a high price tag right, this is one of the more expensive washes currently on the market.
Protection
Armor All 10346 Ultra Shine
Your car will sparkle, shine, and have an added layer of protection with the built-in wax that applies itself while you wash your car.
Optimum No Rinse
No additional protection is offered with this product. However, it does perform well at cleaning your car and enhancing your paint's shine again.
Meguiar's G7164 Gold Class
This product has a built-in conditioner that adds shine to your paint, as well as protection.
Size
Armor All 10346 Ultra Shine
This bottle comes in a large 64-ounce size, enough for plenty of washes for even the largest, dirtiest vehicles.
Optimum No Rinse
This car wash soap comes in a 32-ounce bottle.
Meguiar's G7164 Gold Class
This product comes in a large 64-ounce size for multiple washes.
Ease of use
Armor All 10346 Ultra Shine
All you need is a sponge and a hose to restore the beauty and shine back to your vehicle as this wash gently washes away dirt and road grime.
Optimum No Rinse
It doesn't get much easier than this. Simply measure out the product into a bucket of water, use a sponge to apply it to your vehicle, and then wipe dry. You don't even have to rinse.
Meguiar's G7164 Gold Class
To get your car its cleanest, use a microfiber car washing mitt and Meguiar's Grit Guard. You can also wash without the guard and can simply mix it with water, rinse your car, apply the soap, rinse, and dry.
Final Results: Our Car Soap Reviews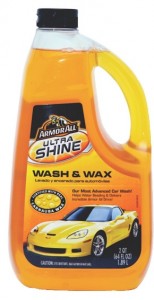 Waxing your car can be a pain. This extra step takes up a lot of extra time, but the results are so worth it. So what if you could get that beautiful waxed finish without all of the hard work? With this car wash soap, you can. It combines a powerful soap that gently scrubs away dirt and grime with a wax that restores the glossy finish of your paint all in just one step.
This affordable wash from Armor All, a leader in the automotive care industry, lifts away dirt and doesn't leave behind swirls or streaks. In addition to getting your car its cleanest, it has built-in Armor All wax that restores the shine and color of your paint while also protecting it from the elements.
Pros:
2-in-1 product
Washes and waxes
Affordable for a large bottle
Easy to use
Effectively cleans even the dirtiest vehicles
Cons:
Requires wiping the vehicle down after rinsing or it leaves behind a film
Can accumulate on the wipers, so they are not as effective, so you have to clean them with rubbing alcohol after cleaning your car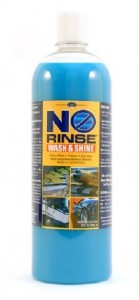 Eliminate the step of rinsing off suds when you use this no-rinse car wash cleaner. The polymers in this environmentally-friendly product bond with dirt and grime so it can be wiped away without marring the surface of your vehicle. It can be used in a spray bottle as a detailer, and it also works as a clay lubricant.
Not only will you be left with a beautiful finish on your clean vehicle, but you can also save water, which is good for the environment and your wallet. This product is easy to use, and it is a top choice for those who want to keep their vehicles clean and shiny without the hassle of using traditional sudsy soaps and water.
Pros:
Doesn't require rinsing
Easy to use
Fairly inexpensive
Can be used as an auto detailer
Saves water
Safe for the environment
Performs very well
Cons:
Using it on extremely dirty vehicles takes too long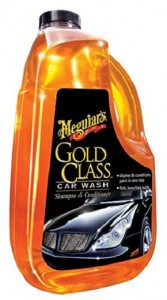 Clean your paint and condition it with just one product – this high-quality car wash soap from Meguiar's. This cleaner works to wipe away dirt and grime in no time without leaving behind streaks, swirls, and without damage to your paint. It removes everything you don't want but leaves your wax job intact.
The built-in conditioner protects and adds shine back to your paint, restoring its beauty. It contains no detergent, so you don't have to worry about it wearing down your trim or leaving behind residue. Just a few small capfuls is all you need to get your car sparkling like new again, providing you with plenty of uses with each 64-ounce bottle.
Pros:
Easy to use
Cleans and conditions paint
Does not mar paint
Does not leave swirls
Smells great
Given the size of the bottle, it's a great value
Works with pressure washers
Cons:
It doesn't maintain its suds
Some may find the smell to be a bit overpowering
In Conclusion
Your car is your pride and joy. Why not make it look its best when you're showing it off around town? Instead of investing hundreds or even thousands of dollars over time paying someone else to clean your vehicle or relying on automatic washes that can damage your car or just not get the job done, save money and do it right with the overall best car wash soap, Meguiar's Gold Class Car Wash Shampoo & Conditioner.
This product makes your car shine like new and offers added protection for your paint, so your car will look like you just drove it off the lot.