Some links on this page are monetized by affiliate programs - see disclosure for details.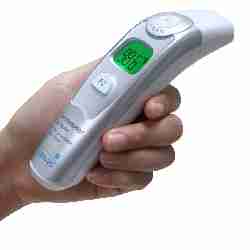 When you or someone you love is sick, it may be a hassle and even painful just to get out of bed. Young children that are very fussy may not sit still while getting their temperature taken with a traditional thermometer, while you may question the accuracy of your own reading when using an oral thermometer.
When you're facing an illness, keeping up with your temperature is essential to make sure that you're getting well and don't need to go to the doctor, but getting an accurate reading isn't always so simple. This is why every household should consider investing in one of the best ear thermometers.
Introduction: What is an Ear Thermometer?
Just as the name suggests, an ear thermometer is a medical device that is inserted gently into the ear canal to get an accurate temperature when someone is sick. Babies and children that are hot, sick, and fussy may scream, whine, or complain while having a temperature taking orally or rectally, and squirming may result in an inaccurate reading.
A thermometer designed to take a temperature from the ear is fast, accurate, and more comfortable than other types of thermometers.
What are the Advantages?
Oral thermometers may take a long time to get an accurate reading, which can be a pain when trying to find the temperature of a child. Rectal thermometers are uncomfortable and painful to a baby that is sick. Some thermometers may not even be accurate.
With a device that is used in the ear, you can obtain an accurate reading in just seconds. These can even be used on babies and children and are more comfortable for them. Many doctors and hospitals have also begun using these devices because of their accuracy.
Be sure to check out: Our guide to the top cool mist humidifiers you can buy today
What are the Different Types?
Since a thermometer is used to gauge temperatures while sick, it is important to choose the best one that is accurate, easy to use, and fits comfortably in the ear canal. Since there are so many models on the market, making the right choice can be difficult, but it doesn't have to be. By knowing what to look for before making your purchase, it's easier to make a wise purchasing decision when buying a thermometer for your household. The first step is knowing what types to look for while shopping.
Lighted displays – Models that have lighted displays are easy to read, especially when you're taking the temperature of a sleeping child and don't want to turn on the light and disturb his or her sleep.
Models with memory – Keeping track of a temperature is essential during an illness, and it can be easy to forget to write this down when dealing with an illness or taking care of a sick child. Models with built-in memory allow you to recall past temperatures so you know if medical attention from a doctor is necessary.
Which Thermometers are the Best on the Market?
Braun Ear Thermometer – If you want an accurate thermometer that is easy to use, is no-frills, and doesn't cost a fortune, this model from Braun has just what you're looking for. This affordable model is easy to use, comfortable, and has a pre-warmed tip for accuracy. It is ideal for use in children and adults, isn't overly complicated, and provides an accurate reading with each and every use, making it a must-have essential for any medicine cabinet.
GoodBaby Store Infrared Thermometer – If you want more versatility from your thermometer, this is the option for you. Get an accurate reading from the inner ear canal easily, or use it on the forehead for any even less invasive technique that is ideal for young, fussy babies. This model is easy to use, provides plenty of memory for temperature recalls, and has been clinically tested to prove its accuracy.
iHealth No-Touch Forehead Thermometer – Technology is everywhere, and now it's reached our medicine cabinets in this advanced model from Pyle. In addition to accuracy, comfort, and an easy-to-read lighted display, this model also has Bluetooth capabilities that allows you to track temperatures through mobile applications.
Features to Carefully Consider
A thermometer can help you keep track of your illness or the illness of someone in your home. Since illnesses that cause a fever can be serious, it's crucial that you purchase the right device to add to your household first aid kit or medicine cabinet to ensure accuracy and ease of use. Since thermometers designed to track temperatures through the ear canal can be quite expensive, it's important that you make the right purchase. You can do that by looking for these four features, as well as any additional features that you desire in your purchase.
Price
These types of thermometers use infrared technology, meaning that they are more advanced than oral or rectal models. Because of all of the features available, you should expect to pay more before you even begin shopping. However, these models typically range in price from around $30 up to several hundred dollars. While you should consider your own budget, you should also keep in mind accuracy, comfort level, and additional features before you make your decision.
Memory
If you want to track temperatures taken over a period of time, a model with built-in memory can help you do so with ease. Some models keep up with the last reading, while others may have 10 or more readings that help you keep track of a fever over several hours or even days.
Warranty
Like any other electronic device, your thermometer likely won't last forever. That doesn't mean that you shouldn't expect to get several years of use out of your purchase. Sometimes, defects occur that cause a thermometer to fail prematurely. Instead of being stuck without your money or your product, look for a model that comes backed with a warranty from the manufacturer to protect your purchase.
Age Restrictions
While many infrared thermometers are designed for people of all ages, some are too large to use for very young children. If you have a baby or small toddler in the home, you'll want to make sure that you purchase a model that can be used by everyone in your household.
What is the best price for thermometers?
Braun Ear Thermometer
This basic model is a budget-friendly choice for any home.
GoodBaby Store Infrared Thermometer
This model is equipped with more features than cheaper, basic models and comes with an affordable price tag.
iHealth No-Touch Forehead Thermometer
This is one of the more expensive home devices.
Which thermometer has the best memory?
Braun Ear Thermometer
This model is equipped with a memory function that allows you to recall the last temperature reading for comparison.
GoodBaby Store Infrared Thermometer
You can recall up to 20 temperature readings with ease when using this model.
iHealth No-Touch Forehead Thermometer
This model stores up to 10 past readings for tracking.
Which thermometer has the best warranty?
Braun Ear Thermometer
This model comes backed with a 3-year limited warranty directly from the manufacturer that protects your product from defects.
GoodBaby Store Infrared Thermometer
Feel confident in your purchase knowing that it includes a lifetime limited warranty.
iHealth No-Touch Forehead Thermometer
This model is backed with Pyle's 1-year manufacturer's warranty.
Which thermometer is the best for babies?
Braun Ear Thermometer GoodBaby Store Infrared Thermometer
This is for use on babies, children, and adults of all ages with no restrictions.
GoodBaby Store Infrared Thermometer
The ear readings can be used on children and adults over the age of 1, while the forehead option is safe for everyone, even babies.
iHealth No-Touch Forehead Thermometer
This is tested and ideal for use by babies, children, and adults.
In Closing: See Our Ear Thermometer Reviews
You don't have to pay a fortune to ensure your family stays healthy. If you want a thermometer that is easy to use, comfortable, fast, and accurate without all of the bells and whistles and with an affordable price tag, this Braun model fits the bill perfectly. This basic model doesn't have all of the extra features you'll find on more expensive models, but it's easy to use, takes accurate temperatures, and works in just a few seconds.
It has a one memory recall, a pre-warmed tip that ensures accuracy, and visual and audible cues that helps you make sure the thermometer is in proper position. It comes equipped with everything you need to begin using it right away, including AA batteries, lens covers, and a protective case.
Pros:
Affordable.
It is easy to use.
It is accurate.
Alerts you when it is in the correct position.
Not overly complicated.
It works quickly.
Cons:
It only has one memory recall, which is not great for tracking temperatures over a longer period of time. It doesn't have a backlit display, making it difficult to see in the dark.
Get the most out of your thermometer with this model from GoodBaby Store. If you have been torn between purchasing an infrared forehead model and use that is used in the ear canal, this is the perfect choice because you can use it both ways. Because you can use it both ways, it is ideal for adults and kids of all ages.
This model has an alarm when a fever of over 99.5 degrees is taken, it recalls up to 20 past readings, and it starts reading with just the push of a button. It has been clinically tested for accuracy, switches between types just by pushing one button, works quickly, and is comfortable to hold and use.
Pros:
Backlit display is easy to read.
It is very versatile.
Easy to clean and keep sanitary.
It is very accurate.
It reads temps quickly.
Holds up to 20 past readings, making it easier to track fevers.
Cons:
It is a bit expensive.
It may be difficult to position properly for accuracy.
The battery cover feels flimsy and may become loose.
If you want to easily share your temperature readings with other family members (such as a parent who is working while a child is sick at home or your doctor), this model from Pyle utilizes the latest technology to make this possible. The standout feature of this model is that it has Bluetooth capabilities that allow you to sync it with an app to keep track of your own health or share the data with someone else.
That isn't all this model boasts. It has a built-in 10 temp memory, it can be used in the ear or on the forehead, it is very precise and accurate, it works quickly, and it's easy to use. Because it is so versatile, it can be used on anyone in your home, even young babies. It comes with an easy-to-read backlit display, a comfortable handle, and works with the free Pyle app to help you keep track of your health.
Pros:
Comes in three great colors.
Easy to use.
Comfortable to hold and comfortable to use.
Uses Bluetooth to link to a health app, allowing you to track and share health stats.
Works in the ear or on the forehead.
Very accurate.
Cons:
It is pretty expensive.
Precise placement may take practice.
The warranty isn't as good as other devices.
In Summary
You can't put a price on good health. It is best to invest in a reliable thermometer like our pick for best ear thermometer, the iHealth No-Touch Forehead Thermometer. This device offers so much more than other models, the additional cost is worth every penny. From the easy-to-read display to the ability to use it in two different ways and the Bluetooth-enabled design, this model is the last thermometer you'll ever need in your household.