Some links on this page are monetized by affiliate programs - see disclosure for details.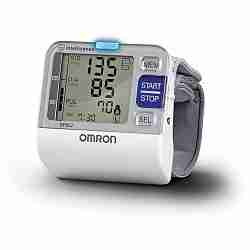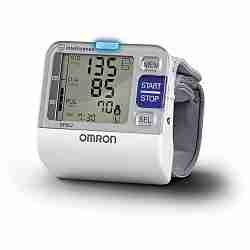 You know how important it is to monitor your health and take good care of yourself, and blood pressure is one of the most important things to keep track of. When you visit a doctor for any reason, your blood pressure is checked to see if it is at a normal level. Blood pressure is the measure of blood flow against your arterial walls.
It may sound a bit complicated, but an easy way to understand it is that if your blood pressure is too high, a lot of stress is being put on your heart and arteries, putting your health at risk. Low blood pressure can also be a health risk, so you always need to ensure your blood pressure is at a healthy level. Instead of just checking when you go to your doctor's office, you need to monitor your health at home, and this can be done with a blood pressure monitor.
Compare: The Top Ten Best Blood Pressure Monitors of 2019

Introduction: What is a Blood Pressure Monitor?
A blood pressure Monitor is a device used to check the level of your blood pressure. They are easy to use, and they keep you more informed about your health. This is something everyone should do, but it's a must if you suffer from chronically high or low pressure.
To use one of these monitors, you simply put a cuff around your upper arm and inflate it. Once inflated, the cuff will deflate as it begins to check your pressure. After just a few seconds, you will have a reading on the screen or gauge that shows your systolic and diastolic numbers which can be used to determine if your blood pressure is normal or if it needs attention.
How Do I Use a Blood Pressure Monitor?
Attaching the cuff and using the monitor is usually simple and straight-forward. However, there are a few factors which can influence the results.
Avoid smoking, drinking caffeinated beverages or exercising for at least 30 minutes before using the monitor. Sit upright in a chair while keeping your back street and your feet flat on the floor. Rest your arm on a table at below heart level. Attach the cuff directly above your elbow.
Measure your blood pressure at the same time each day. Doing so helps results stay consistent so you can notice any changes over time. Collect two or three readings each time you measure. Record the readings in a journal. Many monitors will also record readings automatically.
What are the different types of Blood Pressure Cuffs?
If you've decided you want to be more proactive when it comes to your health or your doctor has recommended you begin keeping track of your blood pressure because of health issues, you'll need to have a Monitor at home. Before you just go out and purchase one without knowing what to expect, the first step is to know what types are available for household use, and the differences between them.
Manual Monitors
These Monitors are characterized by squeeze bulbs that are used to inflate the cuff. Once inflated, a stethoscope should be used to listen for blood flow. With the right timing, you can read the gauge to get both numbers of your blood pressure. This is a method primarily used by doctors and nurses, and it is typically the most accurate, although it is more difficult to use than other types of Monitors.
Automatic Monitors
These Monitors are the easiest to use, and they are typically the ones selected for household use. The cuff typically tightens with the push of a button, and it records your numbers at just the right times. Once both numbers are acquired, your blood pressure reading shows up on the LCD screen.
Ambulatory Monitors
Ambulatory Monitors are typically worn all day and all night for continuous Monitoring. These are usually recommended by a doctor for a patient who has hypertension (high blood pressure) or hypotension (low pressure) that could lead to a serious medical problem if not Monitored closely and treated accordingly.
What are the Advantages of Owning a Blood Pressure Monitor?
If you suffer from high or low blood pressure, owning your own Monitor is a necessity. Since low blood pressure may cause dizziness, fainting, and serious health issues in severe cases. Hypertension can be even more dangerous, causing serious health problems like kidney failure, stroke, and even heart attacks if not Monitored and treated.
If you suffer from either of these conditions, you'll want to keep track of your blood pressure. This will help you avoid a potentially dangerous and life-threatening situation, and it can also alert you to what treatment methods are working and what are not, so you can report it back to your doctor. Quite simply, owning one of these Monitors can potentially be lifesaving.
Which brands do we recommend in 2019?
If you want a discrete and affordable Monitor, this digital version from Omron may be exactly what you're looking for. Instead of taking your readings from your upper arm, this fits discretely around your wrist for occasional or constant Monitoring. Despite its low price tag, it has many great features found on more expensive models, including memory settings, easy operation, and a hypertension alert that lets you know when you're in the danger zone.
Don't squint at a black and white screen anymore. Instead, use this monitor which has a backlit screen and large numbers that are easy to read. This blood pressure cuff slides on the upper arm and fits everyone. It saves your readings so you can keep track of any patterns or triggers that affect your blood pressure, it's priced inexpensively, and it produces accurate readings within seconds. It also comes backed with a great warranty to ensure your complete satisfaction.
With this device, you'll know you're getting an accurate reading with the built-in accuracy features, including taking your blood pressure three times and averaging them, as well as dual calibration that performs a double check for accuracy. You can easily review your readings in the stored memory, and you can even get an overall average with just the push of a button. You can make tracking your blood pressure even easier by hooking this up to your computer and using the software to record your readings every day. This modern model can also be set up for two users.
Factors to Consider
If your doctor has recommended that you track your blood pressure at home or if you just want to keep up with your health, you'll need a monitor to do so. If you're in the market for purchasing a blood pressure monitor, keep the following things in mind for each product that interests you.
Price
Monitors come at many different price points, and when it comes to your health, you don't want to go too cheap. Make sure that you purchase a monitor you can easily afford, but don't sacrifice quality and accuracy just to save a few bucks.
Memory
Built-in memory allows you to review your last readings so you or your doctor can look for any patterns, and you can also see if any treatments you are currently using are helping raise or lower your blood pressure.
Accuracy
A monitor is useless if it doesn't provide you with the right numbers. Look for models that have built-in features that ensure accuracy for the best results.
Warranty
No one wants their product to break after using it a time or two, especially if it's because of the way the device was made. Choose a product that a company backs by looking for devices that come with a manufacturer's warranty.
Price
Omega 3 Series Monitor
This is a very affordable automatic monitor that provides you with accurate readings in just seconds.
Health Gurus Professional Monitor
This is a good mid-priced monitor for everyday household use.
Omron 10 Plus Series
This is one of the more expensive home blood pressure monitors available.
Memory
Omega 3 Series Monitor
This device stores and can recall your last 60 readings for easy tracking.
Health Gurus Professional Monitor
This model supports two users and provides 60 setting memory for each user.
Omron 10 Plus Series
You can recall up to 200 previous readings on this device, 100 readings for each of the two users or 200 for just one user.
Accuracy
Omega 3 Series Monitor
This model is equipped with Advanced Averaging, which allows you to get an average of your last three readings within ten minutes for higher accuracy.
Health Gurus Professional Monitor
This monitor uses an upper arm cuff to ensure accuracy, and it is backed with a 100 percent satisfaction guarantee.
Omron 10 Plus Series
You'll get multiple features that ensure accuracy, including an average of your last three readings and dual sensors that ensure calibration and an accurate reading.
Warranty
Omega 3 Series Monitor
Your purchase is backed with a 2-year limited warranty against manufacturer's defects.
Health Gurus Professional Monitor
You will receive a 2-year warranty on the purchase of this device.
Omron 10 Plus Series
Your purchase is protected from manufacturer's defects for five full years, one of the best warranties on home monitors.
The Best Blood Pressure Monitors: All Reviews Are Tallied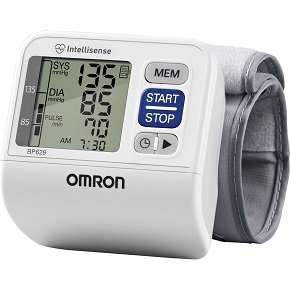 If you want an accurate monitor but you don't want to spend a fortune, this model really fits the bill. What's so unique about this device is that instead of going on your upper arm, it fits comfortably on your wrist, so it's easy to use and bring with you everywhere you go. Even though it's price well-below $100, it boasts many features found on more expensive devices.
With one-touch Advanced Averaging, you can get an average of your last three readings taken within three minutes. If you want to review your past readings, you can do so with ease, as this remembers and recalls your last 60 readings. The large numbers are easy to read, a hypertension indicator alerts you immediately when your reading is too high, and it comes with a warranty.
Pros:
It uses inexpensive AA batteries
Batteries are included, so you can use it immediately
It is comfortable
It is lightweight
Easy to use
It records your last 60 readings with date and time stamps
It has one-touch averaging
It's very accurate
It's inexpensive
Cons:
It is not accurate while in motion
You must keep your arm positioned correctly and sit in a hard, flat chair to achieve the best results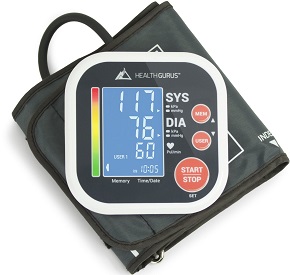 You won't ever have to worry about easily reading the correct numbers with this monitor, which features a backlit screen that can be viewed in any kind of lighting. The numbers are large and easy to read, but that isn't all this device has going for it. The upper arm cuff is comfortable and provides you with an accurate blood pressure reading, as well as pulse monitoring. The cuff is designed to adjust to fit anyone.
This model is equipped with a hypertension indicator bar that lets you know when your blood pressure is too high, a two-user interface, and it saves the last 60 readings for each user. This device is very easy to use, and it can be started or stopped with just the push of a button. It also comes with a very affordable price tag.
Pros:
Affordable
It has a backlit screen that makes it easier to read
It is set up for two users
2-year warranty
Comes with a satisfaction guarantee
It is very accurate
It is very easy to use
Fits all users
It comes with a carrying case, so it's very portable for travel
It also monitors your pulse
Cons:
The batteries run out fairly quickly and there is no AC adapter option
The cuff can be difficult to put on by yourself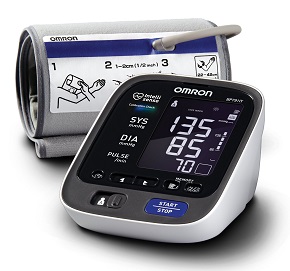 You just can't settle for less than the best when it comes to your health, and this monitor is loaded with features that provide you with the highest level of accuracy in no time at all. It is equipped with two calibration sensors that double check your reading. You can also get a fast average of your last three readings taken with three minutes with just the push of a button, and this is something doctors recommend for accuracy.
Two users can use this device and have up to 100 saved readings each. If you'd rather track your blood pressure over a longer period of time, you can hook this up to your computer and use it with the free software to chart your blood pressure over time. This comes with one of the best warranties you'll find, it isn't too expensive, it's easy to read, simple to use, and it fits everyone.
Pros:
It has an indicator to ensure it's wrapped properly
It has a hypertension monitor
Works with batteries or an AC adapter
It compares your numbers to national averages
It detects irregular heartbeat
The cuff is comfortable
It has multiple features for accuracy
It is easy to operate
The numbers are easy to read
Cons:
It is a bit more expensive than other monitors
The software is not compatible with Mac
The cuff may be difficult to put on and tighten by yourself
A Final Word
Whether you have a health condition that requires monitoring of your blood pressure or you just want to watch for any problems in the future, a blood pressure monitor is a great little device you should have in your home. You just can't put a price on health, and despite its higher price tag, the Omron 10 Plus Series is easy to use, accurate, and has lots of features that put it in the top of its class when compared with other monitors.