Some links on this page are monetized by affiliate programs - see disclosure for details.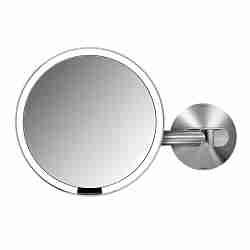 There are a few things you need to make sure your makeup looks perfect before you leave your house. Quality cosmetics that enhance your features and a good set of makeup brushes for the perfect application are just a few of the things you need that many women already have in their bathroom or on their vanity. However, what many people don't consider is having the proper lighting.
Since all rooms have different lighting, your makeup may look great in your bedroom mirror, but when you walk into natural light, it may be too dark or too light. Instead of wasting time making sure your makeup is perfect after it's been applied, get it right the first time by using the best lighted makeup mirror.
The Top Ten Best Makeup Mirrors of 2019

A Guide to the Best Lighted Makeup Mirrors
A makeup mirror is a mirror that typically can sit on a tabletop, vanity top, or countertop. These mirrors are just the right size to allow you to get the perfect view of your face while you're applying makeup. A lighted mirror has lights around the outside edge that allows you to get a better view.
Many lighted mirrors use bulbs that replicate natural lighting so you can get a true picture of how your makeup looks. These mirrors make it easier to see if your foundation hasn't been blended, if your eyeliner isn't even, or if your bronzer is streaked.
What are the Different Types?
Stop using your bedroom or bathroom mirror for applying your cosmetics and use a mirror designed solely for this purpose. If you want to look your best every time you step out of your house, you can do so easily with a great makeup mirror. If you think this is something that might benefit you, read on to find out more about the types available.
Vanity
These aren't just for your vanity. Place them on any solid surface where you are applying your beauty products. These mirrors come with a stand, and some are adjustable to the right angle so you can always get the best view of your face.
Mounted
These mount directly to a wall, so it takes up less space in your bathroom, on your vanity, or your dresser. Some of these mirrors are designed to fold flat against the wall when not in use, and when you're ready to use them, they extend with a swinging arm that can be adjusted as needed.
Magnifying
Get the closest view with these mirrors, which magnify your image. These are ideal for applying eyeliner, eye makeup, and other tasks that require precision. These usually flip and have a regular mirror on one side, and the magnifying mirror on the other, making this a very versatile tool for your beauty collection.
What Size Lighted Makeup Mirror Is Right For Me?
The proper size of the lighted makeup mirror will vary depending on your intended use case. If you plan on keeping your lighted makeup mirror at home, you should opt for a mirror that is as tall as a chair.
If, on the other hand, you prefer a makeup mirror that is best for fine detail work, you should opt for a much smaller makeup mirror that is on a pivoting mount. Likewise, lighted makeup mirrors for fine detailing should offer a degree of magnification, which larger makeup mirrors typically do not.
If you're looking for a portable lighted makeup mirror, you will probably want to opt for the smallest possible size. This will ensure that it is more portable and also that the batteries will last longer.
Why Should You Own a Lighted Makeup Mirror?
Has there ever been a time when you've thought that your makeup looked perfect, but once you get into the car or your destination, you realize that it doesn't look quite like it did before you left? With a lighted mirror, you'll have a better view so you can perfectly apply your cosmetics every time. These mirrors can also be used for other purposes, as well, whether it's tweezing your eyebrows or checking to make sure your hair is just right. Men can also use them while shaving.
Which Products Should You Consider?
For the budget-minded shopper, this mirror is available at a great price. Don't mistake inexpensive for cheap, though, as this will look great when placed in even the most luxurious bathrooms. This unit has an elegant design that is available in two finishes. It has two sides, one which projects a normal reflective view, while the other offers magnification for a closer look. This has a halo light that's activated easily with a switch, providing you with just the right amount of light while applying your cosmetics and beauty products.
Save space with this mirror, which mounts easily to your wall. All hardware is included, and you can have it installed and ready to use in just minutes. It has a 14-inch extension and rotates 360 degrees, so you can always have the perfect placement. It's available in four finishes to complement your décor, it offers a bright halo light, and it has a magnification side as well.
This mirror is so advanced, you won't even have to turn it on yourself. As your face is shown in the reflection, it lights up automatically, and it shuts itself off when you're done so you don't have to worry about running up your electric bill. It boasts a Tru-lux lighting system that is most like natural light, so you can ensure your makeup always looks fabulous. It offers 5x magnification so you can see your entire face clearly, and it comes in a tabletop or wall-mounted version.
Considerations for Choosing the Right Lighted Makeup Mirror
Lighted mirrors can cost quite a bit of money, so why purchase something that you're just not happy using? By doing your research before you shop, you can find the mirror that fits all of your needs without having to worry about the hassles of returning it. Get your purchase right the first time by considering these four features, as well as other features that are important to you, to ensure your satisfaction with your product.
Price
In general, you should expect to pay around $40 to $200 for your new mirror. The price depends on a number of factors, including the overall quality of the mirror, the size, and the finish. If you're not following a strict budget, it's best to pay a bit extra if needed to get a mirror that is well-made, durable, and which will retain its finish for years.
Warranty
With a mirror, accidents happen sometimes, and while a warranty won't protect you if you drop it on the floor and break the glass, it is important for the electrical components and other features of the unit. You should expect to get plenty of use out of your lighted mirror, and if the lights quit working, they flash on and off, the unit just falls apart due to a defect in the design, or your mirror is rendered useless by no fault of your own, a warranty will ensure you get a new product without paying additional money.
Type
As already mentioned, there are a few different types of mirrors. If you're short on space, try a wall-mounted mirror. If you want a more portable version, choose one that does not mount and comes with its own sturdy stand.
Finish
You want your mirror to coordinate with your bathroom fixtures, match your bedroom décor, or just look great wherever you place it. Mirrors are available in a variety of finishes, so pick one that will complement the room it is placed in.
Price
Conair Oval Double-Sided Mirror
This inexpensive makeup mirror is a great deal for the bargain hunter who wants a quality product.
Jerdon HL65N
This model is priced right in the middle of all for the mirrors listed.
simplehuman Sensor Mirror
This is a high-end and high-quality makeup mirror, but in this case quality comes at a price.
Warranty
Conair Oval Double-Sided Mirror
A limited 1-year manufacturer's warranty with your purchase.
Jerdon HL65N
You'll receive a limited 1-year warranty that protects against defects.
simplehuman Sensor Mirror
This unit is backed with a 5-year limited warranty, one of the best you'll find on this type of product.
Type
Conair Oval Double-Sided Mirror
This is a portable vanity mirror that has its own stand, so you can place it anywhere you need it.
Jerdon HL65N
This mirror mounts on your wall to save counterspace, meaning it will always be right where you need it.
simplehuman Sensor Mirror
You can choose from a vanity mirror with stand or a mounted mirror, both available at the same price and boasting the same features.
Finish
Conair Oval Double-Sided Mirror
Choose from Oiled Bronze or Polished Chrome when you select this unit.
Jerdon HL65N
This model is available in Bright Brass, Bronze, Chrome, and Nickel.
simplehuman Sensor Mirror
Both the tabletop version and wall-mounted mirror are available in a chrome finish.
Conclusion: Our Top 3 Mirror Reviews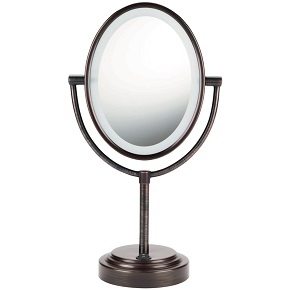 Add a touch of elegance to your bathroom counter, vanity, or other space with this elegant oval mirror. At 7" x 9.5", it provides the perfect view of your face while you perform your daily beauty routine without taking up too much space. You'll have your choice of two great finishes, and both come with a manufacturer's warranty.
On one side, you'll have a regular mirror, while the other side displays at 7x magnification. It moves a full 360 degrees to easily switch sides or to angle the mirror as you need it. It has a long 5-foot power cord, so you can easily plug it in to use the soft halo lighting, which offers you fog-free viewing at any time. The lighting isn't too harsh and is very similar to natural lighting, so you know you're getting the perfect view. It is easily turned on and off with a switch attached to the cord.
Pros:
It is inexpensive, comes in two finishes, and is lightweight
The bulbs are very easy to change, and inexpensive to replace
Has a magnification side, comes backed with a warranty, and has a very long cord
Easy to switch on and off
Power outlet in the base
Cons:
It isn't bright enough in a darker room and works better with another light or lamp
Feels a little cheaper and not as durable as more expensive mirrors
The bulb tends to burn out quickly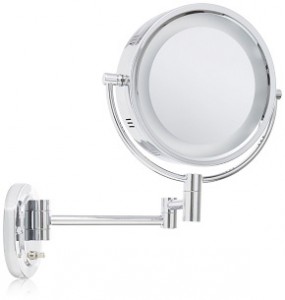 If you don't want to crowd your counter space, this mirror will work great for your bathroom. It easily affixes to the wall, and it can be extended as needed to give you the perfect view while you're doing your makeup. The mirror rotates 360 degrees, allowing you to tilt it to just the right angle or reverse it from regular 1x magnification to 5x magnification.
It comes in four different finishes to enhance the look of your bathroom, and it has a soft halo light that illuminates your face as you primp and get ready for work or a night out on the town. Each side of this 8-inch mirror is fog-free, and the finish is resistant to rust and corrosion caused by condensation. Your purchase includes all necessary hardware, a replacement light bulb, and a limited warranty.
Pros:
Not too expensive
Comparable quality to mirrors found in spas and luxury hotels
Easy to mount
Four different finishes
Durable
Doesn't fog
Produces an adequate amount of extra light
The bulb is easy to change
Replacement bulbs are inexpensive
It offers a magnification side
Extends up to 14 inches
Cons:
The switch feels cheap and may break over time
It's not a suitable choice for a darker room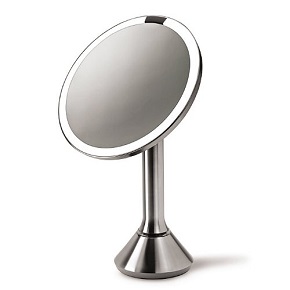 Technology is everywhere, even in makeup mirrors. Utilize the latest in innovative technology every time you use this mirror from simplehuman. You don't have to worry about faulty switches or leaving the light on and burning out your bulb with this unit. It turns on and off automatically without you having to touch a thing.
This isn't the only standout feature, though. The design is very modern so it looks great in any bathroom. You'll also have your choice from a mounted mirror or vanity mirror. You also don't have to worry about any big, bulky cords getting in your way. This wireless model has a rechargeable battery and can last a full 5 weeks per charge.
This unit is distortion free and offers 5x magnification, so you can get an up close view of your entire face. It has surgical-grade LED lights, so it's ideal for even darker bathrooms, something that just isn't offered by less expensive mirrors. You also won't have to worry about bulbs dimming or burning out, as these last for years to come. Best of all, if anything fails due to a defect, it's covered under the 5-year limited warranty.
Pros:
Turns on when you approach
Turns off automatically, saving battery power
It is cordless and rechargeable, so there are no cords to fool with
The lighting mimics natural sunlight and is bright enough for any room
Excellent warranty
Feels very solid and durable
The lights do not burn out quickly like other models
It's available in mounted or tabletop versions
Cons:
A bit expensive
It doesn't reverse
Only comes in a chrome finish
Final Word
When you sit down to apply your makeup, you obviously want to look your best. Don't let poor lighting conditions affect how you put on your makeup. Instead, invest in a lighted mirror in which you can perfectly apply your cosmetics and fix your hair. If you don't want to settle for an inferior product, the simplehuman Sensor Mirror is a top-selling unit that outperforms cheaper mirrors. From its sensor that automatically turns the lights on to LEDs that provide plenty of light that's just like natural sunlight, you can feel confident that you always look your best when you use this product to get ready each day.