Some links on this page are monetized by affiliate programs - see disclosure for details.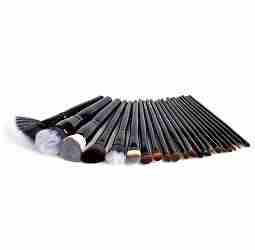 When you want to look your best, there are a few things you always do before you leave the house. You put on the perfect outfit for the occasion, you do your hair, and you apply cosmetics. When putting on your makeup, it's necessary to have quality products that enhance your skin tone, cover up any imperfections, and glides smoothly over the skin. However, so many people focus on just the makeup, and don't stop to think about another important part of applying makeup, and that is having the right tools.
If you want your makeup to always look exceptional, whether it's just for a daytime look for the office or a dramatic night look, it's important that you stock your makeup case with high-quality makeup brushes.
Compare: The Top 10 Best Makeup Brushes of 2020

The Basics: What is a Makeup Brush?
Makeup brushes are tools that you use to apply your makeup. These are used to evenly distribute powder, eyeshadow, liner, and a variety of other cosmetics. While many makeup items may come with brushes, like those found in an eyeshadow palette, these are often very low quality and don't do a great job of blending, so if you want to look your best, you'll want to upgrade to a nicer set of brushes.
Whether you're a professional or just getting started with makeup, brushes are something that you need to have on hand when you're applying beauty products.
What are the different types?
There are brushes to use for every part of your face, and you need to make sure you're using the correct brush to get the best results. You can opt to purchase individual brushes or you can invest in a full kit that has some of the most popular ones that you'll use daily. Before you splurge on new products, learn more about the types of brushes available and determine which ones you need to add to your beauty kit.
Foundation brush
More and more women are beginning to put their foundation on with a brush because it glides on smoothly and blends well. These brushes are best used with liquid or cream foundations.
Blush brush
This is a big brush that is used to apply blush on the apples of your cheeks for a rosy glow.
Eyeshadow brushes
There are many different eyeshadow brushes, including a crease brush that is designed to add a darker color in the crease and blending brushes that help you blend out harsh edges.
Eyeliner brush
This brush is used to apply cream or liquid eyeliner to the upper and lower lids.
All-over face brush
These are the largest brushes and are used to cover the entire face. They are ideal for blending out foundation or applying loose powder.
Bronzer brush
These is similar to a blush brush, only the bristles are cut at an angle so color can be added with precision to key points on the face, including the checkbones and forehead.
Kabuki brush
This is a fat brush with a short handle that is typically used when applying mineral makeup.
Lip brush
This brush can be used with lipstick or lip gloss to add just the perfect amount of color to your lips.
What are the Advantages of Owning a Great Set of Brushes?
Anyone that wears makeup should have a great set of brushes. Whether it's for applying your foundation smoothly and evenly while blending away harsh lines around your jaw or for perfectly blending out your bold and bright eyeshadow, brushes help you get a more polished look.
They are available at all price points, from affordable synthetic brushes to more expensive natural brushes, so you can stock up regardless of what kind of budget you have.
How Can You Make Makeup Brushes Last Longer?
Makeup brushes last the longest when you use them correctly and with the same kind of product every time. Most brushes should last you at least a couple of years, though if you use them for too much longer they'll start to get brittle.
When you use makeup brushes with multiple products, it can degrade the strength of the brush fibers and also contaminate your supply of those products. Likewise, if you use your brush too vigorously or more frequently than it was intended, the fibers can become dry and brittle.
So, make sure that you're using the right kind of brush with the right product, and make sure that you're using a light touch while you apply products.
Which Products are the Best on the Market in 2020?
Whether you're new to applying makeup and you're purchasing your first set of brushes or you just want an affordable set, this product fits the bill. You'll get 10 great brushes with your purchase, the perfect amount to add to your collection. These brushes are made with synthetic bristles that are soft against your skin and apply just the right amount of color. They have sturdy, durable handles, making them very easy to use, and they're available at one of the lowest prices you'll find.
You'll be able to completely transform the way you look with this set, which comes with an amazing 22 brushes. From shadow brushes to fan brushes, you'll find that this set has it all. These brushes are made with a combination of natural and synthetic hairs, they are soft, and they are easy to use. They all come packed in a roll-up carrying case which is ideal for organization or for travel.
Load up your makeup case with every brush you'll ever need when you purchase this set. You'll receive 24 brushes, all of which are handmade and have durable oak wood handles. The brushes have been antibacterial treated for your safety, and you can easily clean them with the SHANY cleanser, sold separately. Even though this set is the most expensive on the list, you get the most brushes and quality that just can't be beat.
Considerations for Choosing the Right Set
Just like purchasing cosmetics, you need to take your time and do your research to make sure that you pick the right product. While you shop, look for these four things in every product you're considering purchasing, as well as your own must-have features that you just can't live without.
Price
Cosmetics brushes range in price from a few dollars for one synthetic brush to hundreds of dollars for a full set of top-quality brushes made with natural hair. Consider the price, but also look for quality. After all, you don't want to spend money (even if it's a small amount) on brushes that shed or have handles that will break after just a few uses.
Number of brushes
If you just wear natural makeup, a few basic brushes may be all you need. However, if you want to try out all of the latest trendy makeup looks found in fashion magazines, look for a set that contains multiple brushes in all different sizes.
Types of brushes
Once you've figured out how many brushes are in the set, it's important to know what brushes are included. If you must have a foundation brush but a set you're considering doesn't contain one, you might want to keep looking until you find a collection that has all of the necessities you want to add to your collection.
Natural or synthetic
You have two options when it comes to the hair of your brushes: natural or synthetic. Synthetic brushes are often less expensive, but they may shed, not be as soft, or may not distribute makeup evenly like natural ones. Natural brushes are made with animal hair, and they are softer, don't shed as much, and are typically more expensive.
Price
BS-MALL Premium Synthetic Set
This set is priced at a very reasonably.
Coastal Scents 22 Piece Set
For this large kit, you'll get a real bargain when compared to buying each brush individually.
SHANY Pro Signature Set
This set retails at the higher end when compared to the other two sets, but with the most brushes, it's really quite a steal.
Number of brushes
BS-MALL Premium Synthetic Set
With your purchase, you'll receive 10 of the most popular brushes.
Coastal Scents 22 Piece Set
This set comes with 22 great brushes for every part of your face.
SHANY Pro Signature Set
With 24 brushes to choose from, you'll always be able to achieve all the latest makeup trends.
Type of brushes
BS-MALL Premium Synthetic Set
This 10-piece set includes the following brushes: round powder, angled bronzer, flat foundation, angled foundation, tapered concealer, small tapered concealer, small round shadow/primer, small angled contouring, small flat stipple, and small angled concealer.
Coastal Scents 22 Piece Set
Add the following brushes to you makeup collection: large fan, powder buffer, round powder, flat buffer, angle blush, foundation, concealer, large shadow, blender, doe foot blender, dome shadow, dome blender, medium shadow, detail shadow, lip, detail concealer, pointed blender, brow, smudger sponge, large liner, medium liner, and small liner.
SHANY Pro Signature Set
You'll be able to round out your collection, even if you don't own any other brushes, with this great set which includes: liquid foundation buffer, X fan, medium powder, oval liquid foundation, slanted contour, buffed bronzer, spoolie, foundation, mineral powder, eyeshadow, blending, contouring eyeshadow, rounded foundation, slanted eyeshadow, mineral blush, mineral bronze buffer, slanted finish, concealer, cream eyeshadow, eyeshadow buffer, slanted eyeliner, eyeliner, and brow.
Natural or synthetic
BS-MALL Premium Synthetic Set
These brushes are synthetic hairs that feel as soft as natural bristles.
Coastal Scents 22 Piece Set
These are a combination of natural and synthetic hairs, including goat hair, pony hair, nylon, and fiber hair.
SHANY Pro Signature Set
Your set is synthetic and natural materials, including sable, pony, badger, goat, and synthetic hairs.
Our Final Reviews Are In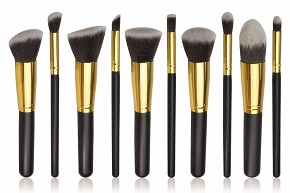 Cosmetics can be expensive, and sometimes, buying makeup or the tools we need to apply it just doesn't seem to fit within the budget. However, this great set is priced competitively. For a 10 piece set, this is less than a dollar per brush, a real bargain in the beauty world. These aren't just cheap brushes, either. You'll find that they are actually very durable and made of high-quality materials. While they won't be mistaken for the most expensive brushes, they certainly get the job done.
You'll get 10 of the most popular brushes to achieve all of the latest makeup trends. These brushes are made with synthetic hairs that are silky soft and help you apply your makeup like a pro. The handles are very sturdy, and they feel like more expensive brushes, only they're available at a fraction of the price.
Pros:
Very inexpensive set
The hairs are very soft
They apply makeup evenly
The handles feel sturdy
It comes with the most popular brushes
They are soft enough for sensitive skin
Dense and full
Cons:
The handles may detach over time
They tend to shed more than high-end brushes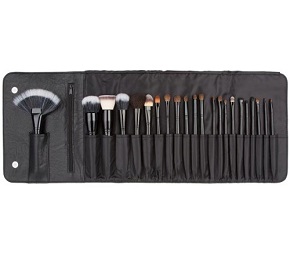 Coastal Scents is a brand that has become known for its bold and bright eyeshadow palettes, and they've taken their quality designs and low prices and have brought them to this 22-piece set. You'll get a wide assortment of brushes to use for any look, whether you want subtle and sweet for a daytime date or bold and dramatic for a fancy formal occasion at night.
Each piece is made of high-quality synthetic or natural hair. They are very soft, hold makeup well, and distribute it evenly. The handles feel sturdy and secure in your hands, and they even come packaged in a roll-up case that keeps them organized whether you're at home or on the go. This set is very comparable to high-end brushes, but they don't cost nearly as much.
Pros:
They are affordable
You get a great selection
Cruelty-free
They come packaged in a convenient case
They are very soft
The brushes are very thick
Easy to clean
They do not shed while in use or while being cleaned
The handles are long enough to make them easy to use
Lightweight
Cons:
They have a chemical smell that requires cleaning before the first use
The smell should fade after washing or within a day or two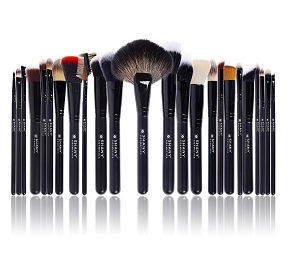 For the most versatility, you want a wide selection of quality brushes to choose from when applying your makeup. It doesn't get much better than this set from SHANY, which comes with 24 amazing brushes. In fact, this set is our top pick for best makeup brush. Whether you want to apply your lipstick, fill in sparse brows, create a fresh canvas with a foundation brush, or get a natural glow with a bronzer, there's a brush in this kit to handle the job.
This set comes with a combination of brushes that are made with synthetic hairs and natural hairs as well. All are soft, full, and feel luxurious against your skin. They pick up lots of color and distribute evenly, so you can feel confident when applying your makeup.
The oak wood handles feel sturdy and much more durable than inexpensive plastic handles. These shed very little, so you don't have to worry about tiny hairs all over your face. They come conveniently packed in a roll-up case that is perfect for storage, as well as for travel.
Pros:
Hypoallergenic
Cruelty-free
Made with high-quality hair, including sable and beaver
There is a huge selection of brushes to choose from
They apply makeup evenly
They are very soft
Do not shed much
Easy to clean
When the price is compared to the number of brushes included, it's a great value
It comes with a free mini brush cleaner
Cons:
They may shed a bit after cleaning
Over time, the metal pieces may become detached from the handles
In Conclusion
You've paid for the cosmetics and you're in front of your makeup mirror. Now all you need is a great set of brushes. Instead of spending a fortune buying individual brushes, you can save money and have everything you need to pull of the latest looks by purchasing the SHANY Pro Signature Set, an affordable set that rivals pro sets without the high price tag.