Some links on this page are monetized by affiliate programs - see disclosure for details.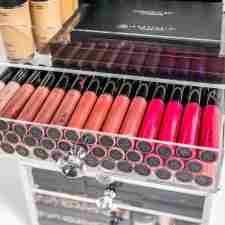 Makeup organizers are so helpful in keeping together all those different vials and palettes that you use to complete your daily beauty regimen. We all know what it's like to scramble as you go rooting around for that perfect shade of eye liner while racing against the clock to get out the door. With a makeup organizer conveniently placed on your vanity, you can grab what you need when you want it, both saving time and looking your best with extra time to spare.
Nowadays the options for makeup organizers are plentiful. You can select one that matches your decor at the perfect size to fit your makeup choices. From designs that keep you organized at the simple bare minimum to a capacity that supports an all-out theatrical assortment, you can find the makeup organizer that's right for you and your home.
This guide will help you understand what the options are in makeup organizers and will help you find one that fits your budget. Many of the selections come in an assortment of sizes, so you will be able to find one that suits your specific makeup collection.
What is a Makeup Organizer?
A makeup organizer is a counter top product that provides drawers and divided cells (or troughs) for you to store your makeup items. The drawers are great for storing flat items, such as eye shadow, blush, and powder palettes. In addition, drawers are the answer to storing away unsightly but still useful products that have gotten dinged up or stained while keeping them close at hand and within reach. The cells keep your items, such as nail polish, lipstick, eye liner, mascara, and tweezers upright and easy to grab as you apply your makeup.
Makeup organizers keep your items arranged in such a way that you can save time since you don't have to rifle through a large drawer or basket to find what you need. Being aesthetically pleasing, they add to your decor and provide a place that allows you to keep your makeup close at hand without adding clutter to your counter top or vanity.
Related: The Top Selling Lighted Makeup Mirrors
What are the Advantages of Makeup Organizers?
There are many advantages to using a makeup organizer. Let's face it, makeup can be expensive, and when you consider all the components of your makeup routine, you'll agree that keeping things orderly and organized helps you save money in the long run. With a makeup organizer, gone are the days of rummaging through cabinet drawers, cosmetic bags, and plastic boxes to find the item you're looking for. Instead of just buying the product again because you can't find what you're looking for, you can now rest assured it will be where you decide it belongs in your organizer.
Makeup organizers save you time because you can organize both by color and by product. Imagine having all your eye shadow palettes neatly organized by hue or season. Think about how nice it will be to have your lipsticks all together in one place so that you can pick the perfect shade or quickly combine two to enhance your outfit. Being able to get your hands on what you want when you need it is worth all the time you can save.
And makeup organizers can help you add to your creative style. Since you can fully see each item, and understand how each shade and texture may complement your style, you can spend more time trying out a diverse assortment. Makeup is what we use to highlight our features, and a makeup organizer does a great job of highlighting all you have to work with.
What are the Types of Makeup Organizers?
All makeup organizers work by providing sections for you to put your items into. For example, deep and narrow wells work great for a collection of eye liners or lip liners, while wide and shallow spaces are great to help you keep your eye shadows and blush powders together.
After that common feature, the differences between makeup organizers boil down to size, organizing structure, material, and aesthetic design.
You can find a size that's right for you, and many of the selections in this guide have options ranging from small to extra-large. Some choose to grab a few organizers for different bathrooms or bedroom vanities because makeup organizers are great to keep you organized beyond makeup.
Some makeup organizers are a combination of troughs and drawers. With these organizers, some items can be stored so that they are protected from moisture and debris. Drawers also help by giving you a place to store those makeup palettes that have a faulty lid as well as those that have no lid at all. Who hasn't experienced that? Finally, some makeup organizers are quite simply drawers stacked together, which allow you to keep each type of makeup product, such as lipsticks, together or store combinations, such as evening or work makeup, together so that you have all you need collected in one place.
As far as materials go, makeup organizers can be made of acrylic, plastic, wood, or bamboo. Acrylic is popular because of its clarity. Acrylic looks like clear glass, but is safer and easier to clean. An advantage to acrylic over other plastics is that it will not yellow over time. Finally, makeup organizers made of bamboo have an earthy look and texture and blend will with many modern designs in its simplicity and cleanliness.
What Makeup Organizers are the Best on the Market?
Sodynee Jewelry and Cosmetic Storage Acrylic Makeup Organizer
The Sodynee is a two-piece organizer that has both drawers and cell troughs. The lower section of drawers features two different sizes and comes with removable fitted liners. The upper section has one large cell trough aside several smaller ones to meet your makeup storage needs.
Unique Home Acrylic Jewelry and Cosmetic Organizer
This two-piece makeup organizer has two distinct sections: the drawer section has two side by side drawers atop two wider drawers stacked upon each other. The other organizer component has one large angled trough next to a 3×4 grid of equal sized smaller troughs. The drawers come with removable liners
Ancona life 3-tier Mini Desk Makeup Organizer
The Ancona is made from ecologically responsible bamboo. The drawers are deep to provide ample room for your various makeup products. The large trough on top is not sectioned off, allowing you to arrange items atop as you please.
Features to Consider
Aesthetic Design
Makeup organizers are designed to be displayed on your counter or vanity. Therefore, you want something that is pleasing to look at and fits in with your decor. When selecting a makeup organizer, think about how it will add to your decorating style. Will you choose something with a modern look, such as clear acrylic, or go with a more traditional style, such as a wood design with contoured features.
Ease of Cleaning
With all that makeup being tossed inside, especially if you find yourself in a hurry before your morning commute, you want to find a makeup organizer that is super easy to clean. Surfaces, such as plastic, acrylic, and painted wood are the best. More natural materials, including natural wood and bamboo are at a higher risk of being permanently discolored when your nail polish spills, or your eyeliner cap gets abandoned in the pursuit of saving time.
Some makeup organizers come with padded liners, so you can both keep the floor of the drawer or trough clean while protecting your products from damage. Knowing your own habits helps you determine which type of surface will be the best choice for you.
Durability
You want to choose a product that will last. The product most likely to break or scratch is not going to last as long as a more durable acrylic, wood, or bamboo makeup organizer. Choose something that is solidly constructed and well put together.
Stacking Options
Some makeup organizers come with stackable features, meaning you can add drawers to the base, or connect additional troughs as needed. If you expect your makeup collection to increase, or if you want to consider including other items, such as first aid creams, a toothbrush or two, and tweezers to your organizing display, consider choosing a makeup organizer that can grow with you.
Our Makeup Organizer Reviews
Best Cheap: Sodynee Acrylic Makeup Organizer
Pros:
The Sodynee is attractive and functions well for an average amount of makeup. Its low price tag makes it an attractive choice for bargain hunters.
Cons:
This product is on the smaller side, so it would work well for someone who wants to store some basic daily makeup products.
Best For the Money: Unique Home Acrylic Jewelry and Cosmetic Organizer
Pros:
This product is aesthetically pleasing and durable. Because it is made of clear acrylic, you can see all the items within the drawers.
Cons:
The smaller cells are harder to clean and do not vary in depth. This is only an issue if some of your products are much taller than others.
Best Overall: Ancona life 3-tier Mini Desk Makeup Organizer
Pros:
The sturdy construction and pleasing appearance of this makeup organizer is hard to beat. The upper deck is versatile in that you can store makeup with enough room for a photo or flowers. The drawers are deep, so they hold more than the average makeup organizer drawers.
Cons:
Because there are no divided cells, long thin items, such as eye liner, mascara, and lip pencils cannot be stored upright.
Conclusion
Makeup organizers help you keep your collection of makeup products together in such a way that they're easy to find and arranged to save you time. Gone are the days of repurchasing makeup products because you can't find the item you originally bought. With a makeup organizer, you know exactly where that eyebrow pencil will be! Plus, the beauty of modern makeup organizer design will enhance your décor. With quality, convenience, and a boost to your time savings, makeup organizers are well worth it.