Some links on this page are monetized by affiliate programs - see disclosure for details.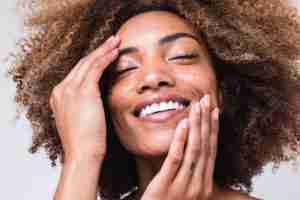 Large pores can be pesky. Dirt and oil clog big pores and contribute to facial blemishes. The best pore minimizer could help you reduce your pore size, prevent acne, and nourish your face.
There are a variety of pore minimizers on the market that have different perks. Consult the information below to figure out what the best pore minimizer is for your unique skin type. Below, we will break down the top pore minimizer products available on the market today.
Compare: Top Rated Pore Minimizers of 2021

Introduction: What Are Pore Minimizers, Anyway?
Pore minimizers are skincare products that shrink the appearance of facial pores, as the name suggests. Using a pore minimizer as a base under makeup foundation primes the skin and erases large unsightly pores. When used over an extended period of time, the best pore minimizers will tighten pores for good, which evens the skin and makes it less prone to acne. Using a high-quality pore minimizer is an important step in any well-rounded skin care routine.
What are the benefits?
There are several benefits that result from using a pore minimizer. First, they tighten the skin, minimizing pores and wrinkles. Using pore minimizers as a primer under face makeup also has the benefit of improving the long wear of makeup throughout the day. Pore minimizers smooth, hydrate, and exfoliate the skin.
What causes large pores?
Large pores have three main causes:
Skin type and genetics
Age
Your sex
People with naturally oily skin are more likely to have large pores. Oil and dirt can cause your skin to swell. As your skin stretches, your pores grow larger and more visible. Genetics also play a significant role in determining the size of your pores, according to an article in the Dermatology Center for Skin Health.
Additionally, skin loses elasticity with age. This loss of elasticity makes pores larger. Sun damage also starts to appear as we grow older, which further contributes to large pore size, according to an article in Healthline.
Generally, men have larger pores than women. However, hormonal changes can increase pore size in women, often temporarily. Many women have larger pores during menstruation.
None of these factors are controllable. You can only treat the symptom (large pores) instead of the cause (your age, etc.). Pore minimizers are among the most effective treatments available.
What are the different types of pore minimizing products?
Pore Minimizing Serum
Serums combine a mixture of nourishing oils and chemical compounds to create an effective pore-minimizing treatment. Popular serums on the market generally include ingredients such as lemongrass oil, Manuka oil, Salicylic acid, Hyaluronic acid, Oleanolic acid, and Retinol. These antimicrobial and anti-bacterial components clarify the skin and tighten pores. Serums are most effective when used on the skin after you wash your face at night. Allow pore-minimizing serum to soak into your face at night before bed and wake up with rejuvenated skin.
Pore Minimizing Cream
Other types of pore minimizers come in cream-based form. These pore minimizers are wonderful to use in the morning after you wash and moisturize your face and before you apply makeup. Many pore minimizing creams act as a primer for concealer and foundation. They contribute to a flawless finish that will last throughout the day.
Pore Minimizing Cleanser
Another type of pore minimizer on the market comes in the form of facial cleanser. Washing the face up to twice a day with a powerful cleanser has the potential to minimize pores over an extended period of time. Look for cleansers that have ingredients like Salicylic acid and Benzoyl Peroxide to deep clean and tighten pores. If you have sensitive skin, make sure to moisturize the skin with a soothing facial cream after using these cleansers, as the chemicals can potentially dry out the skin.
Pore Minimizing Masks
Facemasks are another great way to treat large pores. Look for masks that include ingredients such as charcoal and clay that purify and tighten the pores. Charcoal is especially effective at treating pesky blackheads that tend to form in the large pores on the nose and cheeks. Using a face mask with pore-minimizing properties once or twice a week will contribute to smooth, glowing skin.
All Natural Pore Minimizers
Although many products available on the market utilize chemicals to cleanse and minimize pores, there are also several all-natural options to consider. Depending on your skin type or lifestyle, choosing a natural pore minimizer may be the best option for you. Natural pore minimizers come in different forms, such as cleansers and toners, and often include naturally astringent ingredients such as tea tree oil, witch hazel, willow bark oil, and aloe.
The Top Three Products on the Market in 2021
This leave-on exfoliator contains 2% Beta hydroxy acid, which is a salicylic acid. Salicylic acids unclogs large pores, making them smaller, as well as helps the skin shed dead skin cells. The pore-reducing product also combats aging by smoothing wrinkles. The exfoliator is gentle and non-abrasive and also contains no fragrance or parabens. Apply the product to a clean face daily or once a week and you'll notice healthier skin and smaller pores!
A #1 Best Seller, This face primer not only minimizes and blurs pores but also moisturizes the skin. It can be used to create a smooth base for makeup and foundation or can be worn by itself without any makeup applied on top. The primer is also non comedogenic, which means that it is great for acne-prone oily skin because it doesn't clog pores, according to an article in Healthline. Apply a thin layer of the primer on your face, and Maybelline says it will keep your skin moisturized all day.
This antioxidant pore refining face serum contains lots of skin nourishing and protecting ingredients, including vitamin C, 5% botanical hyaluronic acid, vitamin E, witch hazel, and jojoba oil. The product combats signs of aging, including wrinkles, large pores, and dark spots. TruSkin says it contains no added synthetic colors, fragrance, sulfates, or parabens and is cruelty-free. The effect is a natural glow and healthier, smoother appearing skin.
Factors to consider when choosing a product
Price
Price is an important factor to consider when making any purchase, but especially when you are buying a skin care product that will have a lasting effect on your appearance. Typically, the more you pay the higher the quality and effectiveness of the product. However, this is not always the case, especially because different skin types react in a variety of ways to various pore minimizers. Make sure to consider your skin type (oily, dry, sensitive, acne-prone etcetera) before buying a pore minimizer, and do your research about the best quality for various prices.
Quality
Depending on your skin type and the desired pore minimization effect, the quality of the product you buy matters. If you have resilient skin that reacts well to most products, you may want to save your money and buy a lower-end pore minimizer. On the other hand, if your skin is very sensitive and prone to breakouts, look for a higher quality product that is made from wholesome ingredients that will pamper your skin.
Ingredients
If you want to take an all-natural route, make sure that the products you buy are free from synthetic chemicals. However, if you want to start a chemical based pore-minimizing regimen, look for a product with ingredients that are effective for your skin type. For example, some people's skin reacts well to Salicylic Acid but not Benzoyl Peroxide, so be sure that you thoroughly check the label of the pore minimizer you are thinking about buying. Being cognizant of the ingredients in facial products will help you find the best pore minimizer.
Type
As stated previously, there are a variety of types of pore minimizers on the market. Before making a purchase, consider which type of product is best for you. Do you want something you can use both in the morning and evening? Or do you prefer a treatment that you use once a day? When do you spend the most time caring for your skin? The answers to these questions will help you determine which type of pore minimizer to purchase. Remember that there are many options to choose from, and you should find the product that best fits your lifestyle and your skin care needs.
Price
TruSkin
This pore minimizing serum is priced relatively low given its high quality. Although the price includes only 1 fluid ounce of product, it is fast absorbing and lightweight.
Baby Skin Maybelline Instant Pore Eraser Primer
This pore minimizing primer is one of the most affordable options on the market. The price includes 0.67 fl oz of product.
Paula's Choice Skin Perfecting 2% BHA Liquid Exfoliant
This is one of the pricier pore minimizing treatments available today, however, you pay for a high-quality product that will ensure results.
Quality
TruSkin
TruSkin is a reputable skin care brand that boasts a history of high-quality products that contribute to radiant skin. Many see a difference in their skin sometimes as quickly as a week after applying it daily.
Maybelline
This product is a silicone primer that is highly effective, especially underneath makeup, which makes it a steal for such a low price.
Paula's Choice
Paula's Choice is a highly trusted skin care brand. Their products, this pore minimizing leave-on exfoliant included, are manufactured with high-quality ingredients that will be kind to your skin.
Ingredients
TruSkin
TruSkin's pore-minimizing serum is free of synthetic colors, fragrances, parabens, phthalates, and sulfates. It instead contains plant-based ingredients, including aloe Vera, jojoba oil, and witch hazel. The vitamins C, E, and hyaluronic acid are blended to combat large pores and wrinkles.
Maybelline
This pore erasing primer consists of silicone ingredients designed to diminish and blur the appearance of pores. Although silicone is a synthetic ingredient, it helps the skin retain moisture and produces a smooth, matte finish on the skin's surface. The product is also non comedogenic.
Paula's Choice
This leave-on exfoliator contains 2% beta hydroxy acid, a salicylic acid and green tea. The green tea calms down the redness in the skin and the salicylic acid cleanses the skin. It also contains no fragrance or parabens.
Type
TruSkin
This product is a serum that can be used in the day or night. A helpful tip from customers is to apply either a toner or some water first to dampen the skin, allowing the serum to spread across the skin and then be absorbed, so less drops are required.
Maybelline
This pore minimizer is a primer that can be applied either by itself or before applying any foundation or concealer makeup.
Paula's Choice
Paula's Choice says its 2% BHA liquid exfoliant can be applied once every other day at first or once a week, depending on your skin's needs. It can be applied by patting it on your face and neck using your hands or a cotton pad.
Our Pore Minimizer Reviews

The Baby Skin Maybelline Instant Pore Eraser Primer is the best pore minimizer for the lowest price. It works well and is affordable and effective.
Pros:
Among the lowest priced in the top 10
Great for using under makeup
Cons:
Although you don't need to use much, the packaging is on the small side

Paula's Choice Skin Perfecting 2% BHA Liquid Exfoliant is the best pore minimizer for the money. It costs slightly more, but is worth the money given its high quality and effectiveness.
Pros:
Exfoliates
Contains salicylic acid and green tea
Cons:
Sensitive to sun
Higher price point

TruSkin Vitamin Serum is the best pore minimizer overall because of its high quality and relatively low price, making it a great choice overall.
Pros:
Uses a plant-based formula and certified cruelty free
Brand and product have a good reputation
Cons:
Although you don't need to use much, the packaging is on the small side
In Conclusion
No matter your skin type, budget, or desired outcome, scanning the market for a pore minimizer is a wise choice for anyone looking to improve his or her skin care routine. Pore minimizers smooth and tighten the skin, and help reduce and prevent blemishes. They also contribute to glowing, healthy, youthful looking skin. Consider your personal preferences and do plenty of research before purchasing the best pore minimizer for your skin type. Looking for one of the best? The TruSkin Vitamin Serum is a great choice.