Some links on this page are monetized by affiliate programs - see disclosure for details.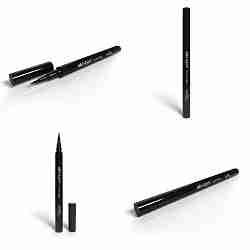 Millions of women wear cosmetics for a variety of reasons. Makeup is so popular because it helps cover problem areas like red spots, dark circles, and can hide fine lines, wrinkles, and acne. Makeup is also fun to use, as it allows you to transform your look from day to night, from subtle and natural to glam and over-the-top for the most special occasions.
You can emphasize your best features, whether it's adding a bright red gloss to your lips or emphasizing the color of your eyes with bold eye makeup. If you really want to crank up the look of your everyday makeup, try throwing a liquid liner into the rotation.
What is Liquid Eyeliner?
Liquid eyeliner is a product that is used to line the upper and lower lashes to really enhance your eyes. When paired with eyeshadow and mascara, this product can really make your eyes pop. Unlike kohl pencils, liquid products glide on easily, allowing you to draw beautifully straight and even lines, wings, and perform a variety of other trendy looks. It is darker and more dramatic than other types of eyeliner, so it's great for date night, weddings, formal occasions, or anytime you want to show off a more dramatic look.
See also: Our Top 10 Favorite Eyeliner Pencils
What are the Different Types?
Whether you've tried this type of eyeliner before or you're new to using it, it's always important that you buy a product you'll want to use. There are so many different types of eyeliners on the market, and making the right choice can seem a little overwhelming. However, it's easy to narrow down the choices by knowing a few things to look for, including the differences between the two types of the market.
• Dip-brush – This liner is similar to an old pen and inkwell design. When you unscrew the cap, you'll see that there is a thin brush attached to the end. This brush can be dipped into the container to add more liquid. These are ideal for create wings and other unique makeup looks.
• Felt-pen – These look just like markers, only instead of ink, they contain eyeliner. These are best for creating thin or thick lines that are straight and even. Most beginners find that these are easier to use than dip-brush liners.
Why Use Liquid Eyeliner?
If you really like to focus on your eyes when applying cosmetics, a liquid liner is a must-have item for your cosmetic bag. Whether you draw a thin line for a subtle, natural look or you do a thick dramatic smokey eye look for evening, this liner is versatile enough to help you pull off all of the latest styles in makeup.
These liners are long-lasting, easy to apply with just a little practice, and in many cases, may be waterproof so they stay put all day. If you don't like the smudged look of kohl pencils, a liquid liner provides you with a more structured, more deeply pigmented line that really makes your eyes the focal point.
Related: The 10 Greatest Cuticle Removers
Which Products are the Best?
Maybelline New York Eye Studio Master Precise Liquid Eyeliner – You'll love the way your eyes look when you've applied this eyeliner, which comes with a brush that's designed for a precise line every time, even if you're new to liquid liner. This product is very affordable, but don't let that fool you – the color is deeply pigmented, it's long-lasting, and it can be used in a variety of ways to enhance your natural beauty. You'll get 12 full hours of staying power with this product.
Revlon ColorStay Liquid Liner – Draw a thin, natural line or go all out with a bold, thick line on your lashes with ease with this great product from Revlon. Just like other ColorStay products, you can trust that this liner will stay put all day (or evening) long. The flexible tip makes this product easy to use, allowing you to draw precise lines to really bring out your eyes. It's also extremely affordable, so grab one for your cosmetics bag at home, as well as for your purse.
stila Stay All Day Waterproof Liquid Eye Liner – If high-end is what you crave, you'll love this liner from stila, a leader in the cosmetics industry. This product glides on and doesn't run or smudge for the precision you're looking for. Go bold and dramatic with basic black or choose from 14 other great colors that range in shades from neutrals to bright and trendy.
Considerations for Choosing the Right Eyeliner
If you want to rev up your look with a liquid liner, it's time to begin shopping for one that best fits your needs. Before you buy, there are a few things you need to keep in mind. Where do you plan on wearing it? What color are your eyes? Do you want to go bold or simple? To help you answer these questions, as well as pick a great product, keep the following things in mind while you shop.
Price
The great thing about eyeliner is that even the most high-end brands aren't ridiculously overpriced. However, they are a bit more than the traditional drugstore brands. Not only do you need to consider how much you're willing to spend, but you need to look at other aspects, including whether it's waterproof, the color selections, and the staying power. A liner that is more expensive may not smudge, run, and may not have to be layered on, making it a better buy than a cheaper version that rubs off or smudges easily and has to be caked on.
Liner type
As mentioned, there are two different types of liners available. For a more precise line or if you're new to using this type of makeup, choose a felt-pen. If you want to wing out your eyeliner, go with a dip-brush.
Staying power
You want your eyeliner to stay in place, whether you're dancing all night at a club or heading into the office. Make sure that you pick a liner that won't smudge or run when you're outdoors in the heat or just wearing it for a long period of time.
Colors
The color of your eyeliner affects the way your makeup looks. A soft brown, for example, is more subtle and natural than an inky black. You can also look into fun colors to enhance your eye color, like purple for brown eyes or slate gray for blue eyes.
Liner type
Maybelline New York Eye Studio
This felt pen is easy to use to achieve a variety of looks.
Revlon ColorStay
This dip-brush set has a flexible brush that allows you to customize the look of your liner with the flick of a wrist.
stila Stay All Day
This felt pen glides easily over the eyelids for that perfect line you've been looking for.
Staying power
Maybelline New York Eye Studio
You should expect to get around 12 hours of wear with this liner.
Revlon ColorStay
This liner can stay put all day, and it generally lasts anywhere from 14 to 18 hours.
stila Stay All Day
This liner stays on all day and even all night. It won't come off until you take it off.
Colors
Maybelline New York Eye Studio
This liner is available in just one color, basic black.
Revlon ColorStay
Choose from bold Blackest Black or go for a more subtle appeal with Black Brown.
stila Stay All Day
You'll have your choice of 15 stunning colors, including Alloy, Amber, Cobalt, Dark Brown, Emerald, Indigo, Intense Black, Midnight, Moss, Olive, Paradise Pink, Periwinkle, Teal, Turquoise, and White.
Our Liquid Eyeliner Reviews Are In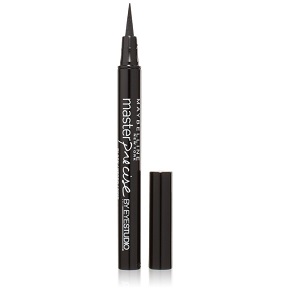 If you shop on a tight budget, treat yourself to this great liner from Maybelline. Not only will you spend less than $10, but you'll get a product that's designed to last. The felt-pen design makes it easy to keep a steady hand while you create dramatic lines on your lids. It provides continuous flow, so you don't have to worry about breaking a line to dip in the liner, and the color really stands out.
This liner always provides just the right amount, so you never make a mess. The thin 0.4 millimeter tip makes it easy to draw lines with precision, even if you've never worn this type of makeup before. You'll get up to 12 hours of wear time when you use this affordable beauty product.
Pros:
It is very inexpensive. Does not dry up while in use. It is not messy. It is easy to use. Ideal for beginners. It is long-lasting. It glides on smoothly.
Cons:
May flake off after several hours. It's only available in one color. It tends to smudge. It is not waterproof.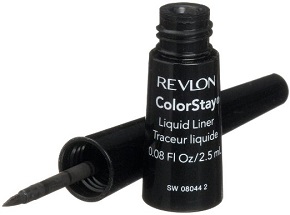 If you want staying power without spending a fortune, this is what you're looking for. This liner from Revlon goes from day to evening with no smudging or running and no reapplication. You can choose from darker black for a bolder evening look or a black-brown for a more subtle daytime look.
The standout feature other than the staying power is the brush, which has a tapered, flexible tip that allows you to personalize the look of your liner. You can easily draw a thin, subtle line or go more dramatic with thicker lines. This liner is easy to use, priced at less than $10, glides on smoothly, and stays where it's supposed to for hours.
Pros:
It is very long-lasting. It doesn't smudge or run. Easy to apply. It glides on smoothly. It can be used to draw thick or thin lines. The design of the brush offers precise control. It is very affordable.
Cons:
Color choices are limited. It is a bit thick. It may irritate sensitive eyes.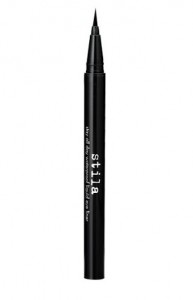 If your makeup bag is filled with the latest and greatest beauty essentials, you'll want to add this liner from stila to your other high-end cosmetics. From a wide range of beautiful colors to smooth application and perfect lines, you'll never want to use another liner again after trying out this product.
First, you'll have your choice from 15 different colors, from neutrals to trendier brights. Once you've chosen your favorite color (or several), you'll love how this liner glides smoothly across the eyelid without pulling or tugging like cheaper liners do.
This liner is designed to stay in place all day until you take it off with eye makeup remover, so it's ready to handle a long day at work or a fun night with friends. It is waterproof, so it's great for any occasion like the latest romantic tearjerker or even your wedding day. The felt applicator makes it easy to apply, and the overall design is easy for everyone, even beginners.
Pros:
It is very long lasting. It doesn't run, smudge, or feather like other liners. Available in 15 colors. It is easy to apply and goes on smoothly. It is waterproof. It's ideal for all skin types, even oily skin. It dries almost instantly. It's not messy to use. The felt tip allows you to draw lines of any thickness to really make your eyes stand out.
Cons:
Some of the lighter colors do not stay on as long as the deeper colors like black. It is a bit expensive.
Conclusion
If you want to add a little bit of drama to your look without going over-the-top, a liquid eyeliner is just the product you need to add to your makeup kit. Even if you do want to go a little overboard with your look, you can do that too with a versatile liquid liner. If you want a product that's designed to last, is richly pigmented, and is very easy to apply, you can't go wrong with stila Stay All Day. This liner performs well beyond your expectations with its waterproof design, bold color choices, and long-lasting performance that will always keep you looking your very best.