Some links on this page are monetized by affiliate programs - see disclosure for details.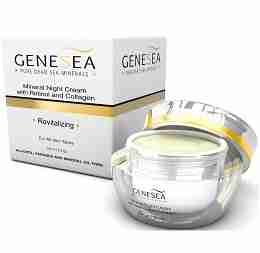 No matter what age you are, you may always have issues with your skin that bother you. From acne while you're a teenager to fine lines and wrinkles as you get older, it seems like once one problem is cleared up, you have to deal with something else. During these processes, you may spend money on different types of cosmetics, creams, cleaners, and skin products, such as pore minimizers and lip balms. In fact, some women may spend hundreds or even thousands of dollars per year buying products that target just one issue.
However, there is a product that is known to many as a miracle cream, something that can help reduce the size of your pores while also filling in those fine lines and wrinkles. That miracle product that many men and women of all ages use is a retinol cream.
Compare: The 10 Best Retinol Creams of 2018

What is a Retinol Cream?
Retinol is just a different name for Vitamin A. This vitamin works wonders for your skin, and it has been put in a variety of different beauty products, from acne medications to anti-aging creams and eye creams. This vitamin has been shown to directly affect skin cells, even altering how they react to do things like boost collagen that fills in wrinkles to clearing up breakouts or treating psoriasis.
This cream can be applied to your face and with regular use, clears up a variety of skin conditions.
What are the different types?
The primary difference in each of these creams is the amount of retinol. Stronger concentrations are used for more severe skin problems, including severe acne. The other ingredients also differ from product to product. Since so many different products use retinol, it's important to select a product that is designed to target your problem area.
Acne creams
These are usually applied to the skin once to twice daily to keep clear up acne and help keep it away. It is usually put on after using a face wash designed for acne. This type of cream usually have a higher concentration of retinol, and when going out in the sun, it is recommended to use sunscreen to prevent burns.
Eye creams
These are designed to go around the delicate skin around your eyes. It has a smaller concentration of retinol, but it's still quite effective. It is designed to target fine lines and crows feet that pop up with age.
Face creams
These creams can be applied to the entire face, although it's best to avoid the sensitive eye area. These are designed to help produce collagen, which can fill in those lines and wrinkles, reduce the look of your pores, and give your skin a more beautiful, glowing look.
Psoriasis treatments
If you suffer from psoriasis, a cream made with retinol can help you tackle this issue. This cream can help moisturize skin and slough off dead skin, effectively treating this skin disorder.
What Benefits might you get from Retinol Cream?
A retinol cream is an excellent product to have in your bathroom. If you have any type of skin condition, whether it's dry skin or acne, this type of cream can help clear up the issue. Many pull double duty, so you won't have to use a whole bag full of expensive products.
These creams can help reduce acne, can improve the appearance of acne scars and dark spots, it can help fill in lines and wrinkles, and give your skin a more glowing and youthful look without having to resort to expensive and painful microdermabrasion, botox, or other spa procedures.
Our Top 3 Contenders
If you have dry, dull skin and you want to add moisture without a heavy moisturizer that just makes your skin feel greasy, this is a great product that comes with a price tag you'll love. This affordable cream works hard during the night, after you cleanse your face, to repair damage caused by the sun, wind, other extreme conditions, and it can effectively add moisture, reduce dark spots, and give you a natural glow without the pain and expense of spa procedures.
This vegan-friendly product is loaded with natural ingredients – you won't have to worry about harsh chemicals damaging your skin. You can reverse the signs of aging by applying this cream every night. With consistent use, users have reported seeing a reduction in fine lines, age spots, and have soft, smooth, and moisturized skin that looks more youthful and healthy than ever.
This slow-releasing cream works while you're sleeping to repair damaged, aged skin. You can stop the signs of aging right in their tracks with this cream, which blends in easily and is loaded with vitamins, minerals, and other essential ingredients including collagen that helps give your skin the boost it needs. It is effective for moisturizing, filling in lines, and reducing the signs of aging with consistent use.
Factors to Evaluate
Instead of using a ton of products that just don't work, why not try just one product with retinol, which has proven results? This vitamin is essential for healthy, smooth, glowing, and youthful skin, and you don't have to pay a fortune for it. Before you make your purchase, keep an eye out for these four features to make sure you're getting a product you'll enjoy using and that will provide you with the best results.
Price
The first thing most people look at while shopping is the price of a product. You shouldn't just write off a product because it seems to be expensive, though. Take other things into consideration, such as the container size and the number of applications daily. A cheaper cream may seem like the best idea, but if you have to use a lot at one time or you have to put it on several times each day, it may not be as cost-effective as a more expensive cream that absorbs easily into the skin and only requires one application per day.
Size
The size of the container does matter if you plan to use this product long-term. However, make sure you're also aware of how many times you must apply it each day, and whether or not a little goes a long way or you have to slather on the cream to get effective results.
Best uses
As mentioned earlier, the primary types of creams are determined by the issues that they tackle. If you want to eliminate dark spots, for example, a cream designed just for moisturizing will likely not be a satisfying purchase. Make sure you know exactly what the cream is designed to treat, and purchase one that will take care of your skin care issues.
Ingredients
This is especially important if you have sensitive skin or allergies. Make sure that other ingredients aren't known to cause allergic reactions or irritate skin. If they do, look for a product that uses natural vitamins, minerals, and other ingredients.
Price
Good n Natural Cream
For such a low price, you won't break the bank when you purchase this beauty product.
OZ Naturals Moisturizer
You should expect to pay a bit more for this cream, which is comparable to the average face cream or beauty product purchased from a well-known department store brand.
Genesea Night Cream
This cream comes with the highest price tag of the group, marking it as one of the more high-end retinol products you can buy over the counter.
Size
Good n Natural Cream
Each container has two ounces of product. You can purchase multiple product packs that are more affordable than buying each one individually.
OZ Naturals Moisturizer
This four ounce bottle will last you through plenty of nights of use.
Genesea Night Cream
This product contains 1.7 ounces of cream.
Best uses
Good n Natural Cream
This product is best for adding moisture to the skin, especially if you've been exposed to the sun or wind. It is a great moisturizer all year long, but it can really help restore the glow to your skin during the colder winter months.
OZ Naturals Moisturizer
This cream can help you achieve a more youthful appearance, helping to fill in lines and wrinkles, reducing the appearance of age spots or scars, providing you with just the right amount of moisture, and helping undo years of damage.
Genesea Night Cream
This cream is designed to help reduce the signs of aging, including reducing the appearance of wrinkles, leaving skin soft, smooth, and supple, and helping with elasticity. It also helps repair damaged cells to give you a youthful glow that you may not have seen in years.
Ingredients
Good n Natural Cream
In addition to retinol, this contains coconut oil and Vitamin E, along with a list of other added ingredients. It does contain alcohol, so it may irritate sensitive skin.
OZ Naturals Moisturizer
This contains nothing but natural ingredients. There are no parabens, fillers, alcohol, or other ingredients that may irritate your skin. It contains Vitamin B5 and other natural ingredients. This is a vegan product.
Genesea Night Cream
This is loaded with natural, healthy ingredients including dead sea minerals, aloe, avocado oil, and shea butter.
Conclusion: Our Favorite Retinol Creams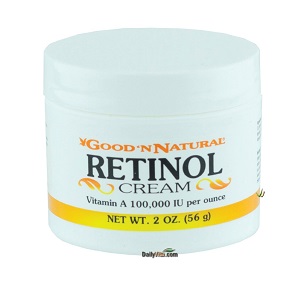 Suffering from dry skin can be such a pain, and you may find that traditional moisturizers don't absorb well into the skin, feel heavy, or leave your skin greasy. If you want a lightweight cream that restores moisture without going overboard and that can also help repair the signs of aging, this affordable product is something you'll want to add to your bathroom shelf.
This cream is applied just one time, at night after cleansing the skin, to restore moisture and help repair damage caused by sun, wind, other elements, and even aging. You may notice a reduction in dark spots, and it can even help reduce the appearance of fine lines and undereye circles with regular use. At less than $10, this product is one that you just can't go wrong by purchasing.
Pros:
A little goes a long way
Leaves skin smooth and soft
It can reduce dark spots from aging or from acne
It is extremely affordable
Effectively moisturizes the skin
It adds a healthy glow with regular use
It's easy to use
It's lightweight
Cons:
It contains chemical ingredients that may irritate skin
Some of the ingredients may lead to clogged pores over time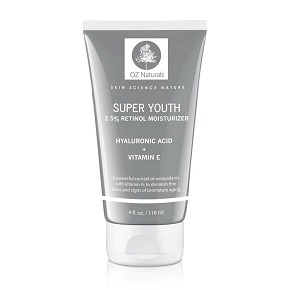 Finding natural products is difficult, and once you find them, they may be very expensive. With this product, you'll get nothing but natural and organic ingredients that work to repair skin without spending a fortune. This product is very easy to apply, and a little goes a long way, so the large four ounce bottle can easily last through several months.
With consistent nightly use as part of your regular skin regimen, you'll begin to see a big difference in your skin. The ingredients like retinol, collagen, and vitamin E help restore skin to its youthful beauty, filling in lines and wrinkles that may bother you, keeping your skin moisturized, and helping to keep your pores clear. Even sensitive skin will benefit, as this doesn't contain parabens, alcohols, or filler ingredients that can lead to breakouts. It is also cruelty-free and vegan.
Pros:
It helps tackle many skin issues, including dry skin, dark spots, and wrinkles
You get a large amount for a small price
All-natural ingredients
Easy to use just once per day
It is affordable
It doesn't cause peeling like products with a higher percentage of retinol
Cons:
You have to wear sunscreen when using this product and a few days after discontinuing use
It may cause some redness and irritation with the first few uses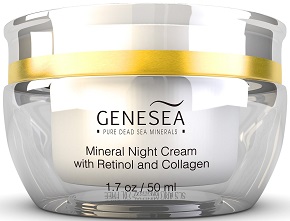 Repair your skin while you dream the night away with this cream, which is designed to slowly release its power overnight to give you the smooth, beautiful skin you desire. This product not only contains retinol, which is known for improving the appearance of skin and helping to repair skin cells, but it also contains other great ingredients like collagen, Vitamin E, and aloe that lead to softer and more beautiful skin.
With daily use, you'll begin to see a difference in your breakouts, dryness, dark spots, and wrinkles. Your skin will look more youthful, have a beautiful natural glow, and feel moisturized without being too oily. This product is easy to apply, doesn't sit heavy on the skin, and doesn't clog your pores. Because of its natural ingredients, it is ideal for all skin types and doesn't lead to irritation like other moisturizers. This product comes in a large bottle, and just a little bit can easily be smoothed over the skin. This company does not test on animals, and the price isn't too expensive when considering everything it does for you.
Pros:
It deeply hydrates
Helps restore the look of your skin by reducing wrinkles
Full of natural ingredients
Absorbs quickly into the skin
Doesn't feel too heavy
Comes backed with a 30-day money back guarantee
Doesn't have a very strong smell
Ideal for all skin types
Designed for use by men and women of all ages
Cons:
It is bit expensive when compared to other creams
It may be a bit too rich for those with combo or oily skin
Final Thought
Retinol is a great natural ingredient that can not only improve the appearance of your skin, but it can repair cells and restore elasticity to leave you with skin that looks young and beautiful again. If you want your healthiest skin, you want to invest in a quality retinol cream, and the Genesea Night Cream is a great choice for best retinol cream.
This cream only has to be applied once a day, helps reduce the signs of aging, and restores that natural beauty you're looking for, replacing the other products in your bathroom that cost a fortune and just don't work as they should.