Some links on this page are monetized by affiliate programs - see disclosure for details.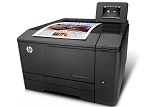 With the ability to do so many things on a computer and online, the need to print at home and in the office has become great. From printing DIY birthday party invitations to printing your own photos for your family album to printing out important tax documents, a printer is a necessity in most homes with a computer.
If you're considering purchasing a printer for the first time or you're replacing an outdated or broken printer, a color laser printer is a great choice for use at home. You'll get fast printing, bold colors, and quality performance for all of your most important documents.
Comparison: The 10 Top Rated Color Laser Printers of 2018

A Guide to Color Laser Printers
A color laser printer is a peripheral that is hooked up to your home computer. A printer allows you to create a hard copy of whatever you see on your screen. You can print photos, invitations, documents, spreadsheets, and other things right from the comfort of your home with a laser printer.
A laser printer uses lasers to print the image on your screen onto a piece of paper. This laser works with toner, a type of powder, to create bright, vivid colors or deep, dark black. While the initial investment of a laser printer is more than that of an inkjet, the longevity of the powdered toner when compared to wet ink used in an inkjet printer is far greater, saving you money over the long run in replacement cartridges.
See Also: The 10 Top Rated Computer Desks for Your Office
What are the Different Types?
If you're shopping for a new printer, you'll find that there are many different versions available for home and office use. With an understanding of the general types of laser printers, you are able to make a more informed purchase for your home or business.
Wired color laser printers
With these printers, you connect the printer to a power outlet, then connect the printer to your computer with a printer cable. These printers can be used with a network to allow multiple computers (like those in an office building) to print on the same device.
Wireless Wi-Fi color laser printers
Instead of having wires connecting your printer, you can simply use your wireless network. You can connect your desktop computer, laptop, or other compatible device without the need for cords and wires. Networking is also available, so multiple computers can use the same printer. These printers are typically more expensive than wired versions.
What are the Advantages of Owning the Best Color Laser Printer?
More and more people are using computers in the business world and at home, and at times, you encounter situations where you need to have a hard copy in hand of whatever you're viewing on your computer. Whether you have bank statements you need to print at home, a form that you need to print, fill out, and submit, or you just want to make fun invitations, programs, and other items at home, a laser printer will allow you to get that done.
In the workplace, printers are a necessity. From customer forms to training materials and memos, printers are used worldwide in a variety of different business settings. Color laser printers are usually the chosen product because the cost of toner replacements is much cheaper than ink refill cartridges, and when printing at high volume, you save hundreds or even thousands of dollars over time.
Read: The Best Receipt Scanner to Complete Your Office Setup
Our Top 3 Favorites
Brother HL-3170CDW – This digital color printer is affordably priced, making it a great option for your small business or home office.
Canon imageCLASS MF8280cw– Print, scan, copy, and fax all of your most important documents with this mid-level laser printer.
HP M476nw LaserJet Pro– This quality printer offers printing, scanning, and copying, and it's high-quality enough for your office or for use at home.
Factors to Evaluate
Whether you want a printer to print your photos and documents at home or you need a quality printer for your employees to use in the office, it's important that you choose the right one for your needs. Consider the following points before you begin shopping, so you can get a printer that will work for you.
Price
The price range for color laser printers varies widely. Basic models may sell for around $100, while heavy-duty printers designed for daily use may cost in the thousands. Set a budget before you shop to help narrow down your printer options.
Toner use
Some printers use more toner than others, which results in having to purchase costly replacements. This can add up to a lot of money over time, so if you do a lot of printing, invest in a printer that has toner saving options to save you money.
Toner expense
Toner can become very expensive, costing hundreds or thousands of dollars each year for replacements. Make sure that toner refills for your model are affordable. Some low-end printers are very inexpensive initially, but use toner quickly and use overpriced refills. It may be better to invest in a higher-quality printer that costs less money to operate.
Wireless or wired
If you plan on printing from just one computer, like the PC in your home office, a wired printer will meet your needs. Wired printers are typically less expensive than wireless Wi-Fi printers, so you can save money if you plan on working on just one computer. However, if you're using a tablet, laptop, or want to connect to multiple devices, a wireless option offers more convenience.
Price
Brother HL-3170CDW
This top-rated printer is one of the least expensive on the market. It is great for home use, but it is tough enough for the office as well.
Canon imageCLASS MF8280cw
Retailing at a moderate price point, this Canon printer combines four great functions needed at the office into one sleek printer.
HP M476nw LaserJet Pro
This is the most expensive model on the list and is considered a high-end, office quality printer when compared to other laser printers on the market.
Toner use
Brother HL-3170CDW
There is no toner saving option available on this printer, so you consistently use the same amount of toner from page to page.
Canon imageCLASS MF8280cw
An eco-copy option is available for making copies that uses less toner, saving you money over time. It also utilizes a single cartridge system that combines the drum, toner, and other parts into one cartridge for quick and easy installation.
HP M476nw LaserJet Pro
There is no toner saving option available on this printer. However, the price of toner and the yield with each cartridge makes this one of the least expensive printers to operate.
Toner expense
Brother HL-3170CDW
The toner for this printer costs about $60 per cartridge for black and around $100 for color. Each cartridge prints approximately 1,500 pages. High-yield cartridges are available for an extra premium, and these cartridges print approximately 2,200 pages.
Canon imageCLASS MF8280cw
The toner for this model costs around $400 for all four color and black cartridges for about 4,000 pages of color and 5,000 for black.
HP M476nw LaserJet Pro
For around $400, you can get all four toner cartridges required to print in both color and black and white. Each cartridge yields about 2,500 pages.
Wired or wireless
Brother HL-3170CDW
This budget-friendly printer offers wireless networking, so you can easily connect all of your desktop and laptop computers with ease and without the burden of cables and cords.
Canon imageCLASS MF8280cw
You can easily print in the office, at home, or anywhere with this wireless printer. You can print using your Wi-Fi connection, and you can also connect your mobile devices and print using AirPrint and Google Cloud Print.
HP M476nw LaserJet Pro
You can print easily from your network or with a mobile device with no cords or cables required with this wireless printer. It features Wi-Fi printing, Ethernet ports for networking, and HP mobile printing that allows you to print in or out of the office.
Conclusion: Our Final Printer Reviews Are In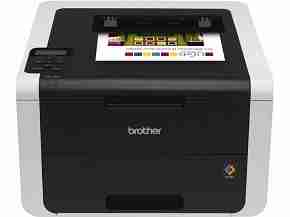 This Brother color printer is a great entry-level printer. It offers the basic functions found on more expensive models, it's easy to use, and the initial investment is very low. It prints at up to 23 pages per minute, so you can quickly print your black and white and color documents.
When not in use, the printer goes into deep sleep mode, conserving energy and saving you money on your electric bill. The top-loading design makes it easy to replace your own toner cartridges without having to hire a professional. You can also use this printer from your tablet, phone, or other mobile device for added convenience.
Pros:
The wireless function allows you to print from a desktop, laptop, tablet, or phone
It has automatic two-sided printing
It features a 250 page capacity for auto feed and has a manual feeder for envelopes, cardstock, and more
Changing toner cartridges is fast and easy
Cons:
The toner price and yield makes the cost to operate for this printer more than other, toner-saving models
The starter toner cartridge only yields about 250 pages
A common complaint among consumers is that with extremely heavy use, the rollers may become defective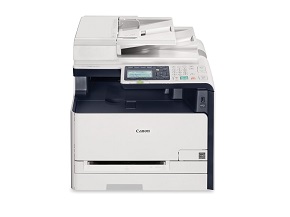 As far as mid-level laser printers go, this one is top-notch. This top-rated, best-selling printer is great for home or office use. Best of all, this is more than just a printer. You get a scanner, copier, and fax machine in one. This saves space in your office, and it also saves you money since you don't have to purchase each peripheral individually.
The wireless design makes it easy to print from your laptop, desktop, iPad, tablet, or phone. It has an eco-copy function to save toner, and the refills are priced very competitively when compared to similar printers. Changing toner cartridges is quick and easy, and this device is easy for anyone to use.
Pros:
The 7 line color LCD screen makes it easy to navigate through menus and operate the printer
It features a front load cassette that holds 150 sheets, as well as a multipurpose tray
The brilliant colors are vivid and stay true to the original
Toner replacements are less expensive than replacements for many other models, saving you lots of money over time
It has an automatic document feeder for scanning and copying that holds up to 50 pages
Cons:
Printing at a rate of 16 pages per minute, max, this printer is slower than many on the market
Custom sizes have to be specified on the printer menu
It is very heavy
User manual may be difficult to fully understand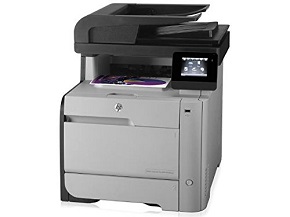 HP has become well-known for producing high-quality computers and computer accessories, including printers. If you want a high-quality printer that you can use at home, in the office, or even on the go, you will find that this HP model meets all of those needs. You can easily print wirelessly from almost any device. Best of all, setup is easy.
You'll save money with this energy conserving printer, and you'll find that the total operating costs for things like toner are very reasonable when compared to less expensive models. The color touchscreen makes it easy to not only print but also to scan, copy, and send a fax. You can even scan and create an email attachment right from the printer. At up to 21 pages per minute, you'll get fast results, vivid color, and the performance that makes HP so well-known. For these reasons, this HP product is our winner for best color laser printer.
Pros:
Touchscreen controls are easy to use
You can print wirelessly from almost any device, even if you're away
The fast 21 ppm printing rate makes workflow more efficient
It has a 50-sheet multifunction tray, 250-sheet input tray, 150-sheet output tray, and 50-sheet auto feeder tray for efficiency
You can print anything, including legal-size documents, cardstock, business cards, labels, and more
Cons:
It does not automatically print on both sides
The initial investment is a little more than other models
Last Word
If you want a printer that is built to withstand lots of use, either at home or in your office, that does not cost a lot to operate, the HP M476nw is an option that may work for you. Even though the initial cost is higher than other printers, the speed of printing, the quality of the printing, the multi-function options like scanning and faxing, and the total cost of ownership make this printer one that's well worth the investment.