Some links on this page are monetized by affiliate programs - see disclosure for details.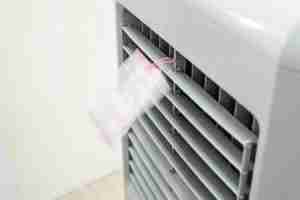 Our list of top ten best and quietest box fans features several differently shaped choices that have features to help move air around a space and create elevated levels of comfort.
Box fans are a common choice for use in offices and some industrial applications, but they can also be instrumental in residential settings, and spaces where ventilation isn't optimal. Box fans that can change direction or have a unique way of moving air are helpful in areas where you want to designate the direction of airflow.
Our #1 Choice – Honeywell HT-904
The Honeywell HT-904 Turbo Force is smaller in size but provides excellent air circulation.
The Honeywell HT-904 Turbo Force fan is an inexpensive option that comes with three-speed settings and the ability to pivot in different directions. This unit is also black, which helps it blend in better than other colors, and the motor is super quiet.
If you are looking for a fan to provide white noise, this product will offer some, but the most recent model is 25% quieter than competing products. One perk of this fan is that it's small enough that you can put it on a small table without sacrificing much of the air circulation you'd expect from a twenty-inch box fan.
This fan is also our favorite because you can feel the air circulation from up to 27 feet away, which is impressive given its measurements of nine inches by eleven inches.
Pros:
Pivots up to 90 degrees
Three-speed settings
Compact enough to mount on the wall or set on a table
Cons:
Not as powerful as large box fans
---
#2 – Lasko 3300 20″ Wind Machine Fan
The Lasko 3300 is an attractively designed and full-sized fan that is energy efficient.
The Lasko 3300 Wind Machine comes with three different speeds for better energy efficiency and air circulation. This unit features five blades and has a built-in handle for a smooth relocation. This fan also comes fully assembled, so it's ready to use directly out of the box.
The speed is adjusted using the dial, and there is a built-in stand so it can sit on any flat surface. This fan is also loud enough to provide soothing white noise if needed, and the unique silvery coloring is more subtle than white or black.
Pros:
Three-speed settings
Pivoting head
Comes fully assembled
Cons:
Plastic housing may have some sharp edges
---
#3 – Vornado 630 Mid-Size Whole Room Air Circulator Fan
The Vornado 630 is the perfect size for a medium-sized room and is quieter than other competitor products.
The Vornado 630 fan is ideal for moving air up to 70 feet and perfect for a mid-sized room. Some customers have noted that previous versions of this fan were more powerful, but were also louder. The design of this fan also allows for the front grill to be removed for easy cleaning, and the all-black color blends in more easily with your decor.
This fan offers directional airflow, and the dial to adjust the speed is on the side. The base of this fan is larger than the Honeywell HT-900, but it also offers twice the amount of air circulation.
Pros:
Polarized 2-pin plug
Noise level of 43 decibels
Three-speed settings
Easy clean design
Cons:
Could be more durable
Expensive
---
#4 – Lasko 2264QM 20″ High-Velocity Fan
The Lasko 2264 fan has the traditional wireframe design, and a metal stand configuration common in more robust fans.
The Lasko 2264 fan can easily convert from a floor fan to a wall-mounted fan with the bracket provided, and it comes with three-speed settings. This fan does require some assembly out of the box, but it should take only a few minutes and requires no tools.
The metal cage on this fan makes it a very durable choice, and the stand is also ideal for use in areas where the fan will need to be sturdy, such as a busy office. The stand also has built-in pads on the bottom to keep it from damaging the floor. This fan has metal blades, and the cage is not fine enough to be safe for small children.
Pros:
Durable metal frame and stand
Quick mount base for easy wall mounting
Suitable for offices and home use
Cons:
Requires some assembly
Not safe for use around small children
---
#5 – Vornado Large Whole Room Air Circulator Fan
The Vornado Large Whole Room fan comes equipped with deep-pitched blades for greater reach in big spaces.
The Vornado Large Whole Room Air Circulator Fan can move air up to 100 feet and has the option of four different speed settings. There is also a chrome guide bar so the fan can point in a specific direction, and the deep pitched blades help to provide powerful airflow without as much noise.
This unit comes in both black and white to best match your decor, and it creates a unique method of airflow through the use of an enclosed air duct and an air accelerator that helps make it more effective in larger spaces than other fans.
Pros:
Four-speed settings
Chrome glade bar for setting airflow direction
5-year limited warranty
Cons:
Expensive
Not as quiet as smaller fans
---
#6 – Hurricane Box Fan – 20 Inch
The Hurricane Box Fan features classic styling meant for use on the floor.
The Hurricane Box Fan features the classic style box fan shape and shallow blades for gentle air moving. This fan is best when used on the floor, but there are accessories available if you wish to mount it in a different place, such as from the wall or the ceiling.
This fan is more on the loud side than other options on our list, but it does create a wall of gently moving air that makes it ideal for larger spaces. The power cord is also a generous five feet in length, so you don't need to be too close to a power outlet.
Pros:
Space efficient square shape
Three-speed settings
Five-foot-long power cord
Cons:
No remote
A little bit loud
---
#7 – Lasko 3520 20″ Cyclone Pivoting Floor Fan
The Lasko 3520 sits on the floor and pivots for custom directional airflow in medium to large rooms.
The Lasko 3520 is a similar option to the other full-size Lasko on our list, but this one is a bit lighter and features a different method for moving the air. There is a swirled pattern on the grill that helps to create a cyclone effect, and the lightweight design makes it easy to transport anywhere.
This fan is ideal for medium to large-sized rooms and areas where airflow direction is essential as it can be locked in place. It's also rather inexpensive and features a patented safety plug.
Pros:
Three-speed settings
Pivots to different angles and directly upwards
Built-in carrying handle
Cons:
A bit too loud on the highest setting
---
#8 – XPOWER FC-300 Professional Grade Air Circulator
The XPOWER FC-300 is a more rugged unit with a bright-colored case.
The XPOWER FC-300 fan has an exceptionally rugged case that makes it ideal for more industrial environments and places where constant fan use is helpful. The four-speed settings are adjusted using the dial located on the top of the unit, and the metal stand features rubber feet to protect the floor.
This fan also moves air up to 170 feet and has a spiral design on the grill. This fan is mighty, but only draws 1.5 amps, which makes it an energy-efficient choice.
Pros:
360-degree airflow
3-Hour timer built-in
Four-speed settings
Cons:
---
#9 – Lasko 20″ Wind Tunnel with Remote Control
The Lasko 20" Wind Tunnel comes with a handy remote that makes it an ideal option for around the house.
The Lasko 20" Wind Tunnel Fan is an elementary fan that has a neutral-colored housing designed to fade into the background. This fan features a narrow base that pivots, and shallow blades for ample airflow.
This fan also comes with a simple remote, so adjustments are possible from a distance. The control panel is also on the top of the unit for easy changes to the speed settings. This fan is a bit heavier than the others on our list, but the lights on the control panel can be helpful in low light conditions.
Pros:
Control panel easily accessible on the top
Comes with a remote
Housing features neutral colors
Cons:
---
#10 – Impress IM-719BX Box Fan
The Impress IM-719BX Box Fan is a smaller option that still provides ample airflow in smaller spaces.
The Impress Box fan measures ten inches square and six inches deep, so it's an ideal choice for placing on your desk, table, or other surfaces. You can also use this fan on the ground as it comes with a suitable stand, but the direction of airflow isn't adjustable.
This fan is an excellent option for use at your desk, and the dial can turn in either direction for added flexibility. The fan comes in white and features a swirl pattern on the grid for better airflow with less noise. This fan weighs only 2.8 pounds and is rather inexpensive.
Pros:
Easy to use dial that can turn either way
Three-speed settings
Very quiet
Cons:
Smaller in size so not ideal for large spaces
Does not pivot
---
Box Fan FAQ
Check out our list of frequently asked questions before you select your next box fan.
Do Box Fans Need to Be Large?
Our top ten best and quietest box fans-2019 Edition- features fans of all sizes that work equally well for different purposes. Smaller fans are ideal for compact spaces, and more giant fans will be able to circulate air in more significant areas.
If you are in a small room or sitting at your desk, a sizeable twenty-inch fan may be too much and create a bothersome amount of airflow. Choosing the right size fan for your purpose is essential to your comfort, and the larger your space is, the more airflow you'll want to achieve proper ventilation and comfort.
Why Are Box Fans Better Than Other Kinds of Fans?
There are a wide variety of fan shapes and designs on the market, and not all of them are good for moving air around a space like a box fan. Some of these fans will oscillate from side to side, but they cannot pivot up and down for better airflow in different situations.
If you are looking to move a lot of air, a box fan is the most efficient choice. If you want a simple fan for white noise but little airflow, there are better options available for that specific need.
Final Thoughts
The Honeywell HT-900 Turbo Force is our number one pick because it combines all of the best features offered by box fans available today, and it can be useful in a variety of different settings. This fan is perfect for all residential applications, but it can also be helpful in an office or a gentle industrial environment.
This fan comes in a black housing and a grill that features a swirling pattern which helps to change how the air flows through the room for better ventilation. It's number one on our list of top ten best and quietest box fans because it's relatively inexpensive, but works quite well.
This fan is 25% quieter than competitor products, and it can move air up to 27 feet away, which is impressive for such a small unit. The base allows the fan to pivot for directional airflow, and there are three-speed settings.
At just 2.6 pounds and measuring 9 inches by 11 inches, this fan is easy to transport anywhere you want to take it, and unlike many fans, it can blow air directly upwards.