Some links on this page are monetized by affiliate programs - see disclosure for details.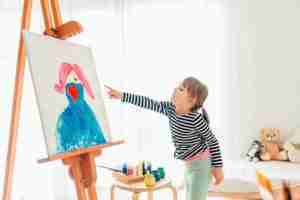 Your child might be the next Picasso—but you wouldn't know it unless you hooked them up with a great art easel for kids.
When children are developing their identity, many find that they need an artistic outlet. Thus, many parents seek out an easel to give to their child so that the child can have a more formal way to channel their doodling capabilities.
In this article, we'll break down a handful of the best easels for kids so that you'll understand which easels are the first steps toward art school, and which aren't.
Pros:
27 different magnets
Six dry erase markers
Waterproof storage bags hang under the easel
Cons:
Storage bags are only weakly attached to the easel itself
This magnetic wooden art easel is a great way to keep your child's art supplies organized in one place while also giving them the artistic freedom that they need to experiment.
With this easel set, you'll get a whiteboard, a blackboard, dry erase markers, a paper roll, jump paper clips, waterproof storage bags, and five paint cups. In other words, there's more than enough material here for your child to be busy at the easel for days and days.
The appeal of this easel is that it's a one-stop shop for basic arts and crafts. While its footprint is fairly large for an easel designed for children, there isn't much that is inherently "childish" about the easel whatsoever.
The easel itself is solid and drawing on the board won't cause the unit to wobble. This is a critical feature because most easels for kids are made to the lowest possible standard of quality.
So, your child probably won't accidentally break this easel or have difficulty with their art as a result of the easel jerking around.
You may find that your child moves on to a larger easel as they grow taller than this easel, but they probably won't want to throw this one out.
The versatility and convenience of this easel means that it will almost certainly find a second life as a scratch pad or project board after it has been used to produce art.
---
Pros:
Durable joints
Easily adjustable height
Cons:
Difficult to replace the paper roll
Hape's all-in-one wooden art easel for kids is popular thanks to its adjustable height, cheerful design, and firm legs.
This easel is great because it can grow vertically as your child does. At a minimum, the Hape easel has a height of 37.5 inches, but at its maximum, it can be as tall as 43.5
This means that your child can use the Hape easel for years without craning their neck or hunching over the easel. For serious artists, there's nothing better.
But, for children and adolescents who may not be as much of a stickler about their ability to impact the canvas, the adjustable height feature may not be very appealing.
The easel itself has a whiteboard on one side and a chalkboard on the other. As a result, your child can make art in different media, which is an important part of their artistic development.
---
Pros:
Great for the youngest artists
No sharp edges
Accommodates two artists at a time
Cons:
Not adjustable
No storage capacity
The youngest aspiring artists need an easel which caters to their needs — and that's where this Step2 easel shines.
If your child is around 5 years old, it's hard to beat the features that this easel brings to bear. First, the easel is the perfect height for the youngest of children. This means that they'll be able to engage directly with the easel in the fashion that they want without running into obstacles.
Second, this easel is kid-safe. There aren't any sharp edges anywhere on the easel, and there also aren't any small pieces which might be accidentally ingested.
But, your child will also get the robust artistic experience that they deserve — complete with magnets of the alphabet and numbers.
As a learning tool, this easel is excellent because it engages the child's mind in multiple dimensions. As a way of learning how to make art specifically, however, it isn't the best tool.
While there's nothing inherently wrong with the artistry that is possible with this easel, most of the children who use it will probably be too young to refine their painting techniques very much.
---
Pros:
Includes a plethora of magnetic numbers and letters
Convenient storage space
Includes dust-free chalk
Cons:
Height adjustment isn't smooth
Arkmiido's easel for kids combines an austere aesthetic with genuinely useful features that your young artist will find extremely beneficial.
With the help of this Arkmiido easel for kids, your young artist can express themselves without exposing themselves to the potentially dangerous side effects of other art sets.
Unlike other easels, this easel includes a dust-free chalkboard and chalk set. While it isn't entirely dust-free, the features of the chalk and the board ensure that only a minimum quantity of chalk dust appears.
The benefits of this feature may not be obvious at first but think about it from a long-term perspective: every time your child uses a chalk board, they could be inhaling chalk dust which could cause them adverse health impacts.
Thus, the Arkmiido easel is probably better for your child's lungs than most other easels would be. But, for children who may not have sensitive lungs to begin with, the added benefit of minimizing chalk dust may not be very helpful.
---
Pros:
Highly portable
Great build quality
Perfect for playing at the table
Cons:
Not great for children with a heavy touch
The Melissa and Doug tabletop easel is a portable and friendly easel which will be one of your young artist's favorite toys for many years to come.
The advantage of this easel is that it won't take up extra floor space in your house because it sits on top of a table. Tabletop easels are inherently limited in the amount of stability that they can provide, but most young artists won't have any issues.
The unfortunate exception is for the young artists who may not have the fine motor control necessary to use a feather-light touch on their easel when they are making art.
Typically, young boys fall victim to pushing too hard to make their imprints on the easel — and this easel doesn't have the stability to stay firm. So, you may need to provide some guidance on how to use the easel properly if you see your young boy knocking it over while trying to draw or paint.
You might find that your young artist enjoys taking their easel with them on road trips or to a friend's house.
---
Pros:
Durable
Non-slip feet
Lightweight wood
Cons:
Small canvas size
Too low to the ground for some kids
For the child who appreciates a simple but ultra-compact easel, the Discovery Kids tabletop easel is hard to beat.
With this easel by Discovery Kids, your child will get the opportunity to look their art in the eye as they sit at the table. This easel's small form factor belies its high quality.
The non-slip pads on the legs of the easel are particularly strong, so children who bear down too hard on their writing utensil won't cause the easel to shift.
The lightweight construction of the easel makes it easy to adapt to the angle and location that the young artisan desires. But, the easel's lack of storage space is an issue. The art supplies that your child chooses will inevitably end up strewn about the feet of the easel.
The only major drawback to the easel is that the canvas size is relatively small, even for a tabletop easel. Your artist will need to scale down their vision to ensure that they have enough space.
---
Kids' Easel FAQ
What should I look for in an easel for children?
You'll need to look for the following features when you pick an easel for your child:
Storage space
Canvas space
Convenience
Ease of use
The storage space of the easel is a highly underrated feature, but it can make the difference between a young artist being successfully inspired and a young artist discouraged by disorganization.
When the easel has enough storage space that allows your child to organize their art materials to their fancy, they'll find that the entire experience of creating art is more seamless.
They won't need to fumble around for the right tool nearly as much, and they'll understand that the easel is more than a way to hold their canvas up: it's a way to organize their artistic workflow.
Not all storage space is created equal, however. Some easels for kids have storage features which are of poor quality. Typically, the best easels for kids have storage space made from hard materials like plastic or wood rather than cloth.
The storage space of the easel also includes the area where media like paper is kept. The best easels for children have built-in storage which is easy to operationalize quickly when your child feels the need to start a new work.
The canvas space of the easel is also important because your child needs enough space to express themselves but not so much space that they feel overwhelmed. There's no specific guideline as to what constitutes too much or too little space, so play it by ear.
Children who tend to favor large creations will need more canvas space. Children's easels typically can't be configured to make larger canvas sizes, so choose accordingly.
Convenience is king when it comes to easels for children because you will be the one who is cleaning up after your child's artistic play. You'll also be responsible for storing your child's easel in a safe location.
So, easels which are easy to break down and clean up are preferable to those which aren't.
When should my child get their first easel?
Depending on how much artistic affinity and creativity your child expresses, it might be appropriate to introduce them to their first easel as early as 5 or 6 years old.
Most children will know if they want an easel by the time they are 10 years old, however. The trick is finding your child's level of interest to ensure that their love of creativity can be fostered without being pushed into the media options of easels.
Unless your child has an unquenchable artistic desire, you should probably wait until your child is at least 7 years old before purchasing them an easel. The main reason behind this advisory is that the easels intended for younger children are typically the least sophisticated.
An ardent young artist will quickly grow out of an easel intended for a 5-year-old, but they could easily grow into an easel intended for a 10 year old well before they reach 10 years of age.
So, most of the time your children will be better served by picking an easel which they can use to expand their artistic talents rather than an easel which is marketed as approachable by someone in their age group.
What media should my child use with their easel?
For most easels intended for children, the media choices are fixed. Your child will be able to draw with whiteboard markers on a whiteboard or paper sheet, potentially while also being able to draw with chalk on a chalkboard.
The best media for easels are colored pencils, but the most economical choice is for children to use chalk.
Unfortunately, chalk can make a big mess in your home while also exposing your child to chalk dust, which may not be healthy.
So, you may want to settle on colored markers as an affordable but effective alternative to chalk and colored pencils.
Are easels safe for kids?
Yes, easels are generally safe for kids, but there are a few important considerations.
First, children with asthma may need to use special easels to ensure that they do not inhale anything like chalk dust which might trigger an asthma attack.
While each child's sensitivity to chalk dust or paint vapors will vary, it's better to be safe than sorry if you know your child has a health issue already.
Most markers are made to be hypoallergenic and child-safe, so you won't need to worry as much when it comes to whiteboard-style easels.
Most easels for children also have joints which may snap shut while you or your child is breaking down the easel to be put away for the day. The snapping of these joints is relatively mild, but it may cause very minor injury if your child isn't careful.
Many easels for children are built with no joints, however. These easels are safer, but they are also nearly always less versatile and far less appealing for children who are over a very young age.
So, trust your child to use their easel safely when it comes to the small chance of injury when they are putting it away.
If your child moves on to become a real artist, they'll need to know how to flip their easel around without hurting themselves, so practicing with their first easel is a good thing to do.