Some links on this page are monetized by affiliate programs - see disclosure for details.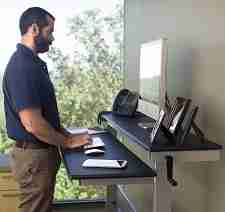 We all know that sitting for too long isn't good for our bodies. Unfortunately, most people that work a desk job in an office seem to forget this fact or just can't prevent sitting for too long since they spend the whole day in front of a computer and get too busy to stand and stretch. Sitting all day, especially without proper posture, can result in back aches, leg cramps, neck strain, and other ailments.
While stretching and getting a massage can get rid of short-term effects, over time, sitting for too long at a desk while doing homework or a job can take its toll on a body. This is why standing desks have become so popular.
What is a Standing Desk?
A standing desk is a desk that is designed for standing, not sitting. It is much higher than a regular desk, so you can stand up straight and work at your computer or perform other tasks without being slouched over at a lower desk. If you do get too tired from standing, you can use a stool or other taller chair to take a break.
What are the Advantages?
One of the biggest advantages is that you can avoid straining your back and neck by sitting slouched over a desk all day. Instead, you can stand and get your work done, which helps improve circulation and can stave off the daily aches and pains. You even burn more calories while standing, although using one of these desks should never be a substitute for a proper diet and regular exercise.
It is important to note, however, that standing all day can be just as bad as sitting, so taking a break on a stool throughout the day is the best way to prevent health problems from working.
What are the Different Types?
If you work in an office and you sit all day, you may notice that after a long day, you're sore and achy. You can prevent some of these pains by switching to a standing desk. Before you make your purchase, understand the three different types and the pros and cons of each type.
• Desktop attachments – This converts your regular desk into a standing desk. This sits on top of any traditional desk to convert it to a model that allows you to stand. This is an affordable option, and it's a great choice if you don't want to get rid of your old desk.
• Stand-only – These are designed just for standing, although very tall stools allow you to rest or if you have another desk that you can switch to throughout the day.
• Sit-stand – These are the most versatile of the three, as it has two different sections that allow you to either stand or sit. This may be one of the more expensive options, but it allows you to balance out sitting and standing while on the job without having to take up too much space with two different desks.
Which Standing Desks are the Best on the Market in 2015?
Techni Mobili Mobile Adjustable Laptop Stand – If you're looking for a solution that's very mobile and affordable, this stand is perfect for you. It's large enough to hold your laptop and a few of your most important office supplies, and its wheeled design makes it easy to take from place to place. This is a great solution for hospitals, medical offices, and other locations where you may have to be mobile throughout the day.
VARIDESK Pro Plus 36 – Transform your existing desk into a standing desk with this unit, which is large enough to hold two different monitors, a keyboard, mouse and more. It's height-adjustable for comfort, and it is very sturdy, so you don't have to worry about the stability. This is an affordable option if you want to convert your regular desk into a healthier standing model.
60″ Crank Adjustable Height Sit to Stand Up Desk with Heavy Duty Steel Frame – Get the best of both worlds with this desk. Just with the turn of a crank, you can convert this desk into a sitting or standing model, so you can get rid of those aches and pains, improve your posture, and feel better throughout the work day. This has an attractive design, and it's easy to move from place to place.
Features to Evaluate
Once you've made the decision to improve your health and posture with a standing desk, you'll need to choose which one you want to purchase. There are so many different desks out there, you might not even know where to begin. Before you buy, look for these four features to narrow down your selection.
Type
If you don't plan to get rid of your old desk, you'll want to purchase an attachment that works with your current unit. If you want a more versatile option, look for one that allows you to sit or stand. You want to make sure that whatever you purchase, it fits your space and is comfortable for you to use.
Finishes
You want your piece to coordinate with other furniture in your office, so look for a piece that has a matching finish or at least one that complements your other pieces of furniture.
Storage
If you move from place to place and you have a lot of supplies to bring along with you, you want to make sure that your mobile desk or cart has multiple shelves and storage compartments to keep your laptop, books, paper, pens, and other supplies close at hand.
Type
Techni Mobili
This is a smaller, adjustable stand that can be converted for sitting or standing.
VARIDESK Pro Plus 36
This is a desk attachment that converts your regular desk to a standing model.
Sit to Stand Up Desk
This is a sit-stand desk that is the only desk you'll ever need.
Finishes
Techni Mobili
You'll have your choice from two different finishes: Black or Chocolate.
VARIDESK Pro Plus 36
Choose from Black or White when you select this piece.
Sit to Stand Up Desk
This unit is available in Black and Dark Walnut.
Storage
Techni Mobili
This has one open and one closed storage space for your most important supplies.
VARIDESK Pro Plus 36
This unit has two tiers that can be used to hold your laptop, monitor, mouse, keyboard, and other important supplies.
Sit to Stand Up Desk
This has a two-tier shelf design that holds a desktop computer, laptop, dual monitors, and other supplies.
Our Standing Desk Reviews
If you don't need a large desk, and you only need about enough space for your laptop as you make your rounds throughout the office, this unit is a great choice. It is very affordable, but that's not all it has going for it. This unit is fully adjustable to convert from a sitting to standing desk, so you can remain comfortable and pain-free all day long.
The attached casters make it easy to move from place to place, and when you want to remain stationary, the casters lock securely. It has a tilting function that has a safety edge stopper to keep anything from falling off. The height adjusts from 30.75 and 40.5 inches for your complete comfort, and it has one open and one closed compartment for additional storage space.
Pros:
It is very affordable. It is very mobile and has casters that allow you to move from place to place. The height adjusts so you can sit or stand. It has an ergonomic design for comfort. It has a tilting feature with built-in safety edge.
Cons:
It isn't a full-size desk, so if you need more space, this won't work for you. It's made with MDF which isn't as durable as solid wood. It is difficult to assemble.
Why replace your perfectly good desk with another one when you can just convert the one that you already have with this desktop attachment, which sits securely right on top of your desk. This is a great option if you want to be able to sit or stand throughout the day without having two large desks. It's also more affordable than investing in a new desk.
This unit has two tiers, so you can easily fit your laptop, another monitor if needed, a keyboard, mouse, and other items that you need throughout the day. The spring-loaded mechanism lets you raise and lower the desk in just seconds without any effort. You won't have to worry about assembling it, as it is ready to use right out of the box. It fits on most desks, holds up to 35 pounds, and comes in your choice of two finishes.
Pros:
It provides you with a large workspace. It converts from a standing to sitting model in just seconds. It is more affordable than a complete desk. It fits on most desks and workspaces. It does not require any assembly. It is sturdy and stable.
Cons:
It gets a bit shaky when extended to its full height. It doesn't extend enough for taller users. The keyboard tray is a bit cramped.
If you're in the market for a new desk, this is one of the most versatile ones you'll find. You can easily sit or stand to improve your posture, burn calories, and prevent aches and pains with this model, which adjusts with the turn of a crank. The two-shelf design provides you with plenty of space for your computer and other supplies that you need throughout the work day.
Even though this desk is large enough to provide you with ample workspace, it's very mobile with the attached furniture casters which lock into place when you're stationary. This unit comes with your choice of two finishes, and it has a durable powder coat finish that will withstand years of wear and tear. Overall, the desk is very sturdy, looks attractive, and offers you the right amount of workspace and versatility for the most comfortable working experience.
Pros:
It easily adjusts from sitting to standing. It is very portable. It is durable and sturdy. It is easy to assemble. It has ample workspace. It expands to multiple heights to make it comfortable for users of all heights. It comes in two different attractive finishes. It looks much more expensive than it really is.
Cons:
The instructions are a bit confusing. It is more expensive than many other units on the market.
Working at your desk doesn't have to be a pain – not with a standing desk. For the most versatility, the Sit to Stand Up Desk is a choice that you should consider. Not only do you get the option to stand while you work, but you also can sit down if you want, so you won't have to struggle with aches and pains during the workday. This attractive desk is just the right size for most applications, is mobile, and easily adjusts, all for a price that is competitive when compared to similar products on the market.