Some links on this page are monetized by affiliate programs - see disclosure for details.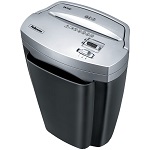 In recent years, cases of identity theft have been all over the news. Identity theft, the act of taking someone else's identity for the purpose of committing fraud, obtaining loans, and participating in other illegal activities, is something that can really cause a serious problem in your life. One of the ways that thieves get access to your personal information is through your garbage. Bank statements with account numbers, tax returns with social security numbers, and even expired credit cards all can be retrieved and used to steal your identity.
These aren't the only sensitive documents you may have. You may also work with clients and have access to paperwork with bank account numbers and other private information. While you may think you can just throw these documents away and they're gone forever, someone may get access to them. In order to protect your security when throwing away sensitive information, it's best to make sure it can't be read. The easiest way to do this is with a paper shredder.
Compare: The Best Paper Shredders in 2018

A Guide to Paper Shredders
Paper shredders are electronic machines that automatically shred documents into small pieces. You won't have to worry about your sensitive information, as a shredder makes sure it is completely destroyed. Some paper shredders are even designed to shred old credit cards and even CDs or DVDs that contain personal information that needs to be destroyed quickly. A paper shredder is designed with a feed slot on top for your documents, and many shredders have a bottom trash can that collects the shreds for easy disposal.
See Also: The 10 Most Comfortable Computer Chairs of 2016
What are the different types?
Every household and business can benefit from owning a paper shredder. You never know who has access to your garbage, so throwing away private information just isn't safe. If you think you would benefit from owning a paper shredder, the first step is to decide which type is right for your needs.
Auto feeding – If you have stacks of papers and you don't want to spend hours feeding them into a shredder, this is a great option. These shredders have trays that hold up to 100 sheets at a time and continuously feed them through until all of your documents are destroyed.
Multi-slot – As mentioned before, these multi-function shredders not only shred paper, but they also shred DVDs, CDs, and credit cards.
Strip – These shredders shred each document into a thin strip. These are the most common shredders.
Confetti-cut – As the name suggests, these shredders cut each piece of paper into small rectangles about the size of confetti.
Micro-cut – If you have highly sensitive documents, this is the shredder that you'll want to select. It performs the most cutting for the highest security level.
What are the advantages of shredding sensitive documents?
Protecting your private information is the primary advantage of owning a paper shredder. You won't have to waste time chopping up old credit cards or bank statements with scissors. Instead, you can rest easy knowing that your paper shredder does all of the work for you to protect your privacy. Paper shredders are a must-have office item for any business, and many models are so inexpensive now, every household should have one as well to prevent the theft of private data that could hinder your life.
Read: The 10 Top Rated All-In-One Printers for Your Office
Who are the Contenders for Best Paper Shredder of 2018?
If you want a quality basic shredder that doesn't cost hundreds of dollars, this model from AmazonBasics is the ideal solution. It is perfect for small business use, as well as for use right in your own home. You won't have to worry about your security with this shredder, which cuts documents into small pieces that cannot be deciphered. It also easily shreds through old credit cards and CDs.
This mid-range shredder is perfect for the office or for use at home. If it affordable, shreds through 18 sheets of paper at a time, and it's easy to move around with the attached casters. To prevent damage to the equipment, it is equipped with an overload protector and thermal protection.
Get more out of your paper shredder with this convenient product which can shred 18 pieces of paper at once. Also capable of shredding compat discs, paper clips, and other heavy-duty items, it's a true beast of a shredder.
Considerations for Choosing the Right Product
Protecting your privacy is easy with a paper shredder, so why not make the investment to ensure you dispose of all of your secure documents? Once you've made the decision to protect your privacy at home or at the office by purchasing a quality paper shredder, there are a few key features you should look for prior to making your purchase.
Paper jam protection
On drawback of using a shredder is that sometimes, paper can get jammed, halting the operation of the machine. In a busy office setting, it's hard to take time away from your other tasks to fool with jammed paper in your shredder. When shopping for this equipment, look for models that offer functions that allow you to easily remove paper if it gets stuck.
Capacity
If you have hundreds or even thousands of documents that need shredded, it's quite the chore trying to shred it piece by piece. If you have a lot of papers to shred, look for a shredder that is able to easily shred more pieces of paper through every pass.
Shredding power
For most offices and homes, a shredder that just tears up paper is sufficient. However, if you frequently shred old credit cards, disks, or harder media, you want to find a heavy-duty shredder that is capable of handling these items without jamming or breaking.
Price
As with any other product, price is also an important factor to consider. However, if you dispose of many personal and secure documents quite often, it may be worth the investment to purchase a more expensive shredder that is able to handle large volumes of paper through the years.
Paper jam protection
AmazonBasics Shredder
This shredder is equipped with manual reverse to clear paper jams.
Bonsaii EverShred C149-C
This EverShred model has a jam protection system that automatically reverses the paper when a jam is detected.
Fellowes Powershred 125Ci
It possesses a 100% jam-proof system which prevents jams completely.
Capacity
AmazonBasics Shredder
This basic shredder can tear through up to eight sheets of paper at one time. Since this is on the lower end when compared to other shredders, it's best for light usage.
Bonsaii EverShred C149-C
Up to 18 sheets of paper can be shredded at one time with this cross-cut shredder.
Fellowes Powershred 125Ci
It shreds up to 18 pieces of paper at one time.
Shredding power
AmazonBasics Paper Shredder
This model cuts through paper, CDs, DVDs, and credit cards.
Bonsaii EverShred
In addition to up to 18 sheets of paper at one time, you can also shred CDs, DVDs, credit cards, and even staples in this medium-duty shredder.
Fellowes Powershred
This system can cut through regular paper, heavyweight and slick papers, credit cards, CDs, DVDs, and staples.
Price
AmazonBasics Micro-Cut
This is one of the most affordable paper shredders on the market, making it a great choice for any household.
Bonsaii EverShred
This is a mid-range shredder that is the perfect price for your home office or even a business outside of the home.
Fellowes Powershred
This is the most expensive model on the list.
Our Paper Shredder Reviews Are In
If you've been thinking about getting a paper shredder but don't want to spend a fortune, this model features everything you're looking for. It not only cuts paper, but it also glides through credit cards, CDs, and DVDs. The micro-cutting provides you with high security, so you never have to worry about anyone seeing your sensitive information.
This model is equipped with auto-start, so simply plug it in and put up to eight sheets of paper or one DVD, CD, or credit card in the slot and it will begin shredding immediately. If you've put too much through the shredder, you can manually clear the paper jam with the reverse option. It also has thermal protection with auto-shutoff for your safety.
Pros
It effectively shreds paper into tiny pieces, yielding over 2,000 pieces per sheet of paper
The pullout bin holds up to three gallons before it needs to be empty
Equipped with thermal protection to avoid overheating
It has wheels that make it easy to move from place to place
It's inexpensive
It's quieter than many other budget shredders
Cons
It only runs continuously for two minutes before it needs a 40-minute cool off time, so it isn't great for heavy use
Doesn't automatically turn off when the bin is full
Operates much more slowly and loudly when eight sheets of paper are inserted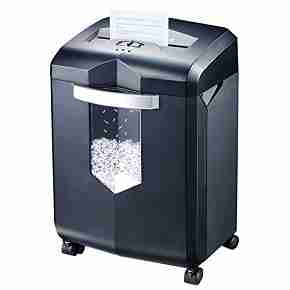 If you have lots of private documents that you need shredded in a hurry, this is the shredder you've been looking for. You can feed up to 18 sheets of paper at one time through this shredder. Are your documents stapled together? No worries; staples can go right through the feed slot, as well as DVDs, CDs, and credit cards.
You won't have to pull stuck paper out when it's jammed because of the jam protection system that automatically removes it for you. This shredder is quiet enough to be in a library but has the power you need to plow through piles of documents. You can enjoy continuous shredding, as this device shreds continuously for up to 60 minutes.
Pros
Shreds 5.3 feet per minute
It is quiet
It is equipped with a cooling system to prevent overheating
You can shred for up to one hour straight without taking a break
Accepts 18 pages at once
It has an auto stop/start feature
It accepts letter and legal-size documents
Wheels make it easy to move around
Cons
It dramatically slows down when more than ten pages are inserted
The smaller bin needs to be emptied frequently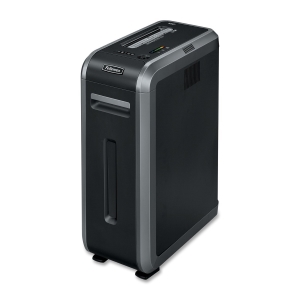 So you've decided you want a high-powered paper shredder, but you don't want to clutter up your office. This shredder by Fellowes can shred up to 18 sheets of paper at one time, all the while taking up very little space in your home or office.
Shutting off automatically every 45 minutes to prevent overheating, it also shuts off any time your hand comes into contact with the shredding mechanism, making it as safe as possible.
Pros
It cuts very easily and doesn't strain the motor
It handles up to a remarkable 18 pages at one time
Well-built and very quiet
It's easy to use
It has auto start and stop
Cons
It is one of the more expensive shredders on the market
In Conclusion
You can't put a price on your privacy, especially if you work in an office where you are responsible for keeping your clients' information confidential. In order to protect your clients and yourself, a paper shredder is a necessity for your home or office. If you want to get the most out of your shredder, the Fellowes Powershred 125Ci 100% Jam Proof 18 -Sheet Cross-Cut Commercial Grade Paper Shredder is exactly what you need.