Some links on this page are monetized by affiliate programs - see disclosure for details.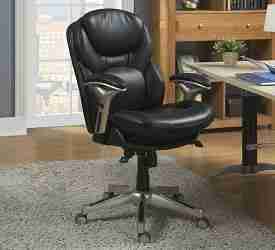 If you work at a desk all day long, you know how much of a pain it can be—literally. Sitting in an uncomfortable desk chair all day not only makes the workday drag by, but it can have seriously negative effects on your health, including back and neck pain that just won't go away.
If you work at a desk job day in and day out, one of the most important things you can purchase for your business office or even your home office is a quality, comfortable computer chair that's not only ergonomic for hours of sitting but also provides the support you need.
Top Rated: The Best Computer Chairs of 2019

Introduction: A Guide To Buying The Best Computer Chair
A computer chair is a type of chair that is used at a computer desk. If you work in any type of office, you have a computer chair at your desk that you use while you work on the computer, talk on the phone, sit in on meetings, and perform other daily tasks at your job.
Most computer chairs have wheels so you can easily move about around your desk. They also swivel to make movements even easier. They are also height-adjustable so you can sit comfortably at your desk without having to slouch. Computer chairs can be used at home in your own office, at a students' desk in a bedroom, and at your place of business.
What are the Different Types?
Whether you're purchasing a new chair to go with your brand new desk or you're replacing an old, worn, or uncomfortable chair, you'll find that there are hundreds of chairs available for purchase. There are many different types to fit different needs, from task chairs sized for students to plush executive chairs that offer complete comfort.
Task chairs – These are the most common type of computer chairs. They can be found in many offices, and they are also popular with students. These smaller chairs are basic in design, swivel, and have wheels that make them easy to move around. These chairs are available in a variety of colors, and they can adjust to a variety of different heights. These are the most popular because they are so inexpensive.
Executive chairs – Executive chairs are similar to task chairs with a few key differences. Executive chairs are on wheels and swivel, but they feature a higher back and more padding, so they are extremely comfortable, perfect for long periods of sitting.
Mesh chairs – Mesh chairs have a mesh back that allows air to circulate. This breathable mesh keep you cool all throughout the day without reducing your comfort level.
Ergonomic chairs – These chairs offer the most support for your back, which is a must when you spend hours sitting at a desk. These chairs help you sit with correct posture and offer full lower back support. These chairs are by far the most supportive. However, they are typically the most expensive.
Balance ball chairs – This fairly new type of chair uses a balance ball and combines it with an office chair to help strengthen your back while you work.
What are the Advantages of Owning a Comfortable Office Chair?
If you work at a desk, a computer chair is a necessity. You can't spend the day standing all of your feet all day, and regular chairs without wheels are hard to move in and out when you need to stand up. Computer chairs make it easy to sit and stand as needed and move around your desk.
A computer chair can be adjusted to be the perfect height for your desk, helping to promote good posture which prevents lower back pain, shoulder pain, and neck pain caused by long periods of sitting. With a computer chair, you get the support, convenience, and comfort you need while you work at your computer desk.
Do I Need To Assemble My Computer Chair?
Yes, most computer chairs you purchase will need some assembly.
Typically, this assembly process is easy, but it does require the ability to lift around 20 lbs. You'll need to set out the components of the chair onto a floor or other surface and get your hands dirty to put it together.
Likewise, you may need the mechanical strength to use the necessary tools. There will be instructions which indicate how you should be using the tools to assemble the chair.
Most of the time, these tools are hex wrenches, which will be included with your chair. Assembling your computer chair shouldn't take any longer than 30 minutes at the most, and many chairs can be assembled in less than 10 minutes.
Considerations for Choosing the Right Office Chair
If you sit at a desk all day, staying comfortable is a necessity. This is why it is important to have a high-quality office chair. No matter what budget you have and what features you're looking for, you're sure to find a desk chair the meets all of your needs. By looking at these key features while you shop, you'll be able to easily find your most comfortable and functional chair.
Price
Whether you're purchasing the chair yourself or your office is footing the bill, you always need to set a budget for your chair. Basic chairs made of cheaper materials are typically the least expensive, while quality chairs crafted with the best materials cost far more money. You should consider all features, including durability, instead of relying solely on price.
Comfort
You're likely going to spend hours in your computer chair, so why would you want to spend that time in discomfort? Look for a padded chair that has soft material covering the outer portion for maximum comfort. If you spend very little time in your chair, a more inexpensive, basic chair may be suitable for your needs.
Support
Your chair shouldn't just be comfortable; it should also provide support for your back. Many back pains, aches, and strains are a result from sitting for long periods of time in an unsupportive chair. You want to select a chair that is supportive and encourages good posture.
Durability
The cheapest chair may be easier on your wallet on the first day, but if it isn't durably crafted, it will break or the fabric may rip in no time, so you have to purchase a replacement. By investing in a top-quality chair for your first purchase, you won't have to worry about costly replacements in the future.
Price
Office More

Executive Swivel
The Office More Executive is a great value for home or office use. It is a budget-friendly option that offers the comfort and features of more expensive chairs.
H&L Office High Back Mesh Desk Chair
If you're willing to invest a bit more money for higher quality and more features, this mesh chair is an option that you should consider. It is a mid-level computer chair that retails for a mid-level price.
Serta 44186 Back in Motion Health and Wellness
If you're looking for a top-of-the-line computer chair, the Serta 4416 is a luxurious chair that's priced as such.
Comfort
Office More

Executive Swivel
The Office More is crafted with soft bonded leather and contains more padding than the average task chair, making it extremely comfortable for long periods of sitting.
H&L Office High Back Mesh
If you get hot after sitting for long periods of time, the mesh design of this chair allows air to circulate, leaving you cool and comfortable all day long. The ergonomic design makes this chair comfortable, and you can increase your own comfort by adjusting the headrest or flipping up the arm rests if needed.
Serta 44186 Back in Motion
It doesn't get much more comfortable than this. The deep, layered pillows cushion you in soft comfort, even on the longest work days.
Support
Office More

Executive
The foam padding is very comfortable and offers more support than cheaper task chairs. In addition, it provides ample lumbar support, allowing you to sit comfortably for long periods of time.
H&L Office High Back Mesh
You'll get all of the support you need from this comfy chair. It is designed to support your back while you sit comfortably at your desk at home or in the office, even for extended periods of time.
Serta 44186 Back in Motion
This Serta computer chair offers full lumbar support that far exceeds the support provided by other computer chairs. With its ergonomic design, you'll feel great every time you leave your office.
Durability
Office More

Executive Swivel
Bonded leather is a high-quality material that can withstand quite a bit of wear and tear. The overall design of this computer chair is sturdy, durable, and built to last through daily use.
H&L Office High Back Mesh
This chair is made of high-quality materials that make it sturdy, durable, and able to withstand years of use.
Serta 44186 Back in Motion
This comfortable chair utilizes quality materials like eco-friendly bonded leather to create a chair that's designed to last.
Conclusion: Final Computer Chair Reviews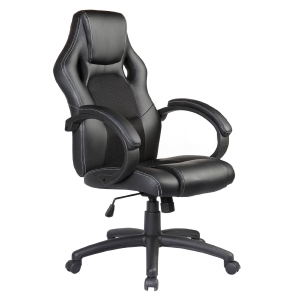 If you don't want to break the bank buying a new computer chair, the Office More Executive is the affordable option you've been looking for. When you think of inexpensive computer chairs, you probably think of cheap, unpadded, and flimsy chairs that are extremely uncomfortable. This task chair is quite an upgrade from basic task chairs.
The outer is made of bonded leather, which is not only stylish but also soft and easy to keep clean. Foam filling provides extra comfort when seated. The chair is easily adjustable, so you can set it for your height for complete comfort all day long.
Pros:
The chair is extra comfortable
It is easy to assemble
It is smaller and lightweight, so it fits at almost any size desk
The price is just right
No tools are required for assembly
It offers full lumbar back support
Cons:
The leather can get hot when seated for long periods
The padding may begin to flatten after extended use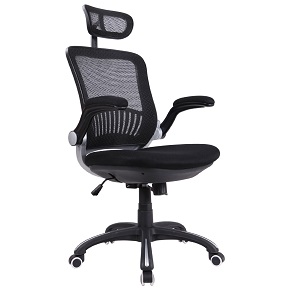 Stay cool and comfortable with this great computer chair from H&L Office. The mesh design allows air to flow around you, so you won't get overheated. You can adjust the height, the headrest, and even flip the arm rests up or down so you can be as comfortable as possible while you work.
The overall design of the chair is sturdy and built to last, including the wheels, which are safe for use on hardwood floors. The chair reclines so when you're ready to take a break, just kick back, relax, and enjoy sitting in comfort in your new computer chair.
Pros:
It is available in many colors, including Black, Blue, Brown, Green, Orange, and Silver
It is extremely comfortable
The ergonomic design supports your back
The price is affordable when compared to high-end chairs
Cons:
Assembly can be confusing
People who are tall may not be able to use the headrest
When fully reclined, it can feel a bit wobbly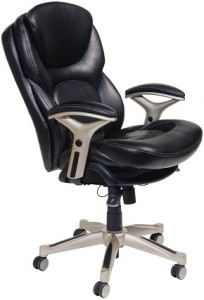 Sit back and relax in the lap of luxury with this quality computer chair. You'll hardly believe that you aren't sitting in your favorite recliner when you plop down in this well-designed seating option. The bonded leather material is soft, comfortable, and withstands wear and tear. It's also very easy to clean and eco-friendly.
The BIM active lumbar system moves with your body to continuously support your lower back for comfort you can count on. The deep body pillows let you sink back and relax. For additional comfort, adjust the armrests with just the push of a button or easily control the height with the ergonomically positioned levers.
Pros:
This chair is heavily padded for ultimate comfort
It offers full lumbar support, even when you move
Assembly is easy
It comes with a 1-year limited manufacturer's warranty
It is equipped with patented Active Seating Technology, which provides support and comfort while you move
Easy to adjust the height, and it also has a tilt feature
Cons:
The bonded leather material can make you hot with long periods of sitting
This chair is priced more expensively than most other computer chairs
Final Thought
When it comes to selecting a new computer chair, comfort and support are key. Even though you may want to go with the cheapest available option, you may end up paying in the long run when the chair breaks or when you're left with aches and pains after you leave the office. For total comfort and support, the Back in Motion Health and Wellness Mid-Back Office Chair is designed to give you a relaxing experience, even on the most stressful work days.