Some links on this page are monetized by affiliate programs - see disclosure for details.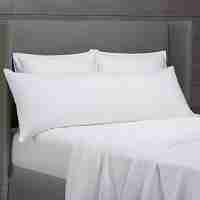 Millions of people all around the world have trouble getting a good night's rest on a regular basis. This could be due to a number of reasons including stress, a temperature that's too warm or too cold, sleeping on a mattress that's too firm or too soft, back or joint pain, aches, or clinical insomnia. One of the most common causes for not getting good rest is the inability to get comfortable. You may find yourself tossing and turning all throughout the night because you just can't get in a comfortable position to sleep.
If you find that you're uncomfortable every time you climb into bed, don't just automatically assume it's your mattress. Before you try anything else, invest in a body pillow that can help you sleep like a baby again.
Compare: The Top Rated Body Pillows of 2018

Introduction: What is a Body Pillow?
A body pillow is exactly what you would think it is based on the name – it is a large pillow that can be used in a variety of different ways to provide you with ultimate comfort. Unlike traditional down pillows for your bed, a body pillow is much larger; some may even be the same size as your body.
You can fold it, wedge it under your body to relieve pressure on joints and your back, or lie with it in a variety of ways to get completely comfortable.
What are the different types?
If you're ready for a comfortable night of rest again, a body pillow may be the only thing you need. These pillows are affordable, and they're available in a variety of sizes, shapes, and firmness levels to fit your comfort needs. If you've never purchased or used one of these innovative pillows before, you need to know what's available on the market to find one that works best for you.
C-shaped pillows – These pillows are shaped like a letter C and can be used in a variety of ways. You typically use the open end to wrap the pillow around a certain part of your body. For example, you can use it to cradle your back in comfort, use it between your knees to alleviate pressure, or adjust it any way you wish for ultimate comfort.
U-shaped pillows – If you want full body support while you sleep, you may want to consider getting a U-shaped pillow. These can be used to provide ample support and comfort on both side of your body. You can buy these in all sizes, including large sizes that support you from head to toe.
Contoured wedge pillows – These pillows can be placed under your knees, behind your back, or can even be used while side sleeping if you're pregnant to support your belly.
Traditional body pillows – These pillows are made like regular bed pillows, only they are much larger. These are usually the most versatile, as you can fold them, leave them; straight, or contort them in a variety of ways to find a position that's most comfortable for you.
What are the Advantages of Owning a Body Pillow?
Comfort is the primary advantage of owning one of these products. Whether you're having trouble sleeping because of your pregnancy, back pains, or you just can't find a comfortable position, these pillows aid you in getting the rest you need each day. Body pillows are affordable, and once you get used to using them, you'll never be able to live without one.
You can also buy special covers (similar to pillowcases but larger) that are ultra-soft and made of warm materials you can snuggle up with all night long.
Who are the top brands on the market?
Aller-Ease Cotton Hypoallergenic Allergy Protection Body Pillow – If you want a practical and affordable option, this is the perfect pillow for you. The fiber fill is extra comfortable, but it's also hypoallergenic, making it a great option if you have allergies. It is soft but not mushy, and its large size of 54-inches by 20-inches makes it extremely versatile.
Snoogle Chic Total Body Pillow – This C-shaped pillow is ideal for pregnancy, but it can be used long after your baby has been born. The unique shape allows you to bend and twist it to alleviate pressure that may prevent you from getting good sleep. It has a soft jersey knit cover for additional comfort, it's affordably priced, and it doesn't produce extra heat that can prevent you from getting the rest you need.
The Original Shredded Memory Foam Body Pillow By Coop Home Goods – Memory foam has become more popular in recent years because it is so comfortable. You'll love snuggling up to this soft memory foam pillow, which is hypoallergenic and dust mite resistant. It comes with a soft bamboo cover, and it's machine washable, so it's easy to care for. It is ideal for any use, including during pregnancy.
Features to Consider Before Buying
If you'd like to give a body pillow a try, it's important you pick one that best fits your needs. If you have a specific issue that prevents you from getting comfortable, you want to make sure the pillow you select helps solve that problem. When you're ready to purchase one of these pillows, consider the following four points for every product to make sure you're getting exactly what you need for the best sleep of your life.
Price
These pillows can range in price from under $20 to several hundred dollars. If you're on a set budget, make sure you purchase a pillow that falls within your chosen price range. If you don't quite know what you want to spend, decide what other features are important to you and use this to set a range that fits your needs and your budget.
Size
A smaller wedge pillow is fine if you just want back support or extra support for a pregnant belly. However, if you want a more versatile option, look for a large pillow that can be used for head to toe support.
Fill
If you prefer a firmer pillow, consider memory foam fill. If you're looking for something a bit softer, consider a fiber fill or down alternative that's soft enough for comfort but still firm enough to give you plenty of support where you need it the most.
Warranty
If you buy a product, you expect it to last, especially if you spend a lot of money. Look for a warranty that at least protects against defects in craftsmanship so you know your pillow will last through years of regular use.
Price
Aller-Ease
This pillow comes with a low retail price tag, making it the most affordable on this list and very inexpensive when compared with other pillows.
Leacho Snoogle Chic
This body pillow has an average price tag when compared to similar pillows.
Coop Home Goods
This is considered a high-end body pillow that is priced a bit more expensively than most other pillows.
Size
Aller-Ease
With measurements of 54 x 7 x 20 inches, this pillow is large enough to be used in many different ways.
Leacho Snoogle Chic
This is a very large and versatile C-shaped pillow that measures 7.8 x 25.5 x 58.8 inches.
Coop Home Goods
This pillow is 60 inches long and 20 inches wide, which is standard when it comes to these types of pillows.
Fill
Aller-Ease
This soft pillow is filled with a fiber stuffing that is completely hypoallergenic.
Leacho Snoogle Chic
A synthetic fiber filling is what is used to give this pillow its shape and comfort.
Coop Home Goods
CertiPur-US Foam ensures complete comfort all night long, every night of the week.
Warranty
Aller-Ease
You can rest easy knowing you made a great purchase, as this product is backed with a 2-year warranty.
Leacho Snoogle Chic
This pillow does not come backed with a warranty.
Coop Home Goods
This pillow comes with a 100 percent satisfaction guarantee and one of the best warranties on the market, as it is protected for five full years.
Conclusion: The Best Body Pillows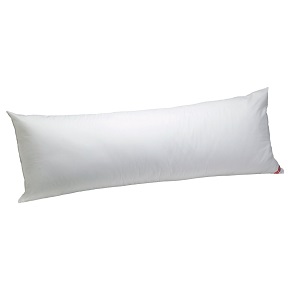 Whether you want to try a body pillow for the first time or you just don't want to spend a fortune, this is a great option you should consider. It is stuffed with a fiber fill that is hypoallergenic, so if you have allergies, you won't have to worry about this pillow irritating them. It also has a hypoallergenic cover that is resistant to allergens that can bother allergies or asthma.
This pillow is soft enough to cushion you in comfort but still just firm enough to give you some much-needed support all over your body. Its extra large size allows you to use it in a multitude of ways. Just experiment until you find the position that's most comfortable for you. If your pillow gets dirty, not to worry – just toss it in the washing machine for complete care.
Pros:
Very inexpensive
Comes with a 2-year warranty
Hypoallergenic
It is very large and comfortable
It is high quality, especially for the price
Cons:
Retains heat and may cause discomfort if you get hot while you sleep
The outer material feels a bit cheap when compared to more expensive pillows
Over time, the stuffing may flatten out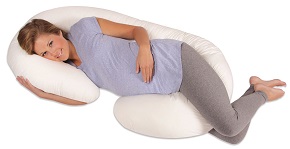 Snuggle up to pure comfort with this unique C-shaped pillow that is ideal for pregnancy and beyond. Contort the shape to fit between your knees, behind your back, or supporting your stomach. You will be amazed at how many ways you can use this comfy pillow. It is filled with a synthetic fill that is extremely comfortable yet firm enough to give you the support you're looking for, and it comes with a cotton polyester blend jersey knit cover.
If you get hot while you sleep, you don't have to worry about waking up in sweats when you use this pillow, which stays cool and comfortable all night long. Even with months of nightly use, you don't have to worry about it losing its shape, either, so you can get the rest you need from night to night.
Pros:
It's very large
It's comfortable
Priced affordably
The C-shape makes it more versatile
Comes with a soft cover
Easy to clean
It retains its shape
It stays cool and does not retain heat
Cons:
The cover may shrink in the dryer
It does not provide adequate neck support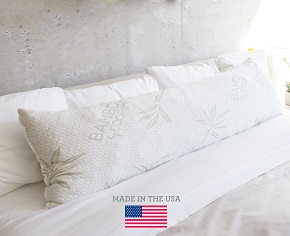 Memory foam has been touted by experts for its ability to more evenly distribute weight to relieve pressure on the knees, hips, back, and other parts of the body. You can take advantage of everything memory foam has to offer with this great pillow.
In addition to comfort, there are many other advantages of owning this pillow. The foam design is dust mite resistant and it's hypoallergenic, so you don't have to worry about your allergies. It comes with a bamboo rayon and polyester cover that's extra soft and cool. You don't have to worry about overheating. It can easily be formed into any shape you need for support when you're uncomfortable, pregnant, or just want to cuddle up with a soft pillow. It's also machine washable so it's very easy to keep clean.
Pros:
The shredded memory foam design gives you the comfort of memory foam with the versatility of being able to fluff or thin the pillow as needed
It comes with a 5-year warranty
Its large size makes it very versatile
It is hypoallergenic
Backed with a satisfaction guarantee
It is breathable so it keeps you cool
Cons:
It has to air out when first purchased because of the smell that comes from memory foam
Heavier than other pillows
It has a more expensive price
Closing Thoughts
Why toss and turn all night and wake up feeling groggy and unrested when one simple product can help you achieve a perfect night's sleep? A body pillow is a great and affordable way to get the comfort you need without spending a fortune on new mattresses and bedding.
Even though it has a higher price than other pillows, the overall design, size, quality, and versatility of the best body pillow, the Coop Home Goods pillow, makes it worth the extra money. From the first use, you will quickly see that this is the cool and comfy pillow of your dreams.