Some links on this page are monetized by affiliate programs - see disclosure for details.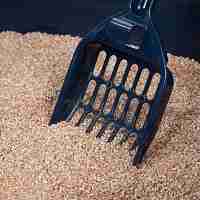 Cat owners and caretakers know that one of the special benefits of cats is their natural propensity for cleanliness. A good cat litter box will allow pets the privacy to cleanly and hygienically conduct their natural business with a minimum of odor and clean-up effort.
Today's cat litter boxes come in a wide variety of styles and sizes, offering cat caretakers with a single animal as well as cat enthusiasts with multiple animals the ability to hygienically and discretely handle feline waste. Cat litter boxes can make a stylish accessory to any home with a cat, and help reduce accidents and unpleasant activities to an absolute minimum.
Top Rated: The Best Cat Litter Boxes of 2018

Introduction: A Guide to Cat Litter Boxes
Traditional models of cat litter boxes rely on human intervention to be cleaned, while some advanced models now offer self-cleaning capabilities. Cat litter boxes can be partially enclosed, both to improve privacy for the cat while it conducts its necessary business, and as a way to minimize odors and litter scatter. Some models are also designed specifically to fit into the corner of a room.
Advanced, non-stick surfaces and antimicrobial elements in many models form non-stick surfaces that are easy to clean.
What are the benefits of a Litter Box?
Indoor cats, like any other healthy animals, have a daily need to remove waste from their bodies. A good cat litter box offers cats a clean, contained location to tidily perform their natural business. Even cat owners with pets who range outdoors will find it is immensely beneficial to have a clean and controlled location for any urgent natural business that their cats may conduct indoors.
Most of today's models of cat litter boxes offer cat caretakers efficient and rapid methods for waste disposal, as well as easy-to-clean systems to maintain hygienic conditions.
You might also be interested in: The Best Clumping Cat Litter (Guide)
Who are the contenders for the Best Litter Box on the Market?
The Nature's Miracle is a sturdy and reliable cat litter box for one or more cats. Using a deep, grooved well design, cats will be able to discretely handle their business without an excess of litter scatter. The unit uses a highly durable polymer material that is easy to clean and naturally mold and mildew resistant.
This plus-sized litter box offers plenty of private space for one or more cats to conduct their daily business. With a large dome and easy access hatch, litter and odors are more easily contained. A carbon filter provides an additional boost to odor control.
This revolutionary advanced cat litter box requires neither liners or filters as it is designed to clean itself. Using a well-engineered rolling mechanism, the Omega Paw requires no electricity to sort waste into the convenient pullout tray.
Factors to Think About Before Buying
Appearance – For any cat caretaker or owner, it is important to choose a litter box that can serve as a tasteful and stylish accessory to the home. Visitors and residents alike will appreciate a modern, smart-looking cat litter box that discretely helps keep waste out of sight and out of mind.
Litter Scatter – Cats have a natural instinct to discretely bury their waste. In a litter box system, cats will scratch and claw the sand in order to cover their production. A good cat litter box will help deflect and contain naturally-occuring litter scatter.
Odor Control – It is an unpleasant fact of life that some waste products expelled by cats have a disagreeable odor. Some cat litter boxes come with features and functions to help minimize the spread of unpleasant odors throughout the home.
Ease in Cleaning – Cat litter boxes require regular maintenance. Cat caretakers know that a good litter box will be simple and easy to clean, as well as using non-stick antimicrobial materials.
Appearance
Nature's Miracle
The Nature's Miracle won't win any prizes for the most stylish cat box, but it offers a simple and pleasing linearity to the traditional litter box design. With its deep well design, cats and litter are partially obscured from sight. This is a functional model that would be appropriate for any cat home.
The Catit
This model only comes in the warm gray design, but its soft round shape makes an elegant additional to nearly any home. The modern design with easy-access cat flap tastefully conceals the function of the litter box.
The Omega Paw
This advanced cat litter box comes in only one color, a two-tone cream and beige assembly that is suitably discrete and elegant for any cat home.
Litter Scatter
Nature's Miracle
The unique deep well design of the Nature's Miracle is excellent at ricocheting and containing litter scatter. After concluding their business, cats will be able to enthusiastically dig and scratch without spraying excessive litter outside the box.
The Catit
Completely enclosed within the dome, and the access door protected by a cat flap, little scatter is almost completely contained. Cat caretakers will enjoy having a modern box design with such a small litter scatter footprint.
The Omega Paw
Although the Omega Paw is voluminous on the inside, the entrance is designed to be small, thus significantly reducing litter scatter. Cat caretakers will enjoy the fact that very litter will make its way outside the confines of this cat box.
Odor Control
Nature's Miracle
This model is made out of a rugged material that is both mold and mildew resistant. It will provide years of low-odor service.
The Catit
Not only is the Catit Jumbo completely enclosed, but a carbon filter system provides outstanding protection against the propagation of unpleasant odors. If properly maintained, the Catit Jumbo will remain a neutral, unobtrusive presence in the background with a very low odor profile.
The Omega Paw
The patented Grill system quickly and efficiently sorts out waste from usable litter. Quick and easy disposal of unpleasant-smelling waste.
Ease in Cleaning
Nature's Miracle
With its easy grip handles and deep bucket design, the Nature's Miracle is a cinch to clean. Hot water and soap should easily dislodge all but the most persistent stains.
The Catit
The dome lifts up on a hinge, which allows for easy access during cleaning.
The Omega Paw
While the litter itself is designed to quickly and easily be cleaned, getting inside the box and scrubbing the interior surfaces is a bit more work. Overall though, it is simple to maintain a high level of cleanliness and hygiene with this cat litter box.
Conclusion: See Our Final Litter Box Reviews & Winners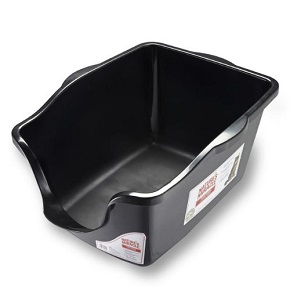 This tough, reliable cat litter box is an excellent choice for any cat caretaker. The deep well design does a great job of containing litter scatter and the simple but durable construction makes for fast clean-up.
Pros:
The front lip has a curved spout, which makes cleaning easier than ever
Provides years of reliable service
Cons:
This is an entry-level cat litter box and has no advanced odor controls or privacy functionality
It is normal to expect that some litter will make its way to the surrounding area outside the box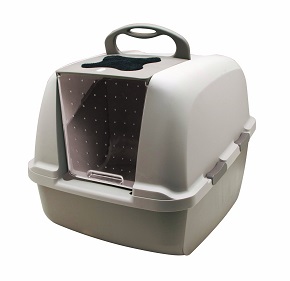 This elegant modern model offers cats a discrete and hygienic way to conduct their natural business. With a secure dome design and durable cat flap access area, litter scatter and odor are kept to a minimum.
Pros:
Even multiple cats will be able to comfortable use this litter box without undue litter scatter or odor propagation
This litter box is virtually odor-free and is simple and easy to clean
Cons:
Precisely because the Catit Jumbo is so hygienic and odorless on the outside, some owners delay necessary maintenance until emptying and cleaning the litter box is a distinctly unpleasant chore
Some cat caretakers prefer to remove the door for a less constricted experience for their cats when using the litter box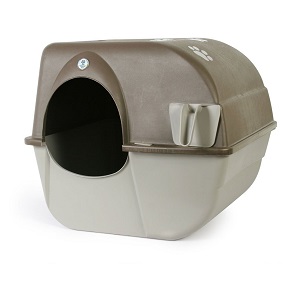 The advanced design of the Omega Paw allows for unparalleled ease when removing cat waste from the box. Without relying on fragile robotics or dangerous electronic motors, the Omega Paw provides cats an attractive and hygienic location to conduct their natural business.
Pros:
A quick turn of the Omega Paw neatly screens waste clumps into the tray, eliminating the need to buy expensive filters or liners
The tray is easy to pull out and empty
No wiring necessary or need to place the box near electrical outlets as the cleaning mechanism is entirely mechanical
The Omega Paw is definitely big enough to tackle the requirements of multi-cat households
Cons:
This model only functions with clumping litter, which can potentially be more expensive than other forms of cat litter
Experienced users recommend you roll the box very slowly when cleaned to prevent unnecessary wastage of cleanlitter
In Conclusion
Cat owners and caretakers need to carefully consider which litter box is right for their pets. Some households are home to multiple cats, which will need ample space to conduct their natural business. In other households, hygiene and privacy are a priority in order to minimize unpleasant cleaning duties or disagreeable odors.
Overall, the Omega Paw cat litter box is the best cat litter box on the market today. Its patented rolling technology quickly and easily sorts waste from clean litter without relying on fragile robotics or unproven gizmo ideas. The neutral, modern look of the Omega Paw provides a discrete and private place for cats to attend to their daily needs without requiring expensive or onerous maintenance. The Omega Paw allows cat owners and caretakers to provide their pets a discrete and hygienic place to conduct their daily business in one stylish, modern box.