Some links on this page are monetized by affiliate programs - see disclosure for details.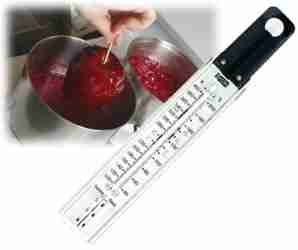 Cooking is a delicate process. In order for your food to come out just right, a number of factors must come together. When it comes to baking, temperature is just about the most important factor there is. Foods like candy and other sugar solutions demand precise temperatures in order to bake just the right way. But how do you monitor the exact temperature that you're baking your candy at? The answer is a candy thermometer.
Available in all different shapes, sizes, and configurations, candy thermometers make the baking of candy as simple, and as controlled as possible. Capable of measuring temperatures in just about any kind of food, these devices are a near necessity in the kitchen.
Compare: The Ten Best Candy Thermometers of 2018

First Things First: What is a Candy Thermometer?
A candy thermometer is a device capable of measuring temperatures in sugar solutions and deep fryers. Long, skinny, and made of either plastic, glass, or stainless steel, they allow you to keep your body at a safe distance from the hot solution while it's being measured, ensuring safety.
While some candy thermometers make use of a physical, mercury-substitute gauge, others make use of precise and sophisticated digital gauges. Though candy thermometers are specifically made to measure temperatures in candy solutions, they can actually be used in just about any food.
Why Are They a Necessity?
The truth of the matter is that, to make good candy, a candy thermometer is a necessity. High-quality candy baking demands very precise temperatures at very precise times. The inability to alter these temperatures when needed will result in very poor, sticky candy.
In high-end candy thermometers, you are afforded a number of features that will allow you to monitor temperatures over long periods of time. For example, these thermometers are capable of being put inside of freezers and refrigerators, ensuring that you always know just how cold they are.
Who are the Contenders for Top Thermometer?
A stainless steel thermometer with a plastic handle, the CDN TCG400 allows you to measure temperatures from a distance without the risk of burning your hands. With a non-mercuric measurement column, this thermometer has a range of 75 degrees fahrenheit to 400 degrees fahrenheit, covering just about any temperature you would need to know to make excellent candy. Included with this thermometer is a stainless steel clip which connects it to pots and pans, allowing you to monitor temperatures over time.
Equipped with a 5S Instant Read digital gauge, this Homasy candy thermometer provides you with precise temperature measurements every 5 seconds. With a long, foldable probe and an ergonomic plastic handle, it's beyond easy to store and transfer from place to place. A temperature range of -49 degrees fahrenheit to 392 degrees fahrenheit allows you to monitor just about any temperature you could wish to know.
Sporting a large LCD digital gauge, this Cave Tools thermometer features an auto shut-off feature, increasing overall battery life. With an extraordinary -40 degree fahrenheit to 450 degree fahrenheit range, it allows you to track absolutely any temperature you would ever wish to track. Endlessly durable, it is made with a waterproof and shatterproof construction.
Considerations for Choosing the Product
On a purely visual level, all candy thermometers appear to be the same. They are, after all, fairly simple tools that allow you to monitor the temperature of whatever you're cooking. However, candy thermometers have some slight differences in their constructions that make all the difference in their functionalities. These differences serve to alter a thermometer's accuracy, speed, and overall performance.
Gauge Type
Candy thermometers are equipped with one of two different types of gauges. These gauge types include digital and manual. Digital gauges usually record temperatures much faster and are often more accurate than manual gauges, which can take some time to display a final reading. In most cases, a digital gauge is the way to go.
Material
While some candy thermometers are made of heavy-duty plastic, others are made of metal or glass. The type of material that a thermometer is made of affects its ability to measure temperatures with both accuracy and speed. Typically, a thermometer made of stainless steel is the most durable and reliable.
Shape
Depending on what you plan to use your thermometer on, its shape can be a very important aspect to consider. If you're planning on using it for foods in which you will run into some difficulty in getting it set up appropriately, it's not the appropriate thermometer to purchase. Some thermometers are wide, long, and best kept to measure temperatures in large bowls and pans. Others are thin, short, and nimble enough to get into hard-to-reach areas.
Accuracy
Probably the most important thing to consider when purchasing a candy thermometer is how accurate it is. While some foods don't require exact, precise temperatures to be prepared correctly, others are very temperature-sensitive. Typically, you will get more accurate readings from thermometers with digital gauges than you will with thermometers with manual gauges.
Gauge Type
Homasy Foldable Cooking Thermometer
Equipped with a digital temperature gauge, this Homasy candy thermometer displays temperatures to the tenth of a degree. Its LED display is very easy to read, and displays temperatures within 5 seconds of measuring them. Capable of displaying both fahrenheit and celsius readings, it works excellently with all measurements systems.
Cave Tools Digital Cooking Thermometer
Though this Cave Tools thermometer ranks below the Homasy thermometer in terms of gauge type, it is only by a slight bit. Both thermometers make use of a digital gauge which measures up to the tenth of a degree with great accuracy. The only true difference is that this Cave Tools gauge is a bit more bulky than the Homasy gauge.
CDN TCG400 Professional Candy & Deep Fry Thermometer
Unlike the Cave Tools and Homasy thermometers above, this CDN thermometer doesn't have a digital gauge. This means that, though it's still very accurate, it takes a lot more time to produce a final reading. It is also a bit more difficult to read, as it requires you to get to eye level in order to see exactly where it is on the gauge.
Material
CDN TCG400
While this CDN thermometer possesses a very simple construction, it is extremely reliable and easy to use. With a measuring probe that is made of heavy-duty stainless steel, its plastic handle allows you to hold onto it without getting yourself burned.
Homasy
With a probe made of stainless steel, this Homasy thermometer is accurate, simple to use, and easy to clean. Its plastic housing is ergonomic, durable, and lightweight, allowing you to hold it up and maneuver it with few problems. Giving it excellent storage capabilities is its ability to fold up into itself.
Cave Tools
Made of a waterproof and shatterproof plastic material that can withstand just about anything, this Cave Tools thermometer is highly durable. With a thin, pointy stainless steel probe, it can penetrate different foods without disturbing their quality or preparation. To keep the thermometer protected while in storage, it comes with a high-quality plastic case.
Shape
Homasy
As far as shape goes, this Homasy candy thermometer is skinny and long. With a stainless steel probe that can extend from 4.8 inches to 10.3, it's easy to work into a variety of different spaces, making measurement as simple as possible. An added benefit of its long design is that you won't risk burning your hands when measuring.
Cave Tools
This Cave Tools thermometer is skinny and possesses moderate length. At its peak, its probe can extend to 6.8 inches. However, its greatest strength lies in its narrowness. With a very small, pointed edge, it can penetrate meats and other foods without depriving them of their natural juices and flavors.
CDN TCG400
When compared to the Cave Tools and Homasy thermometers in our top 3, this CDN candy thermometer is a lot thicker and bit shorter. It does not make use of a skinny, pointed probe, but instead works by having its measurement section dipped into the food that it's measuring. This makes it more appropriate for foods that are prepared in wide, open pots and pans.
Accuracy
CDN TCG400
Though its gauge is more difficult to read, this CDN thermometer is more accurate than both the Homasy and Cave Tools thermometers. It does take a little longer to get a final reading, but when it does, it is almost dead-on accurate. With a minimum reading of 74 degrees fahrenheit and a maximum reading of 400 degrees fahrenheit, it accommodates just about any hot food you can think of.
Homasy
Though this Homasy thermometer isn't quite as accurate as the CDN thermometer, it still provides you with very precise readings. With a gauge that displays readings up to a tenth of a degree, you will have no problem getting your food to the exact temperature you're looking for. Its extensive -49 degree fahrenheit to 392 degree fahrenheit range encapsulates just about any temperature you would need.
Cave Tools
As far as accuracy goes, this Cave Tools thermometer is about as accurate as the Homasy. Displaying readings up to the tenth of a degree, it allows you to cook foods with extreme precision and care. It is accurate within 1 degree, and will display a reading within 4 to 6 seconds of its initial measurement. With a minimum of -40 degrees fahrenheit and a maximum of 450 degrees fahrenheit, it covers any temperature you throw at it.
Conclusion: Final Candy Thermometer Reviews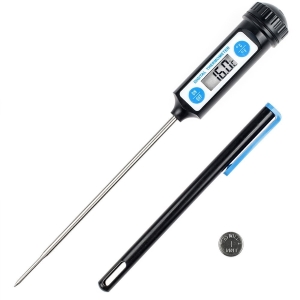 For a candy thermometer in its price range, the Anpro DT-8 is a truly excellent device. A remarkable -58 degree fahrenheit to 572 degree fahrenheit range leaves no doubt as to whether or not you will be able to monitor the temperatures you're seeking. Equipped with a long 5 inch probe and plastic handle, it keeps your hands away from the hot solution you're measuring at all times, ensuring safety. If you're looking for a rock steady candy thermometer at a very affordable price, you should definitely take a look at this.
Pros:
Huge measurement range
Long probe keeps your hands safe from burns
Cons:
A little slow
Is typically off by a few degrees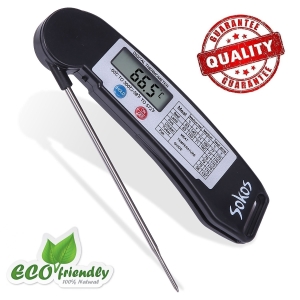 For its price, the iMallCoo Food thermometer is the best candy thermometer on the market. Offering ridiculous range at -58 degrees fahrenheit to 572 degrees fahrenheit, it is capable of measuring just about any temperature you throw at it. A large LCD digital gauge provides temperature readings in 4 seconds and has an auto shut-off feature that serves to save energy. If you're looking for great candy thermometer at a very reasonable price, you should definitely give this a look.
Pros:
Gigantic range
Quick read time
Cons:
Construction is questionable
Temperature readings can be inconsistent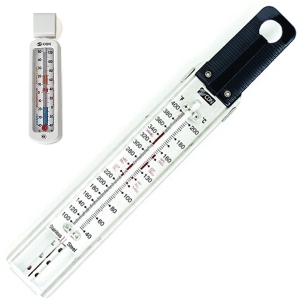 If you're looking for the most reliable and best candy thermometer on the market, the CDN TCG400 is it. With a range of 75 degrees fahrenheit to 400 degree fahrenheit, it is as accurate as any candy thermometer you're going to find. A non-mercurial measurement gauge provides you with exact readings, allowing you to get perfect temperatures for cooking the food of your choice. Durable construction, precise accuracy, and stellar functionality make this the best candy thermometer you can find.
Pros:
Ridiculously accurate
Very Durable
Long enough to keep you from burning your hands
Cons:
Takes longer to display measurements than digital thermometers
All in All
If you're going to cook and bake candy or other sugar solutions, a candy thermometer is an absolute necessity. It's as simple as that. Attempting to make candy without a candy thermometer will result in a gooey, messy, sticky substance that is barely edible.
Safe, steady, and reliable devices like the CDN TCG400 Professional Candy & Deep Fry Thermometer deliver supreme accuracy in a consistent manner. If you're looking to make a great candy every time you're in the kitchen, be sure to invest in a candy thermometer.