Some links on this page are monetized by affiliate programs - see disclosure for details.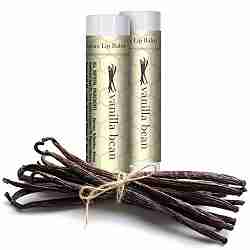 During the winter, there are a lot of great things moments that really stand out from other seasons, from drinking hot cocoa by the fire to playing out in the snow to enjoying the winter holidays. However, there are a few things that many people dread about winter. Cold winter winds and indoor heat can really affect your skin and hair. You may find that during the winter, your hair is drier and prone to flyaways because of static electricity, and your skin may require a heavier lotion applied more often than usual.
Something else that may suffer during the colder months is your lips. Wind and heat can lead to dryness, which may result in you licking them more to keep them moist. While this seems like a good idea, this actually backfires and makes your lips even drier. If cold winter weather or an arid climate has led you to dry, cracked, and painful lips, you need to stock up on a high-quality lip balm to make it through the season.
Compare: The Top 10 Best Lip Balms of 2019

A Guide To The Best Lip Balms
Lip balm is a product that is applied to your lips much like lipstick or lip gloss. However, these products are designed to add color and enhance the look of your lips, while balm is designed to keep them moisturized to prevent chapped, cracked, bleeding, and painful lips throughout the winter or any other time when they are just too dry.
This glides on smoothly, can be worn by men, women, and are loaded with ingredients designed to soothe and protect.
What are the Different Types?
You don't have to suffer through the winter with painful lips – all you have to do is get a lip product that's designed to help ease the pain, moisturize your lips, and help them heal and stay protected while you're out in the wind or sun or indoors in the heat. In order to get the most from your balm, the first thing you need to know is the types available, and which will work best to solve your problem.
Tubes – These are very similar to lipstick and they're applied right from the tube. These are very portable and easily slide into a pocket or purse.
Balm pots – These are small pots that fit in your pocket, and they are applied with a cotton swab or fingertip. These are often thicker and more moisturizing than balms in tubes.
Medicated balms – If your lips are extremely cracked and painful, these medicated balms are designed to help make them heal faster and ease your discomfort while they heal.
Tinted balms – This is ideal if your lipstick is too drying and you want to protect and moisturize your lips. Tinted balms add a hint of color while providing the moisture you need to keep your lips from being painfully chapped.
What are the Advantages of Using Lip Balm?
You shouldn't have to go all winter with painfully sore lips. Instead, all you have to do is slather on a lip balm as directed to prevent chapping which can make them crack, bleed, and cause you a lot of pain. Even if you're not prone to chapped lips, balm is inexpensive enough that you can buy one to put in your purse, slide into your pocket, or keep in your desk drawer at work.
If you participate in a lot of outdoor sports, particularly those that involve being in snow, wind, and sun for long periods, this product is an absolute essential.
Did You Know That Lip Balm Can Also Protect You From The Sun?
Much like the rest of your skin, your lips are vulnerable to getting sunburns, especially when they are dried and agitated by a winter climate.
Applying sunscreen to your lips is distasteful, however. As a result, many lip balms can protect you from the sun in addition to sealing in the moisture on your lips. While not all lip balms have SPF protection for your skin, many do.
For most of the lip balms with SPF, you can expect roughly SPF 15 protection. There are also several lip balms that are available with protection up to SPF 45, but they're a bit rarer. Luckily, these SPF-bearing lip balms taste much better than other sunscreen products.
Which Products Should You Consider?
ChapStick Dual-Ended Hydration Lock Moisturize and Renew – Restore moisture, lock it in, and renew your chapped lips with this product from ChapStick, a leader in lip protection. This 2-in-1 product not only provides you with the moisture you need right away, but it also helps renew and repair your chapped, painful lips. In fact, after use, you'll notice that your lips look younger, smoother, and completely rejuvenated, all at one very affordable price.
Mentholatum Natural Ice Medicated Lip Protectant SPF 15 – Whether you're outside engaging in a snowball fight with the family or hitting the slopes, the wind, sun, and dry air can dry out your skin, hair, and lips. Instead of dealing with the pain, arm yourself with protection with this protectant product from Mentholatum. This product moisturizes and offers temporary protection from the wind and cold. It also has SPF 15 to protect against damage caused by the sun. If your lips are already chapped, it helps soothe them so you're not in pain.
Beauty by Earth Lip Care Vanilla Bean & Honey Lip Butter – If you try to live a greener, more natural life and you try to avoid chemicals at all costs, this natural balm is a great choice for you. It is made with natural, non-toxic ingredients that provide moisture like you won't believe. This product soothes dry, chapped lips, and it is gentle enough for even those with sensitive skin.
Other Considerations for Choosing the Right Lip Balm
Once you're ready to stock up on your lip protection, it's time to begin your search for the right product. With so many different brands, formulas, ingredients, and benefits, it can be overwhelming to pick something that works best for you. In order to ensure your satisfaction with the balm you purchase, decide beforehand what your criteria is for the right product. You can use these four features to get you started.
Price
Even the most high-end balm isn't overly expensive, but some do cost a bit more than others. If you're purchasing an all-natural product, for example, you may pay more. If you're buying a package instead of just one tube or tin, you'll pay a little more initially, but you may save over time by buying in bulk. Take a look at the price tag, of course, but don't let the price deter you from buying a high-quality, top-rated product.
Number of tubes per package
If you just want one tube to use in case of emergencies, then that is what you should purchase. However, if you just can't live without your balm or you want to stock up your entire household, buying a bulk package not only gives you all of the balm you need, but it can also save you money over buying individual products.
Ingredients
Looking at the ingredients is important for a number of reasons. You want to make sure that the active ingredients are proven to work, and you also want to keep an eye out for anything that you may be allergic to or that may cause an adverse reaction on sensitive lips. If you lean towards using natural products, look for balms that are made with only pure, natural ingredients.
Standout feature
Keep an eye out for one standout feature that makes one product preferable to another. Whether it's extra protection, healing properties, or SPF, look for anything that makes the product stand out from the thousands of others that are similar to it.
Number of tubes per package
ChapStick Dual-Ended Hydration Lock Moisturize and Renew
You'll receive just one tube with your purchase.
Mentholatum Natural Ice Medicated Lip Protectant SPF 15
At the $17 price point, you'll receive 12 tubes, plenty to have for yourself and to share with family and friends all winter long.
Beauty by Earth Lip Care Vanilla Bean & Honey
For $20, you'll receive four tubes that you can share with family members or keep as backups.
Ingredients
ChapStick Dual-Ended Hydration Lock Moisturize and Renew
This product is made with many different ingredients including paraffin, beeswax, avocado oil, and raspberry seed oil.
Mentholatum Natural Ice Medicated Lip Protectant SPF 15
Ingredients in this product include petrolatum, menthol, Dimethicone, and Octisalate, all ingredients that are combined to moisturize and protect.
Beauty by Earth Lip Care Vanilla Bean & Honey
This product is made with all-natural ingredients and does not contain chemicals, soy, corn, petroleum, or fillers. Ingredients include beeswax, coconut oil, lanolin, aloe vera, and vitamin E.
Standout feature
ChapStick Dual-Ended Hydration Lock Moisturize and Renew
This balm is a 2-in-1 product that is designed to soothe chapped lips, protect them from harsh conditions, and also helps make them look better than ever.
Mentholatum Natural Ice Medicated Lip Protectant SPF 15
This is ideal for severely chapped lips which are cracked and painful, as it soothes the pain, provides moisture, and protects from wind, sun, and cold.
Beauty by Earth Lip Care Vanilla Bean & Honey
If you don't want to use a product that contains chemicals, this non-toxic, non-GMO product is a great choice as it uses all natural ingredients.
Conclusion: Our Lip Balm Reviews Are In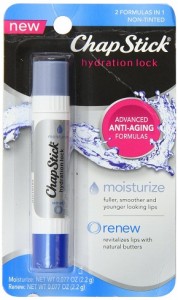 Why just moisturize your lips when you can renew them? All it takes is applying this great product, which has a double-ended applicator to serve two different functions. Since it's by ChapStick, a leader in lip care, you know it's a quality product.
On one end, you have the moisturize stick, which adds much-needed moisture in the cold, dry air of winter. It's non-tinted, so it's ideal for everyone, and it glides on smoothly. Your lips will look smoother, fuller, and younger with regular application. If you want to restore chapped lips, the renew side revitalizes them with natural butters, so your lips look and feel better all winter long.
Pros:
Helps restore the look of dry, chapped lips. It glides on smoothly. It contains natural butters for ultimate moisturizing power. Very affordable. It has two sides that you can use as needed for moisture or restoration. It is not greasy. Does not feel waxy or gummy when applied.
Cons:
It leaves lips very shiny. It doesn't offer medication that can help severely chapped lips heal faster.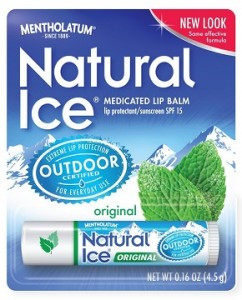 Sometimes, you forget to protect your lips outdoors and you suffer the consequences of dryness and pain. This product is ideal for helping with lips that are already chapped, as well as protecting against it every time you walk outside. This product contains medication that helps soothe the pain to help you heal more easily.
This balm is not greasy, waxy, or shiny when applied. There is no residue, and it glides on smoothly. It contains SPF to protect against damage caused by the sun for complete lip protection anywhere you go. This is a top choice if you frequently indulge in outdoor winter sports or if you need a little extra something that helps heal and protect faster than traditional balms.
Pros:
It is affordable. Comes in a large pack of 12 for distribution to friends, family, or to keep as spares. Medicated to help soothe cracked and chapped lips. It is moisturizing without being too heavy or greasy. It contains SPF. Protects against wind and sun damage. It stays on for a very long time.
Cons:
It's thin, so a few coats may be needed to achieve the desired look. It doesn't thicken lashes. If you want a more dramatic lash look, this isn't the product for you.
More and more people are questioning the ingredients that go into beauty products, and this is why so many people are choosing to go with all-natural products. If you have adverse reactions to typical balms, have sensitive lips, or just want to head a healthier, more natural lifestyle, you don't want to pass up on these great balms.
You'll receive four lip balms so you can keep one with you everywhere you go, although if you're feeling generous, you can certainly share a tube or two. Unlike other products that have lots of chemicals, this one contains natural ingredients. You won't find chemicals, soy, petroleum products, or anything toxic in these balms. Instead, you'll nourish your lips with great natural ingredients like castor seed oil, sunflower seed oil, coconut oil, lanolin, and aloe very. Even the flavorings are natural.
These ultra-moisturizing balm is great for protecting your lips while out in the cold, sun, or wind. Even if you don't have chapped lips, you can use this as a base for your lipstick so that your stick glides on and your lips look smooth, healthy, and hydrated. These are cruelty-free and come in environmentally-friendly packaging.
Pros:
It only contains natural ingredients. It is great for those with sensitive lips. Creates intense moisture without greasiness. Comes from a cruelty-free organization. For a four pack, it is very affordable. It smells great. It doubles as a lip primer. Glides on smoothly.
Cons:
While it helps moisturize, it does not contain medication to help quickly repair severely chapped lips.
Closing Thoughts
If you're feeling the sting of winter weather or you just have chronically dry lips, the best solution is a high-quality lip balm applied regularly. If you want a balm that is full of natural ingredients designed to provide you with moisture without a heavy, greasy feeling on your lips, the Beauty by Earth Lip Care Vanilla Bean & Honey is a superb choice. This 4-pack is priced affordably, doesn't use chemicals or unnatural products, and provides you with the moisture you need to make it through the cold, dry days of winter.