Some links on this page are monetized by affiliate programs - see disclosure for details.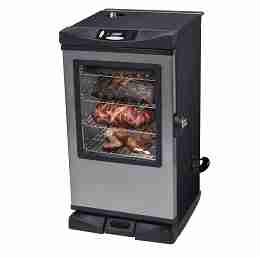 Few things are better at your summer barbecue than delicious smoked meat. Whether it's a rack of ribs or a delicious burger, smoking your meat is a great way to add flavor while keeping it juicy and delicious. However, if you've ever used a traditional smoker, you know just how difficult it can be. You have to keep the temperature at a certain level, which requires monitoring the smoker for hours and adjusting vents when needed. The whole process is quite lengthy and quite frankly, can be a pain.
Instead of spending your time at a cookout hanging out by the smoker, you can provide your family, friends, and guests with delicious smoked food without the hassle with an electric smoker.
Compare: Top Rated Electric Smokers of 2019

What is an Electric Smoker?
An electric smoker is used along with wood chips to add flavor to meat. Instead of using a grill at high temperatures, a smoker utilizes lower heat for a longer period of time. This allows the meat to fully absorb the flavor from the wood chips without drying out.
While most smokers use fire, an electric smoker has a built-in element that makes it easy to keep the temperature where you need it. There is no need for venting, so the process isn't as difficult with an electric model.
What are the different types?
If you want to kick up the flavor of your meats, veggies, and other items with a smoker, an electric model has a lot of features that make it easy and convenient, so you'll enjoy using it at your next neighborhood barbecue. Before you invest your money, though, make sure you know what to expect while shopping. There are two main types of smokers to look for, smokers with remotes and vertical water smokers.
Smokers with remotes – These models allow you to monitor the temperature, timer, and other features on your smoker without being right on top of it. With radio frequency, you can go inside or walk about your yard while still being able to monitor and control your smoker.
Vertical water smokers – These are very popular because they do not dry out the meat like some models do. Water is used along with heat to produce steam that cooks the meat and adds flavor without making it too dry.
What are the Advantages of Smoking with an Electric Model?
Since smokers rely on low heat for the best results, these models make it easier to maintain the proper temperatures without having to constantly open and close vents and monitor the level of the fire. These are easy to use, and even beginners can perfectly smoke meat each time with built-in features like thermometers, internal meat probes, and remote controls.
Electric models are also a great option if you live in an area where having an open flame is prohibited.
How to Use an Electric Smoker
Many electric smokers require "seasoning," which is a process used to prepare the smoker for use. Rub cooking oil on all of the smoker's interior surfaces. Then run the smoker while its empty. This process eliminates dust and odors from the manufacturing process. The smoker only needs to be seasoned once.
Place the smoker on a flat, even surface. Make sure it's securely plugged in. Unplugging the smoker, even for a short period, can disrupt the entire cooking process.
Clean the smoker after every use. Allow time for the smoker to cool before cleaning. Remove the racks and other removable components. Use a sponge to scrub the inside of the smoker with soapy water. Cleaning the smoker helps prevent accidental fire. Plus, it prevents flavors from one meal contaminating the next.
Who are the Contenders for Best Electric Smoker on the Market?
If you're new to using a smoker, this is a great entry-level model that doesn't cost a fortune. It's very easy to use and produces great results with meat, vegetables, and other favorite cookout foods. This smoker comes equipped with easy to use controls for variable heat settings, a strong 1,500 watt heating element, a front-mounted thermometer for easy monitoring, and plenty of cooking space for even the biggest cuts of meat.
Enjoy spending time with your guests instead of sitting around a smoker with this remote-controlled model. It is loaded with great features found on more expensive models, but it's available at a fraction of the price. Standout features include a window for viewing the progress of your food without letting out the heat, double walled construction to keep the heat inside for faster cooking, and a handy remote control.
When nothing less than the best will do for your outdoor barbecue, this model from Jim Beam is sure to impress. The digital controls are easy to use and allow you to maintain the perfect temperature without having to use vents. You can adjust the time, temperature, and smoke with the push of a button, and your wood chips can even be fed automatically, so you don't have to open the smoker and release the heat.
Features to Consider Before Buying
Once you've made up your mind that a smoker will be the perfect addition to your backyard patio, it's time to make the purchase. Before you drop hundreds of dollars on just any smoker, though, it's important that you know exactly what to look for in these devices. Even if you've never used one before, these four key features are important features you should look for in every product you consider purchasing.
Price
Smokers aren't exactly cheap, but some are more inexpensive than others. If you're on a budget, look for a basic model that doesn't have many, if any, additional upgrade features like digital controls or a remote control. If you just want to get the best bang for your buck, consider more upgraded models.
Cooking area
You need to determine how your smoker will be used and how much food you will be smoking. If you frequently entertain lots of guests or you always cook for your family, you want to purchase a model that offers plenty of interior smoking space so no one is left waiting for food.
Warranty
No one wants to buy a bad product, but sometimes, you get stuck with a lemon. If your product doesn't work as it should because it just wasn't made right, a warranty will help you get a new one or repairs that will make it work as it should again, without costing you a dime.
Controls
You want an easy-to-use interface so you can easily control the level of smoke, keep the temperature consistent, and get the best results. Whether you choose dial-type controls or the latest digital controls, make sure they are easy to use and understand.
Price
Char-Broil Electric Vertical Smoker
This smoker is one of the most affordable electric models you'll find.
Masterbuilt 20070411
This is a mid-priced model that boasts many of the features found on the more expensive high-end smokers.
Jim Beam BTDS76JB Bradley Smoker
With the highest retail price of the group, this smoker is classified as a high-ticket item.
Cooking area
Char-Broil Electric Vertical Smoker
You'll have plenty of space for ribs, steaks, and so much more in this model, which has 505 square inches of cooking space and three cooking grates.
Masterbuilt 20070411
With 730 square inches of interior cooking space, you can easily smoke enough food for a large crowd.
Jim Beam BTDS76JB Bradley Smoker
The dimensions of this model are 11 x 15 x 25, and it has four fully supported racks to hold plenty of your favorite foods.
Warranty
Char-Broil Electric Vertical Smoker
Your purchase is protected against manufacturer's defects for 90 days.
Masterbuilt 20070411
Your purchase is protected with a 90 day warranty directly from the manufacturer.
Jim Beam BTDS76JB Bradley Smoker
This smoker comes backed with a 1-year limited manufacturer's warranty, by far one of the best warranties in the industry.
Controls
Char-Broil Electric Vertical Smoker
Just turn the dial up or down to adjust the temperature of this smoker, and you can keep track of the temperature with the thermometer right on the door.
Masterbuilt 20070411
This smoker has digital controls that allow you to easily control the temperature. It also comes with a controller so you can adjust settings remotely.
Jim Beam BTDS76JB Bradley Smoker
The all digital controls can be used to adjust the temperature, set the timer, or even add wood chips as needed.
All Electric Smoker Reviews Are In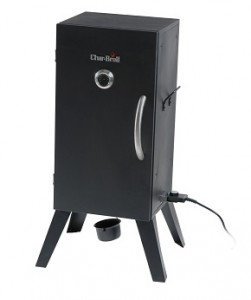 If you want a no-frills smoker, this is the one for you. It comes at a low price, so it's very affordable and a great way to introduce yourself to the world of outdoor smoking. This model has over 500 square inches of cooking space and three metal grates to provide you with plenty of space for smoking.
This model comes with a porcelain cup for water and wood chips to give your meat that smokey flavor you crave without drying out your meat. It is fully insulated with a double wall construction that keeps the heat inside. You never have to worry about not maintaining the proper smoking temperature – just take a peek at the built-in thermometer.
Pros:
It is affordable
It has plenty of cooking space
The controls are easy to use
Easy to assemble
It maintains its temperature for even smoking
Ash pan and grease cup make cleanup fast and simple
Cons:
The magnetic door does not always secure properly
The cord, at around 4 feet, is a little short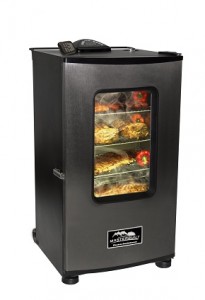 If you want more than a basic model but you don't want to spend a fortune, this is an excellent option that has many great features. The first thing you may notice is the large amount of cooking space, over 700 square inches and four chrome-coated racks for cooking just about anything.
The 800 watt element helps maintain the proper temperature for even cooking. Outside of the smoker, you'll notice the digital controls that can be used to adjust the smoke, temperature, and timer settings. If you don't want to hang out around the smoker, you can control all of these features from the wireless remote. The wood chips are easy to load in from the side, so you don't lose heat, and there is a top damper so you can vent the smoker if needed. This model is easy to use, and it produces great results every time.
Pros:
The external controls are easy to use
It has a remote control
It hasindow for viewing
Large cooking space inside
It has an interior light
The handle and wheels give it great portability
The thermostat is adjustable from 100 to 275 degrees
It has a built-in meat temperature probe
It has a removable drip pan for easy cleaning
Wood chips are easy to load from the side
Cons:
The wiring and heating element may burn out over time with consistent use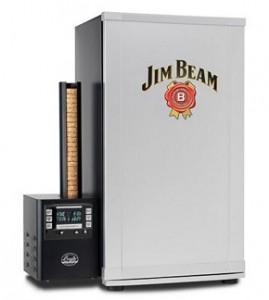 When it comes to smoking your meat, why settle for less than the best? With the Jim Beam electric model, enjoy the flavor of smoked meats and veggies with a fraction of the work. This roomy model has four racks, giving you plenty of cooking space. It has a durable, insulated design that allows your meat to cook evenly without coming out too dry.
This features all digital controls that are very easy to use. You can control the temperature, set the timer, and control the level of smoke with ease. This uses wood bisquettes that can be fed automatically without you having to do the work and without opening the smoker, so you don't lose the heat inside. It is equipped with a 500 watt heating bar and a 125 watt burner so you can easily achieve the smoked flavor you crave.
Pros:
It automatically feeds wood for you
The digital interface is easy to use
It is roomy inside
Has one of the best warranties you'll find for this type of product
Can be set up to 280 degrees
Internal thermostat for precise cooking
No assembly is required
Cons:
It is priced more expensively than many other models
The hinges of the door may crack over time
Conclusion
Instead of cooking all of the juices out of your meat over a hot grill, give a smoker a try. If you're not quite ready to use a traditional smoker or you just don't like messing around with fire, an electric model gives you the same great taste without all of the hassle.
For consistent results, consider investing your money in the best electric smoker. the Jim Beam BTDS76JB Bradley Smoker. The combination of an insulated, roomy interior, easy to use controls, and quality heating elements for even cooking allow this product to smoke the competition.