Some links on this page are monetized by affiliate programs - see disclosure for details.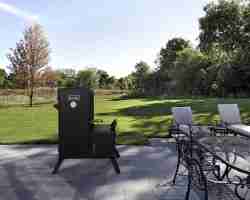 Summer is the perfect time to break out your outdoor charcoal smoker to slow cook your favorite meats and other dishes. To get a consistent cook and a wood-fired taste, ensure that the smoker functions properly and it is suited to your specifications. You will impress your friends and have a perfect cook every time.
Today I'm breaking down the top selling charcoal smokers on the market.
What is a Charcoal Smoker?
A charcoal smoker is a specific kind of heating tool that cooks your meat over flaming coals, at reduced temperatures, oftentimes with hardwood included to obtain a more natural taste. Smoking is a less direct kind of heating that typically occurs over several hours, at reduced temperatures. Charcoal smokers function through a combination of lit and unlit coals in addition to the layout of the coals so that the fire stays active over a greater amount of time.
Related: The Best Electric Smoker
What are the advantages?
The best charcoal smokers provide a more consistent cook and a smoky flavor. You do not lose nearly as much moisture when cooking meats or other dishes that you would with baking or using a stove. Meats come out much more delicate, tasteful, and cooked much closer to your originally intended amount.
See Also: The Best Gas Grill
What are the different types of charcoal smokers?
When you need the best charcoal smoker for the cooking at hand, it makes sense to do your research ahead of time. You need to make sure that the smoker is designed for the types of cooking that you have in mind. You do not want to end up with inconsistently cooked pieces of meat because you did not take the time to prepare. Below are the three main types of smokers:
Vertical or Cylinder Smoker
This variation of smoker is favored by consumers due to its simplicity of use, its reduced size, and its reduced price compared to similar models. These kinds of smokers typically include two bowls in the inside compartment. The bowl located at the base of the smoker is where you need to position your charcoal and smoker wood. Frequently, there is also a bowl located in the middle, which will keep water in place so that your dish stays hydrated throughout the smoking process.
Typically, these smokers include a trap door at the front of the smoker, so that you can insert new charcoal and wood to keep up the temperature. Because the heat will travel upwards from the bottom bowl to the top, you will store your dish at the top where your lid comes in contact with the bottom of your smoker. When you are using a vertical smoker, make sure that the lid is shut so that all of the heat and smoke stays inside.
Cabinet Smoker
Even though a cabinet smoker looks very similar to a vertical smoker, it is important to note that there are a lot of differences between the two. Most of the time, cabinet smokers include a large number of racks that can be readjusted depending on the types of dishes you are smoking. Cabinet smokers are much greater in size and can more effectively distribute smoke at the bottom. Cabinet smokers include a greater amount of vents when compared to vertical smokers, as a result giving you a larger amount of power over the heating process. If you smoke frequently, it is worth purchasing the more effective cabinet smoker.
Offset Firebox Smoker
Offset smokers are an ideal option if you want to purchase a charcoal grill and smoker in one device. The main chamber works much like a conventional grill. However, you are able to smoke your meats using a reduced sized firebox chamber. Most of the time, these types of smokers have two adjustable vents that are situated on the firebox to keep a steady temperature. It is important to open all of the vents to ensure the temperate goes up in the smoker. After you have reached your ideal temperature, it is important that you shut your vents one-fourth of the way to keep up the heat.