Some links on this page are monetized by affiliate programs - see disclosure for details.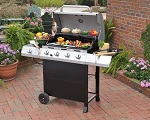 Is there anything better than summertime? Beautiful, sunny days are highlighted by pool parties, picnics in the sun, and of course, cookouts with friends and family. When your old charcoal grill is just becoming too much of a burden, consider making the switch to a gas grill.
You'll find that cooking your food on a gas grill is fast, easy, and convenient. Not to mention, your food will be absolutely delicious, pleasing your family, friends, and guests at your next BBQ.
Side by Side: The 10 Best Gas Grills of 2017

Introduction: What are Gas Grills?
Gas grills are outdoor cooking surfaces that allow you to easily grill your favorite meats like steak, chicken, burgers, and hot dogs. Unlike charcoal grills, which require lighting the charcoal and allowing it to burn out to achieve the perfect cooking temperature, they do not require charcoal, are easy to light, and are ready to use in just minutes. Even those who have never grilled before find that gas grills are so easy to use.
See Also: 10 Highly Rated Electric Grills You'll Love to Own
What are the different types of Gas Grills?
Whether you're replacing your old gas grill or you're ready to upgrade from your old charcoal grill, it's important to know what to look for when shopping for a new grill. There are a few different gas grills available for you to choose from, and by knowing these types, you can easily narrow down your choices when you decide to make a purchase.
Propane
These grills are portable, so they can be placed anywhere on a deck, patio, driveway, or other area of your yard. These grills are attached to a small propane tank underneath the grill. Once the propane tank is empty, it will need to be replaced. Many home improvement, grocery, and convenience stores have replacement tanks for sell. You can also replace your empty cylinder for a discounted tank that is filled.
Natural gas
While less common, and they are a more permanent option. These are usually installed by pools or in an outdoor kitchen. Instead of a portable propane tank, these grills are powered through natural gas. These grills must be hooked up to natural gas lines by a professional before use.
Budget
Budget grills are typically smaller and made of less durable materials. These inexpensive grills make great starter grills, are ideal for those who don't grill out much, or work for a vacation home that is only used a few times a year.
Mid-priced
More expensive than budget grills, but they may be larger and are typically made of more durable materials. These are designed to last through many uses and last through several seasons.
High-end
Have upgraded features that make them more expensive than other types. This includes a larger grilling surface, multiple burners, higher-quality stainless steel, and more stylish designs.
What are the advantages of owning a Gas Grill?
The ease of use of a gas grill is a big selling point. You don't have to worry about messy charcoal, these grills are easy to light, and they perfectly cook your food in just minutes. Gas grills are great for using during the warmer months of the year, as you won't have to use your stove (which increases the heat in your home, leading to higher electric bills), and cleanup is fast and easy.
You can easily cook a lot of food on the surface, making it very convenient when you have a large family or multiple guests to feed. A gas grill is also favored over a charcoal grill because you can light it with the push of a button, it heats up quickly, and food is cooked evenly.
Read: The Best Electric Smokers You Can't Live Without
Who are the contenders for Best Gas Grill
Char-Broil Classic 480 40000 BTU 4-Burner Gas Grill – This durable, reliable gas grill is a great budget-friendly option. It offers a large cooking surface that's perfect for a family, as well as a stainless steel design that will look great on your patio or pool deck.
Weber Genesis 6537001 E-330 – Make sure every cut of meat is juicy and flavorful by cooking it on this great Weber grill. Choose from one of three colors to complement your outdoor décor, and enjoy upgraded features like flavorizer bars and a grease maintenance system.
Weber Summit 7170001 S-470 – Impress your guests with this top-of-the-line grill that provides you with a 580 square-inch cooking surface, a side burner, smoker burner, and a rotisserie burner.
Considerations for Choosing the Best Gas Grill
If you want to spend less time cooking and more time mingling at your summer get-togethers, you'll love the ease and convenience. However, you may find when browsing in stores and looking online that there are hundreds of grills to choose from. If you've never owned one or never put much thought into buying one, you may find that the shopping process can be quite difficult. It doesn't have to be, though, especially when you take the time to consider these key features that are important to most gas grill owners.
Cooking surface area
If you entertain large groups regularly, you don't want to keep your guests waiting by cooking on a grill with a smaller surface area. If you're just cooking for your family, a smaller grill may be a good match for you, but if you typically cook for much larger crowds, invest in a grill with a larger grilling surface area.
Finish
Grills come in multiple finishes, and you'll want to select one that complements your patio furniture, outdoor décor, or even the color of your home. Most grills are available in neutral black or shiny stainless steel, but some manufacturers have also made grills that come in bright colors.
Burner options
Do you want to cook everything outside without running back and forth from the grill to your kitchen? Then look for a grill with a side burner, which can be used to cook pots of foods like baked beans for your hot dogs or vegetables to complement your chicken. Some high-end grills even have specialty burners, including smokers and rotisseries.
Price
Gas grills come in a wide range of prices, from around $100 for a budget grill to several thousand dollars for a high-end natural gas grill. While price is important to your personal budget, it's also important to look at other features. For example, a very inexpensive grill may only last through one summer, requiring yearly replacements, while a grill that is a more expensive investment may last for several years, giving you more bang for your buck.
Cooking surface area
Char-Broil Classic 480
This is an ideal family grill, providing you with 480 square inches of grilling space, as well as an additional 180 square inches of secondary cooking space.
Weber Genesis 6537001 E-330
You won't have a problem cooking and warming your food with this Weber grill, which offers plenty of cooking space. You'll be able to enjoy a roomy 507 square-inch main cooking area, a 130 square inch warming rack, a side burner, and a Sear Station burner.
Weber Summit 7170001 S-470
This grill is ready to tackle any party. You'll have plenty of space with 468 square inches of primary cooking space, a 112 square-inch warming rack, plus a Sear Station burner, a smoker burner, and an infrared rotisserie burner.
Finish
Char-Broil Classic 480
This grill looks great in any yard, showcasing a stainless steel lid, handle, control panel, and fascia. The sides and shelving are made of painted black metal.
Weber Genesis 6537001 E-330
If you want a grill that's different from the rest, you'll love this model, which is available in three different finishes. Choose from Green, Copper, and Black to truly personalize your outdoor space.
Weber Summit 7170001 S-470
This top-of-the-line grill is available in a classic stainless steel finish that is crafted using the highest quality materials.
Burner options
Char-Broil Classic 480
The secondary cooking space provides you with an additional 180 square inches for use for additional food and pots.
Weber Genesis 6537001 E-330
In addition to the large main cooking area, a warming rack is perfect for keeping your finished meats warm, while a side burner is excellent for cooking other items. Get the perfect grill marks without sacrificing flavor with the Sear Station burner.
Weber Summit 7170001 S-470
You can release your inner chef with all of the added features of this grill, including Weber's signature Sear Station, a smoker burner, and a rotisserie burner on the back.
Price
Char-Broil Classic 480
This is one of the more inexpensive gas grills on the market that provides you with great grilling space, as well as a stylish and durable design.
Weber Genesis 6537001 E-330
This Weber grill is on the higher end of the mid-priced grills. However, its large size, durable construction, and added features make it worth the extra expense.
Weber Summit 7170001 S-470
This grill is one of the more high-end models currently on the market.
Conclusion: Our Gas Grill Reviews Are In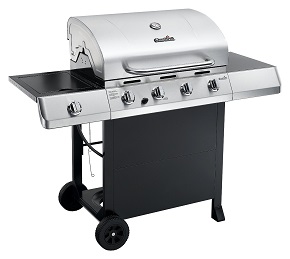 If you want the convenience of a gas grill but you don't want to spend a fortune, this model from Char-Broil has everything you need and more. You have a combined total of 665 square inches, so you can easily cook a great meal for your entire family. The four burners light easily the first time, every time. The stainless steel and painted metal construction is not only stylish, but it's durable, so you can count on this grill from season to season.
With 10,000 BTUs, you can get the heat you need to perfectly sear a steak and cook your other meats to absolute perfection in no time at all. If you want to heat up other items, a covered side burner is available for your use. This is a great choice for anyone who wants an affordable grill that's easy to use and provides even heating every time.
Pros
The price is just right. It is solidly made. It has multiple burners and a large cooking surface. The instructions are easy to follow. The electronic ignition system makes it easy to light. Extra workspace is perfect for outdoor prep.
Cons
Knobs feel cheap and flimsy. May rust easily if not covered and protected from the elements. It feels more flimsy and wobbly than more expensive grills.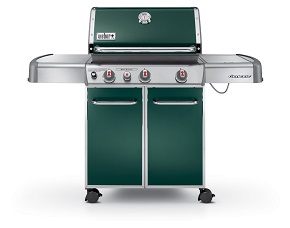 Your friends, family, and neighbors won't be able to stop raving about your cookouts every time you use this Weber grill. With a large surface area of 507 square inches, you'll be able to feed larger crowds without leaving anyone waiting. Add grill marks with the unique Sear Station burner and flavor your meats naturally with the Flavorizer bar system that's unique to this brand.
There are also added convenience features, including a gauge that lets you know when you're running low on propane, and a grease management system that makes cleaning easier than ever. The high-grade stainless steel ensures quality and durability, while the three color options add a unique touch to this high-quality grill.
Pros
It offers plenty of cooking space. Prep space allows you to easily prep your food outdoors. Flavorizer bars add natural flavor. Cleaning the grill is easy. The stainless steel burners are high-quality and built to last from season to season. This grill features modern styling, so it looks great in any backyard. The cast aluminum cookbox cooks your food evenly every time. The electronic ignition system ensures easy lighting. It is also available for natural gas hookups. It comes backed with a 5-year limited warranty.
Cons
Assembly can be difficult. The metal may rust over time when not properly protected from the elements. The lid handle gets extremely hot when the lid is closed with high heat.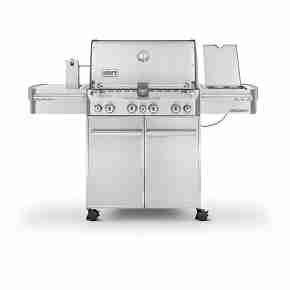 If you want versatility, you'll find exactly what you're looking for with this Weber Summit grill. Whether you want to cook hotdogs for the family, burgers for the whole neighborhood, or even grill a juicy chicken on the rotisserie, you can do it all with this top-quality stainless steel grill.
Your food will be enhanced with delicious flavor with the built-in Flavorizer bars that are unique to this brand. This system does all the work for you, injecting delicious flavor into everything you cook just by putting it on the grill. You never have to worry about running out of propane again with the built-in fuel gauge, and the grease management system makes this easy to clean and maintain. The outer surface, grates, and other parts are made of high-quality stainless steel, so you can trust that your new grill is sturdy and designed to last through hundreds of cookouts.
Pros
Provides plenty of cooking space. It is easy to light. It cooks evenly. Easy to clean and maintain. It comes backed with a 5-year limited warranty. It is available in propane or natural gas models. With all of the burners, it puts out a lot of heat, allowing you to easily cook any type of meat. The thick grates are easy to clean and do not damage easily.
Cons
It is more expensive than many other gas grills. Assembly can be difficult.
All in All
You want to purchase the best gas grill that's designed to last year after year. While buying a cheaper grill may seem like a good idea at first, yearly replacements may end up costing you more in the long run. When you want a grill that's designed for ultimate performance, consider the Weber Summit 7170001 S-470. This grill is durable, stylish, and best of all, it makes it easy to cook perfectly with each and every use. You'll be the talk of the neighborhood after you use this grill at your next neighborhood barbecue.