Some links on this page are monetized by affiliate programs - see disclosure for details.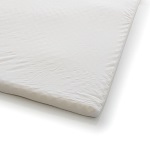 Over time and with daily use, your mattress may become lumpy and uncomfortable. Not only does this contribute to sleeping issues, but it may also leave you with aches and pains in the morning. Even the most high-end mattresses are susceptible to becoming uncomfortable over time.
Maybe lumps aren't your issue. Maybe you purchased a cheap mattress, but you didn't realize just how uncomfortable it was. Even the cheapest mattresses cost hundreds of dollars, so you don't want to just throw your money away, but you want a good night's sleep. Avoid having to spend more money on a new mattress by purchasing a quality mattress topper.
Compare The Top 10 Best Mattress Toppers of 2017
Introduction: What is a Mattress Topper?
Mattress toppers fit right over your existing mattress to change the feel of your bed. If your bed is too soft and you want a firmer feel, for example, you can achieve this without having to replace your mattress just by adding a mattress topper. If your mattress is too hard, a soft mattress topper can help you achieve a good night's rest again.
Mattress toppers are a great, affordable way to make inexpensive mattresses more comfortable. They are also ideal for smoothing out lumps and bumps when you aren't ready to take on the expense of replacing your mattress. Mattress toppers are easy to use, are very inexpensive when compared to the price of new mattresses, and they are made in all sizes to fit any bed.
See Also: Find the Best Egyptian Cotton Sheets For Your Bed
What are the different types?
If you're ready to get more restful sleep each night, a mattress topper may just be exactly what you need. In order to find your ideal mattress pad, you must first understand the different types that are sold. By knowing about each type, you can decide which one best fits your needs.
Memory foam – In recent years, memory foam has been the most popular type of mattress topper. Memory foam is chosen by so many people because it is soft, comfortable, and moving around doesn't disturb your partner. Instead of spending thousands of dollars for memory foam mattresses, many people are using toppers that are available at a fraction of the price.
Feather bed – These toppers are filled with soft feathers and are very comfortable. These are best used on mattresses that are too hard.
Down alternative – For those with allergies or on a budget, a down alternative mattress topper offers the same softness at a less expensive price.
Latex – With these toppers, you can choose from many different thicknesses, and you can also determine how firm you want your bed to be. These toppers offer the most options, but they're also usually the most expensive.
What are the advantages of owning a Mattress Topper?
The most obvious advantage is better sleep at night. If your mattress is too hard or too soft, a mattress topper allows you to adjust how it feels without having to spend thousands of dollars on replacement mattresses. They are also excellent for using on worn-out mattresses.
Although it is recommended that you change out your mattress as it becomes worn, this isn't always financially possible. A topper lets you get more mileage out of your mattress before you have to invest in a replacement.
Read: Top Rated Bedding Set's You Can't Live Without
Who are the contenders for Best Mattress Toppers?
No matter what size bed you have, you can find the perfect fit by choosing this mattress topper, which is available in six different sizes. This overfilled topper mimics the feel of a feather bed without the hassle of feathers that poke through the cover. This is a great, affordable way to add softness to a bed that's just too firm. The fiber filling doesn't shift over time, so it's always comfortable, and you can easily wash it in your washing machine.
Choose from 12 different sizes for comfort for any bed, even in your RV. This memory foam mattress topper offers great comfort at a low price. The ventilated design prevents you from getting overheated (a common complaint with memory foam), and know you made a good purchasing decision with a 3-year warranty.
Serta has long been a leader in the mattress industry, and they have utilized their expertise to create mattress toppers that are an affordable alternative to purchasing new mattresses. This thick 4-inch, top-of-the-line topper helps you get your best night's sleep, and it even comes with two memory foam pillows for added comfort.
Considerations for Choosing the Right Mattress Topper
If you just can't take another night of tossing and turning, a mattress topper may help you be more comfortable without putting a huge dent in your bank account. When you shop online or in a store, however, you may become overwhelmed with the various choices. How much should you pay? What features should you look for? Personalize the feel of your bed by considering these key points as you shop for a new mattress topper.
Size
The size of the mattress topper is important because you want it to perfectly fit on top of your bed for ultimate comfort. A topper that is too small will have noticeable height differences and be uncomfortable, while one that is too large will hang over the edges and may slide right off of the bed. Make sure that you find a topper that is available in the same size as your current mattress.
Material
There are a few reasons that you should consider the material of mattress toppers. If you have allergies, you want to avoid down toppers. Or if you want a softer surface, you might want to avoid memory foam. If you get too hot at night, look for a gel memory foam or foam that is ventilated. If you want something that you can easily throw in the wash, look for a down alternative topper.
Firmness level
Putting a hard topper on top of a firm mattress won't give you a softer bed. You need to carefully evaluate the firmness level of all mattress toppers you are considering purchasing in order to ensure the most restful sleep and relaxation.
Price
Mattress toppers vary in price from less than $100 to several hundred dollars. Price should never be the only factor you consider, however. A very inexpensive topper may break down more quickly, rip, or become otherwise unusable. The most expensive topper may have extra features that you really don't need. Consider all other factors, in addition to your own budget, in order to make the smartest purchasing decision.
Size
Pinzon Basics Overfilled Ultra Soft Microplush Mattress Pad
You can select from several different sizes when you pick this mattress topper. Available sizes are Twin, Twin XL, Full, Queen, King, and California King.
2″ Lucid by LinenSpa Ventilated Memory Foam Mattress Topper
This mattress is available in all standard sizes, as well as special sizes. Available sizes include Twin, Twin XL, Full, Full XL, Queen, Olympic Queen, RV Queen, Split Queen, King, California King, Split King, and Split California King.
Serta 4-inch Memory Foam Mattress Topper
This high-quality topper is only available in two sizes, Queen or King.
Material
Pinzon Basics Overfilled Ultra Soft Microplush Mattress Pad
This mattress pad is made of soft microsuede, and it is overfilled so you'll feel more comfortable than ever. The stitching and seams on this topper prevent the stuffing from shifting, so it will always be as comfy as the day you bought it.
2″ Lucid by LinenSpa Ventilated Memory Foam Mattress Topper
This topper is made of premium memory foam that is ventilated, so you don't get too hot while you sleep.
Serta 4-inch Memory Foam Mattress Topper
You won't be disappointed in the comfort that you find when lying on this thick, comfortable 4-inch memory foam mattress topper.
Firmness level
Pinzon Basics
This is one of the softest mattress toppers on the market. It is ideal for placing on top of mattresses that are simply too firm.
2″ Lucid by LinenSpa
Like other memory foam toppers, this one is fairly firm. However, as you sleep, it conforms to your body. It also helps relieve pressure from key points on your body, resulting in better sleep and fewer aches and pains in the morning.
Serta 4-inch
Memory foam is more firm than other toppers, like down. However, don't mistake firmness for a hard, uncomfortable bed. This topper distributes your weight evenly and relieves pressure for a better night's sleep.
Price
Pinzon Basics
This is an affordable mattress topper that is priced according to size, as are most other brands of toppers. Prices range from cheaper for a Twin or Twin XL to mire expensive for a King or California King.
2″ Lucid by LinenSpa
This is a mid-priced memory foam topper that is available in varying prices from a Twin to a King or California King.
Serta 4-inch
This topper is the most expensive on the list. However, it is also the thickest and comes with a warranty for your protection.
Conclusion: Our Mattress Topper Reviews Are In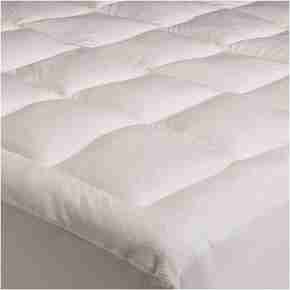 Did you purchase a mattress that was just too hard when you got it home? Did you buy a cheap, hard mattress for your guest room, but you want your overnight guests to be more comfortable without spending a fortune? If you want to soften a bed without the hassle and expense of trading out your mattresses, this ultra-soft mattress topper may work for you.
This machine-washable microsuede topper is soft, luxurious, and affordable. This pad not only functions as a topper, but it also protects your mattress, so it's great for kids. Because of its unique design and stitching, you never have to worry about the fill shifting into uncomfortable lumps, even after washing and drying it. With extra filling stuffed in, it's fluffy and comfortable, and it's a great solution for mattresses that are too firm.
Pros
It's inexpensive. It's available in all standard bed sizes. It softens hard mattresses and protects it. Feels like down without the hassle of feathers. It is very comfortable. It is machine-washable. Fts easily over thicker mattresses.
Cons
It isn't as thick as more expensive toppers. Larger sizes may need to be washed in commercial washing machines. Drying with high heat can damage the backing.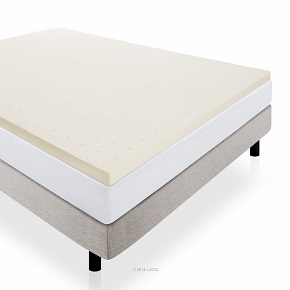 Memory foam mattresses have become all the rage because they're so comfortable, supportive, and alleviate pressure on your back, knees, and other joints while you sleep. However, most people don't want to spend thousands of dollars for a full mattress. If you want the benefits and comfort of memory foam without the high price tag, this memory foam topper is for you.
You'll enjoy dreaming the night away on two inches of premium memory foam that is ventilated to allow air to circulate so you stay cool and comfortable while you sleep. It is resistant to dust mites and allergens, so it's perfect for allergy sufferers. It is easy to use. Just buy the proper size, center it on your mattress, then put your sheets and blankets right over it. Your bed will feel like it never has before in just minutes.
Pros
It comes with a 3-year warranty to give you peace of mind. It is great for allergy sufferers. Two inches of premium memory foam provides plenty of comfort and support. When compared to other toppers, it is very reasonably priced. The high-quality foam does not leave long-lasting body impressions, so it stays as comfortable as the day you bought it.
Cons
Like other memory foam toppers, this one has a smell to it. After airing it out properly, however, the smell should fade away.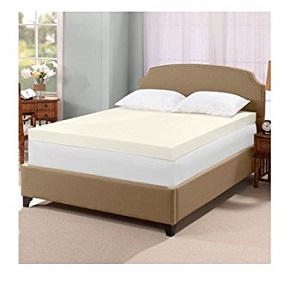 If you're looking for quality, you'll find it with Serta. This memory foam topper is a whopping 4-inches, and you'll be amazed at how great you sleep each night. Because of its thickness and the quality materials used, you'll swear you're sleeping on an expensive memory foam mattress.
This anti-microbial topper is resistant to dust mites and allergens, so it's a great option for those with allergies. It's temperature sensitive, so you don't have to worry about the memory foam making your body heat rise while you sleep. You'll be cradled in four inches of comfortable memory foam that helps relieve pressure, leading to less back, knee, and neck pain. You'll be even more comfortable while sleeping on one of the two contour pillows that offers head and neck support. Two pillows are included with your mattress topper purchase, and all items are backed with a 3-year manufacturer's warranty.
Pros
It is very thick, so it can completely transform the feeling of a bed that's too hard, too soft, or has worn mattresses. It comes with two comfortable pillows. The high-quality foam is extremely comfortable. It fits right over your bed and works with your standard sheets and blankets. Comes with a warranty. It does not get hot like other foam toppers.
Cons
It is more expensive than other mattress toppers. Like other foam, it needs to air out for 48 hours prior to use.
All in All
If you're just not ready to invest in an expensive new mattress, you should give a mattress topper a try. For a completely new bed that you'll have a hard time leaving in the morning, try out the Serta 4-Inch Memory Foam Topper. This top-quality topper is thick enough to provide you with comfort and support, while the price is still a fraction of what you would pay for a similar memory foam mattress.