Some links on this page are monetized by affiliate programs - see disclosure for details.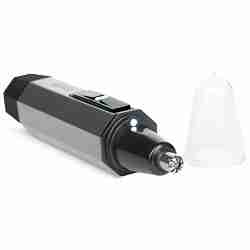 Believe it or not, nose hair actually serves a purpose. It isn't there just to annoy you. In fact, it actually helps to filter out airborne pathogens, protecting your respiratory system from allergens, bacteria, and other harmful things that are found in the air. However, while nose hair isn't a bad thing to have, having too much that protrudes from your nose can be quite embarrassing, and it happens to many men and women.
Just like the hair on your head or other parts of your body, sometimes, you have to trim and maintain the hair in your nostrils so that you look your best and can feel more confident.
Instead of injuring yourself with scissors or other cutting tools, why not try out a trimmer designed specifically to cut nose hair?
Compare: The Top 10 Best Nose Hair Trimmers of 2017

Introduction: What is a Nose Hair Trimmer?
A nose hair trimmer is a small, battery-powered device that is used to cut nose hair that is just too long and can be seen outside of the nostrils. These devices are made small enough to easily fit in nostrils of all sizes and they have protected blades that prevent you from cutting the inside of your nose. When used as directed, these trimmers are very easy to use, as well as effective at getting rid of long nose hairs. Please note, you should only trim your nose hairs and not try to remove them all, as full removal can lead to respiratory issues.
What are the different types of Nose Hair Trimmers?
If you've never trimmed your nose hair before or you have an old trimmer that you'd like to replace, it's important that you know the types available before you make a purchase. This way, you can feel more confident in your purchase and know you've bought a product that is easy to use and meets all of your personal grooming needs.
Traditional trimmer – This trimmer is small, portable, and operated with batteries. It is designed to fit comfortably inside of the nostrils, and the rotary blades are safe yet effective at shortening nose hairs that stick out.
Multi-purpose trimmers – If you have ear hair that also needs to be trimmed, this is a great product to choose, as you can use it in your ears or in your nose to remove those stubborn long hairs that make you feel embarrassed.
What are the Advantages of Owning a Nose Hair Trimmer?
If you feel self-conscious about your nose hair, a trimmer is what you need to boost your self esteem and feel good about yourself. Even though it seems like a minor thing, these protruding hairs can really affect how you see yourself.
With a trimmer, you can shorten the length without completely removing the hair, so you don't have to worry about those microscopic allergens causing you to get sick or have an allergy attack. These are designed specifically for nose hair, so you don't have to worry about cutting yourself either, and they are virtually pain-free to use.
Who are the contenders for Best Nose Hair Trimmer?
Panasonic ER-GN30-K – You can enjoy many of the great features found on more expensive trimmers at a fraction of the price with the purchase of this model from Panasonic. Standout features include a no-pull design for painless trimming, an ergonomic design that's easy and comfortable to hold, and a fully submersible housing that makes it functional when wet or dry, and it also makes it very easy to clean and maintain.
ToiletTree Professional – If you've struggled to see those stubborn nose hairs in a dim bathroom, you know just how frustrating it can be. You can say goodbye to the aggravation, along with those pesky long hairs, when you use this trimmer, which comes with a built-in LED light. This unit is very well-made and designed to last through years of grooming, as it boasts a stainless steel blade and steel housing that lasts longer than inferior plastic models.
Creation Springs Precision – Handle all of your grooming with just one handheld tool with this groomer, which is great for nose hairs and even facial hairs with the added attachment. This unit is well-built for years of use, comes backed with an exceptional guarantee, and it has the sharpest and most durable blades, so you can save time while grooming. It also comes with a built-in light that makes it easy to see and remove each and every hair.
Considerations for Choosing the Right Trimmer
Like shaving, trimming long hairs is just another part of maintenance you need to do to keep yourself looking your very best. If you want to add a trimmer to your bathroom cabinet, there are a few things you need to know before you buy. Pay special attention to these four features for every product that catches your eye, and keep your own special must-have features in mind before you open your wallet.
Price
Trimmers are typically pretty inexpensive, ranging in price from around $10 to close to $100 for a more advanced model. While you always want to make a purchase that you can afford, you need to think more about a long-term investment. The $15 trimmer may be less expensive now, but if it has a cheap plastic housing, it may not last through the year, whereas a more expensive and durably made version can last for years with proper care.
Warranty
You should expect to get plenty of use out of your trimmer, and if it suddenly dies during the second use or it never comes on at all due to no fault of your own, a warranty makes sure that you get a working product.
Uses
If you plan to just trim your nose hair with your new device, a basic model that doesn't cost as much should be sufficient. However, many come with attachments to allow them to perform different functions, such as trimming beards and mustaches, cutting down on your time and devices needed for proper grooming. These devices the perform multiple functions are often more expensive, but they can be cheaper than buying other trimmers and electric razors.
Attachments
As mentioned when talking about uses, some trimmers serve other purposes. Removable attachments allow you to transform your unit from a nose hair trimmer to an electric razor to remove body hair.
Price
Panasonic ER-GN30-K
This budget-friendly unit costs less than the other two finalists, so it's great if you're following a tight budget but want to keep yourself well-groomed.
ToiletTree Professional Trimmer
This trimmer is still an affordable option. But it also offers additional features not found on low-end models.
Creation Springs Precision Trimmer
This unit is on the higher end of the pricing scale when compared to other trimmers. That being said, it's only a bit more expensive than the others.
Warranty
Panasonic ER-GN30-K
A 2-year warranty backs your purchase when you choose this unit.
ToiletTree Professional Trimmer
A limited lifetime warranty protects your purchase from defects.
Creation Springs Precision Trimmer
This product comes backed with a 1-year guarantee that you are completely satisfied with your purchase.
Uses
Panasonic ER-GN30-K
This is designed to trim ear, nose, and facial hair with ease.
ToiletTree Professional Trimmer
This can be used to remove stray hairs from your nose, ears, eyebrows, and beard.
Creation Springs Precision Trimmer
This versatile model can be used to trim nose hair, ear hair, eyebrows, beards, mustaches, sideburns, and the back of your neck.
Attachments
Panasonic ER-GN30-K
No attachments are included with this unit.
ToiletTree Professional Trimmer
This model does not come with any additional attachments.
Creation Springs Precision Trimmer
You'll receive a beard and mustache attachment with your purchase.
Read Our Best Nose Hair Trimmer Reviews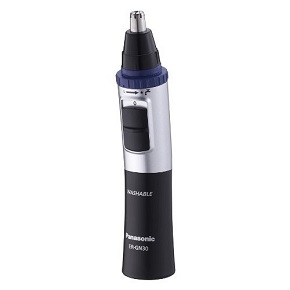 You don't have to spend a fortune to look your best, and if you want to trim those stray hairs with ease, this model from Panasonic is up to the task. This affordable model costs just $20, making it one of the lowest priced units you'll find. However, don't be fooled by the low price, as it easily trims and removes hair in just seconds.
This unit utilizes a safe and fast rotary system to remove hairs painlessly. It has a dual-edge, hypoallergenic blade that cuts stray hairs from the sides and the top for the closeness you're looking for. It can be used wet or dry, and best of all, when you're done using it, simply submerge it in water and let the Vortex Cleaning System do all of the cleaning for you.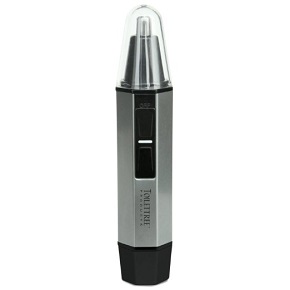 Quit squinting in the mirror and missing stray hairs when you use this model, which comes with a built-in LED light that's bright and allows you to see every hair with ease. Not only will you be able to see better, but you'll also be able to cut better, as this boasts sharp yet safe stainless steel blades.
You won't have to worry about your unit breaking, as it is made with a steel housing that is designed to withstand many uses. It is waterproof, so you can bring it with you in the shower, and it can be used to effectively remove ear hair, nose hair, and even shape up your eyebrows or facial hair. It doesn't pull, so it's pain-free, and it is backed with a limited lifetime warranty, so you never have to worry about the quality.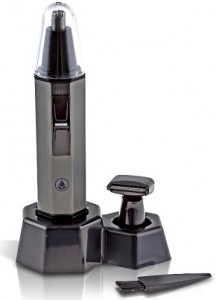 Instead of dealing with multiple trimmers, razors, and shavers, why not just have one that easily fits in your medicine cabinet or on your bathroom countertop? If you have to have just one, this unit from Creation Springs will not disappoint. In addition to trimming your nose hair, it also works on ear hair, eyebrows, and other body hair. However, the difference in this one when compared to less expensive models is that it has a precision attachment that can be used to trim your sideburns, beard, or mustache. You no longer have to worry about the time and danger involved with using scissors when you have this in your bathroom.
Even in the dimmest bathrooms, you'll be able to see every hair with the built-in LED light. It features very sharp stainless steel blades that are designed to cut through any type of hair in just seconds. Instead of cheap plastic housing that can crack and break, this unit is housed in sturdy, durable steel for years of use.
It is waterproof, so it can be used in the shower or you can easily rinse it off when you're done without worrying about ruining the unit. It comes with a great guarantee that ensures your complete satisfaction or you will receive a refund or new product with no extra expense to you. This is a great overall trimmer that will always help you look your best before you step out of your bathroom.
In Comclusion
Daily grooming is something that we all do to look and feel our best before we leave the house. However, sometimes, it can truly be a pain, not to mention very time-consuming. Cut down on your grooming time and eliminate the pain of hair removal with the Creation Springs Precision Trimmer. Even though it does have a more expensive price tag than other trimmers, it is very durable and well-made, performs multiple other functions, and it even comes with a satisfaction guarantee to make sure you feel as confident in your purchase as you do about how you look after using this great product.