Some links on this page are monetized by affiliate programs - see disclosure for details.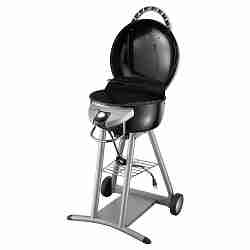 Whether you want a delicious steak, a juicy burger, or a mouthwatering rack of ribs, there's no better place to cook your food than on a grill. Charcoal and gas grills are popular during the warmer months of the year because they are easy to use, they don't heat up your house on the hottest summer days, and they cook meat to perfection, leaving it juicy and absolutely delicious. However, there are times when using a grill just isn't possible.
Maybe you live in an apartment building where an open fire is prohibited, or you live in an area where there are local ordinances against outdoor grilling. Perhaps you just don't like cooking with fire because you think it's dangerous, or maybe the weather conditions aren't favorable for cooking outdoors. If any of these conditions sound familiar, you don't have to avoid grilling. Instead, you can invest in an electric grill.
Compare: Top 10 Rated Electric Grills of 2018

Electric Grill Reviews: Find The Best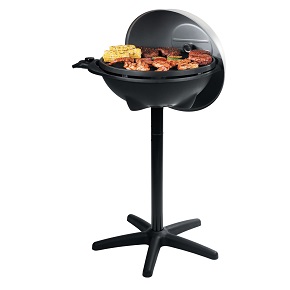 George Foreman has become well-known for his high-quality grills that are easy to use and drain grease and fat, making your food healthier without affecting the flavor. His trademark indoor grills have now been carried over to outdoor grills, which is showcased in this great model. It comes with a 1.5 foot pedestal for outdoor use that can easily be removed when you want to bring it inside.
You can enjoy 240 square inches of cooking space, a sloping grate and tray that removes excess fat and grease, and variable temperature settings that make it simple to cook burgers, steaks, and more. This electric grill hooks up to any standard outlet and does not require messy charcoal or expensive propane. When you're finished cooking, the removable plates are easy to clean, making this one of the most convenient electric grills that's affordable enough for any budget.
Pros:
It is affordable
The plates are non-stick and removable, so they're easy to clean
It can be used indoors or outdoors
Removable pedestal for outdoor use or can function as a tabletop grill
Multiple heat settings
It is very easy to use
Drains excess fat and grease
Cons:
It takes longer to cook than a traditional grill
It does not give the same flavor as a charcoal or propane model
The nonstick coating may come off over time
Steaks don't cook as evenly on this device as they would on traditional models
---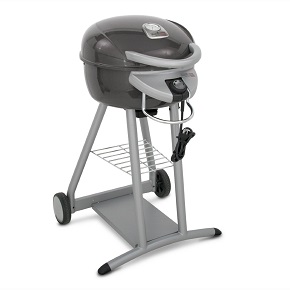 You may have heard that electric grills just don't get the job done like other types, but this Char-Broil grill will change your mind. It features award-winning TRU Infrared technology that allows you to sear in the flavors and juices in your favorite meats and veggies.
In addition to 1,750 watts of power, you'll also enjoy using the large cooking surface that is porcelain-coated to retain heat and prevent sticking, the cool-touch handle, and the outside thermometer which registers temps up to 550 degrees. The plug in temperature control is easy to use and works with any 120-volt outlet. It also has wheels for easy portability, a warming rack to keep foods at the right temperature, and it comes in your choice of seven colors, including Graphite, Gloss Black, Blue, Red, Chocolate Graphite, Urban Moss, and Vanilla.
Pros:
The infrared technology provides even heating
Backed with a warranty
It is affordable
Easy to move
Comes in many great colors to update your outdoor space
It has a large cooking surface
Doesn't have hot or cold spots
Easy to clean
It has a storage grate to keep your grilling tools organized
Easy to assemble
Cons:
It takes some time to preheat to the right temperature
Assembly isn't hard, but it is time consuming
It cannot be used indoors
The heating element flares up with grease drips, which could pose a potential hazard depending upon where the grill is located
---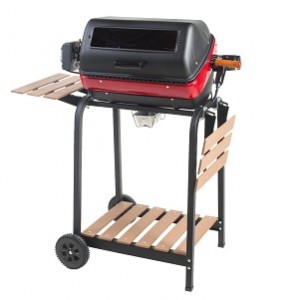 If you want versatility, that's what you'll get with this grill, which is our pick for best electric grill. It has a heating element that can be adjusted in three different positions to cook a variety of foods, including rotisserie chicken, and it even comes with the rotisserie kit so you have everything you need to get started. With 200 square inches of cooking space, you'll have plenty of room to cook chicken, seafood, burgers, and your other favorite BBQ foods.
This variable 1,500 watt grill has the power you need to evenly cook anything, all without the use of charcoal or natural gas. The grease pan catches drips, so it's very easy to clean. The thermostatic controls allow you to turn up (or down) the heat for properly cooking just about anything. It has a viewing window, so you don't have to open the grill to check on progress and lose valuable heat, and it also has a wooden leg shelf for your tools, as well as two side tables that flip down when not in use.
You can even add wood chips to add a kick of flavor to your favorite foods, and if you need to move it from place to place – no problem. The durable steel frame moves easily on attached wheels.
Pros:
Easy to use
Most of it is preassembled
The temperatures are easy to control
It is easy to clean
Adjust the element in three different positions for optimum cooking
It is more similar in styling to traditional grills than other electric models
It has a warranty
Cooks evenly
Very durable
Cons:
It is expensive
You need to clean the grease tray after every use to prevent flare ups
Some assembly is difficult
---
What is an Electric Grill?
While most grills rely on charcoal or gas to create a fire inside, an electric grill uses electricity to heat up a metal coil which is used to cook food. These grills may look similar to outdoor grills in some aspects, but you never use fire, you don't have to work with messy charcoal (which also causes pollution), and you don't have to worry about refilling a propane tank.
They are available in multiple sizes, from full-size models you can use in your backyard, to tabletop grills perfect for a patio or balcony, and even indoor models that allow you to grill your favorite foods inside when the weather prevents you from heading outdoors.
What are the different types?
If you like to grill year-round or you'd like to begin grilling for the first time without the hassle of building a maintaining a fire, an electric grill may be something you want to consider adding to your home. There are two main types to choose from: indoor grills and outdoor grills. Before you buy, consider how you will be using your grill in order to determine which type will best fit your needs.
• Indoor grills – These are designed to be used indoors. They are smaller and unlike outdoor models, they do not come on wheels or have a stand. They fit right on your counter top. These grills typically have top and bottom plates that press against food when inserted in the middle. Most plates are made of nonstick materials that are easy to clean, and some may have a grease tray that allows fat and grease to drain away, so your food isn't greasy and is actually healthier.
• Outdoor grills – These grills are used outdoors and look similar to larger propane or charcoal grills. The main difference is that you don't use any type of fuel with these – you simply use electricity. Just plug it into an outlet, let it heat up, and it's ready to use to cook hotdogs, burgers, and so much more.
What are the Advantages of Going with Electric?
If there are any rules or laws that prohibit you from using an outdoor grill, an electric model is a great alternative. These are ideal for apartments and condos where you only have a small balcony or patio and fires are not allowed, and it's also great for homes where homeowner's associations have prohibited fire. If you have local laws against outdoor grilling due to its effects on the environment, you can still have outdoor barbecues using an electric unit.
If it's cold, snowy, or rainy outdoors, an indoor grill lets you enjoy the ease of grilling out without having to weather the elements. Finally, if you just don't have experience cooking with fire and the idea makes you a bit nervous, an electric grill is easy to use and poses less of a hazard.
Who are the contenders for Best Grill?
No fuss and no mess is what you get with this versatile grill. Use the pedestal to grill out on your patio or balcony. Or, remove it to make a convenient tabletop grill that can be used right in your kitchen. This affordable model boasts lots of great features. Enjoy a sloped design that drains away excess grease and fat and easy-to-use settings from low to high to cook your favorite foods.
Get even heating and lots of juicy flavor with this infrared model, which is safer than using a traditional grill. It comes with a temperature gauge, adjustable temperature controls that plug into any outlet, and the award-winning TRU Infrared cooking element that eliminates hot and cold spots for even, thorough cooking every time.
This versatile model allows you to position the element in three different ways to cook a variety of foods, even rotisserie chicken. Wheels, a shelf, and side tables give this grill a similar appearance to traditional charcoal and propane grills, while the electric heating element is safe and easy to use for a variety of different foods like chicken, kabobs, steak, and so much more.
Considerations for Choosing the Right Grill For You
If you're sold on the idea of an electric grill, it's easy to want to just run out and buy the first one you say. However, you don't want to do that and end up disappointed in the product you purchase. Instead, take a moment to do some research to make sure you're getting the best product at the best value. If you don't know where to begin when it comes to purchasing one of these grills, these four key points can get you started on your way to indoor and outdoor grilling all year long.
Price
A lot of things factor into the price of your new grill, including the size of the cooking area, the power of the heating element, and other additional features. If you just want to cook for yourself indoors, a small tabletop grill costs less than $100. If you want a larger outdoor model that can cook for a crowd, expect to pay several hundred dollars.
Warranty
You don't want to get stuck with a product that just doesn't work. This is why having a warranty is so important. If your nonstick surface sticks and becomes damaged, if your power cord doesn't work, don't pay for the repairs yourself. Instead, make sure you have a warranty that protects you from these costly situations.
Cooking space
If you plan to cook for your family or friends, make sure you have a large cooking surface to work with. No one wants to have to wait on their food, so ensure you purchase a grill that's large enough to cook a large amount of food if necessary.
Indoor/outdoor design
Determine where you will be using your grill before you make a purchase. An outdoor pedestal grill would be too large and look quite silly in your kitchen, while a small tabletop model is best suited for indoor use. If you plan to use yours indoors and out, look for a combination grill that can be used anywhere.
Price
George Foreman GGR50B
This model is very affordable for a grill that you can use two different ways.
Char-Broil TRU Infrared Grill
This grill from Char-Broil is about average when compared with other similar products.
Meco Aussie 9329W
This is categorized as a high-end grill.
Warranty
George Foreman GGR50B
A 1-year limited warranty comes with your purchase.
Char-Broil TRU Infrared Grill
Your product is protected from defects for a full two years with the included manufacturer's warranty.
Meco Aussie 9329W
This grill is protected with a 1-year limited warranty from the manufacturer.
Cooking space
George Foreman GGR50B
With 240 square inches of cooking space, you'll have plenty of room to cook for your family, friends, and guests.
Char-Broil TRU Infrared Grill
You'll get 320 square inches of cooking space, large enough for multiple burgers, hot dogs, or big steaks.
Meco Aussie 9329W
This grill features a 200 square inch cooking area.
Indoor/outdoor design
George Foreman GGR50B
This versatile grill has a pedestal for outdoor use. Remove it to create an indoor tabletop grill.
Char-Broil TRU Infrared Grill
This product is designed to be used outdoors to replace a charcoal or gas grill.
Meco Aussie 9329W
This model is designed for outdoor use only.
In Conclusion
If laws prohibit you from using a propane or charcoal grill, you can still have backyard barbecues. Instead, you can safely grill outdoors (or inside with certain models) with an electric grill. With just a power outlet, you'll be able to enjoy juicy, flavorful foods without the mess and risks caused by fires with these innovative modern grilling devices. Looking for the best? The Meco Aussie 9329W is a great choice.