Some links on this page are monetized by affiliate programs - see disclosure for details.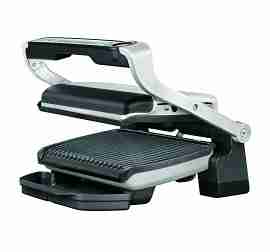 One of the best parts of summer is outdoor barbecues. Not only is grilling one of the easiest ways to cook, but it's also healthier in many cases. Grilled chicken is juicy and delicious, and it has a fraction of the fat content of fried chicken, for example. However, there are many times when you're not able to use your outdoor grill. If it's very windy, cold, snowy, or rainy, grilling is nearly impossible.
You may also be prohibited from grilling if you live in an apartment or condo, it's banned by your HOA, or you just don't have the space for a grill outside. If you have a craving for grilled meats or vegetables but you just can't get outdoors, bring the taste inside with an indoor grill.
Compare: The Top 10 Best Indoor Grills of 2018

Top Rated: Read Our Indoor Grill Reviews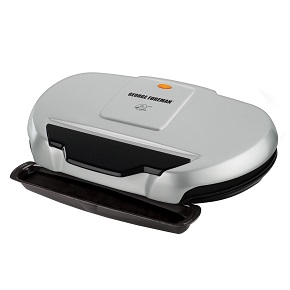 Eat healthier without sacrificing taste with this electric grill from George Foreman. The innovative design of this grill allows meat to be grilled evenly on each side without the need to flip, so you can enjoy your meal faster than ever, but it also drains away excess fat that leaves your food greasy and unhealthy, so you can eat your favorite meals without the guilt.
You can throw just about anything on this grill, including fish, beef, and poultry, and the non-stick design ensures your food doesn't stick and burn. You don't have to worry about complicated controls, as the one temperature setting is ideal for every type of food. It is equipped with a stay-cool handle to prevent burns, as well as a drip tray to capture the excess fat.
Pros:
It doesn't have complicated controls
The temp setting is ideal for cooking most foods
It is very easy to use
Since it is a contact grill, it cooks both sides at one time to reduce grilling time
Can be used for most foods
Very roomy
Extremely affordable
Backed with a warranty
Cons:
The non-stick coating flakes off over time
Since the plates are not removable, the surface can be a bit difficult to clean
---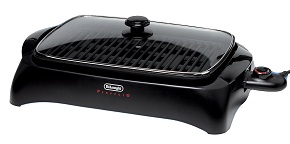 If you want the most outdoor-like experience right in your kitchen, this grill is perfect for your household. It has a design that is similar to your outdoor grill without the bulk and without the mess and danger. This electric model plugs right in, sits on your countertop, and is designed to cook anything from steak to grilled corn on the cob. It has a roomy size, easy to use controls, and a tempered glass lid for even, thorough cooking.
Operation doesn't get much easier than what you'll find on this grill, and when you're done cooking your meal to perfection, cleanup is just as easy. The nonstick surface not only prevents food from sticking and burning, but it makes it easy to clean in just minutes with a simple wipe down. Excess grease is drained from all of your food into the removable drip tray that is super easy to clean as well.
Pros:
Embedded heating element for even cooking
Weighs less than 11 pounds, making it easy to move around
The glass lid helps keep in the heat while cooking and before serving for the perfect temperature
The controls are easy to use
It is a breeze to clean
Die-cast aluminum surface is very heavy-duty
The grill plate is removable for easy cleaning
Cons:
The nonstick coating may flake off over time
It is not designed to sear meat
---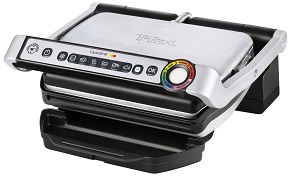 If you're very specific about how your food is cooked, you need options for your electric grill. This grill comes loaded with a variety of great features. If you want to heat up a frozen burger patty, you don't have to defrost it first. Instead, you can just pop it right on the grill, choose the frozen food mode, and get a perfectly cooked burger in no time at all. If your meat or veggies are fresh and not frozen, choose the manual mode.
You have six cooking levels available for fast and effective grilling. Choose from Burgers, Poultry, Sandwiches, Pork, Red Meat, and Fish. All you have to do is push a button, and the grill will do all of the hard work for you. It is also equipped with a cooking sensor that allows you to select your preference from rare to well done. The indicator lights let you know the progress, while an audible beep will sound when it's cooked just the way you like it. It's very easy to use, looks great, and is easy to clean. That's why it's the best indoor grill on our list.
Pros:
The removable plates make it easy to clean
It has multiple settings for perfect cooking for just about any type of food
It is very easy to use
Modern stainless design looks great in any kitchen
It has an indicator light and alarm to ensure your food is cooked the way you want it
Cooks frozen food without the need for separate defrosting
Die-cast aluminum plates are very durable
The plates are dishwasher-safe
The angled plates drain off excess fat for healthier food
Cons:
It is a bit expensive
The top drips when the contact grill is open, which may cause a mess
---
What is an Indoor Grill?
An indoor grill is just what it sounds like – a grill that is designed to be used indoors. Instead of being on a pedestal like outdoor models, these, like electric skillets and deep fryers, are designed to sit on a counter or tabletop for safe operation and so they don't take up too much space in your home.
These class of grills allow you to easily cook your favorite grilled recipes in any type of weather conditions, as well as if outdoor grills are not allowed at your home. These indoor appliances run on electricity, so you don't have to worry about refilling a propane tank or deal with messy charcoal.
What are the different types?
If you want to be able to grill out every day of the year, you need to invest in one of these indoor small appliances. Before you buy, consider the two types that are available to purchase.
Open grill
These grills are much like outdoor models, where you can grill one side at a time and have to flip your meat, vegetables, or other items to cook the other side.
Contact grill
These grills fold in half, so both sides get cooked at once. These are very easy to use and can help save you a lot of time because you don't have to cook just one side.
What are the Advantages of Owning This Product?
You can cook just about anything on an indoor grill, including steak, burgers, hot dogs, kabobs, chicken, fish, corn, and more. Many models are designed to drain off excess fat and grease, so your food is healthier, and it still retains its juiciness and great taste. These grills are very easy to use, don't splatter grease like cooking in pans on a stovetop, and are easy to clean.
Most are very small, so they're easy to store in a cabinet or pantry when not in use. They provide even heating and you don't have to purchase charcoal or propane. Most are also very energy efficient, even more efficient than your electric range.
Who are the contenders for Top Indoor Grill on the Market?
Enjoy your favorite grilled foods without the guilt when you make it on this George Foreman grill. For years, the George Foreman name has been synonymous with indoor grills that not only cook evenly, but they also drain off excess fat, making your meal healthier. This grill sticks to that formula, and turns it up a notch with the large cooking surface that measures 144 square inches, a sleek silver design, and it is very easy to use. There are no complicated controls, and just by turning it on, you'll get perfect, evenly cooked meat each and every time.
If you want a grill that's true to the design of outdoor models, this Perfecto model is just perfect. It has easy to use temperature controls, a large cooking area, a tempered glass lid to seal in the heat to keep meat juicy and delicious, and a design that makes cleanup a breeze. This grill is affordable, can be used with a variety of different foods, and cooks evenly for perfect results for every meal.
Take indoor cooking to the next level with this high-end grill, which offers all of the features you could ever want. There are six different grilling modes that you can activate with the push of a button in order to deliver the best possible results. It even has a frozen food option to take your food from cold and frozen to hot and ready to eat in no time. The cooking indicator light helps let you know when your food is done, so not only will it be delicious, but it will also keep you and your family safe from undercooked food. This model performs like a dream and with its stainless steel design, looks great while doing it.
Considerations for Choosing
You don't have to give up grilling just because of the weather, temperature, or because you can't own an outdoor grill. Bypass all of these problems by investing in an indoor model. You won't have to use excessive energy consumption by using your stove, you won't have a sink full of messy pots and pans, and you'll get the same great taste you'd get from grilling outdoors when you use one of these small kitchen appliances.
Once you've decided you want to give these a try, or you want to replace a broken, outdated, or under-performing model that you already own, keep these things in mind before making your purchase.
Price
These grills range in price from around $50 for a basic model to several hundred for a more top-of-the-line grill. If you plan on using yours quite often for a variety of different foods, you may want to invest in a more advanced model. Of course, you always want to think about what you can afford, but it's also important to not overlook features that may be important to you just to save a few bucks, so keep price in mind, but look at other features as well.
Warranty
You should expect for your grill to last through multiple meals, and a defect caused by the manufacturer shouldn't be something that you have to pay for. With a warranty protecting your purchase, you won't have to worry about paying for a repair or replacement if your grill fails prematurely.
Cooking area
The size of the cooking space of the grill is important because you don't want to leave your family, friends, or guests waiting if you don't have enough space for all of your food. If you entertain frequently or have a larger family, make sure you purchase a larger grill.
Settings
Depending on what grill you buy, you'll have a variety of settings to choose from. Some have one basic setting while others allow you to customize the flavor of your food with built in temperature and auto settings programmed to grill a variety of foods.
Price
George Foreman GR144
This is one of the more budget-friendly grills you'll find that offers great performance.
Delonghi BG24
The retail price for this electric grill is a mid-priced small appliance.
T-fal GC702D OptiGrill
This high-end electric grill comes a higher price than the rest of the group.
Warranty
George Foreman GR144
You'll receive a 2-year manufacturer's warranty that covers any defect in the product.
Delonghi BG24
Your purchase comes with a 1-year limited warranty.
T-fal GC702D OptiGrill
1-year limited warranty from T-fal protects you from paying for damages caused by a defect in manufacturing.
Cooking area
George Foreman GR144
With 144 square inches of cooking space, you'll have plenty of room to cook for the whole family.
Delonghi BG24
You'll have enough room for multiple burgers, a large roast, or plenty for everyone at the table with this grill. It measures in at 12 inches by 6 inches.
T-fal GC702D OptiGrill
With a surface area of 14 inches by 13 inches, you'll have more than enough space to get everything cooked quickly to feed your hungry family and friends.
Settings
George Foreman GR144
There are no adjustable settings. This is the perfect temperature for most foods.
Delonghi BG24
You can adjust the temp accordingly with the easy-to-use dial, which has five different heat settings.
T-fal GC702D OptiGrill
You can fully customize your cooking with two modes and six cooking programs.
In Conclusion
You don't have to wait for summer to enjoy food cooked perfectly when you own an indoor grill. These grills are extremely versatile. They allow you to cook tasty food in less time and without the mess of cooking on your stovetop. For easy cooking with all of the features you'll ever need, the T-fal GC702D OptiGrill is a top choice. With its modern design, multiple functions, and overall performance, it burns the competition but not your food.