Some links on this page are monetized by affiliate programs - see disclosure for details.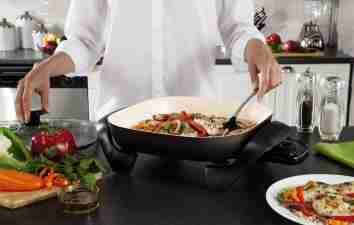 Electric skillets are a vital addition to any kitchen. The versatility they add to your cooking repertoire is evident the very first week you own one. Plus, electric skillets add convenience to multiple cooking scenarios: when you want to keep it simple, when you are cooking for a large crowd, when you need a convenient way to cook in another location, or when traveling, electric skillets give you the benefit of quality cooking in a compact and all-purpose appliance.
All the cooking options available to you when using an electric skillet for meal prep could fill an entire book (and believe me, those great recipes are out there). From breakfast options, like pancakes, eggs, and sausage, to sides such as sautéed vegetables, pitas, and potatoes, and entire entrees including lasagna, roasted meats, and enchiladas, there is no end to the cooking power of the electric skillet.
In recent years the options of features in the electric skillet has grown. Now with convenient features for cooking surfaces, portability, temperature range, and size you're sure to find one that fits your culinary needs while staying within your budget. Here is the review of the current options on the market.
Top Rated: The Best Electric Skillets of 2017

Buyer's Guide: What is an Electric Skillet?
The electric skillet is essentially a combination of the main features of your stove and range. A coiled heating element underneath the main surface of the pan provides heat, and the temperature control knob allows you to manipulate both the intensity and duration of the heat. Electric skillets have ample sides which contain your food ingredients and provide more heat to the surface area of your food as it cooks. Being an electric appliance, it sits on your counter and plugs into any kitchen outlet, giving you the convenience to use it wherever it fits best in your lifestyle and cooking arrangement.
What are the Advantages of Using an Electric Skillet?
Besides cooking and location versatility, the benefits of the electric skillet are its compact size and shape. Although it uses similar technology to that of the electric skillet, the taller sides allow for more depth in your cooking.
Nearly anything you would typically cook on your range or in your oven can be handled by the electric skillet, so it does not diminish the possibilities of what you can prepare. However, because it is washable, compact, and quick to heat up, it definitely gives you some added benefit in convenience. Some use the electric skillet in addition to stove top or oven cooking when they need space beyond what is already available. Others use the electric skillet as a stand-alone appliance to cook their entire meal, which is suitable for stews, stir fries, and sautéed entrees. This saves on both power usage and cost. Lastly, its portability allows you to cook just as you would at home whether you take it camping where electric stations are accessible, or to a get together or event where you don't have access to a kitchen.
The advantages to the electric skillet are multi-faceted, just like its versatility.
Different Types of Electric Skillets
Electric skillets are distinguished primarily by their size and surface. They come in a range of shapes from square, to rectangular, to oval. Each has its benefits depending on your cooking needs.
Nowadays, most electric skillets come with a non-stick surface, including Teflon and ceramic. Additionally, electric skillets can come with heat settings at low, medium, and high or with specific cooking temperatures. Most go up to 400 degrees Fahrenheit with some extending beyond that.
Which Electric Skillets are the Best on the Market?
This is a highly versatile and ample electric skillet. Its features include a solid base, detachable pan, non-stick surface, and deep and generous side walls. Cook for many or a few: the choice is yours with this appliance.
Using ceramic technology, this skillet allows for quick heating at a high temperature. The size and shape are more traditional so it suits the basic needs you may have for electric skillet cooking.
The shape distinguishes this electric skillet from all the others. It has an elliptical base which assures even mixing of ingredients while maintaining the primary benefit of a deep cooking well. The temperature reaches to 450 degrees Fahrenheit which is suitable for quick liquid reduction and stir fry recipes.
Features to Consider
When looking for an electric skillet, there are several things to keep in mind. Its versatility and convenience are based on its size, shape, temperature range, and surface. Convenience factors include storability, clean up, and stability. Lastly, price and warranty are important to consider because you want to make sure the investment will be well worth the money you spend.
Size and Shape
When using your electric skillet, you want to be able to stir your meal ingredients in such a way that they blend easily for both cooking and coating. Stirring in a small electric skillet can lead to ingredients haphazardly popping out. With a longer shape and deeper well, you will likely have a much easier time and you will have the added benefit of being able to prepare more food at one time.
Storability
Electric appliances compete for space on the kitchen counter, so it's good to have the option to store your skillet away. Look for electric skillets that make ease of storing both the plug and the appliance easy.
Surface for cooking and cleanup
Non-stick is the way to go, whether you go with a Teflon type surface or ceramic. Less food sticking to the surface means better consistency in your final product and ease of clean-up. Nowadays many electric skillets are dishwasher safe. Gone are the days of long soaks in soapy water between use.
Temperature range
While all have a low setting to keep your food warm, the upper range of temperature varies. When selecting an electric skillet, consider the type of cooking you will do and determine if you will need high temps beyond 350 degrees Fahrenheit for stir frying and flash frying.
Price and Warranty
There is a wide variety of prices and warranty options. Consider how much you will spend and what it will take to get your item replaced if you do experience a manufacturer's defect.
Stability
Finally, this safety feature is important in avoiding cooking burns. Look for an electric skillet that has at least 4 legs and non-skid surfaces. Better yet is the platform base available in several models which is the best in preventing tipping and spillage.
Size and Shape:
Presto 16-inch Electric Foldaway Skillet
The generous size of this electric skillet makes it great for large parties. You can cook a lot or a little in this rectangular shaped appliance.
Oster CKSTSKFM12W-ECO DuraCeramic Electric Skillet
The cooking vessel is 12 x 12 and is suitable for an average size family.
Cuisinart CSK-150 1500-Watt Nonstick Oval Electric Skillet
With an oval shape, this product is easy to use for both stirring and cooking evenly.
Storability:
Presto
The unit comes apart for easy storage.
Oster
On the smaller size of items in this review, the Oster is easy to store and does not take up much room on your counter top.
Cuisinart
This skillet stores easily, and the chord is simple to nest inside the product when not in use.
Surface for cooking and cleanup:
Presto
This has a nice non-stick surface that wears well. Clean up is easy with a dab of dish soap and a wet cloth.
Oster
The ceramic surface is both non-stick and accelerative. Cooking times are up to 20% faster with ceramic coated appliances. Clean up with ceramic is the same as other non-stick surfaces.
Cuisinart
Although it is dishwasher safe, the non-stick surface makes clean up a breeze with a little sudsy water.
Temperature range:
Presto
This skillet goes up to 400 degrees Fahrenheit, and like the others, has a warming feature so that you can keep dinner ready while awaiting others to come to the table.
Oster
420 degrees Fahrenheit is the top range for the cooking temperature. Keep in mind, though, that cooking is faster with ceramic, so be sure to keep an eye (easy to do with the glass lid!) on your food as it heats.
Cuisinart
Of all the products listed here, this one has the highest capability up to 450 degrees Fahrenheit.
Price and Warranty:
Presto
This is moderately priced and comes with a one-year warranty. The warranty states the purchaser is to prepay return shipping, but Presto does not specify the amount. Best bet is to get the return label from your shipping company when you send it out and include it in your shipment.
Oster
This is in the lower price range, perhaps because of its smaller size. This product does not come directly with a warranty.
Cuisinart
This skillet is a higher end product in price. The warranty, however, is for three years which is longer than most. When sending the item to be fixed or replaced, the consumer is required to send a check or money order for a $10 flat rate to cover the price of shipment
Stability:
Presto
Being one of the most stable products in the electric skillet market, the base is a solid platform. This platform is removable so that the pan can be detached for baking or cleanup.
Oster
This electric skillet sits on four legs, so this base meets the requirements for stability, but at the minimum.
Cuisinart
This product has a low base with four non-slip mini legs. If it were to tip, the base prevents it from going further.
Our Electric Skillet Reviews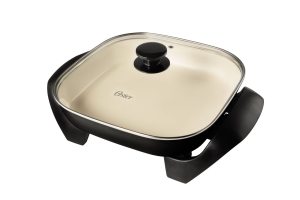 The Oster DuraCeramic Electric Skillet offers the basics of your typical electric skillet with the added feature of a ceramic finish.
Pros:
The surface is the best feature of this product. It is non-stick, with a longer lifespan than most non-stick surfaces. The ceramic coating also provides quicker heating and cooking.
Cons:
The cooking surface does not detach from the temperature control probe, therefore you cannot immerse the pan in water. Although it meets the description of a skillet based on its sides, it is relatively shallow compared to the other items in this review.
Pros:
This product has many added features that make it a stand out. With a 16-inch base it has enough capacity to feed a large family, but as a foldaway, it doesn't take up a lot of room in your kitchen. The built in pour spout makes draining any liquid away super easy, and the notched groove of the spout doubles as a spoon rest! Additionally, the spout provides space for liquids to vent, so you can keep the lid on while the contents are at a boil.
Cons:
Although it is dishwasher safe, the surface does react to the heat of the dishwasher. It is better to wash by hand. Keep in mind, though, that clean up really is a snap with the non-stick surface. The surface can be scratched when your store the plug inside, so consider placing a soft cloth between the surface and the plug or wrap the plug in a baggie before storing inside the unit.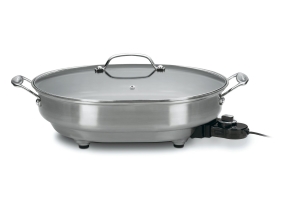 This appliance is versatile and pleasing to use for all your cooking needs.
Pros:
Its shape is the Cuisinart's best feature. Because it doesn't have corners, it is easier to get consistent heat throughout the food as it cooks. The slight drop in depth along the sides allows for oils to drain, but they can be quickly recombined with a simple stir.
Cons:
If you are making pancakes, the slight depression along the edges may cause the batter to run. However, if you block this with a spatula, this can be avoided and it takes almost no time for the batter to set.
In Conclusion:
The best electric skillets add to your cooking convenience in so many different situations. Nowadays there are electric skillets on the market that can suit your every need. Whether you are preparing food for a meal at home, to bring to a picnic or other gathering, or if you want to cook away from home, the versatility of the electric skillet helps you accomplish your cooking with ease.
And with price options to fit every budget, you can find a dependable product that enhances your cooking repertoire. Many companies stand behind their electric skillets, so there is the added insurance of a free warranty to accompany your purchase.
With added versatility that doesn't compromise on flavor, the electric skillet is a fantastic addition to any kitchen. Find one that's right for you and enjoy the ease and convenience of electric skillet cooking.