Some links on this page are monetized by affiliate programs - see disclosure for details.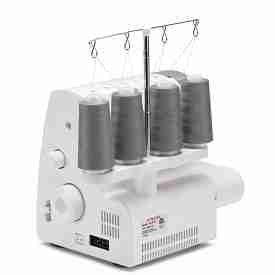 Whether you're a professional seamstress or you have just begun to try your hand at creating your own clothing, baby blankets, and other handmade items, you may already have a sewing machine in your home.
A sewing machine, while it can perform a few different functions, just can't create that clean, crisp, and finished hem like you'll find on clothing and sewn items at your local store. If you've tried different methods on your sewing machine to form a tight, finished seam but you just can't get it right, it may be time for you to purchase a serger.
Side by Side: The 10 Top Rated Sergers of 2017

What is a Serger?
A serger looks very similar to your typical sewing machine. However, it is designed to create thick, tight, and sturdy seams like you would see on t-shirts, jeans, blankets, and other items in your local store. The main difference between this machine and a traditional sewing machine is that a serger uses multiple needles (typically four) and multiple threads to create that tight, closed seam. It is best used on stretch fabrics and knits, where a traditional seam may fray.
These used to be so large, they were only found in commercial settings. However, modern machines are much smaller and work at the same fast pace and provide the same quality without the bulky size.
What is its function?
A serger is not designed to replace a sewing machine. You can't do many things, including a top stitch, with one of these products, so it should be used along with your other machine. It does, however, provide more sturdy seams without fraying. If you simply sew as a craft, you don't want to invest in one of these products.
If you make clothing for yourself, your family, or to sell to others, you'll want to make sure that you have one of these units to quickly and easily create a finished seam.
What are the Different Kinds?
Since these machines can be quite pricey, you don't want to invest in one that you won't be able to use. This is why you first need to know what to expect before you shop by being able to identify the types available for purchase.
Beginner – These are easy to use and are designed to be used by beginners. They may have only a few functions, but they are not too overwhelming to use, and they're also fairly small in size.
Full-featured – These are designed to not only create a more secure and professional seam, but they offer more functionality and may perform different types of stitches. These are typically more difficult to operate and come with a larger price tag.
Which Sergers are the Best to Buy?
SiRUBA HSO-747D Overlock Sewing Machine – Whether you're new to using this type of machine or you just want to replace an old machine without spending a fortune, this is one that you should consider. It's easy to use, offers a variety of different functions, and it's one of the most affordable units you'll find.
SINGER 14CG754 ProFinish 2-3-4 Thread Serger – You don't have to be a professional to sew like one, as is evidenced by this machine. This unit offers you a variety of different stitch options without the bulk and hassle of a commercial machine. You'll get a professional finish every time, even if you've never used one of these before.
Brother 1034D 3 or 4 Thread Serger – Reliable performance, speed, and a multitude of options without confusion are just a few of the things you should expect from this top-selling unit. Even though it's good enough for the pros, it's easy to learn how to use, and it comes with a variety of accessories so you can begin using it right away.
Features to Evaluate
Once you've made the decision to purchase one of these products, you may be inclined to simply make the purchase without doing further research. Instead of making an impulse buy that you may regret, keep an eye out for these four features, as well as your own important criteria, to make a purchase you can feel confident about.
Price
These machines aren't cheap, even those made for beginners, so you should expect to spent over $100. If you're new to using one of these, you don't want to necessarily buy a machine that costs several hundred dollars. Instead, you should look for one that offers a few features and comes at a lower price. If you're an experienced seamstress and you want to get the most from your machine, you should expect to spend more money for a high-end, professional quality machine.
Number of Needles
The number of needles determines the type of stitches that you can make. Most have three to four needles, while some may have less. More expensive machines may even have more than four. If you want more options when using your purchase, remember that the more needles you have, the more versatility your machine displays.
Number of Threads
Just like needles, the number of threads used with your serger determines just how versatile your stitching will be. For more intricate designs and working with specialty threads, you'll want to find a machine that uses more threads.
Warranty
No one wants to buy a subpar machine that doesn't perform as promised. If your machine fails during normal use shortly after your purchase, why should you be held responsible for the charges of a repair or replacement? If you have a warranty on your purchase, you won't have to worry about paying for the cost of replacement or repairs if the machine fails due to a defect.
Price
SiRUBA HSO-747D
This is a budget-friendly model that's a great choice for beginners.
SINGER 14CG754
This machine is priced around average when compared to other units.
Brother 1034D
This is one of the more high-end household machines.
Number of Needles
SiRUBA HSO-747D
These unit has two needles.
SINGER 14CG754
This model comes equipped with two needles.
Brother 1034D
This machine works efficiently with two needles.
Number of Threads
SiRUBA HSO-747D
This can be used with either three threads or four.
SINGER 14CG754
This can be used with two, three, or four threads.
Brother 1034D
This can be used with three or four threads.
Warranty
SiRUBA HSO-747D
This comes with a 1-year warranty that protects your purchase against defects.
SINGER 14CG754
You can feel confident with this purchase, since it is backed with a 25-year limited warranty.
Brother 1034D
A 25-year limited warranty backs your purchase.
Last Thoughts: Reviews of the Best Sergers
If you want to supplement your sewing machine with a serger that doesn't cost a fortune, this is a model that should be at the top of your list of the best sergers. Priced at less than $200, this is one of the most affordable you'll find. Don't be fooled by the price, since this offers a lot of versatility for the price. It is equipped with two needles and can be converted from using three threads to four.
This unit has a color-coded threading chart that makes it easy to know exactly what you're doing. It has a differential feed to prevent bunching, and it's easy to adjust with just the turn of a knob. It has a built-in light to brighten up your work space, a convertible presser foot, adjustable tension dial, and has a removable support bed for free-arm sewing.
Pros:
It is easy to use. It's very affordable. It's good for beginners to use. It has the basic functions you need. It works very quickly and efficiently. The stitching looks great and has a professional finish. It works with many different materials, even fabrics that are thick.
Cons:
It isn't as versatile as more expensive machines. The 1-year warranty isn't as long as many other models. The instructional manual isn't very informative for beginners.
If versatility is what you're looking for, you'll find it with this SINGER machine, which offers lots of different stitch options for an affordable price. You'll get professional quality in one small machine, which offers you the option of working with two, three, or four threads. With two needles, this performs quickly while providing the tight stitch you're looking for.
It has a differential feed to prevent puckering and stretching. You'll have more hemming options too, since this has four built-in rolled stitches. You can adjust the length and the width of the stitch for reinforcement, and the color coded threading system makes it easy to thread your machine. It stitches at a rate of 1,300 stitches per minute, allows for free arm sewing, and comes backed with a 25-year warranty.
Pros:
It has four built-in rolled stitches, 2-3-4 thread capability, and other options for more versatility. It has a great warranty. It's easy to use for beginners but offers lots of options for more experienced users. It isn't too expensive. It works very quickly. Comes with necessary tools and extra needles.
Cons:
Threading the needles may be difficult. Changing the needles may be challenging for some users. It may not perform as well on very thick fabrics like fleece.
Brother has become well-known in the world of sewing for producing top-quality machines, and this serger is no exception. Whether you've been sewing for years or you've never used a serger before, you'll find that this model is easy to use but provides you with plenty of versatility that is a great complement to your regular sewing machine.
You can use three or four threads at once with this machine, which uses two needles to create a tight, professional seam in just seconds. There are 22 different stitch functions, including rolled hems and ribbon locked hems. It comes with everything you need to get started right away, including two snap-on feet, a foot controller, extra needles, and a cover. It also comes backed by a stellar warranty.
Pros:
It has multiple stitching options for performing a variety of sewing tasks, including creating ruffles, decorative edges, and more. It's easy to use. It is very easy to thread. It has a differential feed for use with different fabrics. Performs at up to 1,300 stitches per minute. It has a removable free arm.
Cons:
It is a bit expensive. Some of the pieces, like the needle clamp, feel a bit cheap and may break over time.
In Conclusion
If you want your clothing and other sewn items to have a more professional look, you can achieve that with a serger. No matter what your skill level, the Brother 1034D is an excellent choice. This machine is easy enough to use for beginners but offers plenty of different stitch options for more advanced users. Despite its higher price point, the great warranty, ease of use, and versatility make this a serger you should add to the top of your wish list.