Some links on this page are monetized by affiliate programs - see disclosure for details.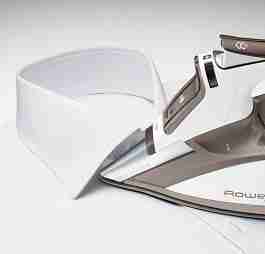 When you leave your house, you want to make sure that you look your best. From picking the perfect outfit to making sure you're well-groomed, it's always important that you make a great impression everywhere you go, whether it's to a job interview, out on a first date, or to a family gathering.
After you've picked out the right outfit for the occasion, you have to make sure it's ready to wear. This means that it will need to be pressed, which requires the use of a steam iron.
The Top 10 Best Steam Irons of 2017

What is a Steam Iron?
A steam iron is a small appliance that is used to remove the wrinkles from your clothes. Many types are similar to dry irons, except they can be filled with water and put on a steam setting. Steam is great because it really makes it easy to get out deep wrinkles, even in clothes that have been folded or stored for a long period of time.
Most can be used with or without steam and have a number of different heat settings that can be changed depending upon the type of fabric you are ironing.
What are the different types of Steam Irons?
Whether you're replacing an old iron or purchasing one for the first time, the first step you need to take is to pick the type that will best fit your needs, and this means that you need to find out about the different types, as well as their pros and cons.
Traditional irons
These are the most common and typically, the most inexpensive, although there are high-end models. These have a handle that is used to move the iron over your clothing, and it is used with an ironing board. These are lightweight, portable, and affordable, but they require careful use to avoid burning your fabric, and they can be the most time-consuming to use.
Steam presses
These models do a lot of the work for you. After they are plugged in and fully heated, you can arrange your garment on the bottom half, then shut the top, so both sides get steamed at one time. While these are easier to use, they can be much more expensive, and they also take up more space for storage and because they are bulky, they are not ideal for travel.
Clothing steamers
This type is characterized by a hose and nozzle that you can run over the fabric without directly touching it. This is the easiest time to use for delicate fabrics or larger items, like formal dresses and wedding gowns. These are larger in size, although travel models are available for taking with you on location, like to a wedding venue. They can be quite expensive, time-consuming to use, and they aren't typically used on everyday clothing. A dry ironing option is also not available with these.
What are the Advantages of Owning a Steam Iron?
Instead of sending your laundry to a dry cleaner for pressing, you can save a lot of money by doing the task at home with a steam iron. Not only will you save money, but you can ensure that you always look your best. From a dress shirt for the office to a freshly pressed pair of jeans or khakis for a daytime event, an iron allows you to easily remove the wrinkles in your clothing, giving you a more pulled-together look.
Who are the contenders for Best Steam Iron?
Say goodbye to all of those expensive bills from the local dry cleaner for pressing your clothes with this very affordable combo steam and dry iron that is designed to de-wrinkle a variety of fabrics, from lightweight delicates to heavy-duty cotton. This budget-friendly iron has multiple settings for dry or steam ironing, a spray mist for those extra-wrinkled clothes, and a temperature indicator light that lets you know when it's ready for use. It utilizes a great design that reduces pulling, tugging, and snagging, letting you iron faster than ever.
You'll never again wonder "Did I turn the iron off?" as you dash off to work with this model, which has an auto-shutoff feature for your safety. That isn't the only advanced feature you'll find on this iron. It has multiple steam and dry ironing settings, all of which can be changed and accessed through the digital LCD screen. It has a variety of steaming options and temperature settings for all of the clothes in your wardrobe, and it's priced in the mid-range category, so it's still very affordable.
You'll be impressed with the professional results you get from this iron, which has 400 holes for perfectly even steam distribution. You no longer have to worry about wet spots or uneven de-wrinkling with this great iron, which has multiple steam and dry temperatures for all of your clothing. It features a powerful shot of steam, vertical steaming, and a self cleaning system that keeps sediments out of your water, protecting all of your favorite clothes.
Considerations for Choosing the Right Iron For Your Clothes
You just do without an iron in your home. Even if you use other methods to keep your clothing wrinkle-free, sometimes, you need freshly pressed clothing to make a great impression on your dates, friends, family, or job interviewer. A steam iron makes it easy to get out of those tough wrinkles quickly, leaving you with professional-quality results. Now that you've decided to make this purchase, it's time to start shopping, and to make the experience easy and maybe even a little bit more fun, consider these four features on every model that catches your attention.
Warranty
When you buy something, you expect it to work, especially if you pay a lot of money for it. When you pull your new iron out of the box, what if it doesn't work? What if, after using it just a few times, it doesn't get as hot as it used to, or it just doesn't even turn on anymore? If you have a warranty, these problems, along with other defects, won't cost you even more money.
Type
Do you just want to steam your clothes or do you want a dry iron as well? Look to determine whether what you're purchasing is just for steaming, just for dry ironing, or a combination of the two to avoid disappointment when you press your clothing.
Settings
If you want to steam your delicates or work with different types of fabric, you'll want to make sure that you have plenty of temperature settings and steam options that can be changed depending upon the type of fabric you are ironing for the most versatility and to get the most use out of your iron.
Warranty
Panasonic NI-E200T
Panasonic backs this product with a 1-year limited warranty.
Black & Decker D2030
This product is protected with a 1-year warranty to set your mind at ease.
Rowenta DW5080
You'll receive a 1-year manufacturer's warranty with your purchase.
Type
Panasonic NI-E200T
This is a steam-dry iron that allows you to use it with or without steam.
Black & Decker D2030
This has multiple settings for steam ironing as well as options for dry ironing.
Rowenta DW5080
You can customize the way you iron with a variety of steam and dry iron settings.
Settings
Panasonic NI-E200T
This has a variety of different settings to choose from, including settings for silks and delicates as well as hotter temps for wool and heavy cotton.
Black & Decker D2030
You can choose from seven different heating settings and adjust the steam as needed while using this device.
Rowenta DW5080
This has variable settings for everything from silk and satin to heavy fabrics that are more difficult to iron.
Conclusion: Our Steam Iron Reviews Are In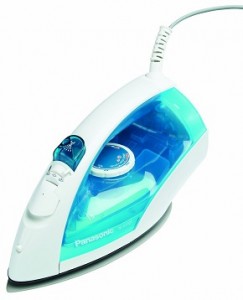 This iron is the perfect example of a product that is inexpensive but isn't cheap. This budget-friendly iron doesn't cost a fortune, but it has a lot of great features that really make it perform well. This iron has a U-shape soleplate that is made of durable titanium. It is designed to not stick on your fabrics, even the most delicate silks. Because it has a curved design, you don't have to worry about snags that slow you down or even ruin your clothing.
You can use this model with or without steam, and it has a circulation system that provides you with a greater coverage of steam, giving you even ironing in a shorter amount of time. The dial is easy to operate and is labeled so you know exactly where to set it for all types of clothing. The temperature ready button glows when it's ready to use, so there's no more guessing involved. It also has a burst of steam button that can be used to get out those wrinkles that just seem impossible to remove.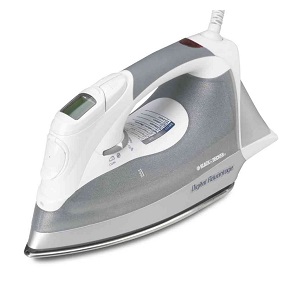 Dials have long been the way to control your iron, but technology has led to this iron, which has a digital display so you can always make sure you're on the exact setting you need. It can be adjusted through several different settings to handle all of your fabrics. If you want to steam your fabrics, you have many great options that make this one of the more versatile irons you've ever used.
You can iron the traditional way and adjust the steam with the dial, you can use this for vertical steaming if you don't want to make contact with your fabrics, which is ideal for more delicate items, and you can release a burst of steam with the press of a button to get out the deepest wrinkles. This iron gets very hot, so it's perfect for heavy wools and other tough fabrics, a stainless steel soleplate, and an auto shutoff feature that is activated by motion.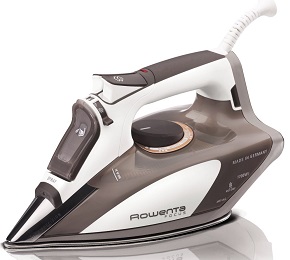 Some steam irons can be a real pain to deal with. They may be too heavy or bulky, they don't get hot enough, or worse yet, they spew water all over your good clothes. To avoid this problem, you need to invest in a higher quality product, and this model from Rowenta will not disappoint.
This model stands out from all of the rest for a number of reasons. The soleplate is made of durable stainless steel and has 400 holes for even distribution, which means you'll spend less time ironing and more time doing the things you enjoy. It has a anti-drip system to avoid hat water spilling out from the soleplate while in use, and it has multiple settings for steaming or dry ironing your clothing.
This is designed to get ultra-hot, so it can remove deep wrinkles from tough fabrics, but it can also be adjusted for your lighter weight fabrics too. It has variable steam settings, a vertical steam option that doesn't require an ironing board, and a shot of steam for that extra help you need for tougher items. It also features a large water tank and a self-cleaning system that removes sediment and deposits that can cause discoloration to your clothing.
Closing Thoughts
You just can't look your best without freshly pressed clothes, and you can't get the wrinkles out without an iron. Instead of dry ironing, get the wrinkles out even more quickly without ruining your clothes with a model that utilizes the power of steam. For less leaks, faster ironing, and safety that just can't be matched, the Rowenta DW5080 is a smooth choice to make when it comes to household irons.