Some links on this page are monetized by affiliate programs - see disclosure for details.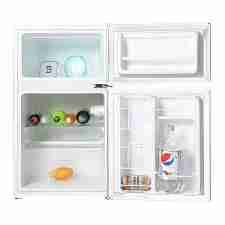 Have you ever been working out in your garage or workshop, and you just don't feel like walking into the house for a cold drink? Perhaps you or your child is going off to college, and a cramped dorm room has no space for a full-size refrigerator. Maybe you're having a pool party, and you don't want wet guests walking into the house for a refreshing soda.
No matter what the case may be you can conveniently keep your refrigerated foods and beverages ice cold and conveniently located with a compact mini fridge.
The Top 10 Best Mini Refrigerators of 2017

What is a Mini Refrigerator?
A compact mini ridge is a small appliance that is much like the refrigerator in your kitchen, only it is much smaller. These are used to keep your food and beverages ice cold until they're ready to be consumed or served, with the added benefit of being able to fit in smaller spaces.
While these certainly won't fit an entire family's weekly refrigerated foods, it is a great place to store drinks and smaller items in smaller, more convenient locations like a dorm room, bedroom, or garage.
Also see: Our guide to 10 of the best chest freezers on the market
What are the Advantages?
There are multiple benefits to owning a mini fridge. If you're frequently not around your kitchen, a mini fridge allows you to store food and drinks in a spot that is more convenient to you, whether it is in your pool house during a pool party or in your bedroom if you have roommates that like to take the items you purchase. Because these fridges are so small, they don't take up a lot of space, so they really can fit just about anywhere.
These are also great for tight dorm rooms, allowing students to store snacks, drinks, and necessities without taking up too much floor space. They are also very energy efficient, much more so than full-sized refrigerators.
What are the Different Types?
If you want to keep your food and beverages close at hand no matter where you are, you'll need to invest in a mini fridge. Because these appliances can cost hundreds of dollars, it's important that you make sure that you make the right purchase so you don't experience buyer's remorse and end up stuck with a product that doesn't fulfill your needs. The first step to making a smart purchase is to know what types of fridges are on the market to determine which one is best for your home, office, or other location.
Traditional fridges – These are your most basic, and often, the least expensive. These have just one compartment that may be partitioned off with one or more shelves. The compartment operates at one set temperature.
Mini fridge/freezer combination – These models are a little more expensive because they have one compartment for refrigeration, and another for freezing things like popsicles and ice cream. These are great for when you have items that need to be stored at different temperatures.
Beverage coolers – These are designed to hold beverages and may have multiple shelves. Many of these have glass fronts so the content can be seen inside. These may be used in commercial settings, as well as in households and offices.
Which Products are Contenders for the Best Mini Fridge on the Market?
Koolatron KWC-4 Coca-Cola Personal 6-Can Mini Fridge – If you don't want to pay a fortune for your new appliance, and you want something that is not just functional but a fun conversation piece, this is the ideal fridge for you. This cute fridge holds half a dozen of your favorite sodas, and it comes packaged with a bright red exterior that showcases the iconic Coca-Cola logo and polar bear, making this a fun drink fridge for your garage or pool house.
midea WHD-113FW1 Double Reversible Door Refrigerator and Freezer – Keep all of your cold items fresh and ready to eat with this combo fridge and freezer that is designed just like your kitchen refrigerator. This model has a fruit and vegetable drawer, door storage, and shelves in two separate compartments: one for refrigeration and the other for freezing.
Danby DBC120BLS Beverage Center – Keep all of your drinks ice cold in this beverage refrigerator that is both functional and stylish with stainless details and a glass door. An interior light makes it easy to see what you're selecting, even in darker lighting conditions, and you can keep your roommates out of your stuff with the built-in lock.
Features to Evaluate
Now that you know the types of fridges to choose from, you can begin the purchasing process. Before you just dive into a purchase, though, it's important to know exactly what to look for in a new fridge. While you may have your own set of criteria, these four features are also things you should look for before you invest your money in a product.
Price
Price is always a factor in any purchase. You can find a simple mini fridge can be on a budget, but certain designer models can be very expensive. Set your budget before you begin shopping but also take into consideration other features. For example, a fridge that is larger than most will be more expensive, while one that has more compartments or a built-in freezer may also cost more. Balance the features you need along with your budget to make a sound purchase.
Warranty
Like any other appliance, you should make sure that your new mini fridge comes with a warranty. Repairing a fridge can be quite expensive, almost as much as buying a replacement. Make sure that your crucial components like the compressor are backed with a warranty that protects against defects that can lead to premature failure of your appliance.
Size
Size is important for a number of reasons. First, you want to make sure it fits in your space. You don't want to purchase something that is too large and just won't work. Likewise, you don't want to buy something that won't hold everything you need. If, for example, you plan to store food, a small beverage cooler that just holds a few cans of soda just won't cut it for you. Measure the space where you will place the appliance and consider what you plan on storing in order to choose the right size for your needs.
Standout Features
Sometimes, there is a feature that just makes a product stand out from the rest. Whether it's a more efficient compressor, the ability to change the temperature settings, or interior lighting that makes it easy to find what you're looking for in the dark, look for standout features that will make your life more convenient.
Price
Koolatron KWC-4
This cute and functional mini fridge is a great choice for the budget-minded shopper.
midea WHD-113FW1
This is a mid-priced model that boasts a lot of features found on high-end models.
Danby DBC120BLS
This model is one of the more high-end fridges you'll find on the market.
Warranty
Koolatron KWC-4
You'll receive a 90-day warranty with the purchase of this product.
midea WHD-113FW1
This comes with a 1-year warranty on the unit itself, as well as a 2-year compressor warranty.
Danby DBC120BLS
This unit comes with a 1-year manufacturer's limited warranty.
Size
Koolatron KWC-4
This measures 11" x 8" x 11" and holds up to six 12-ounce soda cans.
midea WHD-113FW1
The 3.1 cubic feet of interior space provides plenty of room for storing cans, bottles, ice cream, deli meats, and other refrigerated or frozen items.
Danby DBC120BLS
This has a 3.3 cubic feet capacity, so it's large enough to fit plenty of things, including up to 120 beverage cans.
Standout Features
Koolatron KWC-4
The design of this fridge, which showcases the iconic Coca-Cola logo, is what makes this cooler really stand out from the rest.
midea WHD-113FW1
This has lots of great features, including an interior light and interior shelving and drawers for plenty of storage space.
Danby DBC120BLS
This has an interior light, as well as a lock to keep unwanted guests out of your fridge.
Our Compact Mini Refrigerator Reviews
Add a fun conversation piece to your garage, man cave, game room, or pool house by purchasing this cute mini fridge. The first thing you'll notice is the bright red exterior with the Coca-Cola logo and the cute Coca-Cola polar bear. This model has a recessed handle that makes it easy to open without detracting from the looks, and it is a great collector's item for those who love Coca-Cola.
Inside, the fridge cools to 32 degrees below the ambient temperature, keeping sodas or other beverages nice and cool for the hottest days.
This mini fridge is designed to hold up to 6 12-ounce cans. The size makes it great for tighter spaces, and the price is affordable, making this an ideal choice for those on a tight budget.
Pros:
It has a unique design. It offers even cooling. Energy efficient. Comes with a warranty. It is the perfect size for smaller spaces. Ideal choice for those who want a no-fuss design for storing beverages. It has a removable shelf, so bottles and other items can fit inside if needed.
Cons:
It is quite small, so it's not a good choice for those who want a larger appliance. Does not have a built-in freezer. Does not have adjustable temp controls. It has a small fan, so it doesn't get ice cold and may not be ideal for placement in an area that gets very hot.
If you're willing to spend a little extra for a better product with more space, this model from midea is an exceptional choice. This is modeled just like a full-sized refrigerator, boasting both a fridge and a freezer for your convenience, so you can store just about anything. This is the perfect dorm fridge or appliance for your office.
This model comes equipped with reversible doors, and it has separate freezer and fridge compartments. Inside, you'll find shelving, door storage, and a fruit and vegetable drawer to keep your produce fresh and crisp. It is very roomy with 3.1 cubic feet of space, it has adjustable temperature controls, and an interior light makes it easy to find what you're looking for, even in the dark.
Pros:
It is not too expensive. It has adjustable controls. Great warranty. Comes in your choice of White, Black, or Stainless Steel to match your décor. It has adjustable legs. The doors are reversible for your convenience. The shelves are removable for additional space. It offers plenty of storage space. It has a separate freezer compartment.
Cons:
Ice builds up inside over time and will need to be scraped. The compressor is quite loud.
If you want plenty of space packed into one small appliance, this beverage fridge is up for the task. This mini fridge is small enough to put in your man cave or garage, but it's large enough to hold up to 120 cans of soda, beer, or other beverages. It is equipped with multiple convenience features, including an adjustable thermostat that cools between 43 and 57 degrees and black wire shelving for storing your foods or beverages.
This model looks great, too. The fridge itself is stainless steel and black, so it matches any décor, and it has a glass door for easy viewing without needing to open the door. It comes with a built-in lock with a key so you can keep your items locked up when you're not around. It has interior shelves that can be removed or adjusted as needed, and it is ideal for use in the home, in an office, or even in commercial businesses.
Pros:
Very roomy. Modern styling. It has an interior light when the door is open. It comes backed with a warranty. The shelves are adjustable to make the most of your space. It has a lock and key. It has an adjustable thermostat.
Cons:
It is best for beverages and not food. It is a bit more expensive than other options.
Conclusion
If you want to keep beverages on hand for your family, friends, coworkers, clients, and guests, you'll get the most from the Danby DBC120BLS. With its modern styling, large capacity, and added features like an interior light, glass door, adjustable shelving, and lock, this is a great cooler to hold all of your favorite sodas, juices, or alcoholic beverages without taking up too much space while still remaining at an affordable price point.