Some links on this page are monetized by affiliate programs - see disclosure for details.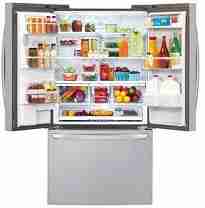 The humble refrigerator has evolved from a simple icebox for keeping food cold into a high-tech piece of machinery that can make our lives easier and keep our food fresher for longer periods of time. Not only have quality and available features grown exponentially, so too have design and style which makes the modern refrigerator a convenient and simple to use appliance.
Among the most popular styles available are French Door Refrigerators. This style of refrigerator features to doors into the cooling compartment, coupled with one or two pull-out drawers into the freezer below. This arrangement makes it easy to organize your refrigerator and to gain ready access to your foods whether you're preparing a family meal or simply rummaging for a midnight snack.
Choosing the right refrigerator for your needs requires careful consideration of all the features and functions available.
Comparison: The 10 Top Rated French Door Refrigerators of 2020

What are French Door Refrigerators?
French Door Refrigerators feature two doors that open outward on opposite sides of the unit. These doors cover the cooling area for fresh foods. In this style of refrigerator, the freezer is located below within a pull-out drawer. This means that when you pull the drawer out, you are essentially pulling everything within your freezer out at the same time.
Most refrigerators within this style are the same, however, some feature an additional pull out drawer that provides quick access to either chilled or frozen foods depending on how users opt to configure this additional drawer.
What are the Advantages of Owning One?
There are many advantages of owning this style of refrigerator. For starters, the double doors make it easy to organize your refrigerator into zones. This makes storing condiments, milk, snacks, etc. in the doors a breeze. Further, by having two doors into the cooling compartment, you only have to open one to reach for whatever it is you may be searching for. This helps conserve energy and ensures that all the cool air doesn't escape as you reach for a quick snack or a carton of milk.
Further, having the freezer down below makes it easier to reach in and pull out everything from pot roasts to tubs of ice cream. It's a convenient layout that is most frequently segregated into smaller compartments within the freezer. This enhances your ability to keep your freezer organized and makes completing your shopping list a little bit easier because you can quickly see what you have and what you need to pick up.
How to Maintain a French Door Refrigerator
Keeping the refrigerator clean is usually very simple. You can use a damp sponge and dish detergent to clean the exterior as well as the shelves inside.
Pay close attention to the gasket around the outer edge of the door frame. This seal prevents cold air from escaping, allowing the fridge and freezer to operate at maximum efficiency. Unfortunately, any damage to the seal can make the motor work harder than necessary. Even just crumbs and other obstructions can cause a problem.
With the doors open, clean the seal thoroughly with a soft, dry cloth. If the build-up is difficult to remove, try a spatula or the blunt end of a plastic kitchen utensil. Sliding the tool around the gasket can gently dislodge stubborn debris. Keeping the seal clean helps the fridge operate without undue strain.
Who are the Leading Contenders for the Best French Door Fridge?
This spacious refrigerator features 15 cubic feet of high-tech cooling capacity. With multiple fixed and adjustable tempered glass shelves, the interior can be set-up to store everything from holiday turkeys to bottles of mustard without wasting an inch of space. Featuring two freezer drawers as well as two storage bins, it can hold quite a few condiments, beverages, and other commodities.
Providing you with 24 cu. feet of storage space, this LG refrigerator offers quite a bit of room to freeze and cool a number of food items. With a narrow ice system, it dispenses ice and water from its outside, allowing you to retrieve both with ultimate convenience. Sporting an interior LED light, it illuminates everything brightly so that you can easily see where food and condiments are positioned.
Providing you with a total of 22 cu. feet of storage space, this GE french door refrigerator is a mid-size fridge with a number of attractive features. Sporting an external water and ice dispenser, it allows you to seamlessly retrieve everything you need to make a hydrating beverage without even having to crack open a door. Constructed out of stainless steel, it is both exceedingly tough, and ridiculously easy to maintain.
Features to Evaluate
All refrigerators are not created equally, and some offer features that others simply do not. When considering which refrigerator is right for you and your home, you'll want to consider everything from cooling capacity to convenience features such as ice makers and water dispensers. Determining which features you require, and which ones you can do without is the first step to finding the best refrigerator for your needs.
Ice Dispenser
It's essential that you select an ice dispenser that will provide sufficient ice for your needs. Further, it's important to select a unit with a dispenser that fills quickly and doesn't overflow when full.
Water Dispenser
Filtered water is standard on modern dispensers, however, it's important to consider the ease of changing this filter. Further, you will want to select a unit with a dispenser that is easy to access and can be used to fill the types of containers you most commonly use.
Shelving
Crucial to selecting a refrigerator is the size, stability, and flexibility of the shelving features. If you don't need tremendous flexibility, then this is a feature you can afford to bypass. However, if you have a growing family or tend to host frequent gatherings, then the more flexibility you have, the better you will be able to make maximum usage of your storage space.
Freezer Compartment
Freezing needs vary widely, and if you are a bargain shopper that likes to store food for long periods of time, then the more capacity in this regard, the better off you'll be. Further it's important that you be able to adjust the baskets within the compartment to meet, and adjust to your changing requirements.
Ice Dispensers
Haier HRF15N3AGS
This Haier refrigerator does not contain an ice maker of any kind.
LG LFXS24566S
Sporting a technologically-sound ice system, this LG refrigerator is capable of dispensing ice and water from its outside.
GE GYE22HSKSS
Capable of making ice cubes inside of its freezer, this refrigerator can also dispense ice and water from its outside.
Water Dispensers
Haier HRF15N3AGS
This Haier model does not possess a water dispenser.
LG LFXS24566S
This LG refrigerator possesses a tall water dispenser, allowing you to fill up glasses both large and small.
GE GYE22HSKSS
Sporting an extra-large water dispenser window, this GE refrigerator allows you to seamlessly grab water of different temperatures.
Storage Shelves
Haier HRF15N3AGS
Three of the four shelves within the refrigerator are fixed, with the fourth having the ability to be folded. Each shelf is made of tempered glass which gives them a high degree of resiliency and ensures that liquid doesn't spill down onto lower shelves.
LG LFXS24566S
With 5 glass shelves trimmed in silver, there is plenty of shelving for you to use. 3 of these shelves feature spill-proof rims. Further, There is one "quick space" shelf that gives you flexibility to store soda, wine, and juice bottles.
GE GYE22HSKSS
Featuring four adjustable shelves and two door bins, this unit provides the ultimate level of storage convenience. It also features two gallon storage bins which make storing extra milk a breeze.
Freezer Space
Haier HRF15N3AGS
The two deep drawers within the 9 cubic feet freezer provide ample storage space. However, because there are only two drawers, this does require careful organization on the part of the operator.
LG LFXS24566S
The freezer on the LG LFXS24566S is 9.2 cubic feet which makes it one of the largest freezers available. Further, the easily removable baskets make finding everything from ice cream to corn dogs very easy to do. Coupled with bright lighting and intuitive settings, this makes the freezer compartment popular among families.
GE GYE22HSKSS
The freezer space on this unit is around 9 cubic feet. The freezer features two storage baskets to help maximize the use of the space, and the frost control features provide a superior level of frost protection.
French Door Refrigerator Reviews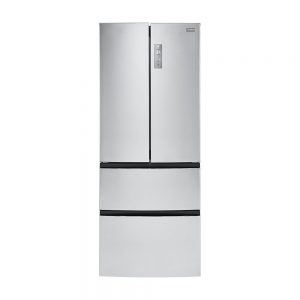 Easy to use and reliable, this entry level option is one you'll be glad to own. Haier's quality craftsmanship and solid internal construction make this a machine that you can trust for years. While it doesn't have the flexibility that higher end options offer, it offers the features you are most likely to use.
Pros:
Affordable and easy to set-up, it's very much a "plug and use" appliance
It requires very little maintenance
With 29 cubic feet of storage capacity, you'll have plenty of space to store all of your food
Cons:
Doesn't possess an ice maker
Only possess around 15 cu. feet of storage space
LG's reputation for precision and function are well deserved in regard to this refrigerator. The layout is intuitive and the interior lighting make sure that you never lose sight of the things you're reaching for. The drawers within the refrigerator are easily adjustable, and the rubber seals create an airtight compartment that keeps your food cold.
Pros:
Flexibility and reliability are this refrigerator's greatest assets
It's sleek and stylish appearance matches its strong and sturdy construction perfectly
Possesses an ice maker, ice dispenser, and water dispenser
Cons:
Some prefer a larger freezer area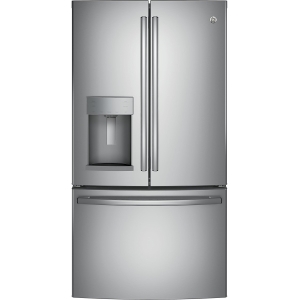 This is the Ferrari of Fridges. Its appearance is modern. Its function is intuitive and reliability is second to none. Not only does it feature plenty of storage capacity, its a refrigerator that you can trust to keep your food at precisely the right temperature.
Pros:
Easy to customize, the shelves in the refrigerator are solid and sturdy
The shallower depth of the shelves ensures that foodstuffs don't "hide" behind other items
Possesses an ice maker, ice dispenser, and water dispenser
Cons:
No major cons to speak of
Conclusion
You can't go wrong with any of these picks for best French Door Refrigerator. Each are reliably constructed and designed to provide reliable cooling and freezing for years to come. If you are searching for a simple unit that won't break the budget, then Haier is the way to go.
Conversely, LG has cornered the mid-range market and offers the features and price that are most appealing to mid-sized families. Their French Door Refrigerator is easy to adjust and customize which means that as your needs change, your refrigerator can be adjusted to match.
Finally, this is the appliance that just might bring France and Germany closer together. It's designed to be the perfect combination of form and function. While it does have smaller freezer capacity, that won't be a problem because you're going to want to store and cook fresh food more frequently using this appliance to keep it cool only as long as it takes you to warm up the oven. Simple, strong, and reliable are the hallmarks of GE and they've made sure their GYE22HSKSS refrigerator lives up to their brand's reputation.