Some links on this page are monetized by affiliate programs - see disclosure for details.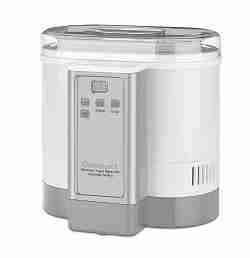 If you want to keep your body in great shape and stay healthy, one of the most important things you can do is to make sure you eat well. Instead of eating processed, sugary, and fattening snacks, it's best to eat meals and snacks that are made with natural, healthy ingredients. Even traditional healthy snacks may be full of added sugars, preservatives, and other ingredients that may not be good for your diet. This is why it's best to make your own healthy food at home.
With a career, kids, and daily responsibilities, you might not have the time needed to make your own great snacks. With specialty small kitchen appliances, though, you can make your own snacks quickly and easily. Instead of stocking up on yogurt that's loaded with sugar or artificial sweeteners next time you're at the supermarket, grab some supplies to make your own homemade yogurt with a household yogurt maker.
Our Top 10 Best Yogurt Makers in 2017

Start Here: What is a Yogurt Maker?
A yogurt maker is a small machine that allows you to make your own homemade yogurt. Since yogurt contains active cultures, it requires several steps to be made properly so that it's healthy and it tastes great. With these makers, you can add your ingredients, make sure that it's set at the proper temperature, and the machine ensures your treat is the right consistency. Not only will your homemade yogurt be healthier because you control what goes into it, but you can also save money by making large batches and storing it as opposed to purchasing premade packages from the store.
What are the different types of Yogurt Makers?
If the idea of making your own healthy snacks with ease sounds appealing to you, you'll want to add one of these appliances to your kitchen. Instead of just making a spur-of-the-moment purchase, though, it's best to do your research, including finding out more about the types of machines available.
Household machines – These are small and fit perfectly on a countertop. Their smaller size makes them easier to store when not in use. These usually make several cups at one time, just enough for a family or for your own weekly snack.
Commercial machines – These are designed to create large batches of yogurt at one time. These machines are typically freestanding and quite large in size. These are so large and expensive that they are not typically used for use in a residential kitchen.
Frozen yogurt machines – Instead of creating smooth, creamy yogurt, these are designed to make healthy frozen yogurt that is a healthier alternative to ice cream and other cold, sugary treats.
What are the Advantages of Owning a Yogurt Machine?
One of the biggest advantages of owning one of these machines is that you can make your own healthy snacks. If you are trying to cut out processed foods that contain sugar, preservatives, artificial sweeteners, and artificial flavorings, this is a great way to avoid all of those ingredients. Some machines are very easy to use, and they are fun to use with children in the household, who can later enjoy the healthy snacks they made.
Yogurt is also a great choice because of the cultures that help improve your health. You can also save money by making your own instead of purchasing individual cups, which can be expensive.
Who are the contenders for Best Yogurt Machine?
Epica Homemade Organic "Set and Go" Electric Yogurt Maker – This machine is a great choice for those who are just getting started with making homemade yogurt. The design makes it easy to get the thickness, consistency, and flavor just right. The best part of this machine, other than the low price, is that you can just set it and forget it. You don't have to linger around – simply add your ingredients, set the timer, and go about your daily tasks.
Dash Greek Yogurt Maker – Save money on Greek yogurt by making it from plain store-bought yogurt. You can make your own healthy Greek yogurt to use in your favorite recipes, or you can add a little flavor to make a tasty snack with this machine, which is very easy to use and comes with lots of bonuses, including push pops and travel jars.
Cuisinart CYM-100 Electronic Yogurt Maker with Automatic Cooling – This all-in-one machine truly does it all. Not only does it adjust to the perfect temperature for making homemade yogurt, but when it's done, it automatically switches to a cooling mode so it can set and be chilled right away – no more having to rush to get it into the fridge. This model has a large capacity, an easy-to-use interface, and a sleek, modern look.
Considerations for Choosing the Right Yogurt Maker
You've identified the different types of makers and maybe you have in mind what type you'd prefer to have in your kitchen. Now it's time to narrow down the choices even more based on particular features and points that may be important to you. From price to warranty, use these four points when shopping for your new small appliance.
Warranty
Any type of electric appliance may have problems after you purchase it, whether it won't turn on, won't consistently heat, or just has some other defect that affects performance. You won't have to worry about manufacturer's defects as long as you purchase a product that is backed with a warranty.
Capacity
How much yogurt do you plan on making? If you're just making a small amount for yourself or someone else in your household, a smaller capacity maker may work best for you. However, if you plan on stocking your fridge for yourself or your family, you'll certainly want a machine that has a larger capacity.
Ease of use
The whole point of one of these machines is making the entire process much easier on you. If the machine you purchase is overly complicated, you may get frustrated and never want to use it. Look for a basic machine with just a few functions or even a more advanced machine that has clearly labeled buttons, a detailed instruction manual, and settings that are easy to change.
Warranty
Epica Homemade Organic "Set and Go"
This product comes backed for quality with a 3-year manufacturer's warranty.
Dash Greek Yogurt Maker
Your purchase is protected with a 1-year limited warranty.
Cuisinart CYM-100
A limited 3-year warranty is included with your purchase.
Capacity
Epica Homemade Organic "Set and Go"
You can fill seven 6-ounce jars with each batch made with this machine.
Dash Greek Yogurt Maker
You can make up to two quarts of Greek yogurt at one time with this model.
Cuisinart CYM-100
This model has a 50 ounce total capacity.
Ease of use
Epica Homemade Organic "Set and Go"
This is one of the easiest machines to use. Simply add ingredients, set the timer, and then return to remove it when the timer goes off.
Dash Greek Yogurt Maker
This unit has very few settings, so it's not very complicated.
Cuisinart CYM-100
While the controls may seem overwhelming at first, this machine is actually very easy to use. All you have to do is add your ingredients and set the timer.
Conclusion: Our Yogurt Maker Reviews Are In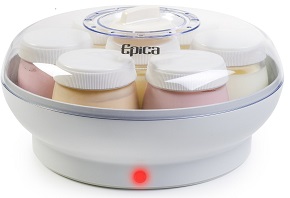 Making your own yogurt may seem like an overwhelming task, but you won't believe how easy it is when you use a machine like this model from Epica. This is one of the easiest yogurt makers to use, allowing you to add your ingredients, set the timer, and then continue on with your day until the product is finished. It's really that easy.
This unit maintains the perfect temperature for culturing without the need for using your own thermometer. It comes with seven individual jars, so you can make different types of yogurt for everyone in your household. You can use any type of milk, including almond and soy, to make delicious and healthy treats. It also comes backed with an impressive warranty, and the price just can't be beat.
Pros:
It is easy to use. Very affordable. Comes with a warranty. Allows you to make individual jars, adding different flavors to each if desired. It maintains the temperature for you. It can be used with any type of milk. Each jar has a lid, so they can be stored in the fridge immediately. It is small so it doesn't take up a lot of counter space.
Cons:
The instructions are very limited. Jars come out very hot and hard to handle. The yogurt made in this machine is a bit runnier than traditional yogurt.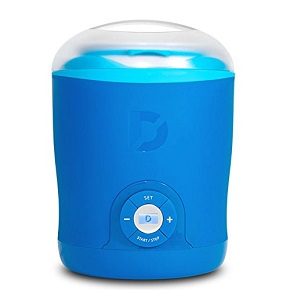 Many people love the taste of Greek yogurt, as well as all of the health benefits that the probiotics contain within provide, but the cost can be quite expensive. Instead of breaking the bank at the grocery store, you can make your own tasty Greek yogurt at home using just plain store-bought yogurt with this machine.
All you have to do is add store-bought yogurt, your choice of milk, and other fresh ingredients before you start the timer and let this machine work its magic. This machine allows your yogurt to get to the optimum temperature, and it alerts you when it's done. All parts of the machine are dishwasher-safe and BPA free, and this package contains a strainer, a Quick Start manual, two travel jars, and two push pops. All parts store in the base when not in use so it's easy to store. Plus it comes with a warranty, and it comes in your choice of two colors, Pink or Blue.
Pros:
Maintains the proper temperature for making Greek yogurt. Use it with any type of milk. It has a large capacity. Comes with a warranty. The instruction manual is easy to understand. The controls are not too difficult. It is dishwasher-safe, so it's very easy to clean.
Cons:
The strainer is not the best and a better one may need to be purchased. It can be quite time-consuming to use.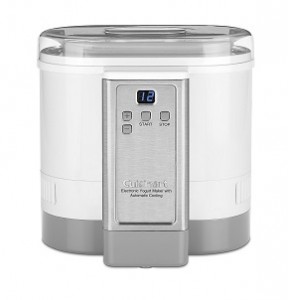 Instead of having yogurt that needs to be chilled when the timer goes off, this machine does all of the cooling for you. It can maintain the proper temperature required to make yogurt, but then once it's done, it switches to a cooling mode so your yogurt is ready to eat or serve immediately.
This machine has a lot of different features and controls, but it isn't too difficult to use. Even beginners can easily make fresh, homemade yogurt using this appliance. All you have to do is add your ingredients, push a button to start the timer, and the machine does all of the hard work for you. It has time controls so you can adjust the time as needed for fermenting, and it has a very large capacity, so you can make a large batch at one time.
The design of this machine is very sleek and modern, available in a white finish with stainless accents. It comes with a 3-year warranty, one of the best you'll find, so you know you're buying a great product.
Pros:
Very easy to use. It has an automatic cooling feature not found on most machines. It has a stylish design. Comes backed with a great warranty. It has a very large capacity. It has one-touch operation. Easy to clean. Very quiet when in operation. It has an auto shutoff mode.
Cons:
It is expensive. The temperature cannot be adjusted.
All in All
Instead of spending a lot of money on processed yogurts with unhealthy ingredients, make your own at home. If you're strapped for time in your busy life, a yogurt maker is just what you need to make your own delicious snacks or meal replacements. These machines do the hard work for you, so all you have to do is add your own ingredients, set the timer, and then get ready to enjoy your tasty homemade treats. The Cuisinart CYM-100 is a superb choice for best yogurt maker, even though it is one of the more expensive, high-end machines you'll find. Its reliable performance, consistently good results, large capacity, and great design make this a product that will quickly become your new favorite small appliance.