Some links on this page are monetized by affiliate programs - see disclosure for details.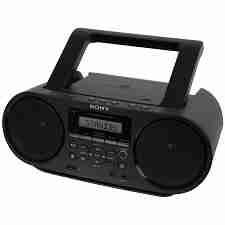 Listening to music has been a popular pastime from decade to decade. As technology has grown in our world, the way we listen to music has changed dramatically. From portable cassette and CD players to MP3 players loaded with downloaded music to smartphones that play music that is downloaded, as well as music apps, it's easier than ever to take our music with us while on the go.
Sometimes though, we just want to get back to basics and listen to music the good old-fashioned way with an AM/FM radio.
Compare: The Best AM/FM Radios of 2018

What is an AM/FM Radio?
An AM/FM radio is a device that allows you to listen to live music and information channels. Much like the radio in your vehicle, these devices can access a variety of channels to listen to new music, oldies, or information like politics and weather.
Unlike modern devices that rely on Wi-Fi and require a charger, these don't need an Internet connection, and they run on batteries that can easily be replaced, so no power source is needed.
What are the Advantages?
While it's great to listen to music through computer speakers and headphones, AM/FM radios certainly have their place. There are several advantages of owning an AM/FM radio. If you're out in the wilderness on a camping trip, you can use your radio to listen to music and hear important updates. You can use these anywhere, even when you don't have Wi-Fi. These are also great for emergencies, where you can listen to informative AM channels to hear important announcements and weather alerts in your area.
These radios are very lightweight, portable, allow you to listen to your favorite music, and can be critical in an emergency situation.
What are the Different Types?
Every household should have an AM/FM radio, even if just for emergency use. Before you make your purchase, it's important to distinguish between the different types so that you can purchase the one that best fits your needs.
Emergency weather radios
These have AM/FM radios that allow you to listen to music and information sources, but they also have features that make them great for use in an emergency situation, like when the power goes out. This includes rechargeable backup battery packs, cranks that power the radio, built-in backlights for easy viewing in the dark, and even built-in flashlights.
Portable radios
These are best for just using for entertainment. Take one to the beach with you while you catch some rays, take it out to enjoy songs by the campfire on your next outdoor excursion, set it by the pool for some tunes during your family's pool party, or use it anywhere that you want to listen to music.
Personal radios
These are small enough to hold or put in your pocket, and they are ideal for use while running or jogging, or while traveling. Although many people use their phones and iPods for tunes these days, if you aren't yet connected to this technology, this is a great alternative.
Clock radios
Know what time it is and listen to your favorite stations with one of these devices. Many come equipped with an alarm function that wakes you up when you have somewhere to go or something to do, and some advanced models may even have a phone dock that charges and plays music from your smartphone.
Which Radios are the Best on the Market in 2018?
If you just want a small, lightweight radio that you can slip into your pocket and take with you anywhere, this is the perfect choice. This model doesn't have all of the bells and whistles of many modern radios. However, it doesn't come with the expensive price tag either. This affordable model has a built-in speaker and antenna for clear sound, and it even comes with a carrying strap for convenient carrying.
You'll never be without a radio in any situation with this emergency radio. This one charges three different ways, and you don't even need a power source. It even has emergency power that can be used to charge your phone or other small handheld device in any emergency situation.
Get big sound in one little package from this radio, which gives you several different ways to listen to your favorite tunes. Use the CD player to listen to your discs, turn on the AM/FM radio to listen to your favorite station, or use the Bluetooth connectivity to use this as a speaker for your Bluetooth-enabled device.
Features to Think About
Before you drop money on a radio, you want to make sure you purchase the one that's right for you. You don't, for example, want to buy an oversized one to take with you on your jog, and if you want loud sound, a tiny portable one just might not do the trick. Before you buy, keep an eye out for these four features to find the right product that fits your needs.
Price
You don't have to spend a fortune on a radio, although there are some models that are more expensive because they are loaded with modern features. If you just want a basic model, expect to pay around $20. For added features like Bluetooth capabilities, you should budget to pay around $100 or more. Make sure that you consider all features before purchasing based solely on price.
Warranty
Electronic devices may incur some problems over time. However, you should expect to get a reasonable amount of use from your product before it fails or wears out. If you have problems right away, you don't want to be responsible for the expenses of a replacement or repair. With a manufacturer's warranty, defects that can cause premature failure are covered at the expense of the manufacturer.
Functions
All AM/FM radios let you listen to different local and national stations. However, some have additional features that let you listen to music in other ways, including a CD player, AV port or USB connections for using with your phone, or Bluetooth connectivity. It's important to note that, in general, the more functions that are available, the more expensive the product.
Power Source
Most radios run on batteries, but others have backup battery packs, cranks, and even solar recharging capabilities. If you want a radio to use out in the wilderness or in emergencies, you'll want to find a model that has various methods of powering it.
Price
Sony ICF-S10MK2
This is a very affordable model, ideal for the budget-minded consumer.
Epica Emergency
You can own this emergency radio for just around the industry's average price-tag.
Sony Portable Mega Bass Stereo
This is one of the more expensive radios you'll find. However, it is loaded with features that make it worth the additional price.
Warranty
Sony ICF-S10MK2
This has a manufacturer's warranty for one year on parts and 90 days for labor from problems caused by a manufacturer's defect.
Epica Emergency
This product comes with a 1-year limited warranty that protects against manufacturer's defects.
Sony Portable Mega Bass Stereo
You'll receive a 1-year limited warranty from Sony with the purchase of this product.
Functions
Sony ICF-S10MK2
This is a basic model that has an AM/FM radio.
Epica Emergency
This radio has an AM/FM tuner, as well as 7 different NOAA weather stations.
Sony Portable Mega Bass Stereo
This has AM/FM stations, a CD player that also plays MP3 CDs, and Bluetooth connection for using with your mobile device.
Power Source
Sony ICF-S10MK2
This uses 2 AA batteries for up to 45 hours of listening time.
Epica Emergency
This can be charged with a USB cable, hand crank, or with solar energy.
Sony Portable Mega Bass Stereo
This can be used with AC power or six C batteries for portability.
Results: What's The Best AM/FM Radio?
If you want an affordable radio without all of the bells and whistles, this model from Sony is extremely affordable and has just what you need to listen to your favorite AM or FM stations. This basic radio is the perfect small size to slip right into your pocket. It has a headphone jack so you can listen to your music or news in peace.
It has LED tuning for precision, and it also comes with a handy carrying strap that makes it even more portable. You can use it with batteries, or it can be used with a power cord for continued listening. This is a small, inexpensive radio that really packs a lot of bang for the bucks.
Pros:
It is very affordable
It is very small, lightweight, and portable
Not overly complicated, making it perfect for anyone who wants a small basic radio
Long battery life
Uses basic AA batteries that are affordable and easy to replace
Cons:
May not pick up all local stations
Can be difficult to tune precisely
It's not a true pocket radio due to the telescopic antenna
You never know when an emergency may arise, and that is why it is always necessary to be prepared. Some things you should always keep in your home for emergencies include canned goods, bottled water, and an emergency radio. You can't go wrong with this model from Epica, which is loaded with a lot of great safety features that ensure you always have access to a radio.
In addition to the AM/FM tuner, you have access to seven different weather stations for the updates you need. Other standout features on this model include a waterproof design that will make it through the roughest storms, a bright 3-LED flashlight for when the power goes out, and even emergency power charging for your electronics like your cell phone. You can easily keep this charged using three different methods: the attached hand crank, solar energy, or via USB.
Pros:
It can be easily charged three different ways
Multiple emergency features
Provides access to weather channels
Charges electronic devices
Easy to use and ideal for emergencies
It's very durable and sturdy
Cons:
It's a little on the expensive side
The battery runs down fairly quickly
If entertainment is what you want, entertainment is what you get with this model from Sony. You can easily switch this model on to listen to your favorite radio station or get local or national updates on the AM tuner. If you're tired of listening to the radio, you can pop in your favorite CD because this has a CD player that also plays MP3 songs. You can also use the Bluetooth capability to listen to your phone's music through the speakers.
This comes with deep bass technology to really enhance the listening experience, and it also has a sleep timer so you can listen to music while you go to sleep without running down the battery. It has a headphone jack for private listening, and it has 30 presets so you can save your favorite stations for easy playback. This is small, portable, and it can be used with AC power or batteries.
Pros:
Modern design
It can be used with CDs, even those that have been ripped
Connects to Bluetooth-enabled devices
It has presets so you can recall your favorite stations
It is very portable
Clear, loud sound
Perfect size for home, the office, or anywhere
Cons:
It is a bit more expensive than other radios
May be difficult to pair a phone for those not up-to-date on technology
In Conclusion
If you want to keep up with the latest news or listen to the latest music without having to open your computer or smartphone, an AM/FM radio is portable, easy to use, and very affordable. The Sony Portable Mega Bass Stereo is a bit more expensive than the rest, but it combines an old-fashioned radio with modern features like Bluetooth connectivity and booming base, making this the best AM/FM radio that you can take with you anywhere.