Some links on this page are monetized by affiliate programs - see disclosure for details.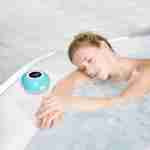 The majority of people find themselves singing in the shower. Having a shower radio is an excellent way to provide some backup singers or at the very least some relaxation and enjoyment.
A shower radio can help people become energized for their mornings through listening to the morning news report, or it can serve as a relaxer and help them unwind at the end of the day. A shower radio is an essential part of any great shower experience.
See: 10 Top Rated Shower Radios of 2020

Introduction: What is a Shower Radio?
A shower radio is similar to a traditional radio but is configured for protection against water so that it may be used in the bathroom, pool, or other wet conditions. In order to function, these radios are typically battery powered and come with a hook or suction cup so they can be installed in a bathroom. These radios connect to local stations to play programs, music, and news for the listener.
Why Own a Shower Radio?
Taking a shower is an essential part of life that most people do at least once a day. Though the time in the shower is dedicated to getting clean, it doesn't have to be a boring continual chore day after day. Having a shower radio can play music to keep you entertained, or you can listen to news reports and programs and become informed on what's going on in the world while getting clean.
Before you buy a shower radio, personalize it to you and your space. Figure out how much room you have for the radio, and how you would want to install it. Consider your shower's head and walls and find the shower radio that suits them the best. The development and progress in the technology of shower radios has developed into a growing field with many available options.
What are the Different Types?
There are four types of shower radios to consider. Some have been around for a while and are more simplistic than other choices. The way you listen to music in the shower too will help you narrow down the choice.
Analog
Analog shower radios are notable because of how they affect radio tuning. Consumers choose their own radio stations and channels manually and by hand, adjusting the radio to their desired stations. Analog radios are often very simplistic and easy to use for a wide range of clients.
Digital
Digital shower radios contrast with analog radios in their tuning functions and settings. Rather than manually operating the radio to search for a station, digital radios automatically find stations and radio frequencies that already exist. Additionally, these radios usually have preset buttons that allow for increased ease of use.
Bluetooth
Bluetooth or wireless radios can directly connect to mobile phones, tablets, iPods, and computers. This allows for music programs like Pandora and Spotify to stream from the device and through the shower radio. Bluetooth radios therefore offer the most varied and widest libraries of music.
Travel
Travel shower radios are a much more simplistic and basic device than regular analog, digital, and Bluetooth radio devices. They are much more compact and flexible, which makes them easily transportable for traveling. They are often much less expensive than other radios but also have more limited available features.
How Do You Maintain a Shower Radio?
Shower radios are designed to be simple. They typically don't require much maintenance. However, a few simple steps will keep your shower radio working great for years.
Watch out for signs water has leaked into the unit. These signs won't necessarily be very obvious right away. Watch for rust around any seams in the device. Also, keep an eye out for fogginess behind any screens.
If the radio ever stops working, first check the batteries. They might need to be replaced. If it's still not working, make sure the layout of your bathroom isn't blocking radio waves. If that's not it, the unit itself might be damaged. A non-working radio poses no risk of electrical hazard. Fortunately, most shower radios – especially travel radios – are made with durability in mind.
Breaking Down the Top 3 Contenders
The Sangean H201 Shower Radio is well known in the market of shower radios. It is classified as a Digital radio, and has both AM and FM radio connections, with up to ten preset stations available, and is well known for its superior reception quality even in areas with low coverage. It is waterproof, eliminating any potential damage caused by getting wet. Additionally, this radio's sound quality is extremely high, even with loud volume, which ensures it will be clearly heard over the sound of running water. It is battery operated, comes with an installation bracket and hanger, and contains other features of an LCD screen, a flashlight, clock, and emergency buzzer.
The iFox iFo12 shower speaker is completely waterproof, and boasts that it is even submersible into the water. It is also extremely durable and can handle being dropped onto the shower floor. It also has high sound quality that is very loud, even though the speaker itself is a very small size. Additionally, it has a very high battery life that lasts much longer than many of its competition. This iFox speaker is most well-known for its Bluetooth connectivity, and as it can be classified as a Bluetooth speaker. This allows for smartphones, tablets, computers, iPods, and other devices to connect to it and stream music through it, causing limitless music possibilities. This radio sticks to the shower wall like a suction cup.
The ICFS79W Digital Tuner Shower Radio by Sony is another viable option for a quality shower radio. The digital tuner allows for up to twenty preset stations, making it easily usable. This radio comes with a hanging strap to secure it in the bathroom, and also is easy to hold and set on a flat surface without risk of falling. Additionally, this radio has a button specifically for weather forecasts, allowing users to hear their local weather easily. This radio also features a clock as well as a preset timer that can turn the radio off by itself. It connects to both AM and FM radio stations and is known for its strength of reception. Additionally, it has a countdown timer to keep a user on track with time in the shower, and its large speaker ensures that it will be easily heard even in loud conditions.
Factors to Consider when Choosing a Shower Radio
Price
The market for shower radios is growing, and technology continues to develop newer and faster models. Unfortunately, this can often result in a rise in prices, rendering some shower radios unaffordable for many people. If the shower radio is a part of your daily life, then a more expensive radio may be worth it. However, if the radio will only be used occasionally, a less expensive radio may be the right choice.
Sound
Superior sound and volume can make or break a listening experience. The sound quality of any radio is important to consider, but it is even more important in a shower radio that must be strong enough to be heard over the sound of running water. Additionally, many people like to adjust the sound themselves throughout the course of their shower, so finding a radio where volume can be adjusted easily is essential.
Features
One of the biggest things to consider when buying a shower radio is what features you want it to have. This can be as broad as what music you want it to play. If you're interested in listening merely to AM and FM stations, many radios will offer them. However, if you are looking to play your music connected to a Bluetooth or wireless device, the options for shower radios can become more limited. Additionally, if you want or require features like a clock, timer, flashlight, or weather forecast, learn about what specific features each individual radio offers before your purchase.
Installation
A shower radio must suit the individual shower in which it is being used. For example, some shower radios that stick onto a shower wall with a suction cup would not work on a fully curtained shower or on other shower wall materials. Similarly, the installation of many shower radios requires them to be hung or attached to the shower head. Removable shower heads or heads that are extremely large and bulky could pose a problem for radios being installed in this way. Consider how you will attach or hang the shower radio and fit your purchase of a radio to your own individual bathroom.
Price
Sangean H201
This brand is slightly on the more expensive scale, but does not exceed the prices of its competitors by a great deal. Although it is on the higher end of the expense scale, it is still relatively affordable, especially for a client who will use it regularly.
iFox iFo12
This brand is extremely affordable while still maintaining high-quality features. It is on the lower end of the scale in prices for shower radios, but is smaller in size.
Sony ICFS79W
Although this speaker is very high quality with numerous excellent features, it is far more expensive than its competitors. It is one of the highest prices for shower radios on the market. However, if this shower radio will be a stable part of your life, the higher price may be worth it.
Sound
Sangean H201
This shower radio is well known for having excellent sound quality at a very high volume as well. Customers typically have no complaints with the sound they receive from this radio, making it at the top of its class for shower radios.
iFox iFo12
This shower radio is very small, but known for still having a powerful sound. However, some customers state that at high volumes the sound distorts, and that it only plays one channel of music. Even so, the majority of users are satisfied with the sound it produces.
Sony ICFS79W
This radio is known for having superior sound quality. It also has very strong radio reception which makes the sound even clearer and better. As far as sound goes, this radio will be one of the loudest and clearest.
Features
Sangean H201
This shower radio has a wide variety of features that make it an excellent product, including its LCD screen, flashlight, clock, and emergency buzzer. These features also include ten preset stations, putting it very high on the list for shower radio features.
iFox iFo12
A major drawback of this shower radio is that it only connects to other devices, and is limited on what it can do on its own. Some users don't want to have to use their phone or computer as well, and would prefer a device that could do everything on its own. Also, this radio is just for playing music and doesn't include other features like a clock or LCD screen.
Sony ICFS79W
This Sony shower radio has many features, more so than many others of its kind. It includes up to twenty preset stations, an LCD screen, and an extremely useful countdown timer that many people enjoy and use regularly. It also can find weather updates at any time which is another positive feature this radio contains.
Installation
Sangean H201
This shower radio comes with a bracket and hanger which drapes over the shower head. This method seems to satisfy all customers and adapt well to the individual bathroom.
iFox iFo12
This radio is installed with a suction cup onto the shower wall. It is known for the strength and longevity of the suction cup, but some people can't use this type of installation device because their shower is entirely surrounded by curtains. However, if a suction cup works for your individual bathroom this radio may be the perfect choice.
Sony ICFS79W
This radio is installed with a bracket and hanger to keep it in place over the shower head. Customers are typically satisfied with this method of installation.
Conclusion: Our Final Shower Radio Reviews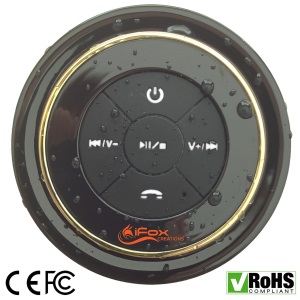 If the price is the most important factor to consider when buying a shower radio, then one of the best shower radios in this category is the iFox iFo12. This radio is one of the most affordable of its kind while still maintaining high quality and high customer approval ratings.
Pros:
This radio is highly affordable and easily connects to any Bluetooth device
Cons:
Sometimes has sound quality issues and needs other devices to operate.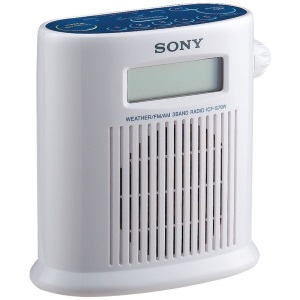 The Sony ICFS79W radio provides many features and delivers high-quality sound and reception.
Pros:
Many features, high-quality sound, high-quality reception, long lasting
Cons:
Still highly priced for customers who are on a budget for shower radios.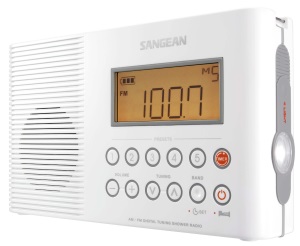 The Sangean H201 shower radio is the best show radio when you consider and compare all the features. This radio maintains superior sound quality and reception with many features while remaining affordable and user-friendly, giving it the highest customer satisfaction ratings on the market.
Pros:
LCD screen, flashlight, clock, emergency buzzer, high-quality sound, high-quality reception, easy installation
Cons:
Could be slightly on the expensive end of the market
In Conclusion
When choosing the best shower radio for you, consider the numerous options available. Choose a radio based on the features, sound, price, and installation that work best for your individual lifestyle and bathroom. If all of these factors are considered, you will be sure to find the perfect shower radio to give you the perfect start to your day. Looking for the best? You can't go wrong with the Sangean H201.