Some links on this page are monetized by affiliate programs - see disclosure for details.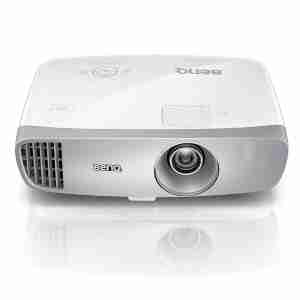 Entertaining is complicated. You can throw a dinner party, sure! But the variables involved in ensuring everyone leaves impressed are mind boggling. The menu must be general enough to please the finickiest of eater. The mood music must not offend. The children must be squared away. Don't forget seating arrangements: who are you going to sit next to your mouthy neighbor Harry? And how are you to guarantee the evening's conversation is light yet interesting enough to have everyone saying your event was THE event?
We're exhausted just thinking about it.
The truth is that entertaining during the summer months can be simple with the purchase of a projector for outdoor movies. Order some sandwiches, fill-up a cooler with refreshments, and project a favorite Hollywood motion picture onto your garage door. The unique nature of watching moving pictures dance off of the side of your house under a starry, moonlit night will have everyone talking about your hospitality for months to come, and all you have to do is push a button.
Comparison: The Top 10 Best Outdoor Projectors of 2018

What is an Outdoor Projector?
An outdoor projector is a Home Theater system that allows you to project videos onto any surface. The devices are the size of a cable box, yet are portable enough for use in a wide variety of spaces, whether it be your bedroom, living room or backyard.
Most projectors are equipped with resolution and brightness that rival, if not best, images on your TV screen. And with screen projection sizes that can range from 100-300 inches, you can have the feel of a movie theater screen in the confines of your own backyard. Depending on the device, content is delivered by HDMI cable, wifi, or you can download content directly onto internal storage. Sound is delivered not only through the device itself, but audio output sources are also provided so you can connect powerful speakers to the projector. Some more lux models even come with 3D projection options. So with the right projector, all you really have to provide your guests is the popcorn with butter-like substance to replicate the movie-going experience.
Related: Our Guide to the Best Outdoor Speakers
What are the Different Types?
There is a surprisingly large variety of projectors for outdoor movies available on the market. A projector can be a sizable purchase, so it's important that you take inventory of what you need and narrow down what options make the most sense for you. To get you started, here is a list of the different types of projectors available on the market:
Wired Connectivity
Many units require some form of external wired connection such as a HDMI or USB connection to deliver content. These movie projectors receive content from external devices such as Blueray players or laptops, thus requiring use of a cable or USB stick. Projectors using exclusively wired connectivity are generally cheaper than their wireless counterparts. If you are on a budget, this isn't much of a practical concern for outdoor movie use so long as you are willing to download movies onto a laptop and are able to connect your laptop to the projector.
Wireless Connectivity
Recently, most manufactures of home projectors have included wifi connectivity so you can stream content directly onto your device without use of wires or USB. Basically, this functionality is similar to most modern DVD players which also come with wi-fi connectivity. As long as your are near a strong enough signal, you will be able to stream Netflix, Chromecast or other such streaming services from your projector onto any surface. If you wish to rely on a wireless projector for outdoor use, it's imperative that you determine strength of your wi-wifi connectivity in your backyard or any outdoor area where use of the projector is intended.
LCD Projection
LCD projection has been around since the 80's and uses liquid crystal displays and a three mirror configuration to cast video content onto viewing surfaces. This sounds like antiquated technology, but LCD projection has been modernized in recent years and often offers you a brighter projection, which can be good if you want to start your outdoor movie during twilight hours. LCD projectors may not offer you the sharpest picture, but the bonus here is that the LCD projector is often your least expensive alternative.
DLP Projection
DLP projection utilizes standard lamp light source and millions of micro mirror technology to deliver detailed images to your screen or other viewing surface. This technology is used in most movie theaters and is known for providing better video projection and less pixilation. One disadvantage is that the DLP uses a color wheel against its light source, and this is sometimes known to produce colored shadows in the projection. However, compared to LCD projection, the DLP provides for an enhanced viewing experience with slightly higher cost.
LCOS Projection
This technology is a hybrid version between LCD and DLP. LCOS technology looks to limit the deficiency found in both LCD and DLP technology and offers the crispest, brightest image on the market. There are limited number of LCOS projectors on the market, however, and can often be cost prohibitive for the average consumer's intended use.
What are the Benefits of Using a Projector?
Projectors for outdoor movies provide a high value, unique entertainment experience at a low cost and easy set up. For the price of a family trip to the movie theater, you can purchase a projector in the afternoon and, by evening, binge watch your favorite movies or television shows on the side of your home or a separately sold outdoor movie screen. If you already have an internet connection with strong wifi signal, the show literally starts when you remove the device from its box. The uniqueness of the projector option is also worth consideration: every other one of your neighbors this summer will either throw expensive dinner parties or BBQ's. But with a projector, you can be the only one on your block who brought the movie theater experience to your backyard.
Our Top 3 Outdoor Projector Models for 2018
Emitting 20% more brightness than traditional LED projectors, this Crenova outdoor projector works terrifically in all dark conditions. Capable of projecting from 37 inches to 130 inches, it can project at distances of 1.2 meters to 3.8 meters, making it quite versatile. Coming with a HDMI cable, it delivers crisp, clear, high definition video.
This lux projector for outdoor movies is the star of the show. With a projector bulb burning at 4400 lumens and HD quality imagery, you will never again leave the comfort of your backyard for a movie theater, weather permitting of course. At a higher price range, this projector is HDMI ready and capable of delivering content from devices ranging from your laptop to a Roku stick.
Powered by 2,200 Lumens-intense brightness and utilizing DLP projection technology, this mid to high price option is ideal for those looking to replicate the movie theater experience in their backyard. Beyond the projection quality, BenQ focuses also on audio delivery by adding CinemaMaster Audio functionality. These 10-watt speakers are included in the unit and provide exceptional sound delivery to match the sharp images you see on screen. This is particularly advantageous for those who want to get on with the show instead of setting up external speakers in the backyard. At a higher price point, those who both intend regular use and enjoy pristine video quality should definitely give this model a closer look.
Considerations for choosing the right unit
Compared to other classes of consumer electronics, a high-quality projector for outdoor movies is not going to put you in the poor house. Maybe a little winter budgeting is required to get a projector by summertime, but anyone with the dream of outdoor movie going will find a high-quality projector to be a manageable, worthwhile expense. Whatever the price, however, you want the best projector you can find for outdoor use. The following are some considerations when shopping for a projector for outdoor movies:
Brightness
Beyond all other factors, you want to make sure your projector for outdoor movies projects with a high level of brightness, which is measured in ANSI Lumens. Generally, individual consumer projectors start at 1000 Lumens and are available up to 10,000 Lumens. Obviously the higher Lumens, the higher the cost. For normal outdoor use, the best range is between 2200-6000 Lumens Lumens. If you envision starting your movie nights in the late afternoon, its recommend that you purchase a 4400 ANSI Lumens projector.
Projection System
There are three projection configurations on the market: LCD, DLP and LCOS. LCD utilizes liquid crystal display technology and three mirrors to cast video imagery onto the screen. These projectors are often your cheapest alternative and cast a sharp enough image to get the job done. DLP, on the other hand, utilizes millions of micro mirrors and a color wheel, not unlike movie theater projectors, to project images on the big screen. DLP systems are known to bring razor sharp imagery to screen but with the occasional cloudy visual deficiency.
Finally, LCOS projectors are the new kids on the block; they represent a hybrid alternative to LCD and DLP technology. These projectors are generally more expensive and bulky and, while they deliver first in class video imagery, are not that practical for out of door use. Ideally, if you are looking for a good outdoor use projector, its recommended to buy a DLP or LCD system matched with a high lumens bulb.
Connectivity
Projectors for outdoor movies should be easily connected. This functionality brings forth two considerations: mobility and content delivery. First, if you are primarily relying upon your projector for outdoor movies, you want it to be mobile. A lot of projectors that advertise outdoor availability are big, awkward machines that will make it difficult for you to move from one space to the next, much less set up efficiently on your lawn. A good outdoor projector can range in size from an iPad to a reasonably sized cable box. If your primary use for the projector is outdoor movies, it's imperative you find a machine that is easy to move and simple to set-up.
Second, this is 2016- there is no reason to buy a projector that does not, at least, have an HDMI connection to deliver content from your laptop or streaming stick. Most reasonably priced projectors come with Wi-Fi Connectivity and even small internal storage units, which easily allow for streaming content in your yard. When picking a projector, select image quality first, but make sure there is at least an HDMI connection so that you can easily access your video content.
Brightness
Epson Home Cinema 1440
This EPSON casts video with a bulb burning at 4400 Lumens ANSI. This high level of performance will cost you, but you be able to project movies anywhere at almost anytime.
Crenova XPE460
The Crenova 20 Pro offers projection at 100 lumens. For the low price range offered, this is the best value for your money in terms of brightness. This projector will allow the movie to begin around twilight.
BenQ HT2050
This projector offers projection at 2200 lumens. This is the lowest you want to go on the brightness scale if your intention is to use a projector outdoors. At 2200, lumens, however, you will still light up a screen and impress your audience.
Projection System
BenQ HT2050
This DLP system combines a respectable 2200 lumens with clear, precise imagery. This is the Home Theater you want to impress your guests with both movie and gaming content.
Epson Home Cinema 1440
By far the best LCD system available, Epson has upgraded this projector with its 3LCD technology which provides accurate color and sharp image. Combined with the 4400 lumen lamp, this higher end model is the way to go if you are planning on entertaining true movie buffs.
Crenova XPE460
This LED option provides HD quality imaging with 1000 lumens. This projector will deliver sharp, reliable imagery, but it won't blow away your audience with movie theater quality video either.
Connectivity
Crenova XPE460
Feauting WiFi connectivity, this Crenova outdoor projector can connect wirelessly to iPads, smartphones, and a number of other devices. With a HDMI cable output, it allows you to project crisp, clear, high definition audio.
BenQ HT2050
This is a slightly bulkier projector at 10.3 pounds, but its frame does cary with it a powerful DLP projection system. Nevertheless, this model is slightly smaller than the average cable box and will sit sturdy during outdoor use. The machine comes with two HDMI ports and available wireless upgrades.
Epson Home Cinema 1440
This option is a bit heavy and bulky but for good reason, its built to deliver star-bright imagery utilizing a 4400 Lumens bulb. With this high-priced functionality, you want sturdy hardware to protect your investment. And, of course, this machine is still very easy to move from location to location and sets up easily outdoors. This device includes to HDMI ports.
Best of the Best: Our Projector Reviews Are In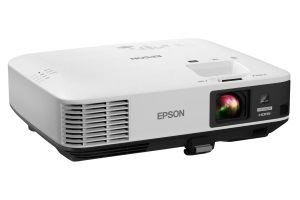 The reviews are in and Epson gets two thumbs up. With its 3LCD technology and overwhelming bright 4400 lumens projection, this projector will stun your guests with amazing imagery and have them thinking they should have purchased a ticket. It's a little on the pricey side, but not bad as far has home electronics go. Sure, there are some bells and whistles missing on this model, including WiFi functionality. But Epson invested its resources where it counts – brightness and clarity of image.
Pros:
– Extremely bright projection;
– 3LCD technology that delivers sharp, colorful images.
Cons:
– Price
– Lack of WiFi capability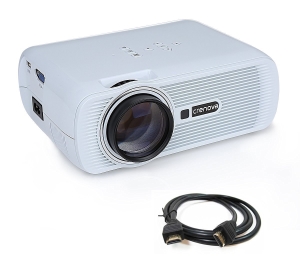 This model comes with the ability to stream from devices such as iPads, smartphones, and more. While it won't provide you with absolutely top-notch picture and audio, it is a great buy for its low price.
Pros:
– Great low price
– Great tech features, including wifi
Cons:
– Does not offer movie theater quality imagery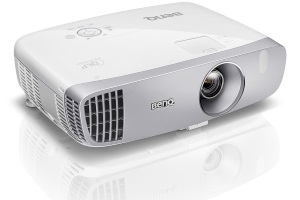 This model utilizes DLP projection technology for first class video imagery. If the brightness were higher than 2200 lumens, this would give the Epson a run for its money. Nevertheless, if you are looking for a quality projector for heavy indoor use with an occasional outdoor night movie, you should look into this BenQ model.
Pros:
– Delivers stunningly sharp, colorful images;
– Good for gaming and movies.
Cons:
– Price
– Disappointing brightness for price
Conclusion
Bring the magic of Hollywood to your backyard this summer with a projector for outdoor movies. This simple, elegant solution to the typical boring summer dinner party will leave your guests entertained and talking about your innovative hospitality for months to come. Looking for the best? You must consider the Epson Home Cinema 1440.