Some links on this page are monetized by affiliate programs - see disclosure for details.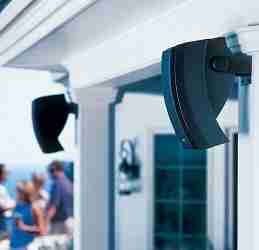 Summer is a time for relaxing around the pool, playing in the yard with the kids, or just kicking back and relaxing on a comfy lounge chair. What could possibly be better? How about your favorite tunes?
Don't crank up the indoor speakers just to barely hear your favorite songs. Instead, bring the party outside with outdoor speakers that are designed to be used outdoors. You don't have to save them for summer, either. You can use them anytime you're outdoors, all year long.
Top Rated: Ten Best Outdoor Speakers of 2018

Smart Guide Introduction: What Are Outdoor Speakers?
Outdoor speakers are audio speakers that are designed to be used outdoors. While they may look like traditional indoor speakers, they are created with materials that are built to withstand the elements. Most outdoor speakers can get wet without affecting performance, and more expensive models can easily take on rain, snow, wind, and other extreme weather conditions.
Outdoor speakers allow you to listen to your favorite music or audio while you're outdoors. They are ideal for cookouts, pool parties, or even just for typical days when you're hanging around outside.
Related: Our Guide to the Best Outdoor Projectors
What are the Different Types?
If you love spending time outdoors while you're at home, outdoor speakers are a great investment and an easy way to entertain your family, friends, and other guests. If you're considering purchasing outdoor speakers, there are a few types that you need to be aware of before you spend your money.
Wired
These speakers look similar to the speakers you use inside of your home, but they are designed for outdoor use. These require installation, which includes burying wires and connecting to an audio source, like a stereo.
Wireless
Wireless speakers are a convenient option because you do not have to plug them into a power source. This makes them portable, so you can move them as needed, as well as ready to use right out of the box. These have an adapter that can be plugged directly into your phone, tablet, or computer.
Bluetooth
These provide true wireless capabilities. Simply link your Bluetooth-enabled device to the speakers, and you can listen and control your tunes with absolutely no wires.
Mounted
Unlike other speakers that are on the ground or placed on other solid surfaces, these can be mounted on a wall, like on the side of a pool house. Use multiple speakers to create a surround sound effect outdoors.
Hidden
If you don't want a speaker sitting in the middle of your yard, consider buying hidden speakers, which are designed to look like rocks, birdhouses, and more so you can't even tell that they are speakers.
What are the Advantages of Owning Outdoor Speakers?
Outdoor speakers give you the freedom to listen to music while you're outdoors. If you love to entertain with BBQs, outdoor birthday parties, and bon fires, outdoor speakers offer the convenience you need to easily listen to audio in your own backyard. With the durable construction, you never have to worry about the elements ruining your equipment—these speakers are designed to handle everything Mother Nature has to throw at them.
Which Speakers are the Best for 2017?
Sound Appeal Wireless Outdoor Speakers – If you want a portable speaker set that's priced affordably and has all of the features you want in a great speaker, this set is an option you want to check out.
Yamaha NS-AW350B 2-Way Indoor/Outdoor Speakers – Make sure you can hear your music anywhere in your yard with this quality set that comes with six separate speakers.
Bose 251 Environmental Outdoor Speakers – For sound and performance that is truly unsurpassed, you can't go wrong with this matching set of outdoor speakers.
Considerations for Choosing the Right Units for Your Outdoor Space
When you've decided that you want to give outdoor speakers a try, it's time to start shopping. However, you'll quickly see that there are so many options. Finding the right speakers can be a bit overwhelming, but before you buy, keep these considerations in mind to make the process go smoothly.
Price
Like with anything else you buy, your budget comes into play when you are deciding which outdoor speakers to purchase. A basic portable speaker might cost around $50, while a top-quality set of speakers may cost you several hundred dollars.
Installation
Next, you need to decide whether or not you should install your speakers. Ground speakers or mounted speakers are convenient because they're always right where you need them. However, they require wiring and installation, which is difficult to do on your own and requires a professional's assistance. Wired or wireless portable speakers are a better option if you don't want your speakers permanently fixed in one place.
Bluetooth capabilities
Not that long ago, people were using stereos and CD players as their main source of music. These days, most people play music from their laptops, phones, tablets, and other devices. If you don't want to purchase a stereo system or you just keep all of your music on your mobile device or computer, looking for a Bluetooth-enabled speaker that allows you to play your music wirelessly.
Number of speakers
If you mostly stick to one area of your yard, one or two speakers might be all that you need for quality sound. However, if you have a larger area, look for speakers that come in sets of four, six, eight, or more.
Price
Sound Appeal Speakers
This is one of the lower priced wireless speaker sets on the market that still delivers quality sound with no interference.
Yamaha Speakers
This is a mid-level outdoor speaker set. However, when you consider you get six speakers included in that price, you'll see that this set is a steal.
Bose 251 Speakers
Bose is known for producing top-of-the-line audio products, and these are more expensive than other speakers on the market. But the sound quality is unmatched.
Installation
Sound Appeal Speakers
Because this is a wireless speaker set that uses Bluetooth technology, no installation is required. Just plug one of the speakers into an 110v outlet, and you're ready to rock.
Yamaha Speakers
These speakers mount on a wall and require wiring to a stereo system. However, mounting and running wire isn't as difficult as one might think, so in most cases, professional installation is not required.
Bose 251 Speakers
These speakers have to be mounted on a wall, ceiling, or railing. They are hooked up with speaker wire to your sound system.
Bluetooth capabilities
Sound Appeal Speakers
You can easily sync your Bluetooth-enabled device to these speakers, so you can listen to all of the songs saved on your laptop or mobile device.
Yamaha Speakers
This product is designed to be hooked to a stereo system, and it does not have Bluetooth capabilities.
Bose 251 Speakers
These speakers are not Bluetooth-enabled, and they must be wired to your audio system.
Number of speakers
Sound Appeal Speakers
This set comes with two speakers that can be used mounted or simply set up on a solid surface.
Yamaha Speakers
You'll get all of the sound you ever wanted, no matter how big your yard is, with six high-quality speakers.
Bose 251 Speakers
With your purchase of these Bose 251 speakers, you will receive two weatherproof speakers for outdoor use.
Conclusion: The Best Outdoor Speakers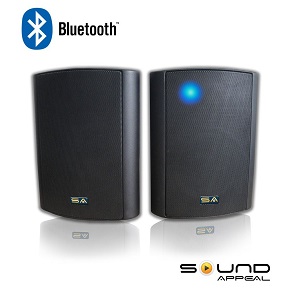 You don't have to spend a fortune to get great audio from your speakers, and this pair from Sound Appeal proves that point. These speakers are equipped with a 60w high-efficiency Class D amplifier for clear sound by your pool, patio, or anywhere outdoors. They're also versatile enough to be used indoors if desired.
You won't have to worry about the elements outdoors destroying your speakers or shortening their life span. These are fully designed to be weatherproof, and they can easily withstand extreme hot or cold without being damaged. It is equipped with long-range Bluetooth, so you can control your music from anywhere in your yard without the hassles of stereos and cords.
Pros:
It is one of the more reasonably priced outdoor speaker sets
These speakers are completely weatherproof
The wireless design means no installation is required
They sync easily with any Bluetooth device
They have great sound quality
Available in your choice of black or white
Cons:
They are heavier and bulkier than other speaker sets
Speaker wire has to be run between both speakers to use both
You can only adjust the volume from your device, not the speakers themselves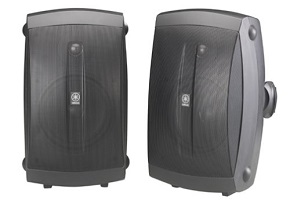 Surround yourself in sound every time you use these Pioneer speakers. For years, Pioneer has been a leader in audio equipment, and these outdoor speakers certainly do not disappoint. These speakers are capable of handling up to 130 watts, and the acoustic-suspension design provides you with clear sound.
You can mount these speakers on the wall or you can purchase a separate bracket to mount them on the ceiling. These units are ideal for using around pools or on porches or patios. They are small enough to remain hidden with careful placing, and hooking them up to your existing stereo system is quite easy. They are water-resistant and designed to hold up well in any outdoor weather.
Pros:
The sound is great
Six speakers allow you to create a surround sound effect and fully customize your audio experience
They are easy to mount
They are easy to connect to your stereo system
Audio is loud and clear
They are small enough to not be noticeable when mounted
Cons:
The grills may fall off over time and need to be repaired
They are not Bluetooth-enabled
They require installation, although installing them is easy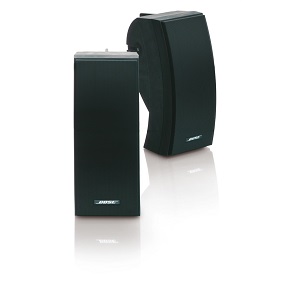 When you think of audio speakers, Bose is probably one of the first brands that come to mind. Bose has become world-renowned for creating innovative speakers that produce quality sound, and this outdoor set is no exception. You'll be able to hear your music clearly wherever you go outside when you install these speakers.
You'll be able to enjoy wide-range sound that is consistently clear. These speakers are designed to withstand extreme heat and cold, as well as rain and snow. Pair these speakers with your stereo system, or use with the Bose Lifestyle system in your home. Even though the speakers themselves are not Bluetooth-enabled, they are compatible with a Bluetooth-enabled receiver, so you can listen to music from your laptop or mobile device.
Pros:
Easy to install
They have a compact design that makes them easy to mount almost anywhere
They produce crystal clear sound consistently
Modern styling looks great
The sound distribution is great
Cons:
These speakers are more expensive than other outdoor speaker sets
Closing Thoughts
On the best days, being outdoors can be very fun and relaxing, but why not kick it up a notch with the addition of your favorite music? Don't rely on poor quality speakers or your indoor system for outdoor entertainment. Instead, pick up a pair of high-quality outdoor speakers that are built to last through any type of weather. Even though they are more expensive than other outdoor speakers, the Bose 251 produces sound that is truly unmatched. These are ideal for any occasion, from your family's day at the pool to a family reunion in your backyard. You won't be disappointed in the big sound and compact size of these outstanding speakers.