Some links on this page are monetized by affiliate programs - see disclosure for details.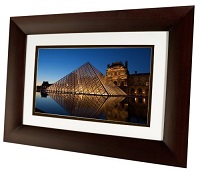 When you have people you love in your life, you want to show them off with photos. When placed in decorative frames, you can easily display the most important people in your life to guests at your home or clients and coworkers at the office. Not only do you get to show off your family and friends with photos, but you can also reminisce about some of the best moments in life just by looking at a photo.
If you have a lot of photos that you want to display, putting each in a frame creates a cluttered look. When you want to show off and remember all of your favorite moments in life, a digital photo frame is the perfect way to achieve this.
Compare: The 10 Top Rated Digital Photo Frames of 2019

What is a Digital Photo Frame?
Unlike a traditional photo frame that uses a printed photo, digital photo frames use the latest technology to display your photos clearly on a small digital screen. Resembling portable DVD players, digital photo frames possess displays that are just as clear as an actual printed photo. You use an SD card loaded with all of your favorite photos to create a photo slideshow of your favorite memories.
The best thing about a digital photo frame is that you can add as many photos as you'd like. Instead of displaying the same picture forever like a traditional photo frame, a digital frame scrolls through your photos, so you can display hundreds or even thousands every day.
What are the Different Types?
There are a lot of different sizes, styles, and brands of digital picture frames on the market. If you've decided that one of these frames will make a great addition to your home or office, there are a few main types to look to consider.
LCD photo frames – These are the most common types of digital photo frames. They utilize a flat LED screen to showcase your photos in crisp, vivid colors.
OLED photo frames – Some of the newest picture frames are utilizing OLED, which has better resolution than LCD technology.
Multimedia photo frames – Truly personalize your photo slideshow with background music with a multimedia digital photo frame. You can even play your favorite videos on these cool frames.
Wi-Fi photo frames – Send photos through email, control your frame from your mobile device, and utilize the power of Wi-Fi with these advanced photo frames that do it all.
What are the Advantages of Digital Frames?
Similar, but different from projectors, digital photo frames offer a bevy of benefits and advantages. With a digital photo frame, you don't have to choose just one of your favorite photos to display. You can simply load your favorite old and recent pictures onto your memory card, insert it into the frame, and you can show off and enjoy memory after memory.
A digital photo frame allows you to combine your favorite pictures of your spouse, kids, parents, grandchildren, friends, and other loved ones in one sleek, convenient frame. There are many sizes and styles available, so it's easy to pick a frame that enhances your décor.
How Do You Maintain a Digital Frame?
Keeping your digital frame looking great is simple, but also a bit different than a traditional frame. First, the frame will always need power. Almost all frames run on AC power, so you'll need to display them somewhere near an outlet. Certain frames are also battery powered. Battery power eliminates any visible cords but replacing them becomes costly.
Clean the frame with a soft, dry cloth or electrostatic wipe. Digital photo frames are cleaned just like laptop screens or LCD TVs.
Fingerprints are a common problem. People often treat a digital frame like a screen and attempt to swipe forward to see additional photos. Fortunately, most fingerprints will wipe away with a dry cloth. Use a damp cloth to remove stubborn smudges.
Our Top 3 Picks for Best Digital Photo Frame in 2019
NIX 8-inch Digital Photo Frame with Motion Sensor – If you want a basic, no-frills frame, this is an affordable option that provides you with high-quality viewing options.
Micca M1503Z Digital Photo Frame – Display your favorite pictures, listen to music, or view videos on this 15-inch frame.
Pix-Star 15 Inch Wi-Fi Cloud Digital Photo Frame – You'll be amazed at everything you can do on this Wi-Fi-enabled frame, which works with apps and your mobile device so you can truly personalize your digital frame.
Features to Think About
When it's time to shop for your digital frame, you may not know what features to look for. Consider these four key points as you shop so you can get a frame that you can enjoy using and viewing for years to come.
Screen size
Frames come in a multitude of different sizes. From 7-inch size that you can put on your desk at work to 15-inch frames that can be mounted on your wall, you can find them all. Determine where you will be using your frame to narrow down your choices.
Finish
Digital photo frames come in many different finishes, which allows you to find one that matches your décor. Choose from faux wood and real wood finishes, metal styles, or plastic in a rainbow of colors that will perfectly enhance your space.
Ease of use
Most people want a frame that is ready to use right out of the box. Look for easy controls, touchscreen access, and remote controls that provide hassle-free picture scrolling.
Price
Digital photo frames have become more affordable than ever. Basic models can be purchased for around $50, while a top-of-the-line frame with all of the bells and whistles may cost several hundred dollars. Decide what features are important to you, then set a budget for yourself based on what kind of frame you're looking for.
Screen size
NIX 8-inch Digital Photo Frame with Motion Sensor
The smaller 8-inch size of this frame is just right for displaying on your desk at home or at the office, a shelf, mantle, or nightstand.
Micca M1503Z Digital Photo Frame
This 15-inch frame is the perfect size for displaying your photos with crystal clear clarity, over 3 times more detailed than standard photo frames.
Pix-Star 15 Inch Wi-Fi Cloud Digital Photo Frame
Enjoy viewing your favorite pictures on a generous 15-inch display with a power saving LED backlight that beautifully enhances your photos.
Finish
NIX 8-inch Digital Photo Frame with Motion Sensor
The black plastic frame complements any décor. This neutral color choice also makes it very easy to coordinate traditional photo frames.
Micca M1503Z Digital Photo Frame
The LCD screen is framed by glossy mirrored acrylic that is sure to match the colors and theme of any room of your home or business.
Pix-Star 15 Inch Wi-Fi Cloud Digital Photo Frame
This frame consists of an LCD backlit screen framed by black acrylic.
Ease of use
NIX 8-inch Digital Photo Frame with Motion Sensor
Operation doesn't get much easier than it does on this NIX digital photo frame. Simply pull it out of the box, plug into a power outlet, pop your memory card in, and you're ready to enjoy your favorite moments.
Micca M1503Z Digital Photo Frame
There's no setup required and no software to install, so you can have your frame ready for viewing in just minutes with its easy plug and play design.
Pix-Star 15 Inch Wi-Fi Cloud Digital Photo Frame
Because it uses Wi-Fi to connect with apps and email, setting up the frame with your network does take a bit of time. However, the included user manual outlines the process to make it fast and easy.
Price
NIX 8-inch Digital Photo Frame with Motion Sensor
If you're looking for a frame that's easy on the wallet, you've found it right here. It can easily fit within your budget. At this price point, it also makes a great gift for any occasion.
Micca M1503Z Digital Photo Frame
This frame is not considered high-end, but it isn't a budget frame either. There are enough extra features to justify the added price when comparing it to less expensive digital photo frames.
Pix-Star 15 Inch Wi-Fi Cloud Digital Photo Frame
This is the most expensive frame on the list. However, it does have many more features than the less expensive models.
Reviews: See Our Top Digital Photo Frame Picks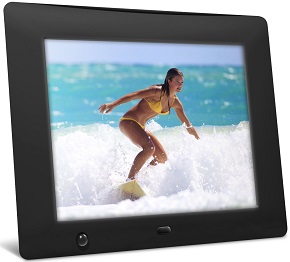 If you just don't need all of the extra features that may complicate a digital photo frame and want a basic one that's easy to operate, this model from NIX has exactly what you want. It is compatible with SD and SDHC cards, and it also features a USB port for easy connection. This is a plug and play frame that doesn't require setup and can be used right out of the box.
The high-resolution 800×600 LCD screen provides you with beautiful clarity. This frame is compatible with JPGs, and you can also watch MPEG4 and AVI videos. There is a split screen option available so you can customize your display, and auto rotate always makes sure your pictures display perfectly. The motion sensor is designed to turn the frame on while you're in the room, and then turn it off again when you leave.
Pros:
It is one of the most affordable digital photo frames available
Your purchase is protected with a one-year warranty
It is compatible with memory sticks and cards
It is able to display photos and videos
A remote control adds to the convenience factor
Cons:
It does not feature internal memory
The plastic frame looks and feels cheaper than high-end frames
Videos do not have sound. Some of the transition effects are jerky and not smooth
The kickstand is a bit flimsy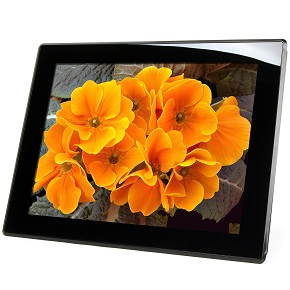 With its large 15-inch LCD screen, this photo frame will be the focal point of any room. You'll be amazed at the vivid colors and clarity of your photos when they're displayed on this affordable model. With the built-in stand, you can display this on your coffee table or mantle, or you can choose to mount it on your wall.
At just 1.5-inch thick, this is a sleek, slim, and lightweight digital photo frame. Use your own preloaded memory card or use the included 8GB SD card to display all of your treasured moments. A remote control makes changing photos and settings simple, and you can even play your favorite videos and music through the built-in speaker.
Pros:
The large size prominently displays your photos
The quality and resolution is excellent
Can be mounted or used with the stand
It has a built-in calendar
It's easy to use and no set up is required
It comes with an SD card for all of your favorite photos, videos, and songs
Cons:
Sometimes if lots of pictures are loaded, only a smaller subset is displayed
Photos may freeze on occasion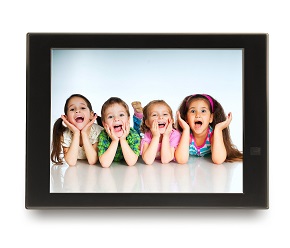 If you want the most advanced features on your digital frame, this Pix-Star frame is going to blow you away. This model goes way beyond the basic frame by allowing you to control your frame from a free app on your phone, lets you email your photos with just the push of a button, and lets you email your pictures directly to the frame.
This frame is compatible with SDHC memory cards, and it has 4GB of internal memory to hold up to 15,000 photos. This frame is compatible with all of the most popular photo sites, including Flickr and Picasa, so you can easily access and display all of your existing albums.
Pros:
Plenty of internal storage, or use it with your memory card
It is compatible with 20 online providers
You can send photos to the frame from your computer or mobile device, and you can email photos from the frame to your friends and family
You can control up to 25 frames with one account
All related apps used to email and control your frame are free
It comes with a small remote for convenient control
Provides weather forecasts
Cons:
Setup takes a bit longer than other frames
The price is more expensive than other frames on the market
In Conclusion
Technology has improved the world around us, and these advances have spilled over into how we view and share our photos. A digital photo frame is an excellent way to show pride in your family, friends, and favorite moments in life. If you really want to be able to customize your digital frame and share all of these moments with just the touch of a button, the Pix-Star 15 Inch Wi-Fi Cloud Digital Photo Frame is your best bet.
When paired with your Wi-Fi, computer, and mobile device, you can fully control the frame from anywhere. Even though the price is a bit more than other digital frames, the memories you can view and share with this easy-to-use interface are truly priceless.