Some links on this page are monetized by affiliate programs - see disclosure for details.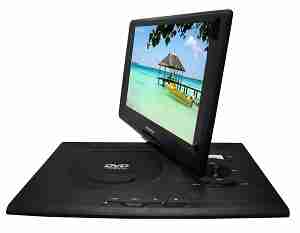 "Are we there, yet? Are we there, yet?" What parent hasn't heard these words when going on a trip. Even if you're just driving for 20 minutes down the road, impatient kids get bored just riding in a car. Maybe you're sitting at home, and your kids are fighting over who gets to watch the TV. Perhaps you're on a road trip with friends, and you've run out of conversation topics. What do you do to avoid boredom, whether you're on the road or sitting at home?
Many people have turned to portable DVD players for easy entertainment. These DVD players can be used anywhere, are lightweight and portable, and are great for entertainment on the go.
Compare: The 10 Best Portable DVD Players of 2020

A Guide to Portable DVD Players
A portable DVD player is a lightweight electronic device that allows you to take your favorite movies anywhere you go. Portable DVD players are great for entertainment anywhere. You can take it on vacation, outside, or even put it in your car with headrest straps.
These players have a small screen for easy viewing, so you don't have to connect them to a separate TV. It also plays audio from the built-in speakers, and it can be used with headphones or earbuds so you don't disturb others around you while watching your favorite movies.
What are the Different Types?
To determine what type of portable DVD player is best for you, it's best to first decide how you plan to use it. There are two main types of DVD players on the market, and while each has the same basic functions, the designs are quite different.
Fold-up portable DVD player
A fold-up portable DVD player is designed like a laptop computer. It folds in half when not in use. When you're ready to use it, simply open the lid to reveal the screen. The screen is located on the top portion for easy viewing, while the bottom portion has the DVD slot and controls. This type is ideal if you plan to sit at a desk or on a couch, and it's perfect for children because sits it sits safely in a lap.
Tablet portable DVD player
These electronic devices are similar to tablet computers. They do not fold up, they are thinner, and typically more lightweight. The DVD screen fills up the entire front, while the controls and the DVD slot are located on one or both sides. These DVD players are suitable for putting in your vehicle with mounting straps.
What are the Advantages of Owning the Best Portable DVD Player?
One of the biggest advantages of owning a portable DVD player is portability. These are ideal for using in the car for children who are bored during long car trips. They are also great to use on your own, with headphones or earbuds, if the TV in your home is being used.
Portable DVD players provide entertainment anywhere you go. Because they have rechargeable batteries, you don't have to worry about the hassle of wires and cords. You can simply charge the player, grab it, and go.
How to Maintain a Portable DVD Player
Portable DVD players are designed to be durable. But you'll want to perform a few simple maintenance steps to keep yours in great working condition.
First, keep the player upright, even when not in use. Never store it upside down or on its side. Doing so can cause internal components to shift out of place.
Also, clean your player once every month or so. Use a small screwdriver to remove the cover to the laser lens. Then gently clean the lens with a soft brush or camera-lens cleaner. Use compressed air to clear out any dust and debris.
If a movie isn't playing properly, the player itself isn't necessarily at fault. Check the DVD for scratches or other signs of damage. Cleaning the disc with rubbing alcohol can sometimes help.
Introducing Our Top 3 Contenders
If you're looking for a portable DVD player that is small in size and price, and big on value, this affordable option has just what you're looking for.
The larger screen size on this mid-level DVD player makes viewing easy for multiple people.
Provide yourself or a backseat rider with the ultimate in entertainment with Sony's 9-inch portable DVD player.
Considerations for Choosing the Right DVD Player
As with any other electronic device, there are hundreds of DVD players available to purchase. Whether you're buying a portable DVD player for the first time or replacing a broken one, take these considerations into mind when you go to make your purchase.
Price
The most inexpensive DVD players start around $50, while more high-end models retail in the hundreds. If you just want a basic DVD player for your kids to use on occasion, a more inexpensive model may be fine. If you plan on using your player often, you may want to invest in a more expensive and durable product.
Screen size
Portable DVD players come with many different screen sizes. For children, a smaller DVD player is lighter and fits easily in little laps. If several people will be using the player at once, a bigger screen size is crucial to the viewing experience.
Design
If your DVD player is primarily going to be used while seated, a fold-up model sits easily on a desk or table for convenience. For usage primarily in the car, a flat tablet-style model that sits flush against the back of a seat will be your best bet.
Accessories
If you plan to use your DVD player for your own personal use without disturbing others around you, look for a model that comes with headphones. If you are going to use your player in your vehicle, make sure that it comes with a compatible car adapter for recharging.
Price
NAVISKAUTO 9-Inch
This basic, entry-level portable DVD player is one of the most affordable on the market. Appropriate for people of all ages, it's quality far exceeds its price.
Sylvania SDVD1332 13.3-Inch
This DVD player is priced around average for mid-level players. However, the large screen, several inches larger than most portable DVD players, makes this model a steal.
Sony DVP-FX980 9-Inch
With a price on the high end of the market, this player currently tops the list as the most expensive. However it is versatile and made by a quality brand.
Screen size
NAVISKAUTO 9-Inch
Its 9-inch screen is on the smaller side, but still allows you to watch movies with an excellent view. For its price, it offers quite a bit of screen size.
Sylvania SDVD1332 13.3-Inch
This Sylvania DVD player boasts a large 13.3-inch screen, making it easy for more than one person to view. The screen of this player is much larger than most other players, which come in 7 and 9-inch styles.
Sony DVP-FX980 9-Inch
The screen measures in at 9 inches and provides clear video with bright, vivid colors that make viewing more enjoyable.
Design
NAVISKAUTO 9-Inch
A small, almost-handheld DVD players, the Naviskauto can be either placed in your lap or mounted to the back of a headrest. Made out of durable plastic, it can withstand a great deal of wear and tear.
Sylvania SDVD1332 13.3-Inch
This is a fold-up DVD player that can rest comfortable on any sturdy surface. The large screen, combined with this design, makes it easy to set it up so multiple viewers can enjoy the show.
Sony DVP-FX980 9-Inch
The fold-up style DVD player features the high quality, elegant design that many Sony products are known for. At 3 pounds, it's a little heavier than some competitors.
Accessories
NAVISKAUTO 9-Inch
In addition to the DVD player itself, this package comes with a remote, a headrest mount, a cigarette charger, a wall charger, and a user manual.
Sylvania SDVD1332 13.3-Inch
With the purchase of this portable DVD player, you will receive a remote control, ear buds, and two chargers, one for home use and one for your vehicle.
Sony DVP-FX980 9-Inch
If you purchase the Sony portable DVD player, you will receive a car charger, an AC adapter, and a remote control.
Conclusion: Our Top Portable DVD Player Reviews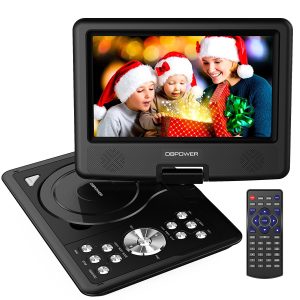 While the truly top-tier portable DVD players can go for fairly high prices, there are a number of high quality players available at reasonable price. One of these is this portable DVD players by DBPOWER. Measuring in at 9.5 inches and capable of folding up into itself, it can be carried around and stored away with ease. If you're looking for the best portable DVD player at a fair price, this is the player you're looking for.
Pros:
Folds up into itself
Decent-sized 9.5 inch screen
Comes with a remote
Cons:
It doesn't stay charged as long as high-end models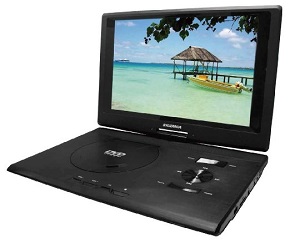 Enjoy watching your favorite DVDs on the go with this convenient player. You'll have no problem catching all of your favorite scenes on the generous 13.3-inch screen. Tilt and swivel the screen so everyone can have the best viewing angle. Charge it at home or in your vehicle with the two included adapters, and enjoy your movie in private with earbuds.
If you're not in the mood for movies, how about some music? This DVD player not only plays DVDs, but it also plays your favorite CDs. With the built-in SD card reader, you can also look through your favorite pictures or listen to your MP3s. This model truly offers you a full range of entertainment options anywhere you go.
Pros:
The price is affordable for many budgets
The built-in card reader allows you to view any media saved on your SD card
It comes with everything you need for use at home or on the go
The large screen displays a crisp, vivid picture
The two built-in speakers allow you to hear your movie perfectly
A remote control is included, which allows you to control the DVD from a short distance
Cons:
It has a short battery life
It can be quite noisy when playing a DVD or CD
The lid mechanism feels very cheaply made and could break easily if handled too roughly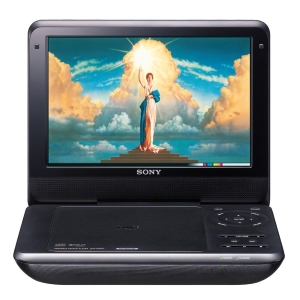 Most electronics from Sony tend to be among the highest quality picks on the market. This DVD player is no exception. With best-in-class video and audio quality and a sturdy build, this is my pick if price is not your top deciding factor.
In addition to being a really solid portable player, you can also hook the device up to your TV and use it as a regular DVD player. Or mount it in your car with the appropriate connector straps. Lots of options and the ample reviews are, for the most part, highly positive.
Pros:
Good video quality
Sound quality is also terrific with better clarity and higher volume than the rest
Cons:
Slightly heavier and bulkier than some slimmer options
Currently has the highest price tag in its class, so bargain hunters check out the alternatives above
The Bottom Line
If you want to purchase a portable DVD player that you can take with you wherever you go, why settle less than the best? Consider the Sony DVP-FX980. So many features, a portable flip-style design, a trusted brand name, high quality video and audio, and all of the added accessories make this a great entertainment investment for your family to enjoy anywhere.