Some links on this page are monetized by affiliate programs - see disclosure for details.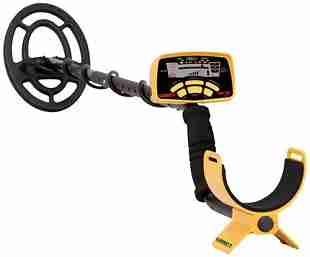 Have you ever read a story about pirates and their buried treasure and thought that finding valuables is something you'd love to do? Being a modern day treasure hunter and explorer isn't too far-fetched.
While you might not have a treasure map and you most likely won't find millions of dollars in hidden treasure, you can take up a fun hobby that gives you the opportunity to find rare, interesting, and even valuable items on the beach, in the woods, or even in your own backyard with a metal detector.
Top Rated: The Best Metal Detectors in 2017

Introduction: What is a Metal Detector?
A metal detector is an electronic device that uses magnets to find metal objects under the ground. It consists of an electric box with a handle, a long pole that reaches close to the ground, and a coil that uses metal to create an electromagnetic field.
If metal is within this field, the detector will alert the user. He or she can then dig into the ground to see what they've found.
What are the different types of Metal Detectors?
Even if you've never used one before, looking for metal with one of these electronic devices is very easy and quite straightforward. It makes a very fun hobby for adults and children of all ages, and it can even be a family adventure. Whether you're looking to replace an old model or you want to try out a detector for the first time, you'll have two different types to choose from.
Beat-frequency oscillation – These are the most basic detectors, and typically, they're the least expensive. These utilize two coils that have slightly different frequencies, which are transmitted via headphones or a built-in speaker.
Very Low Frequency (VLF) – These are more advanced and usually cost a bit more than other detectors. This utilizes two coils, one which is used to find metal, while the other is used to detect depth and the type of metal. These are best used by experts, who can determine whether or not something is worth digging for.
What are the Advantages of Owning a Metal Detector?
Metal detecting makes a great hobby, whether you're six years old or 70. It's quite easy to learn how to use a metal detector and to get the technique down that can help you quickly find metal objects. You can find almost anything anywhere you go, from old and new coins to rings and jewelry. You can even use it to find your keys that got lost somewhere in the yard. Many people who look for metal take their equipment with them wherever they go, whether it's by the lake to the beach or on a mountain vacation.
Although the equipment does seem a little bit overwhelming, most people find that using a detector is quite easy with just a little bit of practice. You can look for metal almost anywhere, it doesn't cost anything after your initial equipment purchase, and it's very fun and exciting to hunt for hidden treasure.
Who are the contenders for Best Metal Detector?
Bounty Hunter Gold Digger Metal Detector – If you're new to metal detecting, this is a great entry-level unit that won't set you back a ton of money. Despite the low price, it comes with a lot of great features, including a lightweight design, easy to use interface, headphone jack so you don't disturb others around you while you hunt, and a mode that allows you to separate trash from treasure, so you don't waste your time digging for something worthless.
American Hawks Explorer II Metal Detector – Take your treasure hunt to the next level with this great unit, which not only identifies the type of metal found but also pinpoints the depth, so you know exactly where to look. It has a comfortable arm support for hours of hunting, features a waterproof coil, and it comes with all of the accessories you need to take your detector out on the road anywhere you go, including a handy carrying case and headphones that allow you to search in private places without disturbing anyone and without hearing one of four audio tones that signal that something has been found.
Fisher F2 Metal Detector with Pinpointer – For the expert hunter, this high-end model is designed for performance. It has all of the great features you could want in your device, including touch pad controls, one-touch depth readouts, a fast response, and interchangeable coil, sold separately. With its ergonomic design, it's comfortable to hold, features a fast response, and comes with one of the best warranties you'll find in this product category. This model is also one of the most lightweight detectors you'll find with all of these features included. It also comes with two coils that can be easily changed out depending upon the terrain, conditions, and what you're hunting for.
Considerations for Choosing the Best Metal Detector
Whether you're a veteran metal hunter or you're new to the game, there's a detector out there that will work for you. Before you drop money on a device that is too difficult for you to use or that just doesn't fit your needs, keep these four things in mind before you make your purchase.
Warranty
Electronic devices can fail over time, but you should expect to get a reasonable amount of use before that happens. Sometimes, problems occur because there was a problem during the manufacturing process. If this occurs, a warranty protects you. You will not have to pay out of pocket for something that has happened because of a defect.
Accessories
Extra coils, cases, and spare batteries are a few items that may be included with your purchase. Look for package deals that include extra accessories at a big discount, so you don't have to purchase each item individually and spend more of your hard-earned money.
Weight
Whether you're out on the beach for five minutes or in your backyard for several hours, a very heavy model can be burdensome. You want to find a lightweight unit that's easy to carry, and things like built-in arm supports make it easy to tote around your detector while you're out on your treasure hunt.
Warranty
Bounty Hunter Gold Digger
You'll receive a 1-year limited manufacturer's warranty with your purchase.
American Hawks Explorer II
Your product is protected for one year after purchase with the distributor's warranty.
Fisher F2
It comes backed with a 5-year warranty, one of the best in the business.
Accessories
Bounty Hunter Gold Digger
No additional accessories are included with your purchase.
American Hawks Explorer II
You will receive a battery, carrying case, and headphones with the purchase of this unit.
Fisher F2
You'll receive two AA batteries, a 4-inch search coil, and a pinpointer.
Weight
Bounty Hunter Gold Digger
At three pounds, this is one of the lightest detectors, making it a great choice for adults and even children.
American Hawks Explorer II
At around six pounds, this is a great size for adults. It has a comfortable arm support that makes it easier to hold for longer periods of time.
Fisher F2
This model weighs just 2.6 pounds with the batteries installed, making it very lightweight and easy to carry.
Conclusion: Our Metal Detector Reviews Are In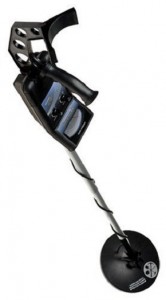 If you've never used a metal detector before, you always have to start somewhere, and you can't go wrong with this affordable model. Its lightweight design makes it an ideal choice for adults and children, while it boasts many great features found on the more advanced (and expensive) models.
This unit features an all-metal mode that helps eliminate finding trash to save time. You can use it without headphones if you're in a private place, or a headphone jack is built-in so that you can search privately without disturbing others in crowded places. Other features include a water-resistant coil that can be used in wet grass, a signal only when metal is found, and a very user-friendly design.
Pros:
It is very affordable. Lightweight and easy to carry for long periods of time. Runs on simple 9-volt batteries. It only signals an alert when metal is found. Can be adjusted to eliminate finding trash. It has decent depth detection for the price. Very easy for beginners to use.
Cons:
The batteries run out quickly. The plastic design feels cheaper and less durable than more expensive detectors. There is no tone variation to alert you if you're getting closer to something. It does not identify different metals like the more expensive models.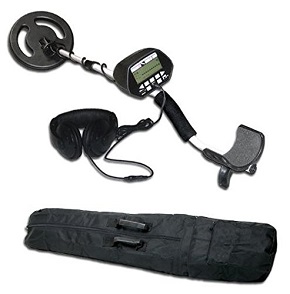 Get everything you need in one affordable package with this affordable unit. Not only will you receive a high-quality detector, but you'll also get everything you need to get started, including a carrying case, battery, and headphones for privacy. This model boasts all of the features you could want, including a waterproof coil and a large, easy-to-read LCD screen.
You won't waste your time digging for nothing, as this model displays the depth, as well as the type of object. It has a high degree of accuracy, several different modes (including All Metal that distinguishes trash from treasure), and adjustable sensitivity and discrimination levels. It emits three different tones so you can easily identify the type of metal, and it can be used with the built-in speaker or the included headphones.
Pros:
It is an affordable mid-range high-end model. Multiple modes and level setting options allow you to personalize your hunt. It is quite accurate. Very easy to use. It comes with multiple accessories. You can use it in shallow water. The aluminum stem is adjustable for comfort. It has a comfortable arm support. It has a user-friendly interface.
Cons:
Some troubleshooting may be required to find the ideal settings for different situations.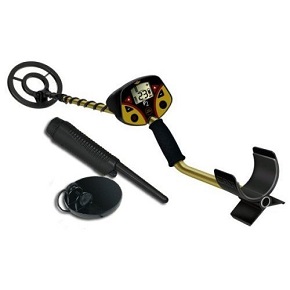 If you've been treasure hunting for quite some time and you want to upgrade your old detector, this is an excellent choice. This model comes equipped with advanced features that make your hunt even more exciting. It has 8-segment target identification and four different audio tones for easy identification. You can easily adjust the sensitivity settings and view depth readings from the large LCD screen.
It has touchpad controls for easy adjustments, a notch system that allows you to accept or reject categories, and it has a coin depth indicator. It's equipped with an 8-inch concentric coil and a 4-inch search coil. It responds quickly when something is found. Even though it's great for experts, it's very easy for beginners to use as well. The lightweight ergonomic design and arm support provide comfort that really makes this model stand out.
Pros:
It is one of the most lightweight models you'll find. Very accurate. It has adjustable settings. The interface is easy to use. It has one of the best warranties you'll find for similar products. Built-in headphone jack to preserve battery power and to avoid disturbing those around you. Comes with two coils. It has different tones for fast and easy identification. It has different coils that you can purchase separately. The 8-inch coil included with your purchase is waterproof.
Cons:
It is a little expensive when compared to other detectors. When close to power lines, there may be some interference.
All in All
Metal detecting is a hobby that many people of all ages absolutely love. Whether you've gone looking for treasures before or you just want to see what all of the fuss is about, you'll need a quality metal detector to make your hunt easy and more fun. The Fisher F2 is a great unit that packs a lot of great features into one lightweight unit. It's ideal for beginners or experts, has great accuracy, and comes with everything you need to be a modern day treasure hunter.