Some links on this page are monetized by affiliate programs - see disclosure for details.
Are board games, TV shows, and movies just becoming too boring for you and your family on the weekends? Are you planning a gathering on a budget, but you want to keep your guests fully entertained? If you're looking to add a little fun to your life, a karaoke machine is a great way to turn up the excitement.
Enjoy singing your favorite tunes with your family, friends, and other loved ones with a home karaoke machine. Kids and adults of all ages can participate in karaoke, making it a fun, family-friendly activity you can enjoy on any occasion.
Compare: The 10 Top Rated Karaoke Machines of 2019

What is a Karaoke Machine?
A karaoke machine is an electronic device used for singing. The great thing about karaoke machines is that you do not have to be a professional singer to have fun. Karaoke machines are used with CDs or karaoke tracks that only have background music and backup vocals, allowing a person to really showcase his or her own vocals.
Most karaoke machines consist of a stereo with various settings that can be used to personalize your sound, one or more microphones, and either has a built-in monitor or can be hooked up to a TV or laptop to display the lyrics to the singer.
What are the Different Types of Karaoke Machines?
If you've decided that you want to try your hand at singing with your friends and family, there are a few types of karaoke machines that you should consider. There are many karaoke machines on the market that have different settings and features and are available at different price points. With an understanding of the types to choose from, you'll be able to find the best karaoke system for your home.
At-home karaoke machine – A basic at-home system consists of a CD player, one or two microphones that are either included or can be purchased separately and basic options like volume settings for voice and music, as well as echo and other effects.
MP3 karaoke machine – MP3 technology has expanded from hand-held personal players to karaoke machines. Instead of using CDS, these machines use MP3s from a phone, MP3 player, or iPod.
Karaoke machine with built-in display – Always know exactly what you're singing when you have a monitor displaying the lyrics. These karaoke machines display the lyrics to the corresponding song right on the built-in screen without the need for additional wires or monitors.
Children's karaoke machine – Easy-to-use karaoke machines for kids are available. These typically use CDs, although MP3 versions are available. These machines are less complicated (and often, less expensive) than more advanced adult versions, and they are typically available in fun colors, themes, and feature fun extras like built-in light shows.
What are the Advantages of Owning a Karaoke Machine?
Karaoke machines are all about entertaining. Whether you just want to kick back and sing the best tunes through the decades with your family or you're celebrating a special occasion, a karaoke machine helps you have fun and create memories with your loved ones. Karaoke machines are portable, so you can take them with you anywhere you go. Use one in your own home, move it outdoors for a birthday party, or take it along with you to a wedding or other special occasion for hours of fun for everyone.
What Size Karaoke Machine Is The Best For Me?
If you're purchasing a karaoke machine to use with your family and friends from time to time, the smallest machines are more than enough. You'll need to provide the TV set, but the small footprint of a karaoke machine matches the intensity that you plan on using it in.
On the other hand, if you plan on using your karaoke machine at big parties, a larger set is appropriate. Larger sets have more songs, more microphones, and may even include a screen that is large enough for distant singers to read from.
For home use, however, these large sets get in the way. So, you should probably aim for a karaoke set that doesn't inconvenience you as much as a large one would.
Who are the Contenders for Best Karaoke Machine?
The Singing Machine SML-385W Disco Light Karaoke System – You'll be the life of the party anywhere you go when you bring this ultra-portable machine along with you. It features everything you would expect from a quality karaoke machine with built-in lights that really get the party going.
Singing Machine STVG352 Karaoke Machine – Don't worry about losing your place when you can easily see the lyrics to your favorite songs displayed right on the screen of this quality karaoke machine.
Karaoke USA GF829 – This great machine is loaded with all of the best features, including MP3 capability and a bright, color screen.
Considerations for Choosing the Karaoke Machine
Once you've decided that a karaoke machine is a worthwhile investment, you'll need to narrow down your options. With thousands of karaoke machines on the market, buying the right one can be difficult. However, by looking at a few key considerations, you'll be able to find the machine that will provide you with the most entertainment.
MP3 versus CD
How do you want to listen to your music? If you're fine with using and purchasing new music CDs, a basic home karaoke machine will work for you. If you want to utilize the latest technology and use karaoke tracks from your phone or MP3 player, look at more expensive versions that allow you to do so.
Ease of installation
Some karaoke machines use extra wires that are required to hook up the device to an external monitor, laptop, or other screen. This could be a hassle if you plan on taking your karaoke machine outside of your home. For the most portability and convenience, look for a basic plug and play model.
Included extras
That karaoke machine you're eyeing may be the most inexpensive, but consider what comes along with it. Are microphones sold separately? Does it come with a starter CD or tracks to get started? Consider what comes in the box and what you'll need to purchase separately to make a more informed purchasing decision.
Price
You should also consider your own budget. Karaoke machines range from around $100 into the thousands for a professional quality machine. If you're just having fun with your family at home, a less expensive model is ideal. If you plan to use your machine in your business or at different events, you may want to purchase a more professional, high-quality model.
MP3 versus CD
The Singing Machine SML-385W Disco Light Karaoke System
This model has a top-loading CD player that makes loading your next CD quick and easy. It is compatible with all karaoke CDs, as well as traditional music CDs for listening.
Singing Machine STVG352 Karaoke Machine
This model allows you to play CDs and CD+G discs. It also has an auxiliary port so you can connect external audio devices.
Karaoke USA GF829
This top-of-the-line home karaoke machine plays CDs, CD+Gs, DVDs, and it also hooks up to any auxiliary device, including MP3 players, iPods, and game consoles.
Ease of installation
The Singing Machine SML-385W Disco Light Karaoke System
This is a plug and play system. Simply plug it into any electrical outlet, and you're ready to go. No additional wires are required to begin using this simple and fun machine, unless you want to hook it up to an external screen for lyrics.
Singing Machine STVG352 Karaoke Machine
This karaoke machine is a plug and play model that requires no installation. It has RCA outputs that allow you to easily connect it to a TV, as well.
Karaoke USA GF829
This machine features an easy plug and play design, and it can be connected to other devices easily with RCA cables.
Included extras
The Singing Machine SML-385W Disco Light Karaoke System
When you purchase this machine, you will receive one microphone. Two microphone jacks are available for an additional microphone, which is sold separately. A demo CD with starter tracks is included so you can begin using it immediately after purchase.
Singing Machine STVG352 Karaoke Machine
This karaoke machine comes with one microphone (although it has two jacks for an additional microphone, which is sold separately), as well as a demo disc.
Karaoke USA GF829
This model comes with two durable microphones, and bundles are also available, which provides you with karaoke CDs that feature many popular songs for adults and children.
Price
The Singing Machine SML-385W Disco Light Karaoke System
This is one of the most affordable karaoke machines on the market. With basic functions and a few extras, it is fun for family nights, and it's also a great option for children.
Singing Machine STVG352 Karaoke Machine
This is a mid-level machine that is great for use at home. With its lightweight design and built-in handles, you can easily take it with you to your special events and gatherings.
Karaoke USA GF829
This is considered a high-end home karaoke system. However, it is equipped with more features than many of the more inexpensive models, which may be worthwhile to buyers looking for all of the bells and whistles.
Conclusion: Our Karaoke Machine Reviews Are In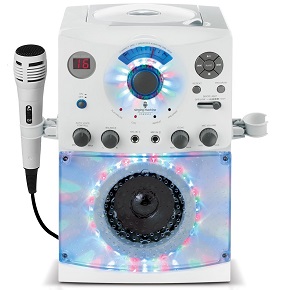 Whether you're new to karaoke, on a budget, or you want to find a great system for your kids, this karaoke machine is a choice you're sure to love. This karaoke machine provides terrific sound, plays all of your favorite CDs, and has jacks and separate volume controls for two microphones, so you can sing by yourself or make it a duet.
One of the standout features of this machine over other basic models are the built-in disco lights. These lights flash and give a great light show, taking your karaoke performance to the next level. Best of all, at under $100, it's easy on your wallet.
Pros:
The built-in disco lights are fun for kids and adults of all ages
It comes with many settings, including auto voice control, echo control, and balance
With the video in/out function, you can easily attach it to a TV or monitor
It is equipped with a convenient LED display, one microphone, and two microphone jacks
Cons:
It does not have a built-in monitor, so a separate screen is needed for displaying lyrics
The machine and the microphone feel cheaply made and not as durable as more expensive machines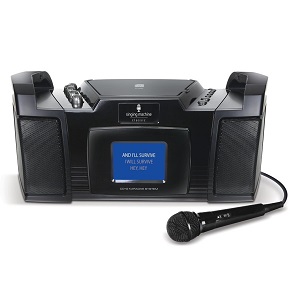 If you're looking for a mid-level karaoke machine that you can use at home or take with you, the STVG352 might just fit the bill. This machine is compatible with all karaoke CDs, and it also hooks up to your other audio devices, as well.
The built-in 3.5" color monitor scrolls through the lyrics of your favorite songs, making it easy to sing along. Echo control and auto voice control make it easy for you to personalize your sound every time you pick up the mic.
Pros:
It is easily connectable to your television
The controls are easy enough for kids to use independently
Setting it up is easy
It is affordably priced for a karaoke machine with built-in display
Cons:
The microphone that is included feels lightweight and cheap, although a different mic can be purchased
The volume is low from the built-in speaker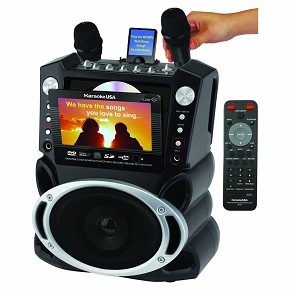 The Karaoke USA GF829 provides the ultimate in entertainment. It offers many of the features found on more expensive professional units at a fraction of the price. The lightweight design makes it portable enough to take outdoors or to a venue for an event.
This system plays any karaoke CD, or you can connect your iPod, iPad, MP3 player, or even a gaming console. It features a 7" color display, and it can also be connected to a television through the output ports. With balance control, digital echo, and other settings, you can sound like a professional, even if it's your first time singing.
Pros:
It comes with two microphones
With the USB/SD card slot, you can record your favorite singing moments
It easily connects to TVs, and you can also connect other audio devices
The large screen makes it easy to see the lyrics without the need for an external source
Each microphone has a long 8-foot cord for convenience
The microphones have separate volume controls
Cons:
As the most expensive machine, this may be out of some buyers' budgets
A humming sound is heard when the machine is turned on
However, it is not noticeable during performances or playback
All in All
If you're looking for a unique way to bond with family and friends, karaoke is the perfect activity. Even if you've never sang before or if your voice isn't the best, singing karaoke is fun for all ages and all skill levels. Once you've made the decision to purchase a fun karaoke machine, the Karaoke USA GF829 has everything you need and more. This machine is durable enough to last for years, provides plenty of extra features, and is ready to provide hours of fun for you and your crew.
Read Next: Our picks for the top 10 best Portable PA machines