Some links on this page are monetized by affiliate programs - see disclosure for details.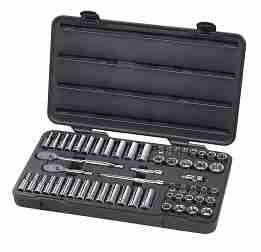 The very first socket wrenches were crude tools with a square-shaped head, used by medieval monks in Europe to wind clocks. About 100 years ago, the design of socket wrenches evolved into the hexagonal shape still used today. Modern socket wrenches are designed to connect to sockets precisely engineered to match industry standard sizes, one in metric and one for the United States.
To provide a lifetime of service, most socket wrenches and sockets are made out of case-hardened steel and then protected with a special coating. Often the wrench has rubber or advanced materials on the handle to improve grip and ease in handling.
See: The Top Rated Socket Sets for Sale in 2019

The Best Socket Set: New 2019 Buyer's Guide
A socket set is simply a collection of sockets and socket wrenches that can be easily connected to one of many standard-sized attachments in order to loosen or tighten a bolt, nut or screw. It's like a tool set, but consists of just sockets, and not other items. In essence, a socket is a "female" head that fits around a "male" bolt, nut or screw. With standard sockets, the socket head matches the dimensions of the bolt, nut or screw.
By taking advantage of this fundamental principle of physics, users of socket wrenches can provide several multiples of their own muscle strength to tighten or loosen nuts, bolt or screws. A socket set is simply a collection of different sized sockets that can be quickly swapped out for use with the socket wrench.
Almost all modern socket wrenches are referred to as a ratcheting socket wrench, as they have a feature that allows them to be turned one way but not the other, making it easier to loosen or tighten a bolt, nut or screw.
These sets usually contain a socket wrench and several dozen sockets that can be quickly and easily swapped out to tighten or loosen bolts, screws and nuts. Often, socket sets are sold as a complete kit that includes a travel case. Homeowners, builders and DIYers can always benefit by having a complete socket set that allows them to quickly loosen or tighten any standard-sized bolt, wrench or nut. Many prominent manufacturers of socket sets are so confident in the quality of their product that they offer lifetime guarantees, giving buyers an added layer of assurance that these tools are meant for decades of reliable use.
How Do You Use a Socket Wrench?
Socket wrenches can seem complicated, but they're simple to use. Probably the biggest challenge is selecting the right size tool for the job. Not many nuts or bolts are labeled, so you'll likely have to find the right size using trial and error.
A perfect fit is key. Using a socket which is too large can strip the bolt. A stripped bolt is impossible to turn.
Once you've found the right fit, you need to select the right direction. Each wrench has a switch which selects either right or left. Select right if you're tightening the bolt and left if loosening.
Be careful when removing a bolt. Once it's free, it can easily fall out of the socket and bounce away from you. This frequently occurs when working underneath a vehicle. Magnetized socket wrenches are a good option if you often hold the wrench upside down or at odd angles.
What are the different types on the market?
Because socket sets are designed to be complete collections, each set naturally varies by the total number of included sockets and other accessories. Many socket sets come complete with a hardened carrying case, offering increased portability and ease of storage when not in use.
Socket wrenches must be carefully milled to be the precise size used by industry standards. Many manufacturers of socket sets coat their ratchet head and sockets in long-lasting, quality finishes to add years of durability to the tools. Other manufacturers use advanced textures to improve handling and grip, and some models now include quick release one-button operation to swap out sockets.
While most sets come sized according to American measurements, some sets are labeled and designed to also be used with many bolts, screws and nuts that are sized in metric measurements.
What are the advantages of owning a Socket Set?
Since manufacturers have been using industry standards to make bolts, nuts, washers and screws for almost a century, nearly every large appliance, vehicle and structure in the home is now compliant with these standards. A good socket set allows property managers, builders and homeowners to tighten or loosen bolts, washers, screws and nuts quickly and easily.
As many manufacturers offer lifetime guarantees on their socket sets, people can benefit from knowing that these invaluable tools are always on hand to provide reliable service for decades. Instead of having to call in professionals to repair, fix or adjust home appliances, vehicles and other items, owners of a good socket set can quickly and easily take care of the problem themselves.
Which models are our top contenders?
This complete 30-piece set comes complete with sockets that are laser etched to meet or exceed American National Standards Institute specifications. Coated with a special rubber grip, the ratchet handle is comfortable to use, and a simple quick-release button makes changing sockets fast and easy.
With a unique and compact teardrop ratchet design and a full 57 different sockets, the GearWrench 80550 is truly a comprehensive socket set. The GearWrench 80550 comes with two teardrop ratchets, both sized to a precise 3/8 of an inch, one with a full-size handle and the other with a special ultra-compact handle.
Each of the 47 sockets included with the SK 94547 is crafted out of hardened steel and then coated with the company's patented SuperKrome finish to provide maximum durability and resistance to corrosion. The entire set comes in a trim forest green carrying case for maximum portability and convenience.
Considerations for Choosing the Right Set For You
Number of Pieces – Some people need just a few common sizes of sockets to get the job done while other people will need a more complete socket set to ensure that every standard size socket is included.
Socket Wrench Design – Since the ratchet handle is most important tool in a set, it is important that it be well-designed and comfortable to use.
Socket Specifications – Most prominent manufacturers offer sockets that meet or exceed industry and legal standards for precision hand tools.
Durability & Warranty – A quality tool set should always be backed by a good warranty, and most socket sets are designed to provide a lifetime of reliable service.
Number of Pieces
The Stanley 92-804
Comes with a full complement of 30 different laser-etched sockets, one patented MicroTough ratchet, and two extension accessories, all neatly contained in a rugged black carrying case.
The GearWrench 80550
Comes with a staggering 57 well-made sockets in nearly every conceivable industry-standard size, as well as three extension accessories. With so many different sized sockets to choose from, the GearWrench 80550 is one of the most comprehensive socket sets on the market today.
The SK 94547
Comes with 19 deep sockets and 25 standard sockets in both metric and American industry-standard sizes. The SK 94547 also comes with two extension accessories.
Socket Wrench Design
The Stanley 92-804
The Stanley 92-804 comes equipped with the manufacturer's patented MicroTough ratchet, engineered to have the smallest ratchet head available in the market today, which allows it to maneuver in even the tightest areas.
The GearWrench 80550
The two teardrop ratches are engineered to be easily maneuvered in even the tightest and most cramped spaces. The ratchets are customed designed to be longer than average to give users even more leverage as they tighten or loosen bolts, nuts and screws.
The SK 94547
The large 7-1/2-inch ratchet features the company's SureGrip hex design, etched into the handle to create a diamond knurling pattern to provide better grip and handling.
Socket Specifications
The Stanley 92-804
The Stanley 92-804 comes with a full complement of laser-etchet sockets that are certified as meeting or exceeding ANSI standards for sockets. All sockets included in the Stanley 92-804 are of standard American sizes.
The GearWrench 80550
All 57 sockets included with the GearWrench 80550 are designed with a serration depth that is as deep as the fastener, increasing leverage as users fasten or unfasten bolts and nuts. Sockets are hard stamped with their size to make them easily identifiable. All GearWrench 80550 sockets are precision milled to match standard American socket sizes.
The SK 94547
The 47 sockets are sized in both American standard and metric common sizes, giving users a full range of sockets to tackle nearly any job. Both of the extension accessories and all of the 47 sockets are coated with the company's patented SuperKrome finish.
Durability & Warranty
The Stanley 92-804
The Stanley 92-804 comes with a limited lifetime warranty, assuring users that these reliable tools will last for decades. The high-quality manufacturing process and laser-etching of each socket will allow these tough tools to allow users to accurately tighten and loosen screws, washers, bolts and nuts for years.
The GearWrench 80550
The manufacturer offers a full lifetime warranty on these well-made tools. With each socket hard stamped and designed longer than average out of top-quality materials, the GearWrench 80550 should provide decades of reliable service.
The SK 94547
The entire set comes with the manufacturer's full lifetime warranty, demonstrating their faith in the durability of their socket set. Every tool in the SK 94547 is coated with the SuperKrome finish to provide maximum resistance against corrosion and rusting.
Results: See Our Final Socket Set Reviews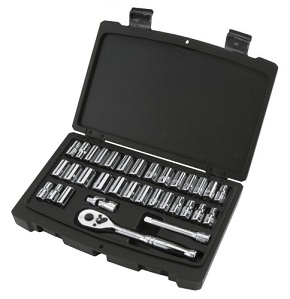 Any new homeowner, workshop tinkerer or builder can benefit from the Stanley 92-804 socket set. Designed to be comprehensive, reliable and easily portable, the Stanley 92-804 comes equipped with one of the company's patented MicroTough ratchets and 30 laser-etched sockets. With an advanced rubber grip and quick-release button on the ratchet handle, using this socket set is simple and ergonomically pleasing.
Pros:
The whole set fits neatly into the rugged black case, making it easy to throw in the back of a truck or store out in the garage
Quick release button and small ratchet head makes using the socket wrench simple and easy
All the socket heads are laser-etched to provide a snug and secure grip on industry-standard bolts, nuts, washers and screws
Cons:
Anyone wishing to tighten or loosen screws, bolts, nuts and washers sized using metric dimensions will have only limited functionality using the Stanley 92-804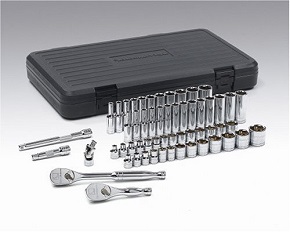 The full spectrum 57-piece set from GearWrench comes in a surprisingly compact rugged black carrying case. With two different high-efficiency teardrop ratchets and more than four dozen sockets precision milled to American standard sizes, the GearWrench 80550 offers homeowners, mechanics and builders the ultimate in flexibility.
Pros:
All the sockets are hard stamped with their size so you never have to worry about paint or labels flaking off
The shorter teardrop ratchet is perfect for especially tight corners or cramped conditions
The extra-long ratchets are great for multiplying leverage, making it easy to get even the tightest bolt unfastened
The GearWrench 80550 is so well built and so comprehensive with 57 sockets, it may be the only socket set you will ever need
Cons:
All the sockets included in the GearWrench 80550 are precision machined to American standard sizes and may serve only limited functionality for bolts sized in metric units
The carrying case of the GearWrench 80550 is extremely rugged and quite stylish, but does not have a handle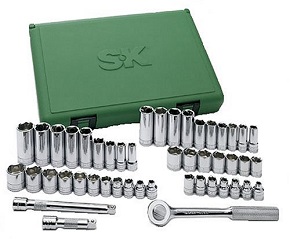 The SK 94547 is a complete set of professional-grade sockets that will allow any homeowner, builder or tinkerer to efficiently and rapidly tighten or loosen both American and metric standard-sized bolts, nuts and screws. The hardened steel of the ratchet handle is etched with the company's signature diamond-pattern knurling known as the SuperGrip design, perfect for minimizing slipping during use.
Pros:
Tough carrying case is both elegant and cheerful with its forest green design
A full 47 pieces in both American and metric sizes allows anyone to tighten or loosen just about any nut or bolt made in a standard size
Full lifetime warranty and long-lasting SuperKrome finish means these sockets will be sparkling and looking brand-new even after decades of hard use
Big 7-1/2-inch ratchet allows anyone to add increased leverage when fastening or unfastening bolts, washers and nuts
All components of the SL 94547 are made in the United States
Cons:
No socket set is ever truly complete, and some very small sized sockets are not included with the SK 94547
In Conclusion
Any homeowner or handyman who wants to tighten or loosen standard-sized bolts, nuts and washers can benefit from having a good socket set on hand. A well-designed socket wrench can quickly multiply the natural twisting force from the user to loosen even the tightest bolts, screws and nuts. A good socket set will contain all of the standard sized sockets needed to perform a variety of repair and building jobs while remaining compact enough to fit into an easily transportable carrying case.
While many socket sets are useful for a few jobs around the home, only the SK 94547 comes with a full range of both metric and American sized sockets to tackle just about any bolt, washer, screw or nut around the home or in vehicles. That's why it's our winner for best socket set. Encased in a lovely forest green case, the voluminous 47-piece socket set from SK consists of extremely well-engineered pieces that are covered by the company's lifetime warranty. Made from durable steel and coated with the company's signature SuperKrome finish, the SK 94547 is likely the only socket set you will ever need to own.