Some links on this page are monetized by affiliate programs - see disclosure for details.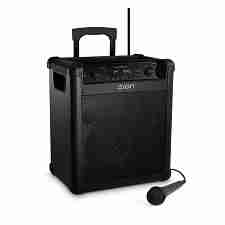 When talking to a crowd in a large auditorium, you want to make sure that every person hears the important things you have to say. If you're performing in a concert or talent show, you want to make sure that your audience is blown away by being able to hear every word.
While you don't need any help talking to a small crowd or speaking in a smaller space, if you're outdoors or in a large room speaking to a bigger crowd of people, your voice may get lost. Don't let this happen. Invest in a portable PA system.
Comparison: The 10 Top Portable PA Systems of 2019

 What is a Portable PA System?
A portable PA system is an electronic device that is used when speaking needs to be amplified, such as during a large conference or a performance. This system consists of a microphone that may be wired or is used wirelessly with a large speaker, or even several speakers. Some may even come with an amplifier and additional components, and most come with all of the wiring you need to get started right out of the box.
These systems are portable. They may be moved around a stage as needed or even taken easily to different locations.
What are the Advantages?
If you need to be heard, you can do so with ease with a quality PA system. You can adjust the volume and various other settings of your voice or music that you're playing to a crowd in outdoor and indoor venues. Since they are so portable, they set up in just minutes.
You don't have to worry about any extensive hardwiring. You can also take them with you, so you can move them around a stage or room or from location to location without hassle. They are also more affordable than hardwired, permanent sound systems.
When are Portable PA Systems Useful?
A portable PA is useful just about anywhere you need to address a large audience. Many corporate environments use a PA for company-wide meetings and addresses. With a portable system, you aren't limited to a conference room.
Another benefit of a portable PA is you can use it outside. When selecting a system for use outdoors, make sure the speakers are large enough for your needs. You'll need more power to cover the same area outdoors compared to inside.
For best results, you'll want to use the system properly. Many people speak too loudly into a PA, which causes distortion. Instead, speak slowly at a normal volume. Use the controls of the PA to adjust your voice volume.
What are the Different Types of Portable PA Systems?
Whether you're a leader at your church, an employee with your school, or you set up your own conferences or performances, a portable PA system may be something you need for your events. If you're interested in purchasing one of these units, the first step is knowing about the different types and identifying which best suits your needs.
All-in-one systems
These are the most portable and typically are the most uncomplicated of all PA systems. These units have everything you need all in one unit. Amplifier controls, speakers, volume controls, and other settings are all contained within one compact unit. These are ideal for smaller venues, and they are a great choice for those who travel and need to take the PA system with them.
Systems with wheels
These are extremely portable, as the speakers come equipped with wheels and a handle that makes it easy to roll and move them from place to place. These are a great choice if you plan to store your unit when it's not in use, or you want to move it from place to place depending upon the event.
What are the Best Portable PA Systems on the Market in 2019?
Have fun and be heard at your next cookout or family reunion with this great PA system, which is lightweight, super portable, and boasts great sound. This compact unit is perfect for use at home or at smaller events, especially your outdoor gatherings. It comes with everything you need to get started, and it's one of the most affordable models on the market.
Amplify your voice at a speaking engagement or crank out your tunes at your next party with this versatile system, which combines classic features and design with modern technology, including Bluetooth capabilities. This affordable unit is durable, portable, and available at a practical price.
If you want to take your mixing board with you on the go for various effects during a performance, you don't want to lug a ton of heavy equipment. You'll get great sound with exceptional versatility with this unit, which includes a mixing board for multiple effects, speakers to carry your voice or music, and everything you need to get started right out of the pack.
Features to Consider
Now that you know more about these types of systems, you might be contemplating a purchase. You don't want to just dive into a purchase, though, and waste hundreds of dollars on something that just doesn't work as you expected. To get the most for your money and to ensure you get a product that will get plenty of use, keep an eye out for these four features that can help you narrow down your selection.
Price
If you're on a budget, you don't want to go overboard and spend way too much money. However, you also need to understand that if you buy a budget system, you won't get as many features and your sound quality might not be as good as with a higher-quality system. Carefully evaluate all features before deciding solely based on the price tag.
Warranty
Any type of electrical device will fail over time. However, you should expect to get at least a few years of use out of your new system before having to consider repairs or a replacement unit. Sometimes, defects cause electronics to fail before they should, and you shouldn't be stuck with the bill for a replacement or repair. With a manufacturer's warranty, you won't have to worry about taking on the cost if your unit fails prematurely or doesn't work as it should.
Included Extras
Sure, the system that has the lowest price tag may seem like a great deal, but keep an eye out for what's included in the box. If you have to purchase different wires, microphones, and other components, that inexpensive model can easily rise in cost. Get the most bang for your buck by looking for an all-inclusive package deal.
Watts
The more watts your system has, the louder it will be. A system under 100 watts may be ideal for small indoor gatherings or outdoor events like pool parties and family reunions. However, conferences in large auditoriums, ballrooms, or outdoor concert halls require more power to make sure everyone hears what you're saying.
Price
Hisonic HS122B-HH
This unit's price makes it a bargain system that's perfect for smaller company events and household use.
Ion Audio iPA76A
With all of the options available on this model, the price tag on this model is a steal.
Behringer EUROPORT PPA200
This is one of the more expensive portable units on the market.
Warranty
Hisonic HS122B-HH
This system is protected with a 1-year limited manufacturer's warranty.
Ion Audio iPA76A
This unit comes with a 1-year limited warranty.
Behringer EUROPORT PPA200
You'll receive a 1-year limited warranty with your purchase.
Included Extras
Hisonic HS122B-HH
This comes with a battery, cigarette charger cable, and two microphones.
Ion Audio iPA76A
This comes with a USB powerbank for recharging and a high-quality microphone.
Behringer EUROPORT PPA200
This comes with a microphone, mic clip, and mic cable.
Watts
Hisonic HS122B-HH
40 watts provides you with enough power at small to medium size indoor and outdoor events.
Ion Audio iPA76A
This unit provides 50 watts of power, enough for almost any type of small to medium size event.
Behringer EUROPORT PPA200
150 watts provides you with plenty of power for almost any event, from a smaller concert to a conference.
Reviews: See Our Top Portable PA System Picks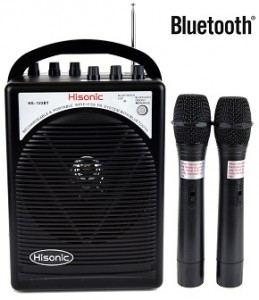 If you don't need a big system and you just want something that is compact that allows you to be heard at your smaller outdoor and indoor events, this is the right system for you. It packs 40 watts of power, so it's just enough power for small and medium sized events, all packed into one small and portable unit.
This has a high-capacity battery that is rechargeable and replaceable, so you can bring it with you just about anywhere. If you run out of juice, you can plug it into your car cigarette lighter with the included cable. It works with two microphones, included with your purchase, is very lightweight, and comes at a great price point for those following a budget.
Pros:
Small but powerful
It is extremely portable and compact
No assembly is required
Easy to use
It is very affordable
It comes backed with a warranty
Cons:
Some of the parts feel cheap when compared to more expensive, higher quality units
The antenna is cheap and fragile
It doesn't offer effect options
It's not a good choice for larger events in large spaces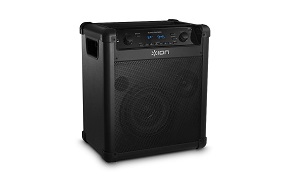 Get more out of your PA system by purchasing a unit that uses the latest technology, like this model from Ion Audio. Not only will you be able to speak with crystal-clear clarity to your audience, but you can also listen to music from your Bluetooth-enabled phone or device, or just tune in to the built-in AM/FM radio with presets. It's a great choice for a pool party or outdoor social gathering.
This unit comes with a rechargeable battery that works for up to 50 hours, so you don't have to worry about losing your sound in the middle of your important presentation or speech. The 8-inch, 2-way speaker provides loud, clear sound, and it also has a port for non-Bluetooth devices to expand your listening possibilities. It is strong, durable, and comes with wheels so it's easy to move from place to place.
Pros:
The wheels and handle make it very portable
Bluetooth capabilities to link to your music and audio
It has play, pause, and other options to directly control your Bluetooth device
Delivers powerful sound
It is affordable
Comes backed with a warranty
Built-in radio for entertainment
It comes with the microphone and battery, everything you need to get started
Cons:
Sound may distort at higher levels
It doesn't have strong bass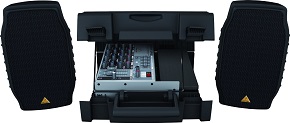 Whether you are a public speaker that travels the country or own a venue where performances and speeches commonly occur, you want to invest in the best. This model from Behringer offers superior quality and sound that is unmatched with 150 watts or pure power.
This 2-channel system has a unique stereo processor that allows you to use many different effects. There are 100 presets including chorus, delay, and pitch shifter to personalize your sound. It all folds up into a lightweight, compact briefcase. It also has two speakers that each have tweeters and 4" subwoofers for high-quality sound. The unit is easy to use – just plug in the speakers and your mic and it's ready to use. A mic is included with your purchase, and the unit has onboard storage for your accessories. It is very portable, comes backed with a warranty, and is easy to use and personalize.
Pros:
Multiple preset options for a customizable sound experience
Easy to use
It's compact and lightweight
Easy to hook up
It comes with everything you need
Feedback is easy to remove for clear sound
It is very loud
The unit feels very durable
Cons:
It is expensive
It does have some plastic pieces which may break over time
Conclusion
Whether you want to showcase your talent to the world or you're speaking to a crowd, use a portable PA system that you can take with you wherever you go. For high-quality sound and customizable options not found on most units, the Behringer EUROPORT EPA150 is the best portable PA system overall. Although it is a bit more expensive than other units on the market, its features, ease of use, portable design, and quality of sound makes it a system that should be at the top of your list.