Some links on this page are monetized by affiliate programs - see disclosure for details.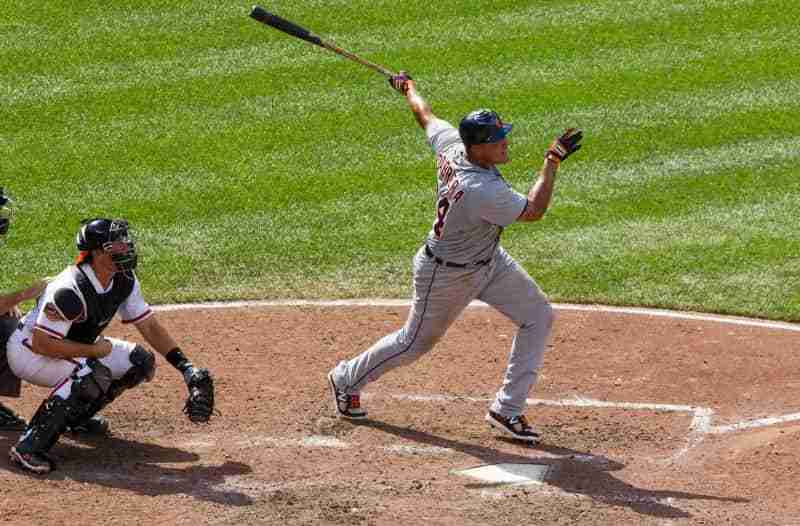 Over its long history, baseball has seen a number of great hitters. Some of these hitters are left-handed. Some of these hitters are switch-hitters. And some of these hitters are right-handed. In this article, we'll focus on those that hit from the right side of the plate. Here are the top 10 best right-handed hitters in baseball history.
1. Hank Aaron
There is certainly room for debate at the top of this list, but Hank Aaron is as good of a pick as any. Hammerin' Hank was a consistent and astounding hitter, totaling 2,297 RBI, 755 home runs, and 3,771 hits over the span of his 23-year career. Those numbers are good for 1st, 2nd, and 3rd all-time, respectively. Due to the PED controversy surrounding Barry Bonds, many in baseball still consider Aaron to be baseball's all-time home run king.
2. Willie Mays
Considered by many to be the greatest all-around player in the history of the game, The Say Hey Kid was ridiculously handy with the bat. With a lifetime batting average of .302 to go with 660 home runs and 1,903 RBI over a 22-year career, Mays struck absolute fear into opposing pitchers. The winner of two MVP awards, his best season came in 1955 when he hit .319 to go with 51 home runs and and 127 RBI.
3. Rogers Hornsby
Second only to Ty Cobb in all-time batting average, Rogers Hornsby hit .358 over the span of a 23-year career. He hit over .400 an incredible 3 times, hitting a remarkable .424 in 1924. But Hornsby didn't just hit for average. He knocked a respectable 301 home runs, totalling 42 dingers in 1922 as well as 39 dingers in 1925. Playing in the time of the great Babe Ruth, Hornsby has an argument as the era's second greatest hitter.
4. Jimmie Foxx
One of the game's all-time great power hitters, Jimmie Foxx often doesn't get the credit he so deserves. Over a 20-year career, Foxx totaled 534 home runs to go with a .325 lifetime batting average and 1,922 RBI. The winner of 3 MVP awards, Foxx's best year came in 1932 when he hit 58 home runs with a .364 batting average and 169 RBI.
5. Albert Pujols
A lot of baseball fans think of that massive contract and the sharp decline his game has taken on since he joined the Angels. But it's important to remember that, at one time, Albert Pujols was one of the most dominant hitters ever to play the game. And despite the fact that his overall hitting has dropped off, he still puts up very respectable power numbers. At this point in his career, Pujols has tallied 591 home runs to go with 1,817 RBI and a .309 lifetime batting average.
6. Josh Gibson
Like a number of great Negro League players, Josh Gibson never got a chance to showcase his skills in the Major Leagues. But if the legends and stories are any indication, he was one of the best to ever swing the bat. Due to his titanic power, he was often regarded as the black Babe Ruth. Because Negro League statistics are shoddy at best, it's impossible to know how many home runs Gibson hit. But it's no stretch to say that he would have easily rivaled all great power hitters playing in the Major Leagues in the 30s and 40s.
7. Miguel Cabrera
To this point in time, at 33 years old, Miguel Cabrera has totaled 446 home runs with a .321 lifetime batting average and 1,553 RBI. In 2012, Cabrera became the first hitter to win the Triple Crown since 1967, hitting .330 with 44 home runs and 139 RBI. Finishing last season with 38 home runs, 108 RBI, and a .316 batting average, Cabrera seems to still be firmly entrenched in his prime.
8. Frank Robinson
Over his 21-year career, Frank Robinson hit .294 with 586 home runs and a 1,812 RBI. A tough, aggressive hitter who liked to challenge pitchers by crowding the plate, Robinson was one of the most feared hitters of his day. The winner of 2 MVP awards, his best year came in 1966 when he hit .316 with 49 home runs and 122 RBI.
9. Frank Thomas
Someway, somehow, Frank Thomas gets lost in the shuffle of all the power numbers produced throughout the 90s. But with 521 home runs throughout his 19-year career, it's fairly difficult to disregard Thomas as a superb power hitter. This isn't to say that The Big Hurt was just a power hitter. He hit over .300 ten different times throughout his career, hitting a career high .353 in 1994 and finishing with a .301 lifetime batting average.
10. Joe DiMaggio
Joltin' Joe is the holder of one of baseball's most impressive records, hitting safe in 56 consecutive games. Though he lost 3 full seasons due to military service, DiMaggio was still able to hit 361 home runs with a .325 lifetime batting average and 1,537 RBI over his 13-year career. Were his career longer, he would almost certainly be higher up on this list.
Looking Beyond Stats
Batting averages, home runs, years played, and other stats are all important when ranking right-handed hitters. But numbers don't always tell the full story. Determining "the best" is subjective and often requires a closer look at the standards of the day.
For example, military service sidelined Joe DiMaggio. The racist practices of the time limited Josh Gibson. Babe Ruth consistently overshadowed Rogers Hornsby.
In many ways, the adversity some of these players faced transcends their stats on the field. Professional athletes back then didn't make the same amount of money or enjoy the same celebrity perks they do today. Real life often intruded on their careers. Their love of the game is impossible to put into numbers.
Image Courtesy of Flickr User Keith Allison