Some links on this page are monetized by affiliate programs - see disclosure for details.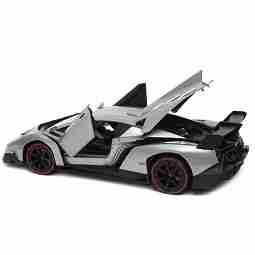 There is something instinctively satisfying about messing with a controller and making another object move around really quickly. From this basic human impulse has sprung a huge market of RC cars that do just that.
Inspired by real sports and rally cars, remote control cars have a huge following among hobbyists who collect, upgrade, and race the smaller models. This guide will explore some of the sleekest and fastest RC cars out on the market.
Compare: The Top 10 Best Remote Control Cars of 2019

An Introduction: What Is an RC Car?
Remote Control (RC) cars are scale models of existing full-sized cars or original creations. They're great gifts for children and teenagers while grown-up hobbyists pursue more advanced models that reach higher speeds.
Higher-tier RC cars use real fuel and oil, are capable of being upgraded, and have advanced controls for precision driving. Many hobby shops organize races so that collectors can show off their enhanced remote vehicles.
What Are the Different Types of Remote Control Cars?
RC Cars aren't inherently different from one another in many ways, but clear distinctions appear when looking at different classes of models that separate the casual toys from real pieces of technology.
Advanced RC cars are not just battery powered vehicles that zip around for a little while, but fully customizable vehicles that use real fuel to move at high speeds. They require maintenance, upkeep, and are highly valuable among hobbyists.
What's New With RC Cars In 2019?
The last few years have been big for RC cars. Unlike the RC cars of the past, the RC cars being produced today are exponentially better as a result of higher capacity batteries and better control systems. At the same time, the cost of RC cars is remaining more or less the same.
Thanks to these new high-capacity batteries, your RC car can charge faster and run for far longer than ever before. This means that you can find RC cars which are heavier and exhibit better performance than you could have before.
The result is that RC cars are becoming increasingly serious and more fully-featured. These aren't just toys for children anymore — there isn't much which separates an RC car and a mobile camera platform or something similarly useful.
What Are the Contenders for Best RC Car on the Market?
Holy Stone Lamborghini Veneno: The Lamborghini Veneno was a prototype car imagined by the famous Italian company in 2013. Holy Stone's scaled down model mimics its style and concept, featuring LED lights and automatic doors. Its stylish control lever is a nice display item for car enthusiasts, and the car itself looks as good on the shelf as it does cruising down the street.
Radio Remote Control Bugatti Veyron: This Bugatti Veyron 16.4 Grand Sport Vitesse RC Model Car is scaled at 1/14 of the car it's modeled after, yet comes with the same sleek design. Capable of moving at 15 mph, it can be used anywhere from outdoors, to bedrooms, to hallways, and more. With working tail and headlights, it's as realistic a remote control car as you're going to find.
Top Race Remote Control Rock Crawler: While it isn't as capable as moving as fast as other remote control cars, the Top Race Rock Crawler excels at moving through mud and rocky terrain. With a durable construction, it possesses a superior shock system that allows for it to withstand any bump it encounters.
Considerations for Choosing the Right Model
Just like when buying a real car, the key to selecting a good RC car is performance. Users want a vehicle that is swift and responsive, even at high speeds. Dedicated hobbyists will need to determine how much they can upgrade their purchase while also considering how much general maintenance a car will require.
Controls: How intuitively a car's remote control is designed is sometimes just as important as the quality of the vehicle. Ease of use and signal strength are essential for both basic operations, and for performing complex stunts like drifting.
Speed: Whether a user intends to race or not, nothing beats having as fast a car as possible. Equally important are the other components that handle speed, such as brakes, suspension, and even tires. RC cars are more sensitive to the surfaces they drive on than their full-size counterparts, so every component becomes doubly important.
Expandability: Hobbyists who plan on investing heavily in one car need to make sure that there are enough upgrades available for it to justify that decision. RC cars can become very personalized over a period of time if the right resources are available, and performing upgrades independently is one of the most rewarding parts of owning one.
Fuel Type: Fuel type has much to do with how much upkeep one will have to perform to keep a car running at its best. Electric power is clean and typically easy to maintain while nitro-fueled cars are more temperamental. There are plenty of fast electric cars, but many RC racers are nitro-fueled.
Controls
Lamborghini Veneno
The Veneno's controller is styled after a gear shifter. It's fun to look at and easy to use in its way, with a very simplistic button design that is easy for anyone to understand. The controller isn't precise enough to perform many stunts or feats, but for children who just want to drive it back and forth, there's nothing easier to use. On the plus side, like the car, the controller is a nice decoration in the right household.
Radio Remote Control 1/14 Bugatti Veyron
The Bugatti Veyron is controlled by a powerful transmitter that communicates at the 2.4GHz frequency: generally used by most manufacturers. Its controls are easy to learn and users can expect to put a few tricks in their arsenal pretty quickly. The car drives very well on just about any surface but is perhaps most entertaining when kicking up loose gravel while drifting. It is a very well balanced car, with aluminum capped shocks absorbing much of any impacts or inconsistencies it encounters.
Top Race Remote Control Rock Crawler
The Rock Crawler's controls are simple and precise. The controller is a common design, easy to hold and get used to. The car's 4-wheel drive makes its performance exceptionally consistent, and its long-travel suspension serves to keep it feisty even on harsh terrains. The Rock Crawler is perhaps as close as one can get in an RC car to the power and precision of a full sized vehicle. It keeps its responses immediate and impactful.
Speed
Lamborghini Veneno
Quite unlike the supercar it is designed after, the Veneno's low power makes for very average speed. On a smooth surface, it might look a little fast but generally speaking one shouldn't expect this car to do much. It is more a toy or an item for model collectors than it is a racing RC car, where speed is more of a necessity.
Radio Remote Control 1/14 Bugatti Veyron
At its peak, the Bugatti Veyron can move at a speed of around 15 miles per hour. At its lowest speed, it moves at around 8 miles per hour. While there are faster cars on the market, for its price, it moves terrifically well.
Top Race Remote Control Rock Crawler
The Rock Crawler is not designed to move quickly. With a monster truck design, it is meant to tear through rocky and uneven terrains without any problem whatsoever. If you're looking for a speedy remote control car, you should look elsewhere. If you want something that can handle any terrain condition, this is the car for you.
Expandability
Lamborghini Veneno
The Veneno's meager capabilities can't be easily expanded upon, but with some experience in mechanical engineering, perhaps anything is possible. However, the car isn't really meant to be tampered with. The Veneno is built to provide basic enjoyment for young people, and asking any more of it would be frivolous. This is hardly a problem for what it is really meant for, but it fails as an RC car for hobbyists.
Radio Remote Control 1/14 Bugatti Veyron
For the most part, the Bugatti Veyron is set in its packaged construction. While you may find a way to add on additional features, you are going to be stuck with the original design and construction. However, seeing as how nicely this car runs, there should be nothing wrong with that.
Top Race Remote Control Rock Crawler
While it works perfectly as packaged, this Rock Crawler probably could be expanded by engineers who know what they're doing. Made for its ability to traverse rocky terrains, there is really no reason to try and make it faster. With a superior shock system, any updates made to it should be limited.
Fuel Type
Lamborghini Veneno
The Veneno gets a lot of drive time out of its rechargeable batteries, that can be substituted for regular AA batteries. Naturally, there isn't much power to be had from either of its available sources, but the Veneno isn't meant to be driven that intensely.
Radio Remote Control 1/14 Bugatti Veyron
To run, this Bugatti Veyron requires 5 AA batteries to be placed in the car, and one 9 volt battery to be placed in the controller. Battery duration is fairly long, so you shouldn't have to worry about changing frequently.
Top Race Remote Control Rock Crawler
The Rock Crawler is completely electronic, requiring no additional upkeep or lubrication sources. It is completely plug and play, yet still has the power you need to run over any terrain. The electronics are touted as water-resistant and live up to that claim, though one would be wise to keep the car dry after use to prevent it from rusting. It runs on 4 AA batteries for the car itself, and 3 AA batteries for the controller.
Conclusion: Our RC Car Reviews Are In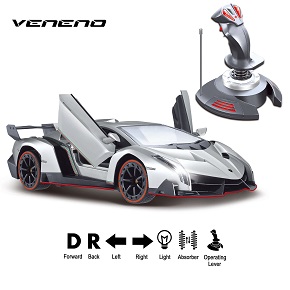 Holy Stone delivers a delightful plastic replica of an absolutely insane concept car in the Lamborghini Veneno. It isn't the most thrilling remote control vehicle around, but it looks great and drives just fast enough to entertain some kids on Christmas. Model collectors may want it just for the resemblance it bears to its real-life counterpart, which is complimented by its automatic doors, LED lights, and stick shift controller.
Pros:
Great gift item
LED lights and automatic doors
Interesting controller concept
Cons:
Slow
Struggles on outside surfaces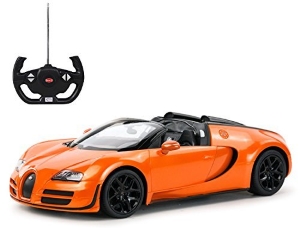 The Bugatti Veyron is fast, sporty, and packs an immense amount of long term value. For a hobbyist with any level of experience, it is a thrill to drive. Capable of being run at a distance of 30 feet from its controller, it allows for quite a bit running space.
Running on 5 AA batteries and one 9 volt battery, it drains battery power rather slowly, ensuring that maintenance costs stay down over time.
Pros:
Doesn't drain battery power
Responsive controls
Ready to go on virtually any terrain right out of the box
Cons:
Not as fast as some remote control cars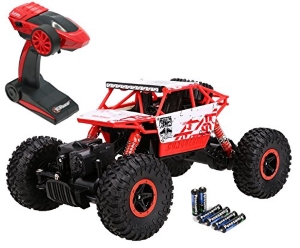 Constructed to traverse rocky terrains, the Top Race Rock Crawler can tear through mud, dirt, gravel, and more with no problems whatsoever. Possessing 4-wheel drive, it is as user-intuitive as any remote control car you're going to find. Running on a total of 7 AA batteries, it is very easy and affordable to maintain over time. If you're looking for the best remote control car around, this is a great choice.
Pros:
Can handle any terrain
Perfect handling
As durable as they come
Cons:
Last Thoughts
The best RC cars allow people to embrace their inner child with their adult mastery of basic electronics. RC racing has all the thrill of full out street racing with none of the danger and a significantly lower cost of entry. Whether one is just buying a gift for their younger relatives or looking to join a local group of racing enthusiasts, cars like the Top Race Remote Control Rock Climber are the kind of "toys" that inspire lifelong passions for automobiles and engineering.