Some links on this page are monetized by affiliate programs - see disclosure for details.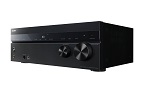 When you're in the market for a new AV receiver, there are a lot of factors to consider. Everyone's home entertainment needs are different. It's important to delineate the features you're looking for prior to making a purchase. If not, you may find yourself lacking an option, or paying for something that you don't need!
It's important to consider the number of audio and video sources (including mobile devices) you want to use. Consider whether or not you'll use multiple zones, what Internet features you want, and the size of your room. Don't get overwhelmed! We'll lay out the most important features and benefits of three great receivers out for you.
Compare: The Best A/V Receivers of 2018

Reviews: The Top Rated A/V Receivers
Pros:
A low price tag of around means you're not breaking the bank to get a solid surround sound experience
4 HDMI inputs are plenty for most smaller home setups
720 watts is easily enough to deliver a high-powered theater experience
Cons:
This model can only handle one room at a time, and it's missing wireless connectivity of any kind
Larger rooms aren't going to feel as full of sound with just 5 speakers
---
Pros:
There's quite a bit going on in this box, and it's definitely worth the money you'll spend to get it
More HDMI inputs than you'll ever need
Wi-Fi and Bluetooth, 3D audio, and multi-zone capability make this unit powerful and versatile
Throw in 110 watts per channel and a very deep bank of surround sound modes, and you're getting a lot of bang for your buck.
Cons:
The complicated user interface can make navigating menus and settings a chore, and a relatively small number of possible speaker configurations can make setting up 7 speakers difficult
Onkyo only offers a 2 year manufacturer warranty, while Yamaha offers 3 years.
---
Pros:
This unit simply has the most inputs, outputs, and features, not to mention a whopping 120 watts per channel
How much of all that you can't live without will decide whether the price is worth it
For a large home theater room, versatile dual room setup, or those looking for the most wireless options, this is the one to get
Cons:
The YPAO setup doesn't always properly calibrate the subwoofer, which could cause confusion for some
The sheer volume of options on both the hardware and software sides of this box can be daunting, and setup needs to be a careful and measured endeavor
For some reason, this model still needs to add the adapter to do Bluetooth, which really seems like it should have been included
---
What is an AV Receiver?
AV Receivers are necessary for a high quality home theater or music room. They decode and amplify the audio signal to be sent to your speakers, and act as a hub for managing and switching audio and video sources.
What are the different types?
AV Receivers are typically identified by the number of audio output channels they have – the number of speakers they can supply amplified sound to. The most common types are stereo, 5.1 channel, 7.1 channel, and 7.2 channel.
Stereo
These types of receivers output one left and one right audio channel, and often have a subwoofer output for lower frequencies. They are meant primarily for audio playback, and although they can be integrated into a home theater setup, video connectivity is usually nonexistent or very limited.
5.1 channel
This is the entry level for surround sound capable home theater receivers. The 5 speakers used in this setup are at the front left, front center, front right, rear left, and rear right of the room. The "1" in 5.1 refers to the subwoofer output.
7.1 channel
The next level of receiver for consumers with a bigger home theater room, the 7.1 channel setup adds two speakers to the direct left and direct right of the listener for a more immersive experience.
7.2 channel
Designed for large home theater setups, 7.2 channel receivers add another subwoofer output to distribute bass frequencies evenly throughout the room.
What are the advantages of owning an AV Receiver?
Any film or music buff is aware of the gulf between home audio and the experience of good live sound or movie theater quality audio. Having a good home theater system helps to close that gap, and a good AV receiver will be the keystone of any such setup. Standalone AV receivers have huge benefits over other home audio solutions like soundbars or HTIB (home theater in a box) due to their versatility and compatibility.
While soundbars are relatively inexpensive, and easy to install and operate, they represent only a minimal improvement over the unexceptional TV speakers, and will never be able to deliver a true surround sound experience. HTIB systems, while capable of providing true surround sound, suffer from another significant limitation: their various components will only work with each other. In the event one component fails and cannot be repaired, the entire system must go to the junk heap and the customer starts from scratch. Upgrading a single component is either prohibitively difficult or impossible because the connections on each piece are proprietary. A standalone AV receiver suffers none of these drawbacks, as they are designed to work with the vast majority of speakers on the market.
Features to Think About
Connectivity
With so many different products available for video and audio sources, a modern AV receiver should have plenty of options for inputting and outputting content. The current standard for high definition is HDMI cabling, but other popular options should also be present, such as component, composite, digital optical, digital coaxial and so on, as well as cordless data standards like Wi-Fi and Bluetooth. Many receivers also include more than one set of speaker outputs for multi-room playback.
Audio capabilities
When your receiver gets video and audio data from its source, what can it do with it? Most receivers have a wide variety of audio output settings, like traditional surround sound, multi-channel stereo, and simulated environments like concert halls and jazz clubs. Middle to higher end units typically feature multi-zone capability, which allows you to play audio in 2 rooms or more simultaneously.
Video capabilities
Video capabilities can include 1080p or 4K upscaling, and some companies have mobile apps that allow device control from a phone or tablet. 3D televisions are becoming more common, and not all receivers can handle a 3D signal. Some higher end receivers can output to two HD sources using different inputs for a unique multi-screen experience.
Ease of use
We all know the frustration that comes with being unable to control important features of a newly purchased device. Is setup quick and straightforward? Is the user interface intuitive? Can oft-needed features be accessed with one button push, or will it require hunting through a dozen menus to get to what you need?
Connectivity
Sony STRDH550
This unit features 4 HDMI inputs and 1 output, allowing you to connect to a number of different devices. Sporting a USB output port, it allows for high-resolution playback. In addition, it possesses a headphone jack, allowing you to listen to music in quiet isolation.
Onkyo TX-NR656
This receiver has 7 HDMI inputs, 4 composite, 1 component, 2 digital coaxial and 1 digital optical. For outputs, it has 2 HDMI, one component, and one composite, as well as additional stereo speaker outputs for multi-room functionality. On the front panel, there is a headphone jack, another HDMI input, and a USB port for mobile devices. The Onkyo TX-NR656 is also connectable through Wi-Fi and Bluetooth, and there is an ethernet port if you wish to hard wire to the Internet.
Yamaha RX-A1030
Yamaha's high end offering features a slew of input options, including 7 HDMI and 4 each of component and composite, as well as a USB port for Apple devices and extra HDMI and composite inputs on the front panel. Just like with the RX-V377, Bluetooth capability requires adding the YBA-11 adapter. Built in Wi-Fi and an ethernet port are available for Internet access.
Audio capabilities
Sony STRDH550
With five different amp channels, play up to 720 watts. Supporting 4k pass-through, and possessing one channel for HDMI audio return, it is capable of accommodating TV audio5. This allows it to seamlessly sync up to TV, games, and many other devices, all with top-notch audio quality.
Onkyo TX-NR656
This receiver puts out 110 watts per channel. It's capable of playing music files on your computer through DLNA networking sources, including media servers, a shared folder, Windows Media Player, or the Windows Remote Playback feature. There are over 30 different listening modes divided between 4 categories. Choose Movie/TV, Music, Game, and THX, the high quality cinematic reproduction standard developed at Lucasfilm. The Onkyo TX-NR656 also supports an alternate position at the front of the room for two of the  speakers. This gives your theater soundscape a 3 dimensional feel. There's even a line out for a third speaker zone, giving the TX-NR656 a lot of versatility throughout a home. Pandora Internet radio and Sirius are also supported.
Yamaha RX-A1030
This model packs 120 watts per channel and boasts an impressive array of audio capabilities, including USB playback from storage or Apple devices, media servers and Internet radio via Wi-Fi, and Airplay software for wireless streaming from phones, tablets and PC. Over 25 different surround sound modes are available for music, movies, and games. Multiple alternate positions for speaker setup are supported, including elevated "presence" speakers at the front. This allows the user to shape the configuration to their space and playback preference. Playback from a media server is supported, but it must be done through Windows Media Player. There is a built in tuner for HD Radio stations, and software for Pandora and Rhapsody are also included. Also includes Silent Cinema playback mode for headphones.
Video capabilities
Sony STRDH550
This unit supports 3D and 4K video pass-through, and supports Audio Return Channel (ARC) over HDMI, which carries audio back to the receiver, and allows HDMI control signals to be transmitted to both devices. Only one video output is supported at a time.
Onkyo TX-NR656
This Onkyo model features 3D support, 4K upscaling and pass-through, ARC, and the ability to view video from one source while playing audio from another. Remote Interactive over HDMI (RIHD) allows for linked operation of your system components; for example, when playback begins on your Blu-ray player, the receiver will automatically switch to the corresponding output. Dual HDMI outputs allow the same source to be watched in multiple locations, and the easy to access front HDMI port supports Mobile High-Definition Link (MHL), which allows full 1080p video to be played from a phone, tablet, or camera.
Yamaha RX-A1030
This receiver has 3D capability and 4K upscaling, and supports ARC. The dual HDMI outputs here are zone specific. You can watch and hear two completely different HDMI feeds in separate rooms. The Yamaha AV Controller App, which is a free download, allows the user to use their Apple or Android mobile device as a controller. There is an MHL supported HDMI port on the front for high-def playback from portable devices.
Ease of use
Sony STRDH550
This receiver utilizes auto-calibration to setup and calibrate your system. The system sends a series of test tones through the speakers which are captured by a microphone placed in the center of the room, and automatically adjusts its settings accordingly. The energy saving ECO mode allows the user to put a limit on output power, and the 3.5 mm auxiliary jack on the front panel makes connecting mobile devices a breeze.
Onkyo TX-NR656
Onkyo uses the Audyssey setup system for setting optimization, in a method similar to that of YPAO. A complicated user interface and unresponsive remote means it'll probably take a few frustrating days to set up. Also, external digital sources cannot be played out of the Zone 2 speakers.
Yamaha RX-A1030
This unit also uses YPAO for setup and calibration, although it seems to have difficult properly adjusting the subwoofer levels during setup. This can be easily remedied by readjusting the subwoofer after setup is complete. It's notable nonetheless, especially for a model with dual subwoofer outputs. The Yamaha operating system is easy to use and navigate.
All in All
Remember, the AV receiver is the most important piece of your new system. It will dictate your ability to connect to all your sources of entertainment, and define how you shape and upgrade your system for years to come. You now have with the knowledge you need to make the decision that fits your life. Interested in the best AV receiver around? The Yamaha RX-A1030 is your best choice.