Some links on this page are monetized by affiliate programs - see disclosure for details.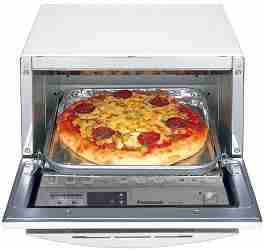 If you're like millions of others, you probably have a toaster sitting on your kitchen countertop. A toaster is a great small kitchen appliance, allowing you to make toasted bread to enjoy with your breakfast in just minutes or cooking other small items like bagels, toaster pastries, and frozen waffles. However, if you want to make anything more advanced, like toast with melted cheese, the vertical design of a toaster doesn't allow you to do this.
While a toaster is convenient, it's also very limited in what it can do. When you want to make things like pizza, garlic bread, cheese toast, and other tasty meals and sides, kick your old toaster to the curb and invest in a toaster oven.
Read: Upgrade Your Kitchen with These Awesome Electric Ranges
A Guide to Toaster Oven Shopping
A toaster oven is similar to a traditional toaster in that it allows you to brown items using a heating element. However, this is where the similarities end. A traditional toaster requires inserting food vertically while a toaster oven is designed more like a regular oven, only in a smaller size.
With this small appliance, you can not only toast, but you may be able to use convection cooking, broiling, and other features. The interior is larger and because the food isn't sideways, you can add toppings, cook larger items like fresh or frozen pizzas, and perform many kitchen functions without having to use your range.
What are the different types of Toaster Ovens?
If you're in the market for this type of small appliance, it's best to know what to expect before you even begin shopping. The first step is knowing about the two types that you'll encounter while shopping: standard and convection ovens.
Standard ovens – These are typically the most user-friendly and allow you to perform basic functions, including toasting, broiling, and baking. These may have dial controls or a digital touchpad with various heating and browning options, as well as built-in options for cooking particular types of foods. These utilize heating elements, much like your range's oven.
Convection ovens – Convection cooking uses heat and a fan to cook food. The hot air blows around the oven's interior, cooking bagels, pizzas, hot sandwiches, and more. These are sometimes preferred because they cook more quickly and evenly while eliminating hot spots that may occur with traditional ovens. These may be more expensive than standard models.
What are the Advantages of Owning a Toaster Oven?
Sometimes you may want to heat up something or cook a meal for yourself without firing up your traditional range, which takes a long time to heat up and consumes a lot of power. With one of these appliances, you can make your favorite foods right on your countertop. Whether you're making toast to accompany your breakfast, heating up frozen egg rolls, or creating delicious tuna melts for the family, these appliances can do it all. These offer more interior space than a toaster, allowing you to cook multiple items at one time. They can also be purchased in a variety of sizes, styles, and finishes to complement your larger appliances and kitchen décor.
Who are the contenders for Best Toaster Oven?
Black & Decker TO1303SB Toaster Oven – This model is ideal for someone that wants a no-frills appliance that toasts, broils, and performs other functions easily. This one has multiple settings, an attractive stainless finish so it looks great in any modern kitchen, and easy-to-use rotary controls that aren't confusing like some of the more advanced models on the market. Best of all, it is priced at less than $50, making it a great choice for the budget-minded shopper.
Panasonic NB-G110PW FlashXpress Toaster Oven – Your food will be ready in a flash when you use the FlashXpress oven from Panasonic. This model showcases a lot of great features, including automatic calculations for common foods, which eliminates guesswork, an interface that's very easy to use, and even cooking using double infrared lights.
Breville BOV800XL Smart Oven 1800-Watt Convection Toaster Oven with Element IQ – Get the most out of your new appliance with this model from Breville, which utilizes many great features to make this one of the most advanced machines that is still easy to use. You can cook pizzas, cookies, toast, and more in this unit, which features a roomy interior, sleek stainless design, backlit LED display, and adjustable rack.
Considerations for Choosing the Right Counter-top Toaster Oven
Now that you know a little more about this type of small kitchen appliance and you think you might be ready for a purchase, pause for a minute before you pull out your wallet to take into consideration all of the features you can find on these units. You can get started by looking for these four features, and you can also set your own criteria to find the oven that works best for your kitchen.
Price
Prices for these appliances range from around $40 for a basic model to several hundred for one that performs like a mini oven. You do want to consider what you can afford to purchase, but you want to make sure that you don't overlook important features or settle for inferior quality just to save a little bit of money. Make sure that the pricing of the unit you ultimately decide on reflects the quality and various features to ensure you get the best deal.
Warranty
Electronics fail from time to time, mostly just because they're getting old, but sometimes, they stop working before they should. If your new oven won't turn on or off, doesn't heat up properly, or has another issue that arises in a short period of time, it's likely due to a defect in the design or build. If you have a warranty, these issues are covered so you can get a free replacement or repair service.
Cook functions
Despite having "toaster" in its name, these ovens typically go way beyond just toasting a few slices of bread. Determine how you want to use your oven in order to pinpoint what cook functions you need. Broiling, baking, and reheating are just a few of the options you can find on ovens at all price points.
Interior size
Since you've already determined what you plan on using your oven for, you need to make sure you purchase one that's large enough for these functions. If, for instance, you want to heat up a frozen pizza or bake a dozen cookies, you need a larger size. If you lack counter space, you might have to settle for a smaller unit that can hold a few bagels, small personal pizzas, and a couple of sandwiches or pieces of sliced bread.
Price
Black & Decker TO1303SB
It doesn't get much cheaper than this model.
Panasonic NB-G110PW FlashXpress
This mid-priced unit has a lot of great features and a slightly higher price tag than budget ovens.
Breville BOV800XL
This high-end model retails for a higher price than the other ovens in the group.
Warranty
Black & Decker TO1303SB
Despite its low price tag, this model has a great 2-year limited warranty.
Panasonic NB-G110PW FlashXpress
You'll receive a 1-year limited warranty with your purchase.
Breville BOV800XL
A 1-year limited warranty is included with your purchase of this unit.
Cook functions
Black & Decker TO1303SB
Cook functions on this model include broil, bake, warm, and toast.
Panasonic NB-G110PW FlashXpress
You can toast, bake, brown, and reheat a variety of fresh and frozen items in this machine.
Breville BOV800XL
This versatile model allows you to toast, broil, brown, warm, reheat, bake, and roast.
Interior size
Black & Decker TO1303SB
This unit measures 10 ¼ x 9 x 10 ¼ inches in overall size and provides enough space to cook a pizza up to 9 inches in diameter.
Panasonic NB-G110PW FlashXpress
This model measures in at 10 ¼ x 13 x 12 inches overall. You can cook a variety of things in this oven, including four slices of bread or a pizza with a diameter of up to 9 inches.
Breville BOV800XL
This oven has a very roomy interior that measures in at 0.8 cubic feet.
Conclusion: Our Toaster Oven Reviews Are In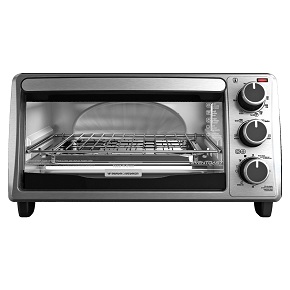 While big and flashy may be okay for some kitchens, appliances with all of the bells and whistles are not only much more expensive, but they can also be complicated to use. Instead of poring through a manual for hours trying to figure out how to use your new oven, you can get started right away with the purchase of this basic model from Black & Decker, which is not just easy to use, but it performs well, cooking a variety of your favorite foods.
This model comes with three rotary knobs that are used to set your time, the cooking setting (Bake, Broil, Warm, or Toast), as well as your temperature. It has Even Toast Technology, so you won't have to worry about burning your food, comes with a bake pan and broil rack, and has a removable crumb tray for easy cleaning. It is available in your choice of Black and Silver or Red, and at this price point, it just can't be beat.
Pros:
It's very affordable. It comes with a great warranty. It's very easy to use. It has a 30-minute timer. It has a large interior cooking space. Comes with racks and pans. It's easy to clean. It looks great in any kitchen. It performs multiple basic functions.
Cons:
The top of the unit gets extremely hot while in use. The dials may make it difficult to set exact times and temperatures. The handle feels cheap and may even break or melt over time and with long periods of cooking.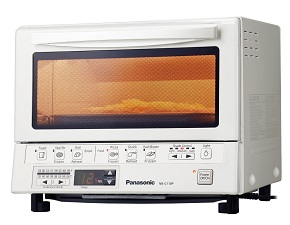 Cook your favorite snack or meal in a flash with this model, which utilizes two infrared lights for cooking that is up to 40 percent faster than other ovens. It is also loaded with great features, including digital temperature settings, a built-in timer, and several preset food items to eliminate the guesswork.
Settings for this include Frozen Foods, Toasting, Reheating, and manual temperature and time settings. It can be set from 250 all the way up to 500 degrees. It has an interior light that can be turned on to view the progress of your food, and it also has a shade control so your toast, bagels, and other foods are cooked just right. This model is available in your choice of White or Silver.
Pros:
It's affordable. It comes with a warranty. It's available in two colors. It does not require preheating. Infrared lights heat up faster and cook more quickly than other types of heating methods. Roomy interior. LCD screen for easy viewing. It's easy to set. It comes with an inner tray, baking tray, and crumb tray. It has a reminder beep that alerts you as to when you food is done.
Cons:
When the lights burn out, it has to be sent in for repairs as replacement bulbs are not available. The power button feels a bit cheap and flimsy. Because it uses infrared lighting, the bright light stays on while cooking. The side placement of the power cord is a bit awkward. The rack has thin wires and feels weak.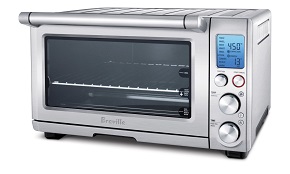 Dress up your countertop and make cooking easier than ever with this model from Breville, which offers a modern design that will enhance the look of your kitchen. This model isn't just about looks, though – it also performs like a dream using digital controls that are very easy to use and not complicated like some models.
The silver finish looks great in all modern kitchens, and it's just the right size for your countertop. It has a very roomy interior that is large enough for six slices of toast, a 13-inch pizza, or just about anything you want to cook. It has multiple preset options so you don't have to guess at times and temperatures. Settings include Roast, Broil, Toast, and Bake, and there are set options for bagels, cookies, and pizza.
This unit has five quartz heating elements and 1800 watts of power so it cooks quickly and evenly. It comes with a pizza pan, backing pan, and broiling rack for making all of your favorite meals. It utilizes convection cooking while baking, has a nonstick interior and crumb tray for easy clean up, and a backlit LCD that's easy to read and changes colors after it is done preheating.
Pros:
The controls are easy to use. It has sleek, modern styling. It has nine preset options. Performs most basic kitchen functions. It has a very large interior. It has an auto-eject rack that helps you avoid burns. Cooks quickly and evenly. Very energy efficient. It has a manual that is easy to read and explains all functions. Multiple rack settings and markings on the glass door to indicate the best position for a variety of different items. It includes a warranty.
Cons:
It is more expensive than many other units on the market. The convection cooking feature is very loud when in use. The top and body of the unit become hot while in use, so care should be taken to avoid burns.
All in All
Using your range every night can be a real hassle, especially for smaller meals or snacks that just need to be heated up. Instead of waiting for your large oven to preheat and using a lot of energy in the process, why not pop your favorite foods into a miniature toaster oven? Whether you're making toast to accompany your breakfast, melting cheese on your homemade tuna melts, or cooking a frozen pizza, you can perform all of these basic functions with a high-quality toaster oven. A great choice is the Breville BOV800XL. This model looks great on your countertop, has an interior that's large enough to cook a family meal, and delivers consistently even and fast cooking with every use.