Some links on this page are monetized by affiliate programs - see disclosure for details.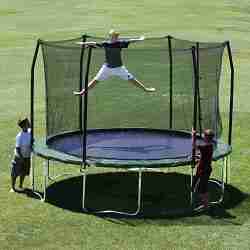 With so many indoor electronics, sometimes it's hard to get the kids to head outside. With an assortment of video games, tablets, and smartphones, it's sometimes hard to drag the kids outdoors for fresh air and exercise.
It's a lot easier when you have a lot of fun things for them to play with, including playhouses, swing sets, and bicycles. Another fun outdoor toy is a trampoline, something that kids and adults of all ages can enjoy.
What is a Trampoline?
A trampoline is a type of springboard that is generally used outdoors, although smaller, indoor models are also available. It consists of a piece of fabric affixed to a metal frame with a set of springs. When you jump on the fabric, it is very springy and propels you into the air. This makes it easy to jump high and get great exercise, as well as perform acrobatic tricks that are more difficult on the ground, including front flips, backflips and somersaults. It is not only fun, but it's a great way to get outdoors and work up with a sweat without feeling like you're exercising.
What are the different types of Trampolines?
When deciding whether to purchase a trampoline for your home, it's best to understand what types are available to determine if this is a product you need for your household. There are several different types, each which perform in the same way but have a few key differences.
• Mini fitness trampoline– These are small, lightweight, and designed to be used in your home. These are great for various fitness routines, adding a bounce to your step and improved calorie burning.
• Mini kids' trampoline – These look similar to those used for fitness in size, but they also come with a sturdy handle that smaller kids can hold onto while jumping to stay safe.
• Recreational models – These are found in backyards all across the country. They are large, usually circular in shape, and are designed for recreational jumping and acrobatics just for fun. They are designed to hold multiple jumpers.
• Recreational outdoor trampolines with nets – These are similar to other rec models with the additional of a net around the circumference for added safety.
• Professional models – These are used in professional tumbling and gymnastics gyms. They are usually larger than recreational models and are typically rectangular in shape.
What are the Advantages of Owning a Trampoline?
There are several advantages of owning one of these products. The first is that you can get a great workout just jumping around and having fun, especially on smaller indoor models. They are also ideal for getting children to get outdoors for fresh air, sunshine, and physical activity.
Trampolines are very fun to use, and they are also a great way for tumblers, gymnasts, and cheerleaders to practice different flips and moves that are harder to perform on the ground.
Who are the contenders for Best Trampoline?
Pure Fun 9001KJ Kid's Jumper Trampoline – Let your little one go wild and get great exercise with this mini model, which can go in their bedroom, the living room, or just about anywhere. It comes with a sturdy handle so they can feel secure while bouncing, a spring-less bungee system that prevents injuries, and easy assembly. It's great for all kids ages 3 and up, up to 75 pounds.
Stamina InTone Oval Jogger – If you're tired of hitting the gym or your home treadmill for the same old workout, put some spring into your step with this great jogger, which is designed to give you a great workout that's also a lot of fun. It comes with a handle for support, a monitor that tracks your fitness activity, and a workout DVD to get you started on the track to good health.
Skywalker Trampolines 12-Feet Round Trampoline and Enclosure with Spring Pad – The whole family can have a blast bouncing around on this great model, which is big enough for multiple jumpers. It comes with an enclosure for added safety, a spring pad that keeps springs covered so you can stay safe while jumping, and UV-resistant materials that are high-quality and designed to withstand years of outdoor use.
Considerations for Choosing the Right Trampoline For You
Now that you know a little bit more about this product, you might be considering making the purchase for your household, whether it's for yourself, your little one, or the entire family. Before you make the final decision and select a trampoline that works for your household, make sure you know exactly what to look for in a product by keeping the following four features in mind while you shop.
Price
Children's models may cost less than $100, while a large backyard model designed for use by the entire family may cost several hundred dollars. It's important to first decide which type of model you want to purchase, and then set a budget based on the type you want. Budget more for larger, stronger models, while you can expect to pay less for smaller, personal models.
Type
In order to determine your budget, you'll need to determine what type you want to purchase. If you're looking for one for your backyard, a small model designed for just one child won't cut it. Make sure you fully evaluate who the trampoline is designed for, how many jumpers can be on at once, and what it is designed for, such as for fitness purposes or just for recreational jumping.
Overall diameter
The size of the model you choose is important for a number of reasons. If you have multiple children that would like to jump the afternoon away, you'll need to make sure that you purchase one that's large enough. If you're limited on outdoor space, you'll want to measure the space you have available and purchase one that fits within this space.
Weight limit
Like size, weight limit is also important, especially if you have multiple jumpers. Make sure that no matter what type you purchase, you purchase a personal model that can hold your own weight or the weight of multiple children or adults if you buy a larger recreational model.
Price
Pure Fun 9001KJ
For a low price, your child will have a blast jumping and playing indoors, or you can carry it outdoors on nice days.
Stamina InTone Oval Jogger
You'll get in the best shape of your life for a bargain. A steal when compared to similar personal models used for fitness.
Skywalker 12-Feet Round Trampoline
This large recreational model retails for significantly more than the Pure Fun and Stamina brands.
Type
Pure Fun 9001KJ
This is a small model that can be used for one child.
Stamina InTone Oval Jogger
This is a model designed for adults who want to bounce to get into shape and tone up. It holds one adult.
Skywalker 12-Feet Round Trampoline
Multiple children and adults of various ages and sizes can jump at once on this outdoor recreational model.
Overall diameter
Pure Fun 9001KJ
This model is available in a square shape that measures 38.2 inches by 37.8 inches.
Stamina InTone Oval Jogger
This oval-shaped model has measurements of 55 inches by 36 inches.
Skywalker 12-Feet Round Trampoline
This unit has a diameter of 12 feet.
Weight limit
Pure Fun 9001KJ
This model holds one child up to 75 pounds.
Stamina InTone Oval Jogger
The maximum weight limit for this model is 250 pounds.
Skywalker 12-Feet Round Trampoline
This model supports over 250 pounds.
Conclusion: Our Trampoline Reviews Are In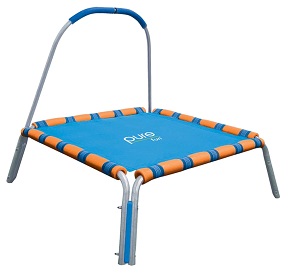 As the name suggests, this model is nothing but Pure Fun for your child, who can bounce the day away on this model, which is perfect for use indoors or out. It's very easy to tote around the yard or move from room to room, weighing in at just 13 pounds. Despite its smaller size, though, it can support a child up to 75 pounds. It is recommended for all children ages 3 and up.
This comes with a lot of safety features, including a padded handle so they can grip on for good balance, a no-spring design to prevent pinches and injuries, and a sturdy, durable construction. It comes backed with a 90-day warranty, so you know it's a great product, and it's very easy to assemble – requiring no additional tools at all – so your child can be jumping and bouncing in no time.
Pros:
It is affordable. It is durable and sturdy. It has a padded grip for comfort and balance. It has a padded cover over the frame for added safety. It is small and portable. It comes backed with a warranty. The handle can be removed if needed. It is safety certified. It is easy to assemble.
Cons:
It takes more than one person to assemble. It doesn't have as much spring as a traditional model. The foam pieces on the handle may come off, slip, or crack over time. It's only big enough for one smaller child.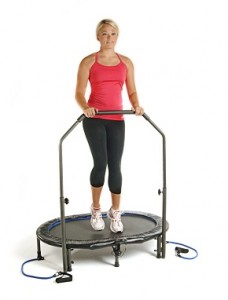 If you're ready to tone, tighten, and whip your body into shape but you don't want to do the same old boring and repetitive workout, this is something you need to add to your daily fitness routine. This personal fitness trampoline lets you bounce away the pounds. You can do a freestyle fitness routine or use the included DVD to get a great workout.
With just 20 minutes each day, three times a week, you can get into the best shape of your life. This rebounder comes with a handlebar for balance, as well as a digital monitor that tracks your workout time, total jumps, jumps per minute, and the number of calories burned. The handlebar is padded and adjustable for your comfort, it comes with resistance tubes for a total body workout, and it is made of high-quality materials for hour after hour of workouts.
Pros:
It's affordable. It is made of high-quality materials. It is very portable. The handlebar adjusts for most heights. It comes with resistance tubes and a workout DVD for total body toning. It has a built-in digital tracker to keep you motivated. It has a blue border that keeps you in the "sweet spot." It holds up to 250 pounds.
Cons:
It uses elastic straps instead of springs, which can wear out over time. It is difficult to assemble. The tracker isn't very high quality. Two people are required for assembly.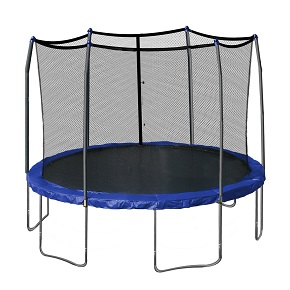 Spend quality time with the family outdoors on this great model, which has a diameter of 12 feet so multiple people can jump at one time. The frame of this model is constructed with heavy-duty, rust-resistant steel that's designed to withstand heavy jumping and the outdoor elements. The jumping mat is strong, springy, and made with UV-resistant materials.
Safety features include a spring pad that covers exposes springs that can pinch or cause injury. Although it is never a substitute for adult supervision, the easy-to-install enclosure net also helps keep kids on the trampoline and off of the ground. It is available in Red, Blue, Green, and Camo, so you can pick a color you and your children will love. When following the manual, this model is very easy to set up, so your kids can enjoy jumping in no time at all. This model also comes backed with a 90-day warranty to protect against defects.
Pros:
It is easy to assemble. It is large enough for lots of recreational jumping. It has a pad that protects kids from the springs. It comes with an enclosure that's easy to attach. It's very strong and durable. It holds up to the elements well. The frame is resistant to rust. It comes with a warranty. The materials are UV-resistant, so they're less likely to fade in the sun.
Cons:
The instructions can be a bit confusing. More than one person is required to assemble. It is a bit expensive, but the price isn't bad considering the size. The zipper of the enclosure is quite short, making it difficult for adults or taller children to get in and out.
All in All
Whether it's for fun or fitness, a trampoline is a great addition to your household. Your kids will love performing tricks and bouncing higher than ever before, while you'll love that they're outside and away from the electronics. If you want one that the whole family can enjoy, the Skywalker 12-Feet Round Trampoline is a great choice. Its durable design, large size, and safety features make it a product you and your family can enjoy together season after season.