Some links on this page are monetized by affiliate programs - see disclosure for details.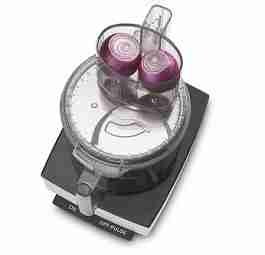 Even if you love spending time in the kitchen, sometimes making a meal can just be a lot of work. The chopping, mixing, dicing, and of course, the cooking and serving, can be time-consuming and can leave you feeling exhausted.
There are shortcuts you can take, though, to shorten your prep time and give you more time enjoying delicious food with your family and other loved ones. One of the most versatile small kitchen appliances that you can own that helps reduce your workload is a food processor.
What is a Food Processor?
A food processor is a multi-functional small kitchen appliance. It comes equipped with a motor, multiple blades, and a lid. It is similar to a blender in some ways, particularly in the ease of use. However, whereas a blender is designed to liquify anything put in it, a food processor has interchangeable blades that can be used to chop, dice, mix, and puree.
There are multiple speed settings that can be changed with the push of a button, allowing you to do everything from chop up onions to add to your spaghetti sauce to pureeing your own homemade baby food.
What are the different types of Food Processors?
If you decide that you want to cut down on your prep time and spend more time enjoying what you cook in the kitchen, a food processor is ready for the most difficult tasks. In order to fully make up your mind as to whether your kitchen needs this small appliance, first understand the types of processors available.
Mini processors – These are designed for smaller tasks, like cutting up vegetables for a salad or mixing up smaller batches. These processors typically come in sizes that range from one to four cup capacities.
Full-size processors – These are large appliances that are designed for the hardest kitchen tasks. You can chop up a large amount of vegetables, mix bigger batches, and even use a dough hook attachment to mix up your cookie or bread dough.
What are the Advantages of Owning a Food Processor?
The biggest advantage of owning one of these electric kitchen aids is that it is very convenient. The tedious and repetitive tasks that you dread can be done in just seconds or minutes with a quality processor. These appliances are versatile and can really cut down on the prep work that you typically have to do.
Things like chopping onions that make your eyes water can be done with ease, and you don't have to worry about potentially injuring yourself with a knife when you're slicing and dicing. These appliances are so easy to use, simple to maintain, and can be used for a variety of your favorite recipes.
Who are the contenders for Best Food Processor?
If you don't want to spend a lot of money but you don't want to end up with a dud that barely chops, consider this model from Hamilton Beach. It provides 450 watts of power to slice, cut, and dice through fruits, vegetables, and so much more. It has a large capacity for your biggest family feasts, and the unique design scrapes the sides for you so you don't need a spatula. It's equipped with a food chute, a sturdy lid that keeps everything inside the bowl, and the black and silver finish adds a modern touch to any kitchen.
Chop up to 14 cups of food in no time in this high-quality processor from Cuisinart. It boasts lots of great features like an extra-wide feeding chute, durable stainless steel discs and blades to perform a variety of kitchen functions, and a 720 watt motor for the chopping power you need. This is a mid-priced model that will get years of use in your kitchen.
Prep like the pros with this high-end appliance, which boasts many high-end features you'd find in commercial processors. You'll get a wide selection of discs and blades, a large BPA-free bowl, an extra-wide feed chute, and performance that is truly unmatched. The LCD display is easy to read and makes it so easy to use, this machine will quickly become your new favorite small kitchen appliance.
Considerations for Choosing the Best Food Processor
If you're sold on the idea of buying a food processor for your home, you need to educate yourself on the features and benefits that are available to you. Blindly buying this type of appliance without any knowledge about what to look for can result in buyer's remorse, and no one wants something that just takes up space and never gets used. To narrow down your choices in processors and to ensure you get a product you'll love, take a look at the following four considerations that should be noted for every model you have interest in purchasing.
Warranty
Don't throw your money away on a product that doesn't come with a warranty. A warranty ensures that the product you receive works the way it should for a set period of time. If you don't have a warranty, a motor that doesn't work, a broken part right out of the box, and an otherwise defective product will not be reimbursed by the manufacturer.
Capacity
The capacity of the bowl is important because you need to consider how you will be using your processor. If you plan to use it occasionally for chopping, you won't need a large capacity bowl. However, if you plan to use it for anything and everything when it comes to prep work in the kitchen, you'll want to purchase a full-size model with a larger bowl.
Blades and discs
The blades and discs are what make a processor truly unique. Each one has a different function. Make sure that the model you purchase comes equipped with at least two different blades or discs, and if it doesn't have all that you need, check to see if additional blades can be purchased separately to get the most out of your product.
Warranty
Hamilton Beach 70730
This appliance is backed with Hamilton Beach's standard 1-year limited warranty that protects against defective workmanship.
Cuisinart DFP-14BCN
You'll receive a limited 3-year warranty from the manufacturer to cover defective products.
Breville BFP800XL
A 1-year limited warranty from Breville protects your purchase.
Capacity
Hamilton Beach 70730
The bowl of this processor holds up to 10 cups.
Cuisinart DFP-14BCN
The 14-cup bowl provides you with all the space you need to prep for the largest family feasts.
Breville BFP800XL
You'll receive two processing bowls with this machine: a 16-cup large processing bowl and a 2.5-cup mini bowl.
Blades and discs
Hamilton Beach 70730
You will receive a chopping/mixing blade, a slicing disc, and a shredding disc with your purchase.
Cuisinart DFP-14BCN
You'll receive a shredding disc, slicing disc, chopping blade, grating blade, and dough mixer with your processor. Additional blades and discs are also available, sold separately.
Breville BFP800XL
You'll be ready to cook just about anything with this product which comes with eight blades and discs, including a variable slicing disc, julienne disc, French fry cutting disc, whisking disc, reversible shredding disc, a universal S-blade, dough blade, and mini blade.
Conclusion: Our Food Processor Reviews Are In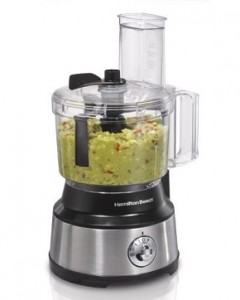 Eliminate all of the tedious tasks you just hate to perform in the kitchen with this great product. Not only does it chop, slice, dice, mix, and shred, but the innovative design even scrapes the sides so it handles everything for you. No longer will you have to stop the processor, remove the lid, and scrape the sides, so it saves even more time. This scraper can be used while processing or even when you're done.
This model comes with a large feed chute for adding nuts, fruits, veggies, liquids, and other items without the need for pre-cutting. It comes with three blades and discs, including a chopping blade for a variety of vegetables, nuts, soups, breads, and cheeses, a slicing disc for harder items like firm cheese and apples, and a shredding disc that easily cuts through cabbage, potatoes, and more. The bowl holds a full 10 cups, is BPA-free, and is dishwasher-safe for easy cleanup.
Pros:
It is very affordable. It comes with a warranty. Comes with three attachments for most kitchen tasks. Very powerful. The bowl is large enough for most kitchen prep work. It has a built-in scraper. It has suction cups that keep it firmly in place. It's lightweight and not too bulky. The black and silver finish looks great in any modern kitchen. It has two different speeds.
Cons:
The lid is a bit difficult to remove. When using mostly liquid, there may be some leaking. It doesn't feel as heavy-duty and sturdy as more expensive models.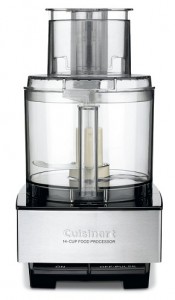 This processor is the perfect mix of beauty and function. The first thing you'll notice is the brushed stainless steel design, which looks great on your kitchen counter. However, this isn't the last thing you'll notice about this quality chopper from Cuisinart, a leader in kitchen tools and appliances. You'll find that you can use this product for just about anything. Mince garlic with ease, shred cabbage for your coleslaw or potatoes for hashbrowns in just seconds, or mix your dough with just the push of a button. It's really that easy.
720 watts of power gives this machine everything it needs to complete the most difficult prep tasks with ease. It has an extra-wide feed chute, so you don't have to worry about chopping things up before adding it. Intuitive On and Off/Pulse buttons provide you with the best results without the guesswork. It has a total capacity of 14 cups, and it comes with an excellent 3-year limited warranty.
Pros:
It looks great. Durable. Comes with multiple discs and blades for everyday cooking tasks. It also includes a spatula and recipe book to give you new ideas. It is easy to clean, as all parts are dishwasher-safe and the base wipes clean. Multiple blades and discs are also available for other tasks. It has a strong motor.
Cons:
The bowl may show hairline cracks over time. Replacement parts can be quite expensive. The initial purchase price is a bit expensive for some budgets.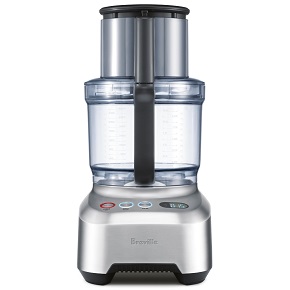 You don't spare any expense when it comes to purchasing new full-size kitchen appliances, so why not take the same care in picking your small appliances? This processor is built for performance, and you won't be disappointed when you see everything you can do with just one machine. You won't have to spend a fortune on additional blades and discs when you receive eight right with your initial purchase. Liquids, solids, fruits, nuts, dough, large vegetables, hard fruits, and so much more glide through this processor with ease.
If you just want to chop up an onion, affix the mini processing bowl. If you want to make a batch of your homemade soup, mix it up in the larger bowl that has a 12-cup capacity for liquids and 16 full cups for solid ingredients. You'll also receive a large pusher and a small pusher that work with the 5.5-inch wide mouth feed tube.
Other standout features include an LCD display with timer that counts up and down, a solid metal base, non-skid rubber feet for stability, and a modern and attractive stainless steel design that enhances your kitchen. This model is easy to use and has an accessory storage box to keep everything organized.
Pros:
It comes with eight total blades and discs to perform almost every function you can think of. It has a silicon seal that prevents leakage. Functions as a mini or full-size processor. It has a strong motor. It has an all-metal base that is very sturdy and durable. Comes with a warranty. It looks great on your countertop. Equipped with a feed chute safety system. It has two different pushers. It works very quickly. Quieter than many other models.
Cons:
Some parts are not dishwasher safe. It is one of the more expensive models you'll find.
All in All
Why do more than you have to in the kitchen when you can let a food processor help with the prep work so you can spend less time cooking in the kitchen? For the most versatility, consider investing your money in the Breville BFP800XL. Even though it carries a higher price tag, it comes with everything you'll ever need in your kitchen to make a delicious meal without all of the hard work. Its exceptional craftsmanship, modern design, and assortment of functions slices through the competition to make this kitchen tool really stand out from the rest.