Some links on this page are monetized by affiliate programs - see disclosure for details.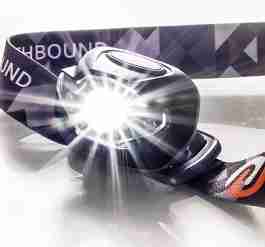 With modern day electricity, it's not often that we find ourselves in the dark. However, there are times when you can't just flip the light switch to illuminate your surroundings. Maybe you're out camping in the woods and it's getting dark but the tent is still not pitched. Perhaps you have to go under the house to check out a problem in your crawl space. Maybe a bad storm has hit your area, and you're left without power for a few hours.
No matter what the case may be, these situations are just a few where you would reach for a flashlight. However, flashlights can be bulky, and when you're busy setting up your campsite, making a repair, or trying to do something else, even the smallest flashlight can be cumbersome. Instead of occupying your hands with a flashlight, light up everything around you with a headlamp.
What is a Headlamp?
A headlamp is a type of flashlight that you wear. Instead of having to grip onto a regular flashlight, these are worn around your forehead, held in place with a comfortable strap. This way, you can get light everywhere you turn in space spaces without the hassle of carrying a flashlight. This is particularly useful if you have to use your hands for other things.
What are the different types of Headlamps?
Whether you're hunting and camping out in the wilderness or just trying to make your way through a home that has lost power, a headlamp is something that every household should have, even if just for emergency purposes. Before you invest in one of these products, know which type will best fit your needs.
• LED lamp – These utilize LED bulbs to create a bright white glow that lets you see in any dark room or outside at night. This is ideal for when you need a bright light when no electricity or other sources of light are available.
• LED/night vision lights – If you are outdoors and you're hunting or just don't want to be spotted, a light equipped with a red night vision light lets you see easily without attracting attention to yourself. These also feature an LED light function for versatility.
What are the Advantages of Owning a Headlamp?
If you're in an industry that requires you to go into cellars, dark basements, crawlspaces, and other dark areas, a headlamp is a must-have, especially when you have to carry tools and other items. Headlamps are also good to have for any situation where you're without light because you can strap them on and forget about them. You don't have to worry about holding a bulky and heavy flashlight.
These lamps also have very bright LED lights, so you can easily see the path in front of you, no matter how dark it is. They are ideal for dark work areas (including working on electronics or other jobs that require extra light), late night running and walking, and a variety of outdoor activities that occur at night.
Who are the contenders for Best Headlamp?
LE LED Headlamp – When you want an affordable headlamp that can be used on your nightly jobs or bike rides, out in the woods, or around the home in emergencies, you won't be disappointed in this model from Lighting Ever. With four different brightness levels, you can adjust this lamp for any purpose. It comes equipped with 18 super bright white LEDs, as well as two red LED bulbs for more subtle lighting. It boasts a long bulb life, a comfortable strap, and a price under $30, less than many traditional flashlights.
Northbound Train Ultra Bright LED Headlamp Flashlight – If you're willing to spend a little more, this mid-priced unit is perfect for keeping in your toolbox, emergency kit, or hiking backpack. This lamp has multiple settings that utilize both white and red LED bulbs, including a strobe function that lets others see you while you're running or cycling at night. This lamp is comfortable to wear, extremely bright, and comes with a warranty and satisfaction guarantee.
Divine LEDs Ultra BRIGHT LED Headlamp – With five different modes, this is a great multi-purpose lamp. First, choose from three great colors. Next, fix the adjustable strap to comfortable and securely fit on your head – no more elastic one-size-fits-all lamps that never stay in place. Finally, you'll be able to use five different modes depending upon your activity. This lamp is made with military-grade materials for durability, and it's water-resistant.
Considerations for Choosing the Best Headlamp
Even if you've purchased flashlights before, these lamps are a little bit different. You don't want to just jump into a purchase that you might not be happy with, especially if you have never purchased one of these units before. Instead, you need to do your research and know what to look for before you shop. There are a few different features you need to look for in order to make sure that you not only get a product you'll enjoy using, but that you'll get one at just the right price for your budget.
Price
In general, headlamps aren't very expensive, although some with more advanced features (including multiple settings and more comfortable, adjustable head straps) cost a bit more. Evaluate all features, including price, instead of just deciding based on how much the lamp costs. You might think you're getting a great deal on the most inexpensive model, but it won't be so cheap when you have to replace it in no time at all if it breaks or just stops working.
Number of lights
The number of lights on the lamp determine just how bright it can get. If you just purchase one for emergency situations, this probably won't matter much to you. However, if you are frequently in dark spaces (such as for your job), you'll need to make sure that you purchase a lamp that is bright enough for regular use.
Settings
You don't always want to use the same lighting for every situation. For example, trying to get through your home to reach the breaker controls to flip your power back on requires more lighting that reading in bed with a light designed not to disturb others. The best option is to find a lamp with multiple settings for all types of situations.
Warranty
You want to feel confident in your purchase, and the best way to do that is by doing your research and purchasing a product that comes with a warranty. A warranty will protect you in case your device malfunctions due to manufacturer error, so you won't have to buy a replacement or pay for repairs if you are not at fault.
Number of lights
LE LED
It is equipped with 18 white LED lights and 2 red LEDs.
Northbound Train Flashlight
This unit has three ultra-bright white LEDs and one red LED.
Divine LEDs
This features three bright LED lights and one red LED light.
Settings
LE LED
This has four brightness levels to choose from, including three settings for the white LEDs and one for the red.
Northbound Train Flashlight
You can choose from multiple settings, including High Beam, Low Beam, and Strobe to name a few.
Divine LEDs
This lamp is dimmable to provide just the right amount of lighting. There are five different modes to choose from that utilize white and red LEDs.
Warranty
LE LED
No warranty is included with your purchase.
Northbound Train Flashlight
You not only get a lifetime warranty, but you also get a satisfaction guarantee to assure you that you've made a great purchasing decision.
Divine LEDs
This unit is backed with a lifetime warranty.
Conclusion: Our Headlamp Reviews Are In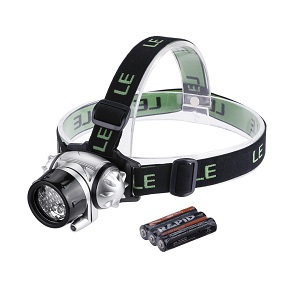 If you're looking for a basic lamp that doesn't cost a lot of money, this is the perfect unit you've been searching for. Priced at just $25, it is one of the most affordable lamps that still delivers great performance. It is equipped with a total of 18 bright white LEDs and two red LEDs. These are used for four different brightness settings, including 2 white LED, 10 white LED, 18 white LED, and 2 flashing red LEDs.
It runs on 3 AAA batteries, and some are included with your purchase. It is shock proof and vibration proof, and it has an adjustable strap to ensure a great fit. The white LEDs last over 30,000 hours, so you don't have to worry about purchasing a replacement anytime soon.
Pros:
It is affordable. It has red and white light settings. It is comfortable to wear. It can be used indoors or out.
Cons:
It does not have a warranty. There are no settings for solid red lighting, only flashing. It is not quite as bright as more expensive products. It is best for dim, not completely dark, areas.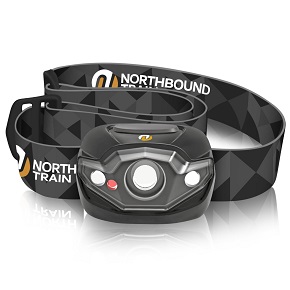 Invest a little bit more of your money to get a mid-priced model that really outperforms many of the rest. This model from Northbound Train doesn't cost a fortune, but you wouldn't be able to tell by the performance. This unit is equipped with ultra-bright LED lights that can be dimmed as needed to give you just the right amount of light.
In "High Beam" mode, you can see up to 30 meters in front of you. "Low Beam" mode gives you 20 meters of coverage. It has a red LED for reading in bed, night vision, and for just enough light to see without blinding others, like when biking at night on the road. It also has a strobe option which is best used for safety purposes. It's just four ounces, so it's very lightweight, and the adjustable strap gives you the perfect, most comfortable fit.
Pros:
It is very bright. It has multiple settings. It has an extra-long battery life. It is water-resistant. It comes with a no-hassle guarantee and lifetime warranty. It isn't too expensive. It is easy to use. It is very comfortable. The adjustable strap provides the best fit without bobbing. It is lightweight.
Cons:
The hinge on the battery cover is a bit low quality and it may break if too much force is used. As the batteries wear down, the light dims.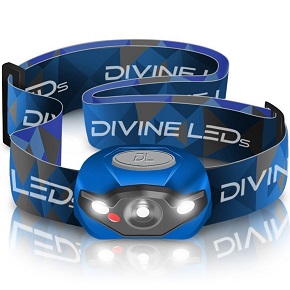 Why settle for the rest when you can use the best? That's what you'll think when you strap on this lamp, which is one of the brightest on the market at this price point. Whether you're camping or caving or going for a late-night jog, this lamp features five dimmable settings for the perfect amount of light, including a strobe light that lets you easily be seen in the darkest conditions, a great choice for when you walk your dog at night or hit the road running when the sun goes down.
This light is equipped with both red and white lights, so you can have a full beam or a soft glow with just the push of a button. The head strap is fully adjustable and extremely comfortable, and of course, it frees up both hands for anything else you need to do. It features an extended battery life, and it runs on three AAA batteries that can be purchased at almost any retailer. To ensure quality, it comes with a lifetime warranty. While it isn't waterproof for submersion, it is water-resistant, so getting caught out in the rain or getting splashed is no problem for this tough unit.
Pros:
It is water resistant. It has five different lighting modes. The lights are some of the brightest you'll find on similar products. It has a great warranty. It is made with military-grade materials for durability. It has a strobe light. It is very easy to use.
Cons:
It costs a bit more than other lights. The battery compartment cover is made of weak plastic. You have to adjust the strap with every use.
It's always great to have a headlamp on hand, even if you don't plan on using it. You never know when an emergency can arise, so it's great to keep one in your household. Of course, if you frequently are in dark places, one of these products is a necessity. If you want performance, comfort, and a product that is backed for life, the Divine LEDS lamp is a great choice that ensures you'll never be left in the dark.