Some links on this page are monetized by affiliate programs - see disclosure for details.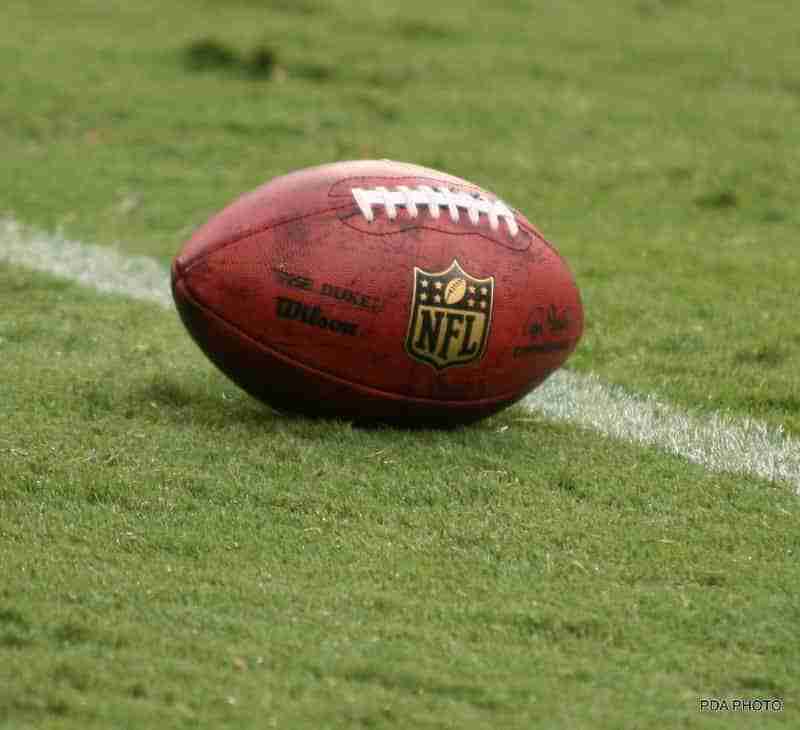 This year's NFL draft saw the Cleveland Browns select Myles Garrett with the top pick. Of course throughout the history of the draft, there have been plenty of successes and plenty of duds taken near the top. This is a list of the duds. These players didn't suffer career-debilitating injuries. They quite simply just didn't pan out the way teams hoped they would. Here are the top 10 biggest busts in the history of the NFL draft.
Related Article: The Best Football Gloves (Guide)
1. JaMarcus Russell
JaMarcus Russell was a quintessential Al Davis draft pick: big and strong with incredibly great arm strength, he had all the outrageous metrics by which Davis was historically impressed. But while those metrics looked great on paper, they didn't work out in reality. Inconsistent play combined with poor work ethic doomed Russell to be perhaps the biggest draft bust in NFL history. He played only 3 NFL seasons, throwing few touchdowns and about the same amount of interceptions.
2. Tony Mandarich
Picked second overall by the Green Bay Packers in the 1989 draft, one pick ahead of Hall of Fame running back Barry Sanders, Tony Mandarich came out of Michigan State as a supposed beast of an offensive tackle. Some analysts called him the greatest offensive lineman prospect of all time. But things didn't work out for Tony and the Packers. Known for having a bad attitude and problems with work ethic, Mandarich played 6 subpar seasons before he was out of the league.
3. Ryan Leaf
Picked second overall behind Peyton Manning in the 1998 draft by the San Diego Chargers, Ryan Leaf's career went a wildly different direction from his draft counterpart's. Playing a total of just 4 seasons in San Diego and Dallas, Leaf threw 36 interceptions and 14 touchdowns in his career. Bad work ethic and inability to focus on football eventually resulted in Leaf's NFL demise.
4. Charles Rogers
Though he was perhaps the best wide receiver in Michigan State football history, Charles Rogers just couldn't get it together in the NFL. Drafted second overall in the 2003 draft by the Detroit Lions, Rogers has multiple nagging injuries and off-field issues which resulted in the ending of his career. He played just 3 NFL seasons, never starting more than 5 games in a season.
5. Trent Richardson
A big, powerful, bruising back out of Alabama, Trent Richardson was supposed to be the next great one. Drafted 3rd overall by the Cleveland Browns in the 2012 NFL Draft, he actually had quite a productive first season, tallying 950 yards for 11 touchdowns. But that was about as good as it got for Richardson, whose play dropped off dramatically after his first season. He played just 3 seasons in the NFL.
6. Vernon Gholston
Vernon Gholston was seen as a beast of a pass rusher coming out of The Ohio State University. His pre-draft measurables were some of the best ever seen for a man at his position. But none of that translated to an NFL field. In 3 years of play, Gholston accumulated exactly 0 sacks, with only 16 total tackles to throw in. Drafted 6th overall by the New York Jets in 2006, he's about as big of a bust as you're going to find.
7. Ki-Jana Carter
The number one overall pick in the 1995 NFL draft by the Cincinnati Bengals, Ki-Jana Carter was thought to be a player you could build your franchise around. Things didn't quite pan out that way. Several injuries prevented Carter from building any momentum with his career, turning him into an average and inconsistent back at best. He played 7 total seasons before bowing out of the NFL.
8. Huey Richardson
Drafted 15th overall by the Pittsburgh Steelers in the 1991 NFL Draft, defensive end Huey Richardson never quite worked out in the NFL. He played only 5 games for the Steelers, registering just 3 tackles. His frame and playing style just didn't quite fit into Pittsburgh's 3-4 defensive scheme. He played two season in the NFL before his football career came to an end.
9. Lawrence Phillips
Drafted 6th overall by the St. Louis Rams in the 1996 draft, Lawrence Phillips was a truly great college running back at Nebraska University. But when he got to the NFL, off-field issues began to slowly derail his career. In 3 NFL seasons, he never topped 700 yards rushing. In 2003 he went to prison, where he then murdered his cellmate in 2015. Phillips committed suicide in prison at 40 years old.
10. Aaron Curry
Aaron Curry was picked 4th overall in the 2009 NFL Draft by the Seattle Seahawks. The Wake Forest linebacker had won the Butkus Award in his senior year and was considered to be a near can't-miss player. But when he got to the NFL, Curry struggled. He played just 4 NFL seasons, accumulating 5.5 sacks before he called it quits on his playing career.
Image Courtesy of Flickr User Parker Anderson